A consistent flow of work is the key to keeping your construction company going.
But you can't take on new jobs if you don't have the finances available to get started, or cash flow issues delay existing projects. When outstanding invoices and late payments prevent you from meeting deadlines, client relationships – and your chances of landing future jobs – tend to suffer.
How do you keep bringing cash into the business while you're waiting for payments from previous projects to hit your bank account? A construction line of credit can provide the funding you need to get going and stay on schedule so that your business can stay active and profitable.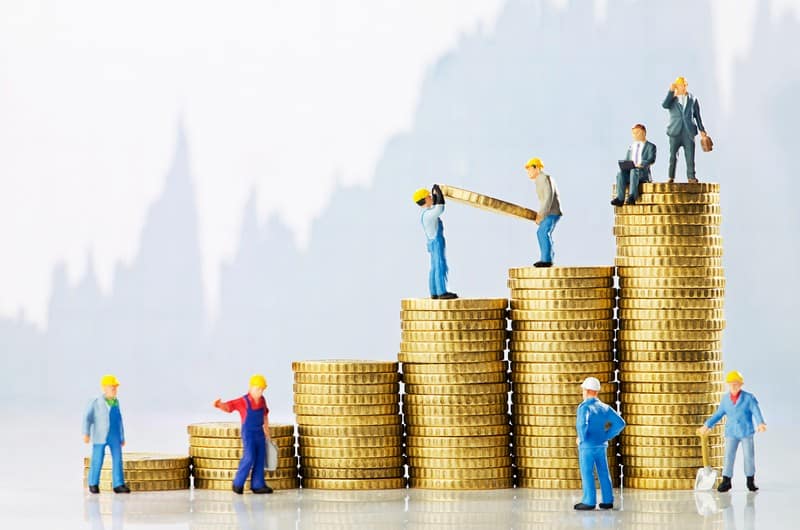 Unpaid Invoices Delay Construction Business Projects
Late payments are all too common in the construction industry, and many business owners find themselves short on funds at the start of projects.
When you face the possibility of depleting funds halfway through the project, it's difficult to give clients an accurate estimate for how long the project will take. There are multiple costs to cover, including materials, employee salaries, and equipment maintenance or upgrades. Without the right amount of capital, you could be stuck in a waiting game.
Attempting to reduce project costs by hiring minimal help or investing in fewer materials at the outset can backfire quickly. Too few people on a site makes for slow progress. It can also increase the risk of injuries as each worker tries to take on more tasks than he or she can handle. Ultimately, this could make the project cost more than it would if you'd brought on the right number of people in the first place.
Meanwhile, you need to pay your vendors as well.
Equipment is another key part of a successful construction job, and limited cash flow doesn't leave much available for maintenance or upgrades. Every time a machine breaks down, you either have to pay to get it fixed or replace it, both of which take time away from onsite work. You could find yourself facing bankruptcy if the cycle of delays continues and your business is too small to bounce back from the financial strain.
Contractor financing with a business line of credit can solve the problems arising from unpaid invoices by providing a ready source of working capital.
The alternatives aren't the best long-term move for your construction company. You may find yourself passing up lucrative projects, or sitting idle as competitors zip through jobs while waiting for cash to come in.
By acquiring financing, you can move forward, stay active and grow your construction business.
Advantages of a Construction Business Line of Credit
Lines of credit have many of the benefits of both credit cards and term loans without restrictive spending limits or the need to commit to years of debt payments. Here's how they work:
You apply as you would for any other business loan
The lender approves a given credit amount (usually much higher than credit card companies can offer)
You gradually borrow any amount up to the credit limit, as often as needed
You pay back what you borrowed on a weekly or monthly schedule
With  each payment, you replenish available credit
In short, you get more cash to cover construction job expenses, and the money remains accessible for future jobs.
It's a much more flexible option than traditional business loans for contractors, which only provide one round of funding. Once you have a line of credit, it can act as a backup source of financing when a project requires more cash than you have or you find yourself unable to cover expenses during slow seasons.
Imagine getting through your jobs with no delays or concerns about how you're going to pay your employees. No more risk of losing much-needed labor or important clients to competitors with better cash flow. Plus, making consistent payments on the money you draw can increase your credit rating and open up more opportunities for construction business financing in the future.
Comparing the Best Construction Loan Lenders
Because a line of credit can be used to cover multiple business expenses, you should consider both short- and long-term financial needs as you search for the right lender. This will help you decide how much to request for your general contractor line of credit. This approach also allows you to have enough money for not only the next job, but also upcoming projects.
Start your search by looking for lenders willing to offer the amount of credit you need, and then ask these questions:
Is the credit line revolving? If not, credit won't replenish when you make payments.
Can you qualify? Banks will want to see more financial information than alternative lenders.
Are the terms reasonable? Lenders should offer flexible term options.
What's the application process like? Too much paperwork can delay funding.
What are the fees? You may have to pay documentation, origination or draw fees in addition to interest.
Do you need collateral? Even if you don't, the lender may require a personal guarantee or lien.
How are payments structured? Automatic weekly and monthly payments are most common.
Factors such as the size, financial standing and debt-to-equity ratio of your business may affect the construction loan rates and terms for which you qualify. That's why it's important to check out all the options before putting in an application!
How to Get a Business Line of Credit to Fund Your Next Construction Project
The best time to apply for a revolving line of credit is before you find yourself in need of funding. Being in the construction business, you know there will come a time when you're looking to land a new contract, but don't have the cash to get the project off the ground. Save yourself the anxiety of rushing to find the capital to cover costs, and check out your options from lenders like National Business Capital.
National offers revolving lines of credit to construction companies with at least 3 months of business history and $120,000 or more in annual gross sales.
Looking at your finances over the course of a year instead of just a few months gives businesses with seasonal cycles a better chance to qualify, especially if recent bank statements reflect a slow period. And your FICO score isn't an issue, either; at National, there's no minimum required to qualify for a line of credit.
With access to up to $5 million in funding in as little as one day, you no longer have to wait for clients to pay before you take on new jobs. Your company stays active, your employees continue to receive wages and you have a chance to impress new clients by meeting every deadline without delays.
Start taking on more jobs with confidence by applying for a business line of credit! The application form only takes 60 seconds to complete, and you can receive funds in as little as 3 days!