Female entrepreneurs are a critical driver of growth in any economy. Nevertheless, many women must overcome a unique set of hurdles on the road to building and managing their businesses. Balancing professional and familial responsibilities, motherhood, prejudice, and the struggle to be taken seriously are just some of the everyday challenges female entrepreneurs face.
In today's economy especially, an extra influx of capital can go a long way in growing your business. Which is why we've compiled the top 15 small business grants for female entrepreneurs.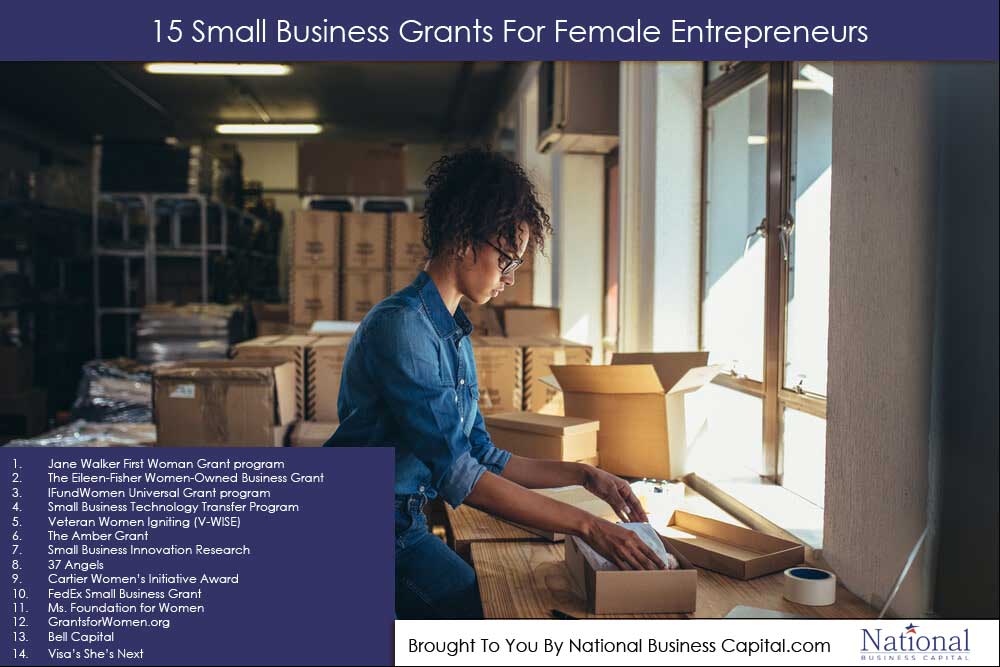 Jane Walker First Woman Grant Program
Jane Walker by Johnnie Walker maintains its very own grant program specially for female entrepreneurs. Qualifying businesses should be involved in either the entertainment and film, music, sports, STEM, journalism, or hospitality industries. Winners can receive a $10,000 grant plus one year of expert business coaching.
The Eileen-Fisher Women-Owned Business Grant
The Eileen-Fisher Women-Owned Business Grant awards up to $120,000 to five women-founded companies that promote social and environmental change. In order to qualify, your business must have a history of at least three years and you can't have generated over $1 million in annual profit.
IFundWomen Universal Grant Program
The IFundWomen Universal Grant program maintains a pool of over $8 million in collaboration with several other organizations to offer funds for female-owned small businesses. You can apply for the program via their website and the application takes only 20 minutes.
Small Business Technology Transfer Program
This highly competitive Small Business Technology Transfer program is managed by the federal government with the aim to encourage research and development for projects that show potential for commercialization. Biology, technology, and engineering are just some of the fields ideal for this grant.
You may be able to earn up to $75,000 during the startup phase, with an additional $750,000 if your research yields promising results and shows significant potential. To obtain this grant, your company must have less than 500 employees.
Veteran Women Igniting the Spirit of Entrepreneurship (V-WISE)
V-WISE is sponsored by the Institute for Veterans and Military Families at Syracuse University and offers two low-cost entrepreneur training programs to female veterans and spouses of veterans.
Although V-WISE isn't technically a grant program, it's skill-building courses are valuable resources for women looking to start and grow their own businesses. Female entrepreneurs can access educational materials, networking opportunities, intensive training, mentorship, and more.
The V-WISE program is a 15-day online course that costs $75 and the V-WISE IGNITE program is an accelerated, one day course costing only $25.
The Amber Grant
The Amber Grant is ideal for female small business owners with big dreams. The program gives away $10,000 every month and maintains a larger, annual grant of $25,000. In order to apply, you have to explain your business and your goals. The monthly winner is announced on the 22nd.
Small Business Innovation Research
The Small Business Innovation Research grant is another program sponsored by the federal government with the aim of promoting innovation. If you believe your company has something unique and new to offer, you may qualify for up to $150,000 towards research and development. If your project continues to show potential, you may even receive an additional $1 million within a two-year window.
37 Angels
37 Angels is an organization of female angel investors that invest in women-owned small businesses and startups. You start by applying through Gust and if you've been selected for the next round, you'll have the chance to pitch directly to investors. Most investors will invest about $25,000 each, totaling about $50,000 to $250,000 total.
Cartier Women's Initiative Award
Cartier Women's Initiative Award was developed by Cartier and offers annual awards to 21 different female entrepreneurs. Winners receive access to one-on-one expert coaching, business workshops, media coverage, and grants ranging from $30,000 up to $100,000.
FedEx Small Business Grant
FedEx maintains a renowned small business grant program that female entrepreneurs will want to take advantage of. Once you complete the application, FedEx hosts a competition and allows the public to vote for their favorite business. The winners with the most votes receive a $75,000 business grant, as well as free media exposure.
Ms. Foundation for Women
The Ms. Foundation for Women offers several different awards to women who own businesses that further the advancement of women and girls. Past recipients of the award have operated businesses that aim to prevent domestic violence, advocate for reproductive health, enhance economic opportunities, improve access to affordable childcare, and more. In addition to funding, the Ms. Foundation offers mentorship support, networking opportunities, and training resources.
GrantsforWomen.org
GrantsForWomen.org isn't a grant program in and of itself, instead it's a searchable database of grants geared towards women. The site also offers information about the different types of grants available – ranging from private, corporate, federal, and so on.
GrantsforWomen.org
Belle Capital is an investment firm that primarily invests in women-led companies. Although the evaluation process is rigorous, it is oftentimes worthwhile as Bell Capita is willing to invest significant resources into qualifying businesses. Bell Capital is ideal for fast-growing companies that have the potential to bring in $20 million in revenue or more over the next 5 years.
Visa's She's Next
Visa's She's Next Program is specifically geared towards Black female-owned businesses. Visa offers $10,000 in grant funds and a one-year IFW Annual Coaching Membership to 60 Black female-owned businesses. In order to qualify, you'll have to have a minimum revenue of at least $24,000. As of now, the program is only available in Los Angeles, Washington, D.C., Miami, Chicago, Detroit, and Atlanta.
National Business Financing
At National, we know that female entrepreneurs play a significant role in job generation, community improvement, innovation, and wealth creation. We're committed to helping female entrepreneurs achieve their goals and we offer the financing solutions they need to succeed.
Whether it's a small business loan, business line of credit, SBA loan, or asset-based financing, our products are flexible and adaptable to your business needs. Fill out our 60-second application and a Business Financing Advisor will contact you to discuss customized solutions according to your business goals.