This blog post was last updated on January 20, 2021 to include new information about steel availability following recent lockdowns in China.
Between the global pandemic and an economic recession, 2020 was full of unexpected surprises. While construction initially slowed down due to restrictions, business began ramping up as lockdowns lifted. If price forecasts for steel in 2021 are any indication, this may be another eventful year for your construction small business.
While the future is uncertain, these are some of the steel price chances you might expect as we move into 2021.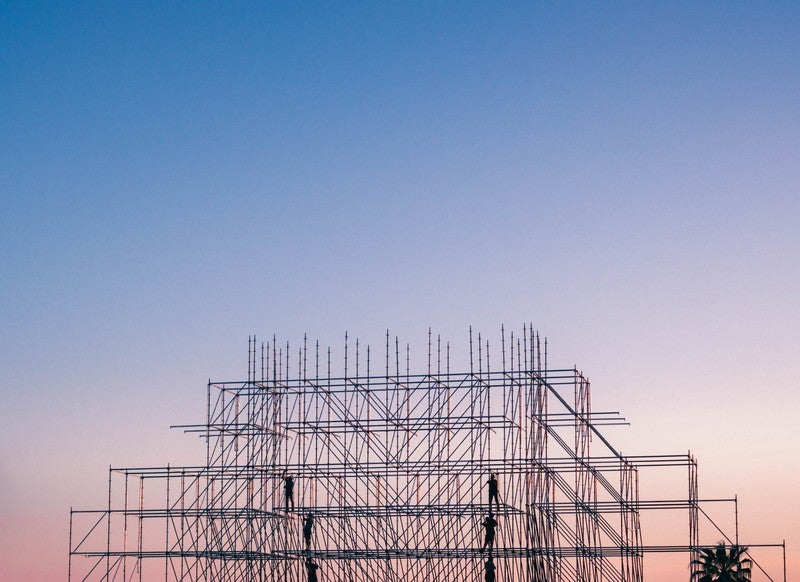 What to Expect From Steel Prices Going Into 2021
Despite a volatile year, steel prices continued to rise throughout the final quarter of 2020. A smaller supply coupled with rising demand account for the boost. Additionally, new lockdowns around China's top steel-producing region could further shorten supply .
Steel prices in 2021 are also expected to remain high- especially throughout the first quarter.
If you've already taken on new jobs that require steel, then be sure to prepare accordingly.
What's Pushing Up Steel Prices in 2021?
Steel prices are expected to increase throughout the beginning of 2021 as supply remains tight and demand rebounds from pandemic levels.
Many industries have taken a hit throughout 2020, and the construction industry is no different. The economic slowdown paused construction projects, steel production, and steel consumption alike.
As a result, many producers cut world steel supply to reflect these conditions.
The good news is that it appears the worst is behind us. The global economy is expected to go through recovery in 2021. Beyond general economic recovery, construction is positioned to be one of the most powerful sectors.
There's no doubt that tight supply has been a major contributing factor on rising steel prices throughout 2020. As we move out of quarantine, though, experts expect growing demand to have an even bigger impact on steel prices in 2021.
We're already beginning to see the first glimpses of economic rebound and recovering demand. In fact, surveys by the Steel Market Update showcase how global steel mills have been busy filling up orders since mid-November.
Many buyers are also starting to take notice at how order books are filling up fast. As much as 86% of the steel buyers who responded to SMU's poll in November expected further steel price increases from mills.
Based on these figures, it's likely the uptick in steel demand we're currently seeing is only the beginning. There's no telling what the future holds, but there may be even more price increases to come.
If you're looking to secure a lower rate for your construction business, then it may make sense to prepare for rising steel prices and secure your order sooner, rather than later.
New Lockdowns Around China Could Affect Steel Production
Recent spikes in COVID-19 cases around the Hebei province, which accounts for over 20% of China's steel production, may cause further issues when it comes to steel prices.
As a result of the spikes, the capital of Shijiazhuang and two other areas have locked down. This is partly a precautionary measure to combat spread from travel ahead of the Lunar New Year. Because local manufacturing saw a decrease in demand, this could have a ripple effect on local markets, especially if production grinds closer to a halt.
As of now, the primary effect of the lockdown has been driving the cost of steel ore up. While it's too early for experts to say, this could raise the cost of finished materials as well.
How Rising Prices Will Affect Your Construction Business
There are several factors that affect your bottom line, including equipment costs, insurance fees, payroll expenses, taxes, and more. However, if you use steel while building, then steel prices could also be one of the most important factors.
Rising steel prices, like other rising metal prices, increase the upfront costs you will have to put up in order to complete a project. Higher steel prices can also make it more difficult and more expensive to bid and secure projects.
The issue surrounding rising steel prices for 2021 isn't that construction projects will become less profitable—or that your construction business will bring in lower revenue. Instead, the biggest risk is that your business may run into cash flow issues.
Higher steel prices can result in additional unexpected expenses, and if you don't prepare, then you could find yourself in an unfortunate situation.
When the time comes to place an order, you may find that you don't have the cash for the steel you need. Or, you may discover that higher steel prices have eaten into your budget for other expenses, such as equipment repairs, employee salaries, or other materials.
If your business is unable to shell out the additional cash needed to secure materials as steel prices go up, you risk losing a job, and the revenue it brings.
Cash flow issues can also put an abrupt halt to your projects. You could face delays, unhappy clients, larger costs later on, and other obstacles if you're unable to complete enough projects on time.
One way to mitigate the negative effects of rising steel prices and cash flow problems alike is by obtaining a line of credit.
How to Prepare for Rising Steel Prices in 2021
A business line of credit is a source of ready capital that your construction business can use to solve the problems associated with rising steel prices.
Instead of risking not having enough funds to cover the materials required for a project, you can use your line of credit to cover all expenses now, and pay back what you owe over time. You can draw more as you need it, rather than drawing everything at once.
You don't want to lose jobs to competitors simply because they're in a better cash flow position. Obtaining access to additional sources of financing can help you buy steel and secure the jobs (and revenue) your business has lined up for 2021.
In addition to securing jobs, a business line of credit can also help you save money. You'll be able to buy the materials you need now, instead of waiting for steel prices to get even higher in 2021. There's also the added bonus of finishing your current projects faster.
A business line of credit can also help you cover other expenses, especially as cash flow slows during the winter slowdown.
How to Get A Line of Credit for Your Construction Business
National Business Capital helps construction businesses avoid the pitfalls associated with rising metal and steel prices by providing business loans and lines of credits.
If your construction company has at least 3 months of business history and $120,000 or more in gross annual sales – you may be able to qualify for a revolving line of credit worth up to $5 million.
You don't need to worry about your credit history because there's no minimum FICO score required to obtain funding.
The best part? You could receive funding in as little as a few hours! Start placing orders for steel materials now before prices go up and keep your 2021 jobs on track!
All it takes is filling out our 60-second application. Afterwards, an expert Business Financing Advisor will consult you on your financing options and answer all your questions.
Get started by applying now!