Securing a business construction loan may seem like an intimidating task at first, but it doesn't have to be. Knowing what qualifications are needed to secure a loan can help make the process smoother and save you time.
From credit scores to affordability, there are a few key things lenders will look at when deciding whether or not to approve you for a loan. Continue reading to find out what to expect at each stage of securing a business construction loan.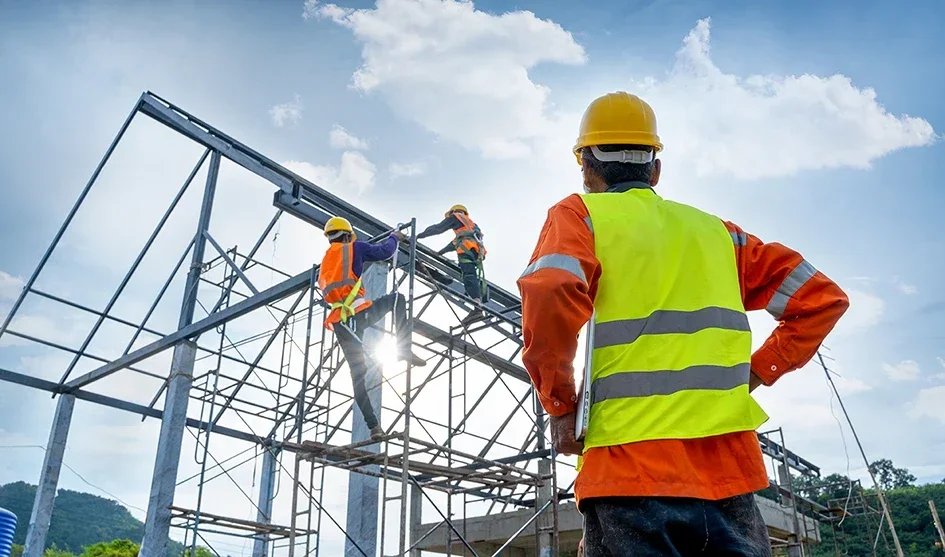 What Is a Construction Loan?
A commercial construction loan is a type of loan specifically tailored to help building companies and independent contractors finance the costs associated with various real estate projects.
With a construction loan, funds are disbursed to cover expenses, including construction materials, labor costs, permitting fees, and more. Many businesses will also use a commercial construction loan to finance equipment, balance their cash flow, or invest in new revenue-driving opportunities.
How Do Construction Loans Work?
Construction loans and building loans come in a variety of shapes and forms. For starters, they can be short-term or long-term. Short-term loans are generally used for developing real estate projects and mitigating temporary cash flow disruptions, but they're also useful for other purposes, like funding the cost of materials to start a new project. These loans typically feature repayments due within one to three years.
Long-term building loans can be used to finance entire properties, land, or equipment. They can range from 5 to 25 years. Long-term building loans may require a down payment from borrowers, which is typically around 20% of the total loan amount. In some cases, the lender may also require additional collateral or personal guarantees in order to secure the loan.
Whether you have short-term or long-term financing needs, know that construction loans are inherently flexible and can be used to fund a wide variety of needs. This includes but isn't limited to financing ongoing projects, remodeling or improving existing buildings, purchasing equipment, and even acquiring vacant land for development.
Aside from construction-related costs, contractors can also use loans to manage their internal operations. Financing can help alleviate temporary cash flow dips, and businesses can use funds to invest in new technologies, hire employees, jumpstart marketing campaigns, and more.
How to Qualify for a Business Construction Loan
Simply put, securing a business construction loan typically requires the borrower to demonstrate that they have the financial resources and creditworthiness to complete a project successfully and pay back the loan. A lender will typically look at several factors when assessing your qualifications.
Credit History
Your credit score is one of the most important factors in getting approved for a business construction loan. Lenders will review your credit history to determine your creditworthiness and how likely you are to repay your loan on time.
A higher credit score will not only improve your approval odds but can also help you qualify for  better interest rates, resulting in significant savings over time. You'll have the best chances of qualifying for a business loan if your credit score is at least 650 or higher.
However, if your score is less than favorable, you may still qualify for funding solutions. In this case, online lenders would be your best bet because they tend to consider a broader range of factors when assessing an application.
Down Payment
In addition to having a strong credit score, applicants for a business construction loan may also be asked to provide sufficient collateral or a down payment to secure the loan. Collateral is typically in the form of property or assets, and it gives the lender some security in case the borrower defaults on the loan.
Down payments and collateral are almost always required if you're looking to purchase existing real estate, land, equipment, or other large assets. Oftentimes, the assets you're looking to finance will count toward collateral requirements. This way, you can invest in your business without sacrificing your personal finances.
Financial Documents
As a business owner, you should be able to demonstrate that you have the funds or profitability to cover the costs associated with repaying your loan. Lenders may ask you to provide evidence of your business's existing financial resources, such as cash reserves or other liquid assets.
Typically, you can confirm your financial standing through your business's financial records. These include tax returns, banking statements, business records, cash flow projections, and any other additional documents the lender may ask to review.
Project Cost Estimates
If you're looking to finance a real estate project, lenders – especially banks – will want to assess that project's feasibility. Most likely, they will want to see a detailed business proposal outlining the project, its costs, and the estimated timeframe for completion.
The lender may also ask to review any relevant permits or approvals necessary for the project. You may be required to provide building plans, construction budgets, zoning permits, contractor bids, and other legal documents. Finally, lenders will also want to understand the projected revenue that your business can generate once the project is completed.
Business History
If you're applying for a business construction loan at a bank, most will need to see at least 2 years of business history. This is because early-stage start-ups carry additional risks, whereas more established businesses have more experience in their industry.
Banks may also need to see financial documents going back at least 2 years. Other times, they might ask you to show that your business has the relevant experience necessary to complete the project successfully. If you have a track record of successful construction dealings or a portfolio of past projects, make sure to have them readily available for this stage of the process.
For greater leniency on business history requirements, it's advised to turn to online lenders. Not only are they more willing to work with younger businesses, but they also offer greater flexibility in both products and terms.
5 Steps for Getting a Business Construction Loan
Securing a business construction loan allows you to prepare for upcoming projects and keep your cash flow in check. Here are five essential steps to follow for success in getting a business construction loan.
Step 1: Gather Your Documents
The first step in securing a business construction loan is to gather all the necessary financial and legal documents. This includes your tax returns, bank statements, project estimates, business plans, and other relevant documents. All this information will help illustrate to your lender that you have a healthy business ready for expansion.
Step 2: Shop Around and Compare Lenders
Many lenders offer construction loans, including banks, credit unions, and online lenders. Bank loans tend to feature lower interest rates, but they're also more difficult to qualify for.
Online lenders tend to be more accessible, with higher approval rates. They're also more flexible when it comes to credit score requirements, business history, and other details pertaining to your business plan.
Both banks and online lenders offer the same types of construction business loans, including term lines, lines of credit, and SBA loans. It's important to take time to compare loan terms, interest rates, and fees to ensure you find the loan that's best for your business.
Talk to different lenders and understand what they have to offer. Make sure you have multiple options so you can compare loan offers and pick the one that's most suitable for your needs. Be sure to research customer service records as well, so you can make an informed decision.
One helpful way to accomplish this is by working with a FinTech marketplace of lenders, like National Business Capital. Rather than apply to lenders one by one, you can receive multiple offers with one application, and choose the one that best fits your circumstances.
Step 3: Apply for Financing
Once you've settled on a lender, it's time to begin the application process. Most lenders require you to fill out an application form with key information such as your company name, address and phone number, details about the loan purpose, the size of the loan, and so on. Make sure to complete every section of the application accurately, and be sure to read all of the fine print before signing any paperwork.
It's at this stage that you will be submitting your business financial documents. Some lenders may require you to head into a branch to submit documents and sign off on your application. Online lenders, however, are much more flexible.
Step 4: Monitor the Underwriting Process
Once your loan application is sent off, it will be reviewed by the lender's underwriting team. This process can take several days if you're working with an online lender, or up to several weeks at traditional banks. Either way, you should monitor it on a regular basis.
As often as possible, keep the lender updated on any relevant changes related to your financials or credit score – they may be willing to increase the loan amount or improve your terms based on these updates.
Step 5: Obtain financing
Getting approved for a business loan for your construction business is a great feeling. At this point, it's only a matter of time before your funds are deposited. Generally speaking, banks can take up to several days to approve everything on their end before transferring the funds. Online lenders are much faster and, in some cases, borrowers are awarded funding 48 hours or less after their application is submitted.
As soon as your loan is approved, make sure to go over your repayment schedule and plan your finances accordingly. Any missed or late payments could jeopardize your credit score and result in additional fees, so it's best to have this planned out before you sign on the dotted line.
Factors that Can Prevent you from Obtaining a Business Construction Loan
Certain factors can hold you back from qualifying regardless of the type of commercial loan you've applied for. If you have any tax liens or recent bankruptcies, you might have a hard time securing financing. Similarly, if you've fallen behind on payments or bills, lenders may be wary of approving you for a loan.
Poor credit history can also play a factor – especially if you're applying at a bank. Young businesses may also struggle to obtain financing since they don't have the minimum 2 years of business history most banks require.
Before entering into the lending process, try to repair your credit score if possible. Work towards staying up to date with payments as well as paying down high balances on current accounts where possible.
If you're rejected from a business construction loan, don't despair just yet. It can be helpful to go over your options with one of National's business financing experts. They have experience working with almost every industry, understand different lender guidelines, and can communicate with lenders on your behalf to secure terms that make sense for your business.
Compare Loans for Building Projects with National Business Capital
By having the proper qualifications for a business construction loan, borrowers can be better prepared to secure financing. Oftentimes, this means maintaining good credit, healthy revenue, and a well-developed business plan. Fortunately, there are many options available for construction companies and independent contractors, even if they don't fit every piece of criteria.
It can be extremely helpful to compare the different types of business loans you qualify for early on. This way, you'll not only gain a better understanding of your options, but you'll be in a stronger position to identify the solutions that work best for your business.
Apply with National Business Capital to access offers from over 75 different lenders in under a minute. Get started here.