Your business credit ratings are one of the most important factors that determine whether you can access financing to start, support, and grow your business. Many lenders, especially banks, will review your creditworthiness to determine how risky you are as a borrower.
Higher credit can help you secure lower rates and better terms on business loans and other financing products. On the other hand, if your credit has taken a hit, you may find yourself paying more for the same lending product or being rejected altogether.
Despite how important your credit score is – it's not set in stone. There are many ways you can boost your business's creditworthiness to improve your funding options. You can also opt to work with lenders that emphasize other credentials, such as revenue, rather than credit scores – but more on that later.
In the meantime, here are 5 ways small businesses can improve their creditworthiness.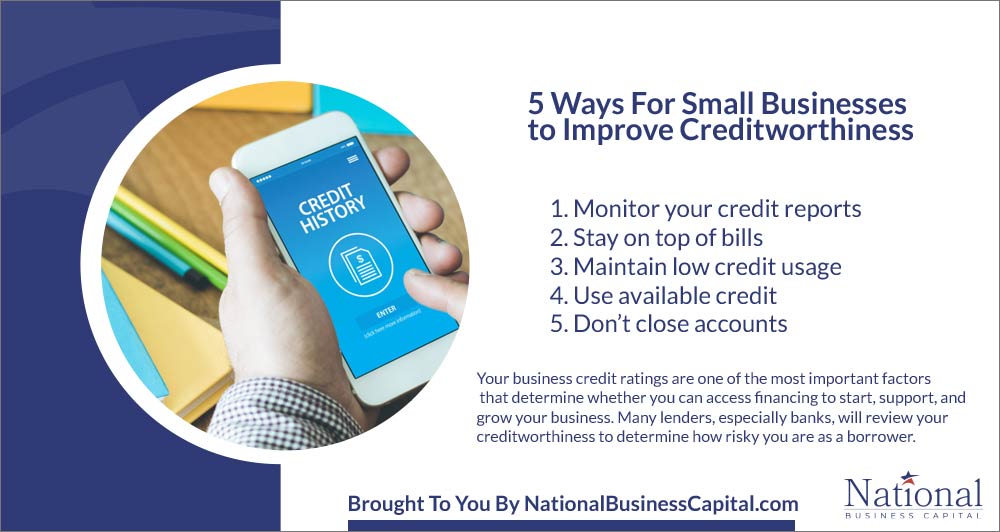 1. Monitor your credit reports
You can't improve your creditworthiness if you don't know what's on your business credit report. Try and make it a habit to monitor your business credit report regularly. It's possible you may even find mistakes on your credit report that are hurting your score. This could be anything from an incorrect address to fraudulent transactions. If you notice errors on your credit, make sure to report it to the relevant credit bureau.
You can access your business credit report for free on the following sites:
CreditSignal from Dun & Bradstreet
2. Stay on top of bills
Consistently falling behind on your payments is one of the surest ways to hurt your business's creditworthiness. It helps to keep due date reminders in your calendar to make things easier. If you're still struggling to manage multiple payments – consider debt consolidation or refinancing. Debt consolidation allows you to combine multiple outstanding loans into a single bill for simplification.
3. Maintain low credit usage
Owing large amounts of money compared to your overall credit limit isn't great for your creditworthiness. Ideally, you want to keep revolving debt balances, such as credit cards, low. Low debt levels help lower your credit utilization, which in turn keeps your credit rating high.
Most credit bureaus recommend that your credit utilization ratio not exceed 30%. In other words, your overall debt balance should be no more than 30% of your total credit limit. Focus on paying down your balance in order to improve your credit score.
4. Use available credit
It's essentially a balancing act – while you want to keep your credit usage low, you also want to make sure you're using some of the credit available to you. Credit cards and business loans can help you boost your creditworthiness, so long as you're making payments on-time and not racking up a large balance.
5. Don't close accounts
Existing accounts with a track record of stable payments show lenders you're responsible – which in turn helps improve your creditworthiness. Even after you've paid off a balance, try to avoid closing the account. Older accounts extend your credit history and reflect a larger credit limit – two factors that work to raise your score.
How to Find Business Financing No Matter Your Credit Score
Many lenders, especially banks, will require strong credit scores before approving a business loan application. However, these institutions aren't your only options for financing. You can also work with online lenders, or fintech lenders, that are known to be more flexible and lenient compared to traditional institutions.
Online lenders take a different approach when evaluating business loan applications. They are more willing to emphasize your revenue and potential for growth rather than focus on credit scores. They can also be more flexible on factors like business history and other conditions.
Most importantly, online lenders work fast. If you need funding, you don't need to wait for your credit score to improve. Many online lenders are able to process applications in mere hours – a huge contrast from banks that can take weeks or even months.
Compare Financing Solutions for Every Business Credit Score
National is a leading business financing marketplace that automatically matches you with different financing offers based on your specific criteria. You could access options for term loans, lines of credit, invoice financing, and more – according to your unique credit profile and business credentials.
Getting started is simple. Fill out the 60-second application and National's Business Financing Advisors will present you with different financing solutions you can compare to select the best fit. Whether you're looking to manage cash flow disruptions, hire new employees, or invest in expansions – National can help you secure the financing you need no matter your credit score.
Learn about the different financing solutions you could qualify for here.