Minority business owners are a critical role component of the American economy. They encourage diversity, community development, economic growth, and foster new opportunities in traditionally underserved areas. Minority business owners also face a unique set of challenges. 
It's not uncommon for minority business owners to struggle with capital shortages, limited business networks, and limited access to credit. On top of this, the Covid-19 pandemic has had a disproportionate effect on minority-owned businesses. 
During the height of government-issued lockdowns, a Federal Reserve Bank of New York report found that 21% of Black-owned and 18% of Hispanic-owned businesses were struggling, compared with 5% of businesses owned by non-Hispanic white people.
In the face of these challenges, a number of government-sponsored and private sector grants have been introduced – many of which are exclusive to minority-owned businesses. We took it upon ourselves to research and identify the top 7 grants for minority-owned small businesses. Take a look!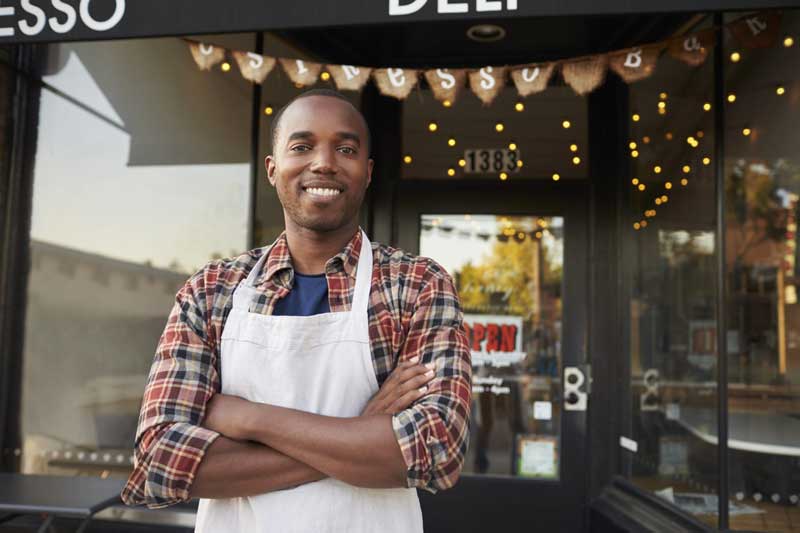 1. National Association for the Self-Employed
The National Association for the Self-Employed (NASE) is an organization that provides resources and tools to entrepreneurs and small businesses. Members consolidate their buying power to save on benefits like legal advice, healthcare plans, office supplies, and more. 
NASE also offers business grants worth up to $4,000. In order to apply, you'll have to be a NASE member and explain how the grant money will support your business' growth. Funds can be used for marketing, advertising, hiring employees, expanding operations, and more. 
2. Minority Business Development Agency
The Minority Business Development Agency (MBDA) is a federal program dedicated to supporting minority-owned small businesses. They host networking events and connect business owners with industry experts at MBDA Business Centers. Working alongside industry experts, you'll be able to secure capital, win contracts, and even identify strategic partners. 
You can browse over 1,000 grants according to your region and business type via Grants.gov.
3. United States Department of Agriculture
The United States Department of Agriculture offers over $9 million in assistance to minority and veteran farmers, foresters, and ranchers. You can use this aid to purchase your farm and fund ongoing operations. 
4. The Coalition to Back Black Businesses
The Coalition to Back Black Businesses was formed in the wake of the Covid-19 pandemic to provide grants and long-term support for Black-owned small businesses. You'll have to apply for eligibility and if you're accepted you'll receive $5,000 – with the most promising businesses securing an additional $25,000. 
You'll also gain access to mentors, educational materials, and other resources. The program is available through 2023 – but you're encouraged to apply sooner rather than later. 
5. National Black MBA Association
The National Black MBA Association is an organization focused on supporting black professionals and small business owners. They offer networking opportunities, training programs, educational resources, scholarships, and even grants. Its annual Scale-Up Pitch Challenge is a startup competition with prizes ranging from $1,000 to $50,000. 
6. First Nations Development Institute
The nonprofit First Nations Development Institute is an organization dedicated to Native American communities and small business owners. They provide financial grants, training programs, and advocate for improving economic conditions in Native American communities. 
They've awarded more than $43 million in grants. You can stay updated on the latest grant opportunities here. 
7. FedEx Small Business Grant
FedEx delivery company hosts an annual competition for small business owners. The top 12 finalists receive financial grants – the largest worth $50,000. Any small business owned by U.S. residents with at least 6 months of history and a valid FedEx shipping account number can apply. 
Other Funding Avenues
Financial grants and support programs are a valuable resource for minority business owners, but they're only one part of the entire picture. 
It can be difficult to qualify for and win grants, and even then, funds rarely exceed a couple of thousand dollars. If you plan on taking your business to the next level, you're going to need a larger influx of capital.
A small business loan or a business line of credit can get you the funds you need to invest in inventory, buy equipment, hire new talent, launch marketing campaigns, and much more. 
At National, many of the factors that would normally hold you back from securing financing at a traditional bank won't weigh as heavy. Our database includes over 75 different lenders, many of which maintain flexible requirements. We'll work to find you the best financing options based on your unique credit score, business history, and other qualifications. 
Ready to learn more? Fill out our 60-second application and our Business Financing Advisors will get in touch about our personalized financing solutions. 
Related Loan Articles: