The place setting might never change. But if you're not adapting the rest of your establishment to include emerging restaurant technologies, you might be falling behind competitors.
Incorporating new technology in restaurants can help you to save time and money by streamlining many of the previously manual processes in your day-to-day.
The numbers show that customers agree, too. 79% of people who eat at restaurants believe that technology augments their dining experience.
So, what are the must-have restaurant technologies that you should incorporate in your establishment in 2020?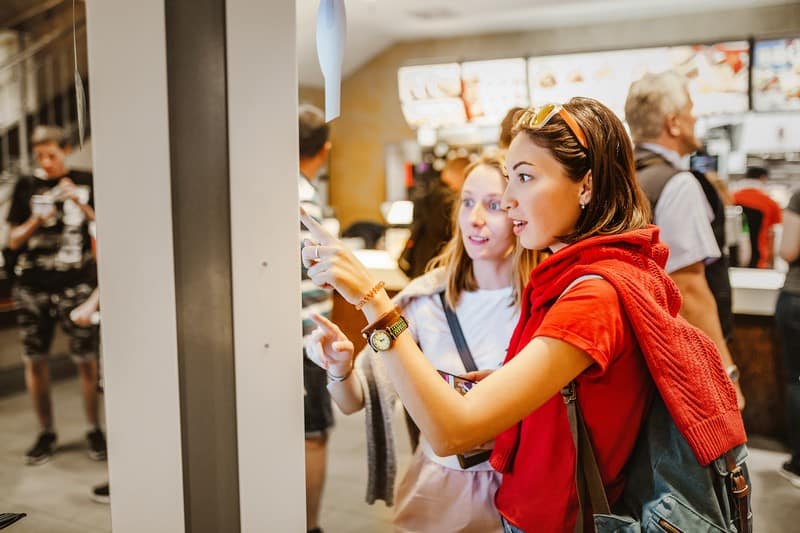 How Has Technology Changed Restaurants?
From websites to payment portals, restaurant technologies are changing the game for both customers and business owners.
Some of this technology helps business owners remain organized and provide the best experience for customers. Maximizing the impact of other technology helps business owners introduce new revenue streams for eateries that, until now, have been fairly conventional.
Restaurant Technology Trends 2019
So, how should your restaurant rise to the challenge of integrating new tech so that you can hit the ground running in 2020?
1. Door Dash, and Grub Hub, or Uber Eats, Oh My!
Futuristic restaurant technologies aside, integrating food delivery platforms into your website can be pivotal. For many restaurants that previously generated all sales through in-person visits, delivery services are now a crucial new profit center. According to NPD, delivery services helped restaurants to experience a 20% increase in sales.
DoorDash, Grub Hub, and Uber Eats are the most popular food delivery platforms. Door Dash is leading the charge, thanks to a landmark McDonalds partnership, but Uber Eats is also gaining steam quickly.
Delivery platforms also enable you to offer this new service without incurring the cost of a delivery driver. Dedicated delivery drivers can be expensive; these costs can prove unnecessary if you're not generating revenue in the process. By using delivery platforms, you can utilize these drivers when the demand is there, and avoid the expense when it's not.
By now, most customers (and especially younger ones) are familiar with and accustomed to using these convenient delivery services. Adding your restaurant to one (or more) of these platforms is an expense, but one that will surely pay off as customers learn about your new affiliation and start ordering from home!
2. Digital Inventory Tracking
Your restaurant is busy— you have customers to seat, employees to manage, and growth on your horizon. Who has time to stand and count the potatoes?
That's where digital inventory tracking can prove to be one of the most efficient new restaurant technologies.
By utilizing a digital inventory system like many retail outlets, you can better track how you're utilizing various ingredients and supplies. This restaurant inventory tracking system can also be used on mobile, meaning you can make adjustments and view counts on the go. If the software is synchronized with your POS, then the inventory will adjust dynamically as you continue serving customers.
3. Automated Purchasing
Take your digital inventory tracking software a step further with a fully integrated automated purchasing tool. By integrating the two, you can take full advantage of this robust restaurant technology and save valuable time.
As inventory dwindles, you'll receive automated notifications letting you know that it's time to place an order. Then, the automated purchasing tool will recommend you place an order. Depending on the automated purchasing tool you select, it may also take the following factors into account:
How long vendor deliveries normally take
Sales numbers for dishes that require this ingredient
Par levels, or the threshold at which you've indicated you need to replenish stocks
Alternatively, you can place purchasing entirely in the hands of this tool and fully automate the process.
With a few hours of initial configuration, you can put the weekly purchasing headache to bed for good.
4. Self-Order Kiosks / Digital Tablets
The long-anticipated server-less restaurant experience is here, thanks to self-order kiosks and digital tablets.
Now, that's certainly not to say that human servers have no place in the modern restaurant. Instead, this technology can augment the process to make their jobs easier, and keep customers happier.
Panera Bread and McDonalds are only two of the well-known fast-food establishments that have integrated self-order kiosks in many of their locations. These restaurant technologies allow customers to browse the menu in its entirety, and select the items they want to order without involving an employee. Picky customers with preferences can add, swap, or remove ingredients. Thanks to suggestions, you can even up-sell additional or more expensive dishes.
Tabletop kiosks, utilized by restaurants like Applebee's and Red Robin, are changing the game too. With these kiosks, customers at sit-down restaurants can place orders, pay, request refills, and more. When servers receive notifications about these requests, they can fulfill them even faster than before.
Through this robust technology, your restaurant can elevate customer service to the next level.
5. Digital Reservation Managing
The days of using printed floor plans to manage customer flow throughout your restaurant are over. Now, restaurant technology has made this process, faster, smarter, and overall more efficient for everyone involved!
Digital reservation managers can help your hosts and other restaurant employees by:
Making reservations directly with customers
Using existing and future table assignment data to suggest seating arrangements
Saving important personal information for customers, like birthdays, anniversaries, and preferred dishes
From the moment that customers set foot in the restaurant (and before, if they call ahead), these reservation managers also help customers enjoy their experience to the max. As their reservation time approaches, they'll receive real-time updates about their table's availability via text message. Customers will also receive a notification once their table is available. All they need to do is provide a phone number!
6. Automated Scheduling App (When I Work)
Scheduling employee shifts can be another dreaded task, but automated scheduling apps like When I Work are changing that.
Through either an app or an online portal, you can handle all scheduling-related tasks. You can easily manage employee availability, requests for time off, and anticipated sales levels as you build your schedule. Once the schedule is published, all of your employees will be notified— and the schedule will stay up so that they can check it on an as-needed basis! This means no more no-call-no-shows, or frantic schedule requests.
Last-minute changes? Simply update the schedule via the app, and assign a new employee, or let anyone fill the vacancy.
This restaurant tech will ensure you have the right staffing to handle operations at every point through its lifetime.
7. VR Onboarding
Virtual reality software isn't just for entertainment purposes— it can also drive increased employee efficiency!
Through a simulation program, you can train employees about how to operate in the real restaurant environment with VR onboarding software. This restaurant tech gives them all of the skills and knowledge they need to provide a positive customer experience, without the risks of putting a new employee out on the floor right away. Errors like dropped plates or missing drinks won't cost you a customer, and busy managers don't have to take their attention away from the restaurant.
The Financing You Need to Integrate Restaurant Technologies
Getting the right technology in your restaurant locations can propel your restaurant toward the future, and ensure customers are satisfied for the long haul. But in any stage of growing your restaurant business, you need cash on hand, and existing customers might not cover it.
These financing options can help you access these restaurant technologies ahead of the curve, and pave the way for future growth:
Small Business Loans: Access cash to expand your horizons with awesome new technology that streamlines operations and boosts growth.
Revolving Line of Credit: As you go, use your revolving line of credit to fund new technology. Once you pay off the amount you withdrew, draw more cash to acquire even more tech!
Equipment Loans: Outfit your entire restaurant with tabletop kiosks and the accompanying software, VR technology or other equipment with an equipment loan!
National's 75+ lender marketplace will help you access the best loan offers, without costing you the time you'd typically spend applying at various banks. Our process moves as quickly as you do— once you apply, you can receive your cash on hand in less than 24 hours. Filling out our form takes less than 60 seconds, and a Business Financing Advisor will be in touch as soon as possible!