If you're considering using your 401K funds to get a small business loan, or fund your business goals in any way – DON'T.
This is a dangerous trend that is robbing new and established business owners from their retirement…for no good reason.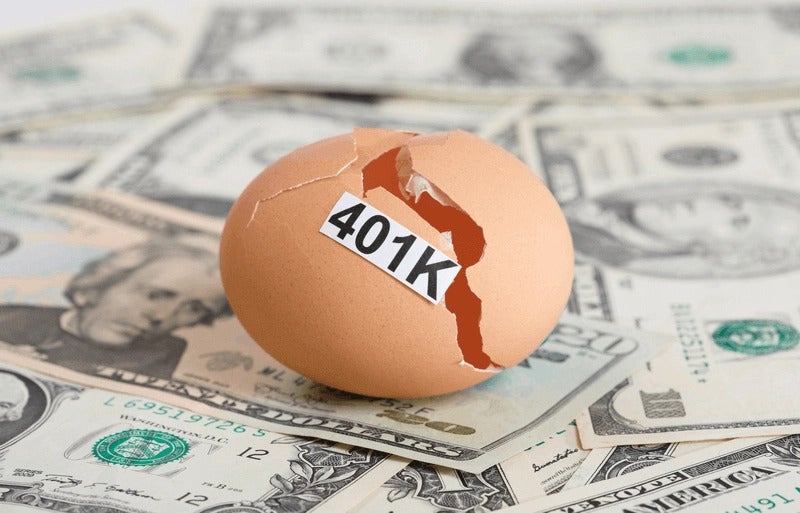 Why Trade 401K Funds for Business Loans?
Why, indeed.
Entire businesses are being built around the concept of providing "no collateral 401K business loans" in exchange for 401K funds.
The idea is to leverage your 401K, instead of other personal or business assets.
Others promise "401K business loans" to be cheaper alternatives compared to other options in the business financing marketplace.
Afterall, you're not paying for your small business loan out of pocket, and your not using business funds.
You're basically paying for financing with money that you're not using yet, or funds you don't plan on using entirely in the future.
Here's the truth: All of these reasons to trade your retirement for business financing are outright lies. 
The Business Financing Advisors at National want to shed light on the truth behind using 401Ks for business financing, so that no more business owners feel they have to sacrifice their retirement to launch or grow their business.
8 Reasons NEVER to Use Your 401K To Get a Small Business Loan
To Get a "No-Collateral Business Loan."It's true that you'd be leveraging your 401K in place of other assets, if you choose to go this route.But since when did your retirement not count as an extremely important asset?And what about the vast variety of no-collateral (unsecured) business loans that already exist?These are the alternative financing options that most 401K business loan companies don't want you to know about.If more people knew about these options, chances are there wouldn't be a market for 401K business financing programs at all.
Using 401K Funds Seems Like a Cheaper Financing Alternative.Interest rates. Insurance costs. Administration fees.All of these expenses come along with using your 401K funds to get a small business loan.Not only are you taking funds away that you could be using towards your retirement, but there's a very good chance you'd be also be giving away more money in total than you would paying interest for a small business loan.
You Believe No Hidden Fees Come with 401K Business Financing.Do you think these companies want to convert your 401K funds into payments for small business loans for free?Think again.These companies are notorious for nickel-and-diming unwary business owners at every turn, and make them wind up paying more in hidden costs and fees than they ever would through a bank or alternative business lender.There are, however, companies like National that actually live up to their promises of no hidden costs or fees.Companies that care enough about their customers not to suggest that they give up your retirement for business funding.
You Were Told 401K Financing is a Tax-Free Solution.Did you know that you're required to pay income taxes on retirement funds you withdraw before you're 59 and 1/2… and a 10% early withdrawal penalty?Give yourself a bigger tax return, save yourself from paying the withdrawal penalty up front, and save thousands long-term by using your own funds to cover one of the many low-rate business financing options available today.
Use Your 401K as a Fast Get-Out-of-Debt-Free Card.The concept of using funds that you can't immediately use to get out of personal or business debt is tempting.But just like you wouldn't sacrifice the funds you're saving to put your kids through college, or other personal matters, you should never consider using your 401K funds to get out of debt fast.No matter how desperate your situation is, and no matter how far in debt you've become, there are always financing options available to business owners no matter their credit, sales, or time spent in business.
Depleting Your 401K Funds Seems Like a Future Problem. All the more reason to hold off on using these funds, until you absolutely have to.Good things come to those who wait, and your 401K funds are something that you're sure to be happy to have in your golden years.Whether you don't plan on using your 401K funds for 2 or 25 years, consider not being able to access these funds in your old age.Keep your golden years golden, and practice some willpower with using your 401K funds.
You are Promised that You'll Make Up for Your Funds By Growing Your Business.Not to be negative, but what if you don't?Even if you're successful for a few years because of your 401K funding, there's no guarantee that you'll make up for all the funds you used towards your business loan.All that's guaranteed is that you're taking a huge gamble with the capital you've worked so hard to save.Funds you should be planning to use on your grandchildren, and future vacations.The unexpected happens.Sometimes for better, sometimes for worse.Your 401K, however, is something you can depend on is the assurance of an easier financial life in retirement.
You Don't Think You'll Qualify for Business Loans Without Leveraging Your 401K.This is the biggest and worst lie of all.401Ks don't help you qualify for financing.They help companies sway business owners that get rejected for bad credit, low sales, or minimal time spent in business a quick and terrible excuse to take their money.If you are a business owner, there are financing options available through alternative business financing that you can obtain in as little as 24 hours.Period.Take National's unsecured business lines of credit and small business loans, for example.All you need to qualify for these is $120,000 in annual gross sales, and 3 months in business – with NO collateral required.

If you meet these requirements, there is NO minimum credit score needed to qualify.

As for their business equipment loans, NO annual gross sales, time in business or credit score is required to qualify.

No collateral needed, either.
By now, you probably get the point.
Our Business Financing Advisors, who have helped thousands of business owners across the nation get the financing they need to grow…
Regardless of collateral, FICO, financial history, annual sales, or time spent in business – STRONGLY advise against gambling with your retirement.
Because today, alternative financing gives people hundreds of options that were never available before – options that make resorting to 401K funding obsolete, and irresponsible.
Keep Your 401K Let National Help with the Business Loan
Before you start tearing up your 401K, take a deep breath, and call our team at (877) 482-3008.
We can get you the financing you need, without taking the retirement you deserve.
Or, fill out our simple 1-minute application online, and we'll get to work finding a financing option that you can easily qualify for, and start using in as little as 24 hours to grow your business, with absolutely no hassle.