A great eCommerce customer experience is key when it comes to standing out from competitors and generating repeat sales. It will also have enormous effects on your business revenue and customer loyalty.
Worldwide eCommerce sales totaled $4.28 trillion In 2020, and may be as high as $5.4 trillion in 2022. If your online business is going to capture this fast growing market, you're going to have to invest in developing an outstanding eCommerce experience.
We'll go over exactly what goes into a great eCommerce experience and how your business can improve your eCommerce customer experience with a couple of simple strategies.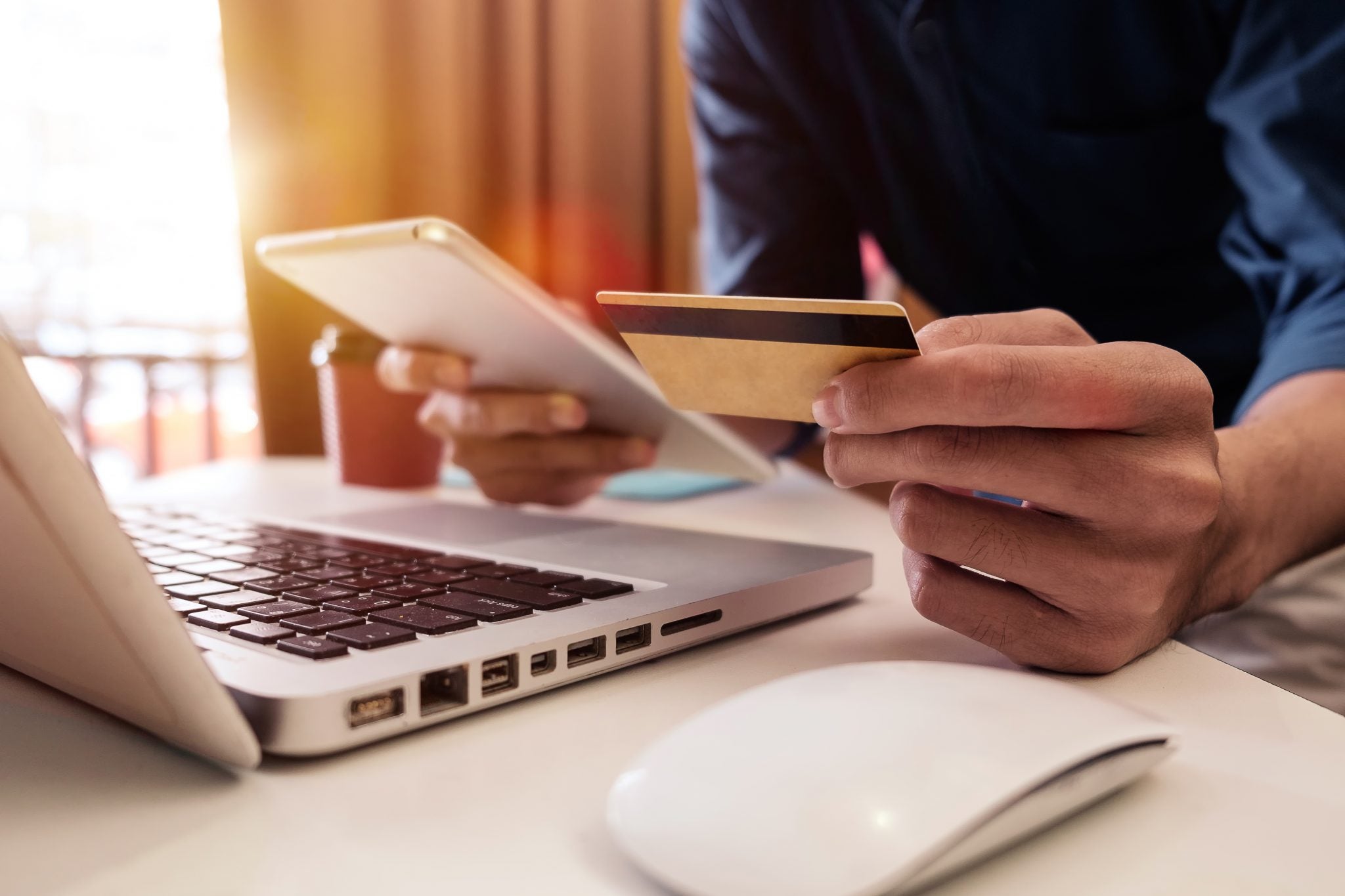 What eCommerce Customer Experience Actually Means
The eCommerce experience refers to the overall experience customers have when shopping. It takes into account how easy it is to use and navigate your website and how seamless the online checkout process is.
A great eCommerce experience helps cultivate a long-term relationship between your brand and your customers. It allows consumers to feel positive about your company and incentivizes them to return for more shopping.
8 Strategies to Improve Your eCommerce Customer Experience
There are many different components that go into a quality eCommerce experience. Use the strategies outlined below as a starting point.
Mobile Compatibility
Smartphones coupled with social media have led to a boom in mobile eCommerce sales. In fact, mobile sales are expected to reach a whopping $3.56 trillion in 2021.
If your eCommerce store is going to optimize on this growing market, you'll have to ensure your website is fully compatible with mobile devices, tablets, and more.
Omnichannel Integration
Omnichannel refers to how integrated your sales process is across multiple platforms. This is especially critical for businesses that have both physical stores and online shops.
If a customer buys a gift card in a store, can they use it to make online purchases? Can a customer return products they bought online in store? These questions should give you an idea on whether your business has a seamless omnichannel experience.
Even if your business doesn't have an in-person store, you can still take advantage of omnichannel opportunities by ensuring your brand is active on all the top social media platforms – such as Facebook, Instagram, TikTok, Pinterest, etc.
Ultimately, it's about creating integration across multiple platforms to ensure the best eCommerce customer experience.
Fast, Easy Checkout
Did you know nearly 70% of all online shopping carts are abandoned? There are many different reasons why customers abandon their carts. It can range from pricey shipping fees to forced account creation, but a total of 18% of all card abandonments are caused by a long or overly complicated checkout process.
You can ensure your eCommerce store's checkout process is smooth by incorporating an intuitive user interface, eliminating distractions, allowing guest checkout, and accepting multiple payment options.
A one-page checkout is best since it keeps things clear and concise. If you have to have multiple pages, make sure to include a progress indicator so customers know exactly where they are in the checkout process and how many more steps are left.
Customer Service
As people browse your site they'll naturally have questions about your products and your company's policies. Having customer service readily available with answers can boost online sales and build brand loyalty.
One way eCommerce stores can offer customer support is by incorporating a chatbot. A chatbot utilizes AI to answer questions, offer product recommendations, and optimize the sales funnel.
Gorgias, Conversocial, and Quiq are noteworthy platforms that provide eCommerce chatbot solutions and help brands build a great customer experience.
Organize Products Effectively
There's no such thing as a quality eCommerce experience without a user friendly website. If customers can't quickly and easily find the products they're searching for, they'll look elsewhere.
Make sure product pages are organized according to their respective categories and subcategories. Intuitive navigation tools and product filters can also make browsing easier.
Write Clear, Descriptive & Compelling Product Copy
Compelling product pages are fundamental to the overall shopping experience. Every product page should contain important details about sizing, measurements, materials, weight, care instructions, estimated shipping times, and more.
It's critical for information to be presented in a clear cut, concise manner with minimal distractions.
You'll also want to include reviews and customer photos. Data shows that customers are 137% more likely to buy a product with customer photos, making them a key component of the overall eCommerce experience.
Personalization
Personalization is an increasingly popular eCommerce trend – and for good reason. Retailers that personalize their websites have seen as much as a 15% lift in revenue. Personalization is also an important component of a great user experience.
Personalization means using customer data to offer customized recommendations. Online stores can do this through tailored email notifications, relevant shopping discounts, and products suggestions.
Free & Fast Shipping
The number one reason consumers abandon their shopping carts is due to pricey extra costs like shipping. Small online businesses need to step up if they're going to compete with giant retailers like Amazon or Walmart.
This requires offering free shipping and cutting down on delivery times. It's helpful to look for ways to cut shipping costs or incorporate part of the cost into the final product price.
Examples of Great eCommerce Customer Experiences
You don't need to be a giant online retailer in order to provide a great eCommerce experience. But it doesn't hurt to learn from the best. Here are some examples of an exceptional customer experience.
West Elm.com: This home decor and furniture company does a great job maintaining an intuitive layout on their website. They incorporate enough visuals and product recommendations to keep customers continuously browsing.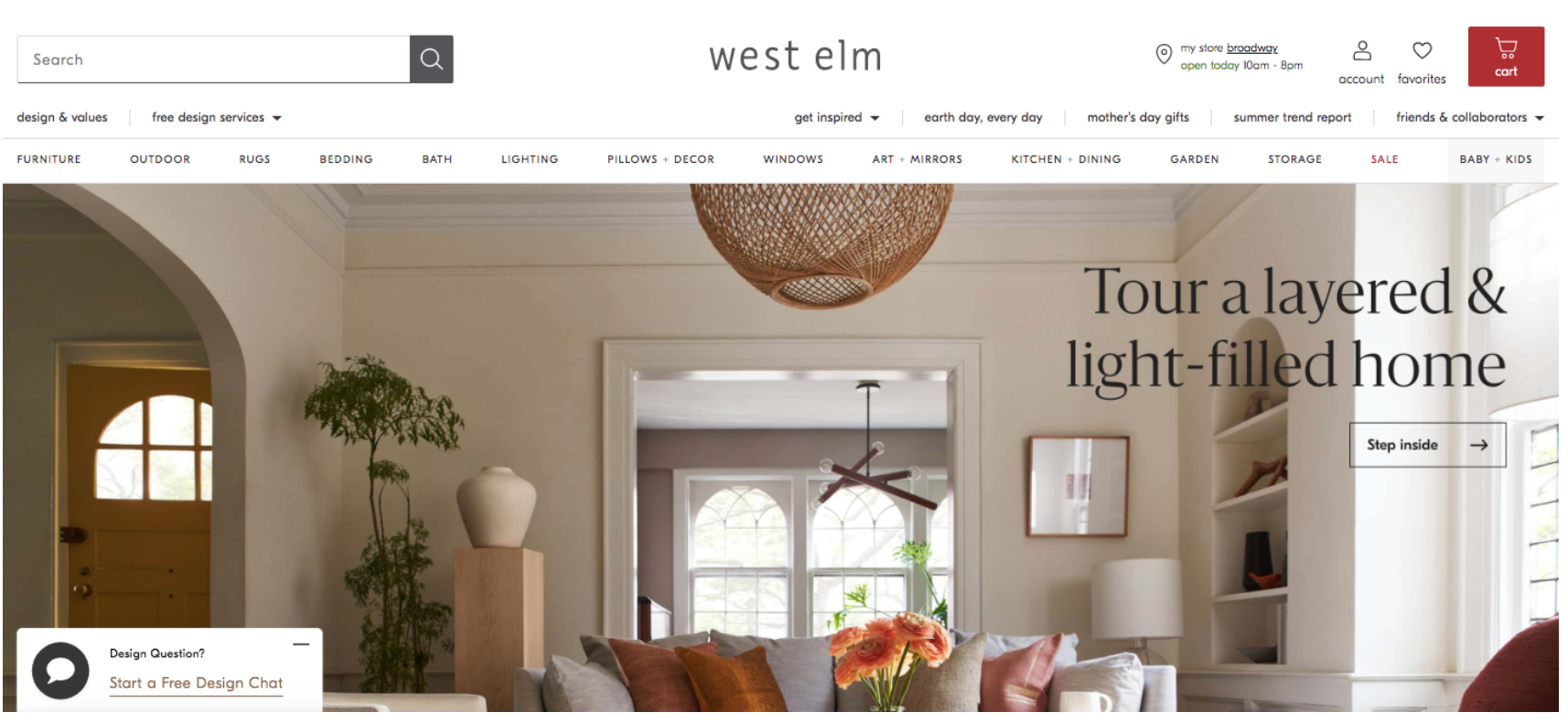 Starbucks.com: Starbucks uses personalization and its rewards program to deliver a stellar eCommerce experience. The brand also excels at omnichannel integration, allowing users to place orders from a wide variety of devices and pick up in store.
Shop.lululemon.com: Lululemon's site is clear-cut, concise, and well organized. They also do a phenomenal job of combining personalization and customer support, by allowing users to video chat with live team members as they shop.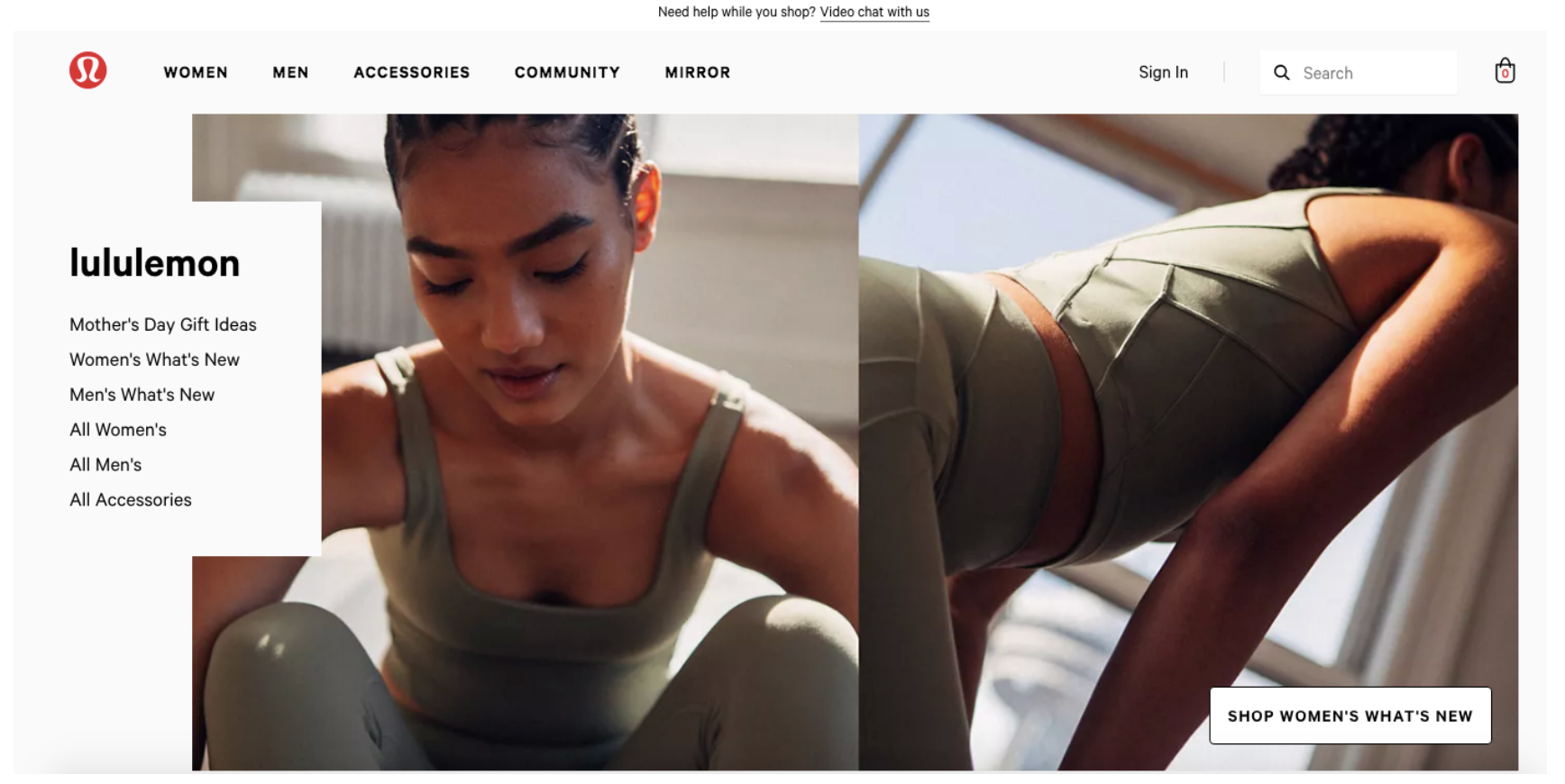 How to Measure User Experience
Alongside implementing the right strategies to boost your brand's eCommerce experience, it's important to track whether the solutions are working.
You can measure your website's user experience by reading customer reviews and following key eCommerce metrics, such as bounce rates, pages/sessions, average session duration, and more.
You can also ask customers directly about their overall satisfaction shopping on your site, whether they'd recommend your brand, and how easy it is to browse products.
If you haven't already, incorporate web analytics tools like Hotjar and Mouseflow – two popular platforms that can help you analyze your data and offer insights into areas that could use improvement.