Expensive equipment, seasonal periods of low business activity, and working capital management can all stand in the way of business growth, not to mention the risk of weather-related concerns damaging your inventory.
Whether dealing with a challenge or an opportunity to grow, it's important to have a financing relationship as you navigate through and drive profit within the agricultural industry.
There are various financing options specific to the agricultural industry, but you can also use more traditional options to support your operation.
Our comprehensive guide on agricultural lending and financing gives you everything you need to know before you start the process, giving you an undeniable competitive edge as you secure favorable terms to grow your business.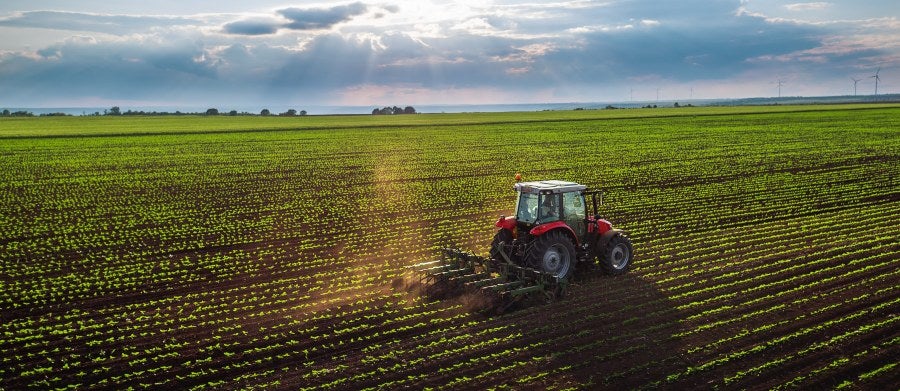 What Is an Agricultural Loan or a Farm Loan?
Agricultural loans, also known as farm loans, are financing options designed for entrepreneurs and business owners in the agricultural sector. There are solutions specifically tailored to the agricultural industry and more general options available to all entrepreneurs.
Your use of the borrowed funds will depend on the program you opt into, as the majority of agriculture-specific options are only available for specific purposes. For example, farm ownership loans are only for situations where you're purchasing or expanding a farm, so you won't be able to secure one of these loans if you need capital for other reasons.
Where Can I Get a Farm/Agricultural Loan?
Agriculture-specific loans are offered by the U.S. Department of Agriculture (USDA), while traditional financing solutions are available at banks, credit unions, and non-bank lenders.
The USDA offers reduced qualifications to encourage business growth in the industry. Banks and credit unions, on the other hand, carry strict eligibility requirements that require you to have a lengthy time in business, a strong credit score, and consistently high revenue.
Non-bank lenders are essentially the opposite of banks and credit unions. They feature lower eligibility requirements, fast funding times, and few – if any – industry restrictions. It's worthwhile to explore your options at all of these lenders to ensure you have the best options to choose from when it comes time to make a decision.
What Are the Different Types of Agricultural Loans?
There are different types of agricultural loans that you can apply for,
Information is power, and it's best to understand all the options available to you before you start the process. Here are the various types of agricultural loans offered by the U.S. Department of Agriculture (USDA).
Type of Loan
Description
Operational Loans

Borrowing maximum: $400,000
Repayment terms: 7 years max

Operational agricultural loans are used to cover operating costs and the purchase of livestock, seeds, and equipment. New entrepreneurs can also use them to cover the startup costs associated with a farm, including the living expenses you incur as you get your venture up and running.

You might need to give your lender a detailed plan of how you intend to use the borrowed funds, as there are strict requirements on what operational farm loans can be used for.

Farm Ownership Loans

Borrowing maximum: $600,000
Repayment terms: 40 years max

This financing option is used to purchase a new farm or expand a current farm. You can also use a farm ownership loan to help pay closing costs, build or improve structures on your land, increase your productivity, and assist with land, soil, and water resource preservation.

Farm ownership loans are broken down into another subcategory: Direct Farm Ownership Down Payment Loans.

This option is designed specifically for new farmers, women, and minority applicants in the agricultural industry and is the only loan program offered by the FSA that doesn't provide 100% financing. Instead, the borrower provides 5% of the purchase price and is, in turn, more likely to reach approval.

Microloans

Borrowing maximum: $50,000
Repayment terms: 25 years max

As the name suggests, microloans are smaller financing options used when agricultural entrepreneurs need a minor influx of capital.

This option is available to almost everyone in the agricultural industry, including truck farms, farmers' markets, CSA's (Community Supported Agriculture), restaurants and grocery stores, or those using hydroponic, aquaponic, organic, and vertical growing methods, according to the USDA's Farm Service Agency.

Emergency Loans

Borrowing maximum: $500,000
Repayment terms: 10 years max

Mother Nature can turn your profitable farm into an inoperable money pit in a few short hours. Fortunately, the FSA offers emergency loans for this very purpose, allowing farmers and agricultural business owners to recoup after a natural disaster.

The Secretary of Agriculture must designate the event that caused your loss as a natural disaster, or the President of the United States declare a "state of emergency." to qualify for this type of loan.

You'll need to have sustained at least a 30% reduction in your primary crops to qualify for an emergency loan.

Youth Loans
Borrowing maximum: $5,000
Repayment terms: 7 years maxYoung entrepreneurs can get their start in the industry using an FSA-sponsored youth loan, which features a maximum borrowing limit of $5,000.

To qualify, you'll need to have a project manager sponsor you, and this individual needs to be capable of supervising, training, and helping you as you move throughout the process. If you're under the age of 18, you'll also need a parent or guardian to consent to the application.
Types of Traditional Agricultural Loans & Financing Options
If the above-mentioned options don't work for your specific circumstances, you can seek other options to help your organization grow. Some of the traditional agricultural loans that you can get include term loans, business lines of credit, equipment financing, SBA loans, and more.
Or, if you plan enough, you can potentially secure a traditional option on top of your FSA-sponsored loan, allowing you to grow and outpace your competition without restraint.
Here are some of the most common financing options available to agricultural business owners:
Term Loans
Term loans are given in one-time payments that you'll repay over an agreed-upon term. Most FSA options are term loans, but if you choose to finance outside of the FSA, you can potentially secure a much larger loan amount.
Repayment terms generally cap out at 25 years, and maximum borrowing limits will depend on the financial background of your business.
Business Lines of Credit
A business line of credit is a revolving credit facility from which you can draw physical cash whenever needed. You can access the same funds again after you've repaid them, and interest only applies to the amount drawn, not your total credit limit.
They're best used for ongoing capital needs, like payroll and material orders, or projects where you don't know the exact cost.
Equipment Financing
Equipment financing breaks down the cost of an asset over an extended schedule. The equipment you're purchasing usually serves as collateral for the loan, which eliminates the need for further collateral.
Some borrowers leverage equipment financing and lower their tax liability through the Section 179 tax deduction. For more information on this specific tax break, consult your financial advisor.
SBA Loans
SBA loans are highly coveted due to their high borrowing limits, low interest rates, and favorable repayment terms, but they're also difficult to qualify for. This is because the government partially guarantees 75% to 85% of the borrowed amount, meaning that they'll pay that balance if you default on the financing.
The extra layer of security restricts eligibility, but if you can qualify, you can borrow up to $5 million with some of the lowest interest rates on the market.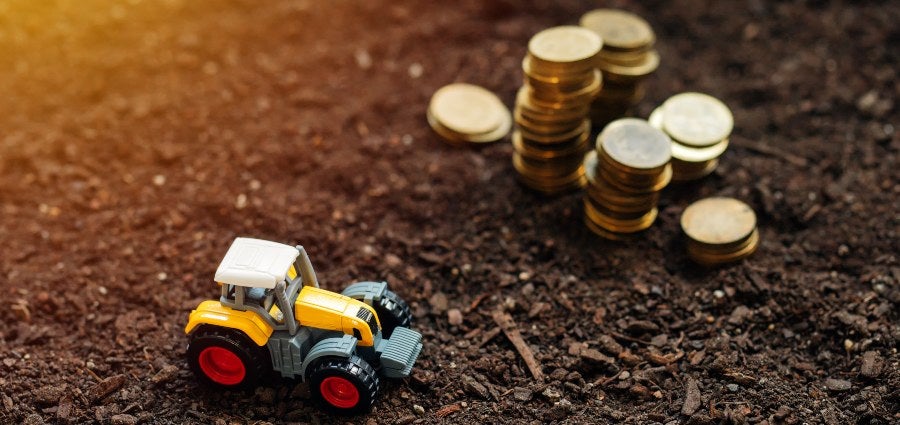 How to Apply for an Agricultural Loan
Applying for an agricultural loan is as simple as filling out an application and waiting for a response. Understanding whether that offer is the best one available to you, however, isn't as straightforward.
At National Business Capital, we make finding and comparing the most competitive financing offers you qualify simple and easy. You apply once, receive multiple offers from our network of strategic lending partners, and select the best one alongside guidance from your dedicated business advisor.
Here's what to expect from the process:
Apply Securely Within Minutes – Move through our streamlined application within minutes and upload your business documents with zero risk.
Review Your Offers – Compare your offers with expert advice from our team and select the best one for your specific circumstances.
Receive Your Money – Seize an immediate opportunity to grow your business or tackle a new challenge with confidence.
Don't waste your time applying to lenders one by one, especially when National Business Capital is right in front of you.
Choose National Business Capital for Agricultural Business Financing
Searching for a lender is complicated and requires you to take time out of your busy schedule, which is something not many business owners can afford as they manage the day-to-day of their business.
Not to mention all the considerations you'll have to put into your decision, as you'll need to carefully review the interest rate, repayment terms, and other factors to ensure you're capable of paying back the borrowed amount within the term.
All of this can be overwhelming, but you can streamline your search for financing by teaming up with National Business Capital.
At National Business Capital, our expert team of Business Finance Advisors does the heavy lifting for you. They take the time to learn about you, your business, and the challenges you face starting from the initial consultation.
Then, they get to work and find a lender who can offer terms that meet the needs of your organization, allowing you to maintain your focus on what matters most—your business.
Ready to get started? Complete our digital application and take the first step toward securing an agricultural loan that will help kick-start your growth.
Frequently Asked Questions
What Is an Agricultural Loan Called?
An agricultural loan, otherwise known as a "farm loan," is a financing option available only to those in the agricultural industry. These loans can be used for a variety of purposes, such as purchasing livestock, expanding an existing farm, or updating your equipment to the latest standard.
While these options are specific to this industry, farmers and agricultural business owners can also secure traditional financing options, like business lines of credit and equipment financing.
What Bank Is Best for Agriculture Loans?
There are a variety of banks and credit unions that can finance your agricultural business, but the benefit of each organization will depend on your specific needs and circumstances. There isn't necessarily a "best" bank for agricultural loans, just like there isn't a "best" online lender.
You'll need to research lenders and compare their programs to find the best agricultural loan for your business.
Are FSA Loans Good?
The FSA offers financing options specifically for those in the agricultural industry. Each option is uniquely beneficial for certain circumstances, but almost all of their financing programs have forgiving repayment terms and lower interest rates on average.
The only downside is the low borrowing limits. Farm ownership loans max out at $600,000, which is noticeably lower than what you can borrow with a term loan or SBA loan.
What Are Agricultural Loan Interest Rates in 2023?
Interest rates vary based on the financial background of your business, the lending product you're seeking, and the lender you're working with. However, in 2023, interest rates are higher than average because of the uncertainty in the economy.
What Are the Benefits of Getting an Agricultural Loan?
Agricultural loans offer a liquidity boost for businesses facing a challenge or opportunity to grow. Rather than put pressure on your cash flow when you're about to start your growth plan, you can use someone else's money to support your goals while your cash flow keeps everything running smoothly.
You can enjoy increased purchasing power, the ability to start plans immediately, and a variety of formats/structures to choose from, among many other benefits.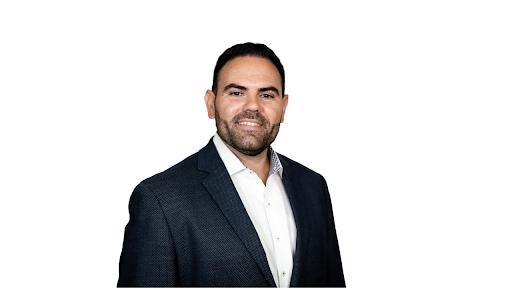 About the Author
Phil Fernandes
Phil Fernandes serves as Chief Operating Officer for National Business Capital. He boasts 15 years of experience in sales and 10+ years of management experience as National's VP of Financing/Analytics. Phil is also an excellent writer who's completed the Applied Business Analytics executive program at MIT and regularly contributes articles to National Business Capital's blog.
Accelerate Your Success
Seize the opportunity to grow your business and gain access to the capital you need.