7 min read. September 19, 2022 by Amanda D'aria
Looking to secure the best farm loans for your agricultural business in 2022? National Business Capital, the leading SMB FinTech marketplace, can help you find the RIGHT lender within their 75+ lender marketplace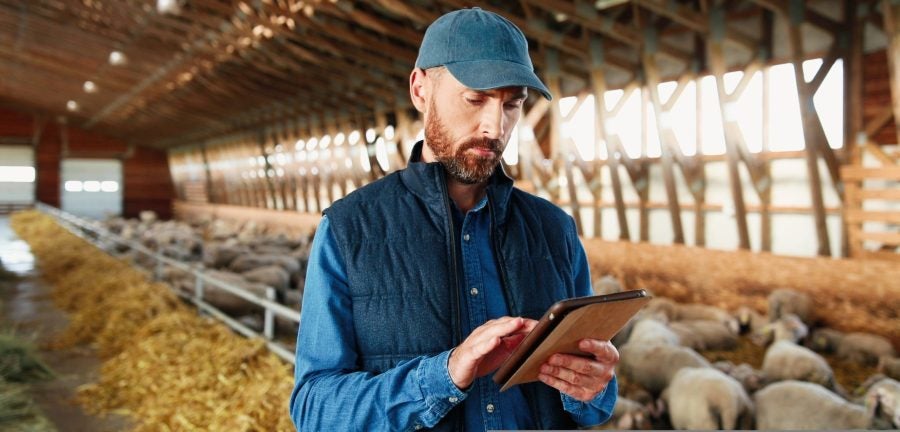 The agricultural industry is unique in many ways, but at the end of the day, farms are businesses, too. Each one will need capital to pay expenses, hire employees, purchase necessary equipment, and afford growth opportunities, which can be difficult considering the seasonality of the industry.
Months of low business activity can eat away at your cash reserves and challenge your ability to start your busy season on a strong footing.
Some entrepreneurs in the agricultural industry choose to cut costs in other areas of their business to afford the expenses and opportunities, but you can preserve the integrity of your operation by securing farm loans to kickstart your growth and help you outpace your competition.
There are various farm loan products available to agricultural entrepreneurs, like term loans, business lines of credit, and business advances.
There are also more specific loan options, such as farm ownership loans, which are specifically designed for farmers who are looking to purchase or expand a ranch or farm.
Each one of these options has specific qualities that might make one more beneficial for your situation than another, so it's important to extensively review your options to ensure you're getting the best deal.
You might have found the perfect farm loan product for your operation, but finding a lender to finance your operation can be yet another hurdle.
You could go the traditional route and find a bank or credit union, but these lenders have strict eligibility requirements and lengthy underwriting processes that can deter some business owners.
Online lenders will have less restrictive requirements, but they often carry higher interest rates on average, which can make the lending option less than ideal.
With so many options, you'll have to set aside time to complete your search, or you can team up with a marketplace of lenders to streamline the process.
Information is power, and it helps to fully understand your options before you start searching for lenders. Here's everything you need to know about securing a farm loan for your business.
1. What is a farm loan?
Farm loans are financing options designed specifically for the agricultural industry. The United States Department of Agriculture (USDA) has many loan options available to farmers, including farm ownership loans, operation loans, and emergency loans.
All of these options are specific to farmers and those who operate in the agricultural industry, so entrepreneurs in other sectors will need to explore other options to finance their growth.
Farmers and agricultural entrepreneurs can also secure traditional loan options for their businesses if they need to. Lines of credit, merchant cash advances, and invoice financing can all assist farmers as they manage their operations.
You can use a farm loan for many different reasons, like purchasing new equipment to increase your productivity. You can also expand your farm, purchase another farm, or secure a loan for working capital purposes; The choice is yours.
Some farm loan options will require you to display your plan to use the borrowed funds, so make sure to have a plan in mind when you begin to speak with lenders.
2. What are the different types of farm loans?
Whether you need to purchase equipment, hire additional staff, or expand the scope of your farm, you can apply various types of farm loans, including operation loans, farm ownership loans, microloans, youth loans, and emergency farm loans.
Operation Loans
According to the USDA's Farm Service Agency, operation loans are "a valuable resource to start, maintain and strengthen a farm or ranch," as they can be used to purchase livestock, seed, or cover operational expenses. The maximum amount you can borrow through a farm operation loan is $400,000, with repayment terms generally between 12 months and seven years.
Farm Ownership Loans
Much as the name suggests, farm ownership loans are used to fund the purchase or expansion of current farms. You can also use a farm ownership loan to improve your current operation, increase productivity, or "assist with land tenure to save farmland for future generations," according to the USDA.
This financing option carries a maximum borrow limit of $600,000 and repayment terms of up to 40 years. You can also choose to secure a down payment farm ownership loan, which helps women, minorities, and newer entrepreneurs fund the purchase of new farmland.
Microloans
Microloans are smaller financing options with maximum borrowing limits of $50,000. This option is useful for new entrepreneurs who need a small influx of capital to meet their operational needs, but other organizations, like truck farms and farmers' markets, can also benefit. Repayment terms are maxed out at 25 years, but you can choose a shorter-term loan if you don't need extensive time to repay the borrowed amount.
Youth Loans
The Farm Service Agency also has financing options for young entrepreneurs looking to start or expand in the agricultural industry, called youth loans. However, to secure a youth farm loan, you'll need to provide information about the project you're looking to finance and a recommendation from a project advisor that will guide you through the process.
You'll also need to have a parent/guardian consent to the application. Despite all the requirements, this financing option is perfect for young entrepreneurs taking their first steps in the industry.
Emergency Farm Loans
Emergency farm loans exist to help farmers and farm owners recoup their losses after a natural disaster. You can only access this program if the Secretary of Agriculture declares that an event is a natural disaster or if the U.S. President establishes a state of emergency in your location. Additionally, you'll need to have sustained a 30% reduction in production losses to qualify. 
Repayment terms are very forgiving for emergency farm loans, with the only requirement being that you must make at least one payment per year. However, if you secure an emergency loan for annual operating expenses, you'll have to repay the borrowed amount within 12 months of the start date.
The USDA's Farm Service Agency also has loan options available for minority and women farm owners. These targeted loans are great options for these groups, as they often feature favorable terms and eligibility requirements.
3. How can I qualify for a farm loan program?
The USDA Farm Service Agency has different requirements compared to other lenders. For most financing programs, you'll have to be an eligible farm enterprise and meet the following general eligibility requirements:
not having Federal or State conviction(s) for planting, cultivating, growing, producing, harvesting, storing, trafficking, or possession of controlled substances

the legal ability to accept responsibility for the loan obligation

an acceptable credit history

be a United States citizen, non-citizen national, or legal resident alien of the United States, including Puerto Rico, the U.S. Virgin Islands, Guam, American Samoa, and certain former Pacific Trust Territories

no previous debt forgiveness by the Agency, including a guarantee loan loss payment

being unable to obtain sufficient credit elsewhere, with or without an FSA loan guarantee

no delinquency on Federal debt, other than IRS tax debt, at the time of loan closing

not being ineligible due to disqualification resulting from a Federal Crop Insurance violation

have sufficient managerial ability to assure a reasonable expectation of loan repayment
Source: USDA.gov 
To be considered an eligible farm enterprise, you have to be actively cultivating, operating, or managing land for profit.
4. What other financing options do farmers have?
Despite the specific programs available to farmers, you can also seek traditional financing options to help support your business growth.
Here are some of the more popular choices:
4.1. Term Loans
Term loans are what most people think of when they hear "business financing," but they're also incredibly useful for entrepreneurs in the agricultural industry.
The funds are given in a one-time lump sum payment that you'll have to repay within the terms outlined by your lender. Repayment periods for term loans can vary, but you can speak with your lender and tailor your financing to meet the needs of your situation.
4.2. Business Line of Credit
A business line of credit is a revolving credit line that you can draw on whenever you need capital. Once you repay the borrowed amount, you can take the same funds again, allowing you to always stay one step ahead of the next challenge.
However, business lines of credit are typically granted to organizations that can display strong revenue and have solid credit scores. You may also have to offer collateral to secure this financing option, but depending on your business's financial information, you may not have to.
4.3. Equipment Financing
Next, we have equipment financing.
The agricultural industry relies heavily on bulky and expensive equipment to conduct business operations, which is often difficult to afford at any stage in business.
Many entrepreneurs, especially those in this industry, choose to secure equipment financing to break down these sizeable purchases into more manageable monthly payments.
Additionally, the equipment or asset you're seeking to purchase can act as collateral for the financing, preventing you from having to offer another critical asset to reach approval. 
4.4. Business Advance
Business advances are essentially an advance on your future sales. If your client's invoices aren't paid on time, it can cause a serious disruption to your business and its ability to serve other customers.
Rather than wait for the money to appear in your accounts receivable, you can secure a merchant cash advance to turn future payments into cash today.
However, the financing does come at a price—usually 5% to 15% of the total incoming invoices—so you should make sure to plan accordingly if you're planning to go down this avenue.
5. Secure Competitive Farm Loan Rates With National Business Capital
Searching for a lender, or comparing farm loan programs, will require you to set time aside to research, which is difficult as you're managing the day-to-day operations of your business.
Instead of taking yourself away from what matters most, you can team up with a marketplace of lenders, like National Business Capital.
At National, we do the heavy lifting for you. Our process is completely transparent, streamlined, and comprehensive, allowing you to focus on what matters most—growing your business. 
Ready to grow and outpace your competition? Our digital application only takes minutes to complete, unlike the antiquated application process with traditional lenders. Click here to get started!
FAQs
How Hard Is It to Get a Loan to Start a Farm?
It isn't difficult to get a loan to start a farm, especially if you generate strong revenue and have a lengthy time in business. The many USDA-specific programs can help entrepreneurs at any stage in business secure the funds they need to start a farm business, purchase new land, and grow their operations.
However, you'll need to review and compare all of your options before making a final decision to ensure you're getting the best deal.
Rather than take your focus off your business, National Business Capital's 75+ lender marketplace can help connect you with multiple options for you to choose from.
Which Is the Best Farm Loan for New Farmers?
There is no "best loan" for every farmer; The benefits of each financing option will depend on your operation, the challenges you face, and your goals. If you're looking to purchase or expand your farm, then a farm ownership loan might be the right fit for you, but it wouldn't have the same impact if you're only looking to secure additional agricultural equipment.
On the other hand, traditional financing options can also help you meet your professional goals, like a business line of credit to stay on top of your expenses. To find the best loan for your farm or ranch, you'll need to carefully review and compare your options.
What's the Difference Between a Farm Loan and a Mortgage?
Farm loans are designed specifically for the property, or land, used by the agricultural industry, whereas mortgages are used for structures or buildings within a property.
You could technically use a mortgage to secure a home or residence on your farm or ranch, but you'll need a farm loan for the property upon which the structure is built. 
What Are the Terms for a Farm Loan?
The terms you'll have to meet for your farm loan will depend on the financing product or program you're seeking to use. Some options, like operational farm loans, have longer repayment terms, while other programs, like microloans, are tailored to the short-term.
The interest rates are generally stagnant, as the USDA relies on the current interest rates set by the Fed.