With a population of almost 700,000 people – 68% of them in the labor force – Boston offers a promising landscape for entrepreneurs. The city was ranked one of the best places to start a business in 2018. The proximity of schools like Harvard, Boston College and MIT feed a stream of talented candidates to support growing companies.
Despite the positive outlook, small businesses in Boston can face significant hurdles when it comes to financing. However, small business lenders are putting the right pieces in place to change that. Whether you're an innovative startup or following a time-tested business model, there are easier ways to access funding—both in the area and from the comfort of your desk.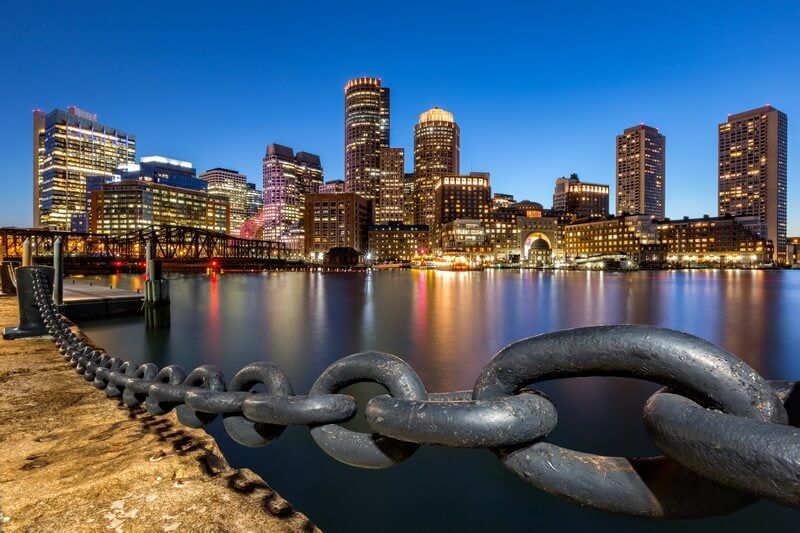 The State of Small Businesses in Boston
Over 40,000 private, for-profit small businesses account for 44% of employment in Boston. More than 95% of these businesses are sole proprietorships, or firms with fewer than 50 employees and/or less than $5 million in annual revenue.
In fact, the majority of Boston's small businesses aren't small at all – they're "micro" businesses. These are companies with fewer than 10 employees and $500,000 or less in annual revenue.
The Massachusetts state economy is good and the hiring outlook positive. Nonetheless, small business owners face numerous challenges as they grow:
Competitive labor market
High real estate costs
Regulatory red tape
There are plenty of helpful resources dedicated to helping entrepreneurs grow in Boston, including:
Greater Boston Chamber of Commerce
Boston chapter of SCORE
Boston Economic Development Center
Business owners are often unaware this help from the Boston business center exists right in their own backyard. The 2016 City of Boston Small Business plan cited resource awareness and utilization as one of the major "gaps in the small business ecosystem," as well as a lack of support for businesses owned by minorities, immigrants and women.
The Difficult Part About Getting Funding
Access to business capital is also a major concern. Banks continue to be the main source for financing, but Boston residents run into the same issues as those elsewhere: they're rejected.
Either the loan amounts requested are too low, or they don't qualify due to high credit and revenue standards. Businesses attempting to access capital from alternative sources are often unable to find deals that meet their needs.
A lack of financial understanding also limits Boston's small business owners from accessing capital. Many business owners in the city can't successfully prepare the detailed loan application and other documents. It can also be difficult to find a mentor to provide guidance along a clear path to funding.
Where to Get Small Business Loans in Boston
You need to be prepared to find funding independently if you're planning to start or expand a business in Boston. Consider these options based on the size of your business, your credit score and your financial history:
Banks are most likely to lend to established businesses with detailed documentation and excellent credit; small banks have higher approval rates
SBA lenders – usually banks, credit unions and trust companies – have qualification requirements similar to bank loans. Microloans, though, may be more accessible
The City of Boston, backed by the Community Development Block Grant (CDBG) program and the U.S. Department of Housing and Urban Development (HUD), provides an average of $5,000 to $100,000 in financing to small businesses and up to $15,000 to "early-stage" microbusinesses
MassVentures, a venture capital firm, provides funding for early-stage tech startups in the state of Massachusetts
Online fintech lenders offer options for business owners in need of immediate capital and those unable to secure funding from other sources
Information about Boston small business grants is also available through the Mass Grant Watch website and Grants.gov. If you need help navigating your options, check out the educational events and workshops offered by the Boston Economic Development Center and the Greater Boston Chamber of Commerce.
Best Business Loans in Boston
When you're ready to establish or expand your Boston business, what kind of loan should you look for? The best small business loans in Boston are those accessible to companies of all sizes and suitable for a variety of needs:
Unsecured term loans don't require collateral and may be an option if you have a very good credit score
Lines of credit provide capital for business expenses as needed
Equipment financing is secured by the equipment you purchase, so it can be easier to get
Accounts receivable financing uses your receivables as collateral to improve cash flow
Microloans from the SBA or non-profit lenders may be preferable when you need a small amount of capital
Business credit cards are suitable when you need working capital for everyday expenses
Your ability to qualify for funding will depend on factors like how long you've been in business, annual revenue, your company's financial outlook and your business and personal credit scores.
Can't Find Business Loans in Boston? We Can Help!
National Business Capital provides financing options for small businesses in Boston and across the U.S.
From startups looking for initial capital to established businesses planning for growth, National's business loans can cover a variety of funding needs.
Contact an advisor for more information on term loans, business lines of credit, equipment financing and other funding opportunities, and make your dreams of growing a business in Boston come true.