A consistent flow of work is the key to keeping your construction company going.
But you can't take on new jobs if you don't have the finances available to get started or if cash flow issues delay existing projects. When outstanding invoices and late payments prevent you from meeting deadlines, client relationships – and your chances of landing future jobs – tend to suffer.
How do you keep bringing cash into the business while you're waiting for payments from previous projects to hit your bank account? A construction line of credit can provide the funding you need to get going and stay on schedule so that your business can stay active and profitable.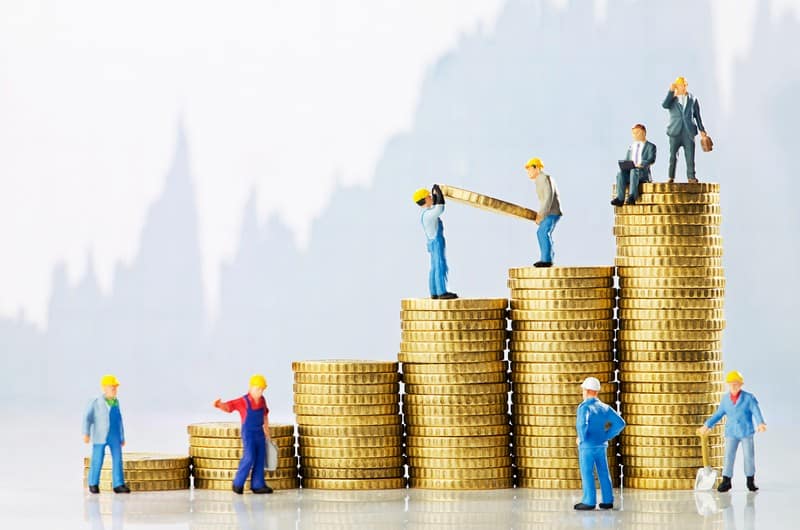 What Are Construction Loans for Builders?
Construction loans are financing products designed to assist builders in covering the costs associated with construction and contract work. They're used for materials, equipment, payroll, operating costs, bridging payment delays, and taking advantage of opportunities.
Some options, like construction term loans, are provided in lump sum payments, whereas more flexible options, such as a business line of credit, offer access to capital on an as-needed basis.
They offer near-instant liquidity to streamline cash flow, increase purchasing power, and cover business expenses. Whether dealing with an unexpected cost or opportunity, construction loans are a method of ensuring your business operates at full capacity at all times.
Advantages of a Construction Business Line of Credit
Lines of credit have many of the benefits of both credit cards and term loans without restrictive spending limits or the need to commit to years of debt payments. Here's how they work:
You apply as you would for any other business loan
The lender approves a given credit amount (usually much higher than credit card companies can offer)
You gradually borrow any amount up to the credit limit, as often as needed
You pay back what you borrowed on a weekly or monthly schedule
With each payment, you replenish available credit
In short, you get more cash to cover construction job expenses, and the money remains accessible for future jobs.
It's a much more flexible option than traditional business loans for contractors, which only provide one round of funding. Once you have a line of credit, it can act as a backup source of financing when a project requires more cash than you have or you find yourself unable to cover expenses during slow seasons.
Imagine getting through your jobs with no delays or concerns about how you're going to pay your employees. No more risk of losing much-needed labor or important clients to competitors with better cash flow. Plus, making consistent payments on the money you draw can increase your credit rating and open up more opportunities for construction business financing in the future.
Unpaid Invoices Delay Construction Business Projects
Late payments are all too common in the construction industry, and many business owners find themselves short on funds at the start of projects.
When you face the possibility of depleting funds halfway through the project, it's difficult to give clients an accurate estimate of how long the project will take. There are multiple costs to cover, including materials, employee salaries, and equipment maintenance or upgrades. Without the right amount of capital, you could be stuck in a waiting game.
Attempting to reduce project costs by hiring minimal help or investing in fewer materials at the outset can backfire quickly. Too few people on a site make for slow progress. It can also increase the risk of injuries as each worker tries to take on more tasks than he or she can handle. Ultimately, this could make the project cost more than it would if you'd brought on the right number of people in the first place.
Meanwhile, you need to pay your vendors as well.
Equipment is another key part of a successful construction job, and limited cash flow doesn't leave much available for maintenance or upgrades. Every time a machine breaks down, you either have to pay to get it fixed or replace it, both of which take time away from onsite work. You could find yourself facing bankruptcy if the cycle of delays continues and your business is too small to bounce back from the financial strain.
Contractor financing with a business line of credit can solve the problems arising from unpaid invoices by providing a ready source of working capital.
The alternatives aren't the best long-term move for your construction company. You may find yourself passing up lucrative projects or sitting idle as competitors zip through jobs while waiting for cash to come in.
By acquiring financing, you can move forward, stay active and grow your construction business.
Types of Construction Loans for Builders
There are a few types of construction loans for builders and construction companies to take advantage of. Here are a few of the most common.
Type of Financing
Description
Term Loans
Term loans are the most basic type of construction financing, provided in a one-time lump sum payment.

Borrowers can opt for shorter or longer terms depending on their specific needs.

Best for: Projects where you know the exact cost

Business Lines of Credit
Business lines of credit are the most flexible financing option available. Instead of a lump sum payment, borrowers draw funds as needed from their total credit limit and only pay interest on the amount drawn.

Some credit lines are revolving, meaning they have no set end date. As you repay your balance, you can draw the same funds again.

Best for: Projects where you don't know the exact cost, ongoing capital needs, etc.

Equipment Financing
Equipment financing is a specialized financing solution designed for equipment purchases.

Unlike a lease, borrowers maintain ownership of the equipment after repayment. This allows them to continue using the asset or, if needed, sell the asset and recoup some of the cost.

Best for: Equipment purchases

Revenue-Based Financing
Revenue-based financing focuses on a business's profitability, rather than its credit score, to determine eligibility. It's essentially an advance on your future sales.

Like a traditional loan, the funds are provided in a lump sum payment. However, this is almost exclusively a short-term solution, with repayment terms extending up to 18 months.

Best for: Businesses with less than favorable credit, those seeking fast funding, etc.

Accounts Receivable Financing
Accounts receivable financing comes in two formats: factoring and loans.

Factoring sells your invoices to a lender in exchange for funding. Loans, on the other hand, leverage your unpaid receivables as collateral for a loan.

Best for: Businesses with unpaid invoices
How Can You Manage Your Construction Line of Credit Funds?
Overuse can lead to overborrowing. Make sure to monitor your balance, check how close you are to your credit limit, strategically invest funds, and stay on top of your payment schedule to avoid missing payments and overpaying in interest.
Here are a few helpful strategies:
Avoid "impulse" use of your credit line
Establish a process to evaluate your balance on a consistent basis
Make an effort to pay down your balance whenever possible
Keep an internal record of withdrawals and payments
Speak with your lender if you know in advance that you'll miss a payment deadline
Remember that it's easy to spend money and difficult to repay it. Responsible cash management is key to maximizing the benefit of each borrowed dollar, so don't go about it haphazardly.
Construction Line of Credit for Builders: How to Qualify?
Qualifications will differ depending on the type of financing you're seeking and the lender you're working with. In general, non-bank lenders have less intensive eligibility criteria than banks and credit unions, although non-bank lenders carry higher interest rates.
Here are National Business Capital's general qualifications.
$120,000 in Annual Revenue
1+ Year in Business
No Minimum Credit Score
However, if you're seeking equipment financing or revenue-based financing, our qualifications are a bit different.
4+ Months in Business
$10k in Monthly Gross Sales
No Minimum Credit Score
How to Apply for a Construction Line of Credit for Builders?
Applying for financing is as simple as filling out a lender's application. Finding the most competitive option, however, isn't as straightforward.
Here are a few steps to follow when applying for a construction line of credit for builders.
Assess Your Business Financials' – First and foremost, you'll need to approach your business from a micro and macro perspective to gain a bird's eye view of your financials. Take note of the expenses you handle on a daily, weekly, monthly, and annual basis, as well as forecast 2-5 years into the future to account for any potential slowdown in operations.
Determine a Safe Level of Debt to Take On – Now that you have a better understanding of your business, you can establish a safe level of debt that your business can confidently handle. This way, you can avoid overwhelming your business with more debt than it can handle.
Research Lenders – Next, you'll want to research lenders offering the financing product you're seeking. Consider their reputation and qualifications as you go through your search, and don't be afraid to reach out and ask questions.
Prepare Documentation and Fill Out Applications – Once you have 5-10 choices, you'll prepare your business documents and fill out application forms. Each lender may require different documentation, but most will need to see business bank statements, personal driver's licenses, and your EIN number, at the very least.
Review Your Approvals and Finalize a Contract – Finally, you'll review the decisions on your applications and move forward with the best offer. Remember that there's room for negotiation in every contract. If you're a few points away from an offer working for your bottom line, reach out to see if you can negotiate the terms.
Comparing the Best Construction Loan Lenders
Because a line of credit can be used to cover multiple business expenses, you should consider both short- and long-term financial needs as you search for the right lender. This will help you decide how much to request for your general contractor line of credit. This approach also allows you to have enough money for not only the next job but also upcoming projects.
Start your search by looking for lenders willing to offer the amount of credit you need, and then ask these questions:
Is the credit line revolving? If not, the credit won't replenish when you make payments.
Can you qualify? Banks will want to see more financial information than alternative lenders.
Are the terms reasonable? Lenders should offer flexible term options.
What's the application process like? Too much paperwork can delay funding.
What are the fees? You may have to pay documentation, origination, or draw fees in addition to interest.
Do you need collateral? Even if you don't, the lender may require a personal guarantee or lien.
How are payments structured? Automatic weekly and monthly payments are most common.
Factors such as the size, financial standing, and debt-to-equity ratio of your business may affect the construction loan rates and terms for which you qualify. That's why it's important to check out all the options before putting in an application!
How to Get a Business Line of Credit to Fund Your Next Construction Project
If you're thinking of leveraging a construction line of credit to fund your next construction or contracting project, here are a few strategies to ensure you move through the process as quickly and efficiently as possible.
Proactively strengthen your credit score
Prepare all relevant documentation before sending applications
Read customer reviews of lenders
Apply with as many lenders as possible (to give yourself options)
Never select an option that doesn't align with your business goals or opportunity
Being in the construction business, you know there will come a time when you're looking to land a new contract but don't have the cash to get the project off the ground. Save yourself the anxiety of rushing to find the capital to cover costs, and check out your options from lenders like National Business Capital.
National Business Capital offers revolving lines of credit to construction companies with at least 1+ year of business history and $120,000 or more in annual gross sales.
Looking at your finances over the course of a year instead of just a few months gives businesses with seasonal cycles a better chance to qualify, especially if recent bank statements reflect a slow period. And your FICO score isn't an issue, either; at National, there's no minimum required to qualify for a line of credit.
With access to up to $5 million in funding in as little as one day, you no longer have to wait for clients to pay before you take on new jobs. Your company stays active, your employees continue to receive wages, and you have a chance to impress new clients by meeting every deadline without delays.
Start taking on more jobs with confidence by applying for a business line of credit! The application form only takes minutes to complete, and you can receive funds within 24 hours!