The coronavirus has wreaked havoc in China, from its origin in central Wuhan to Beijing and beyond. The virus in the U.S. is far from reaching epidemic proportions, but it's started to affect Americans where it really hurts: the economy. How will the coronavirus economic impact affect American manufacturing?
Chinese manufacturing plants play a major role in the success of American manufacturers. With quarantine protocols in effect and businesses across the country shut down, Chinese manufacturers are already falling behind on production of parts that American factories need to complete production.
If you own an American manufacturing company, you're not out of luck yet. It may take some time, but extra capital could help you keep production steady as you adjust to new suppliers.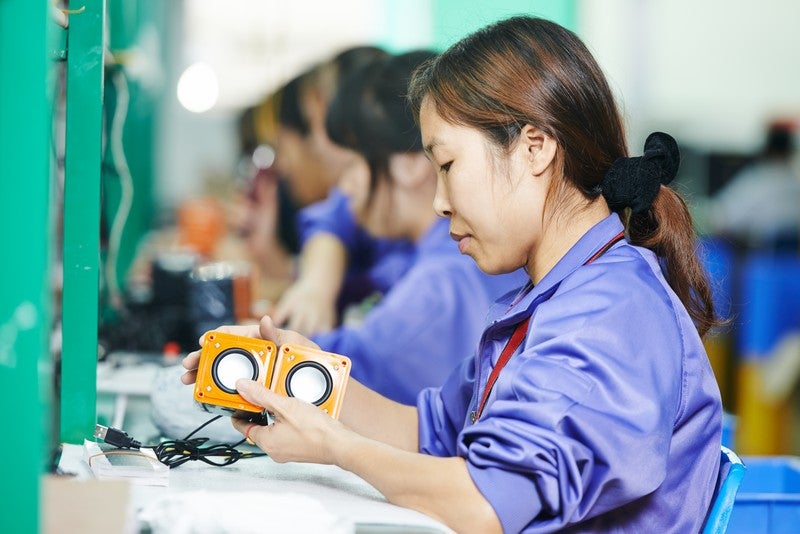 Coronavirus Economic Impact: How Has It Affected Chinese Manufacturing?
To contain the coronavirus and prevent further infection, the Chinese government has put quarantine measures in place. This quarantine followed the Lunar New Year, which factories had anticipated closure for due to celebrations.
Many factories were expected to reopen Monday. But with workers traveling long distances to and from factories, reopening isn't as simple as flipping a switch.
How the Coronavirus Delayed Production for Apple's Upcoming iPhone 11
In response to the coronavirus outbreak, Apple shut down all of its stores and offices. This was a standard measure to control the impact of the virus, and many businesses in the area followed the same protocol. But Apple's own office spaces account for only a small percentage of the coronavirus economic impact.
Like many tech giants, Apple bases the majority of its manufacturing efforts out of China. One of its flagship manufacturing plants, Foxconn, was just given the green light to resume production.
Located in Zhengzhou, the Foxconn manufacturing plant working on upcoming Apple products now has approximately 10% of the workforce back on the production line, or about 16,000 people. While this may move some projects along, they're still a far cry from being back in the full swing of things. The remaining workforce may steadily trickle back, or come back in bulk once more quarantines are lifted.
The Zhengzhou manufacturing plant is in the process of producing the much-anticipated iPhone 11, as well as a yet-to-be-revealed economy iPhone. If Apple doesn't take steps to make up for lost time, then the coronavirus economic impact could be huge.
Electronics Manufacturing Shortages: The Domino Effect
As the leader in electronics manufacturing, China produces countless products that Americans use on a daily basis. But its role extends beyond that. Additionally, China also produces parts for use in products that are primarily developed in America.
To avoid liabilities and hire seasonally, many Chinese factories take on employees through a practice called labor dispatch. This enables manufacturers to temporarily contract employees, who are hired through an external agency and managed by the factory directly.
Many of these temporary workers hired through labor dispatch are not based in the urban cities that they work in. Instead, they move from the countryside to the city for short-term contracts, then return home once it's complete. But the current coronavirus threat could spell an uncertain future for this otherwise standard process.
Under normal conditions, this constant flow of workers in and out of factories wouldn't pose a threat. But due to the coronavirus outbreak, it's possible that these temporary workers may take on other employment opportunities, instead of returning to the cycle of temporary factory work. If the factories lose one of their primary sources of labor, there may be a resulting domino effect in which American manufacturers lose access to components they've consistently relied on.
The standard factory process involves working on products slated for release several months in advance. With the current timeline, products expected to be sold during the 2020 holiday season may not meet the anticipated volume—even in a best-case scenario in which workers return.
Coronavirus Economic Crash: How It Impacts American Companies
Despite our technological advancement, manufacturing plays a major role in the U.S. economy. In 2018, it drove 11.6% of the nation's economic output, with manufactured goods at about half of U.S. exports.
But American manufacturers don't always do it alone. Many rely on cheaper Chinese parts to complete their products, and some are already feeling the resulting burn after losing access. For American manufacturers that depend on these relationships, the coronavirus has complicated things quite a bit.
For starters, these businesses could have a significant decrease in inventory. Without the anticipated inventory on hand, it's naturally impossible to retain the normal expected sales. Consequently, suppliers could lose their normal relationships to manufacturers that have maintained a steady inventory.
American manufacturers suffering the effects of the coronavirus economic crash may also attempt to find an alternate supplier. Finding an American supplier that produces the same parts is certainly possible, though it's bound to be expensive.
Beyond all else, American manufacturers are attempting to navigate a decline in revenue. Having extra capital on hand may be all it takes to survive this slow period.
Limit the Coronavirus Economic Impact With a Line of Credit
Extra capital can help you finance all of the costs involved in surviving the coronavirus economic crash, including:
Lack of inventory on-hand to satisfy normal supplier demand
Finding more expensive foreign or U.S.-based suppliers to purchase components from
Keeping cash flow smooth
Maintaining payroll
Fortunately, you won't have to go to China to get it.
At National, our team of Business Financing Advisors is dedicated to helping you find the best deal on a loan or line of credit. After filling out our 60-second application, they'll connect you with over 75+ lenders to find the best program for you. You could receive funding in as little as 24 hours.
Ready to take the next steps in surviving the coronavirus economic crash? Get started by applying now!