As your small business grows, it's common to find yourself short on the cash you need to reach the next level. The most common way to get a cash injection is applying for a small business loan. But if you've had past credit difficulties, or you're unsure how the process works, then understanding how credit approvals on small business loans work can be confusing.
Before you can obtain funding, you need to meet the lender's qualifications. Qualifying isn't the exhausting, time-consuming process it once was, but there are still a few steps. One of them (in some cases) is receiving a credit approval for the small business loan.
When it comes to qualifying, receiving a credit score approval is an important step in the application process. However, your personal credit score isn't a make-or break factor like it once was. Even with credit challenges under your belt, you can generally still find options.
Here's what you need to know about receiving a credit approval for your small business loan.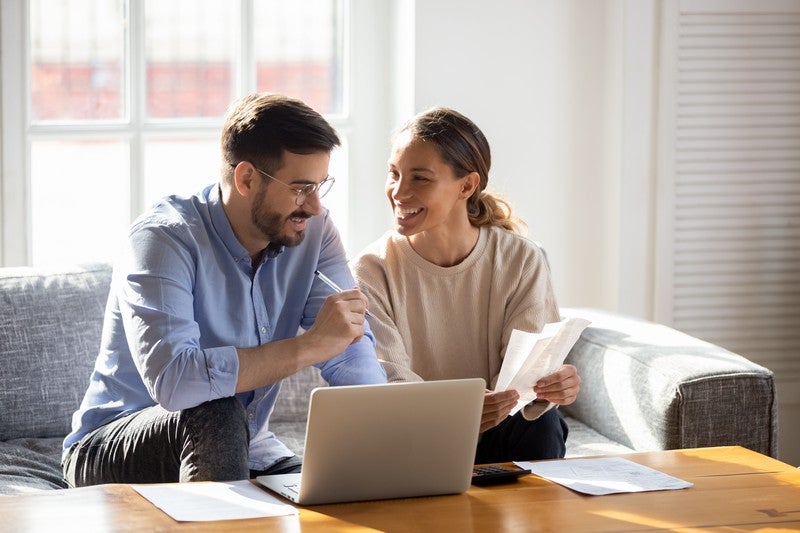 What's the Minimum Score for a Credit Approval on a Small Business Loan?
Your credit score is an important number during the application process, but it's not the dealbreaker it once was. Even with bad credit, you can still get credit approval and qualify for financing options based on other factors, like your annual revenue.
That being said, your ability to get a credit approval can vary based on the lender you're applying through.
At traditional financial institutions like banks and credit unions, standards are high. To even be considered for financing options, you'll need a credit score of at least 650, but most programs require a score of 680 or higher. Even with a small business loan credit approval, though, your bank loan application could be rejected due to numerous other factors.
Through alternative lenders like National, there are normally no minimum credit requirements. Unlike banks, fintech lenders are more interested in where your business is going, rather than where it's coming from. There are also highly competitive financing options available for small business owners with good credit.
Now that we've discussed minimum scores, let's dive into how you can get a credit approval.
Where the Small Business Loan Credit Approval Fits Into the Application Process 
Wondering how to get a credit approval for your small business loan?
This is a natural step in the application process, but depending on where you apply, it may not even be a part of the process. Some lenders who don't place the same importance on your credit score, like National, may not even have this as a step in the process.
Think About How Much You Need, and Which Type of Loan Works Best
Before applying for financing, you'll have a few important questions to answer.
You know you need cash, but how much do you need to accomplish your goals? If you're trying to flip inventory, then that's an easy question to answer—the cost of the inventory.
If you're taking steps to grow and expand your business, though, then the answer may not be as clear.
Consider the full costs of your expansion, between materials, hiring, and any other expenses you may incur. It's also important to remember that even the best laid plans change. Before finalizing this number, add in other expenses that may arise.
If you need a substantial amount of cash, then personal loans may not provide enough.
You should also consider what type of loan or financing option might work best for you. Depending on where you apply, there may be a few options on the table. If you don't know right off the bat, then don't fret—a Business Financing Advisor at National can help you make this choice.
The most popular financing options to supplement cash flow are:
Small business loan: get extra working capital, then pay it back at a set rate with defined repayment terms
Business line of credit: qualify for a certain amount of cash and draw from it as you need it, paying back only what you owe
Equipment financing: purchase new equipment without paying everything upfront, and receive tax advantages
SBA loans: borrow larger amounts to be paid back over a longer period of time
Merchant cash advance: get cash today in exchange for future sales
There's no clear-cut answer when it comes to which financing option works best for you. Different types of businesses may be able to capitalize on certain options more than others, but their goals can also impact this.
Decide Where to Apply
You know what you need to move forward in the process—now, where should you apply?
As we mentioned earlier, banks offer the lowest rates, but with the caveat of a more difficult credit approval process for small business loans. The overall process is also longer.
Beyond a clean credit report, you'll need crystal clear financials to be a legitimate candidate for approval. Anything that might cause an underwriter to take a second glance—like low balances, a lien, or another red flag—may take you out of the running at a bank.
While online lenders have slightly higher (but still competitive) rates, you can generally expect a faster and easier process. You shouldn't expect to encounter any credit barriers, even with low credit.
The time window of your opportunity is another significant factor in this decision. When you need fast funding (within a few days) to seize an opportunity or solve a problem, online lenders can usually meet these needs.
Consider Whether or Not You Meet the Qualifications
Qualifications can vary significantly from lender to lender. While you can simply move forward and apply, it's helpful to understand the qualifications on the upfront.
Qualifications for a Bank Loan
Like we mentioned, bank loan qualifications are more strict than other lenders. Obtaining a credit approval for your small business loan is only one step of the process. Additionally, you'll need to:
Have an established business with at least two years of operations
Write a business plan that details your intended use of the funds and includes your mission statement, a breakdown of key leadership, the target market, your offerings, revenue and expense projections, and details about your location and/or facilities
Fill out a detailed application that classifies your business
Provide paperwork that proves your financials
Offer proof of collateral
Disclose any partnerships and/or affiliations
A credit score below the required 650 may take you out of the running for a credit approval. But, falling short in any of the other required financial categories may also impact your chances of receiving an approval.
Qualifications for Fintech Lenders 
Fintech lenders have more easygoing requirements for small businesses to receive a credit approval on a business loan, and to be approved in general.
Unlike banks, fintech lenders won't do a deep dive into your financials. Instead, they'll examine a few key indicators that paint a more accurate picture of how your business is performing, and where the next few months or years will take you.
To qualify and receive a credit approval, you'll need:
At least 6 months in business
$120K in annual gross sales
No minimum credit score
Being ahead of the curve in any of these categories puts you in a stronger position to receive the ideal approvals. Nonetheless, simply meeting these criteria will open the door to options.
Put in Your Application
Once you understand the process and are ready to get the ball rolling, the next step to receiving your credit approval is (naturally) to apply for a loan.
Because banks have a more comprehensive list of qualifications, the application process will require more work. In addition to filling out a long document, you'll also need to include other paperwork proving your financials.
Business licenses and permits
Your Employer Identification Number (EIN)
Income and bank statements
Balance sheet
Tax returns
A copy of your commercial lease (if applicable)
Accounts receivable aging and accounts payable aging
6 months of payroll records
Paperwork that classifies your business with the correct entity structure
Certificate of good standing
Sales agreement (if you're getting funds to acquire another business), as well as their financials
Supplier contracts
Corporate bylaws/operating procedures
Purchase agreements
Your debt schedule
Once you submit your bank loan application, the underwriters will do a hard pull on your credit history to find your score. Based on that, they'll be able to offer a credit approval or decline. But remember, the other information is equally important—anything the underwriting team finds that shows you're less than qualified will decrease your chances of being approved for the loan itself.
On the other hand, online lenders have a faster, simpler and easier application process.
Generally, you can apply through the entire process online. After doing so, many fintech marketplaces allow you to provide the other required financial information by connecting your bank accounts. While you should do your homework to verify that the site you're applying through is safe, most are secure, and can dynamically provide the information that the lender or marketplace needs.
Receive Your Credit Approval (Or Move Forward Without One)
Now that you've applied, the next step is to sit back and wait to hear if you've received a credit approval. The timeline varies from lender to lender.
Due to the more thorough underwriting and research process, bank approvals can take weeks or months. You may not know if you've received a credit approval until long after your opportunity has passed.
Fintech lenders use technology to determine your approvals right away. Because of this, you should know if you received a credit approval in a few days at most, but normally a few hours or the next day.
However, because most don't have credit requirements, this isn't normally an issue you'll have to contend with.
Get the Financing Your Business Needs
Wondering if you'll receive a credit approval for a small business loan?
At National, you won't have to sit and wait while your opportunity disappears. After completing a 1-minute application, you can securely connect your bank accounts, then learn your options!
With no credit requirements, you can receive a credit approval regardless of your score or past challenges.
Why wait when you can get started right away? Apply through our fast and simple process today to hear your options from a knowledgeable Business Financing Advisor!