What's at the core of any successful small business? People! Your customers are your livelihood, and the more you know about them, the better experience you can provide. But if customer information is scattered between too many platforms, it's impossible to make sense of it in any actionable way.
This is why CRM software is an essential business tool. With today's CRM platforms, you can take advantage of the abundant customer data you collect every day to revolutionize your approach to marketing, sales and customer service.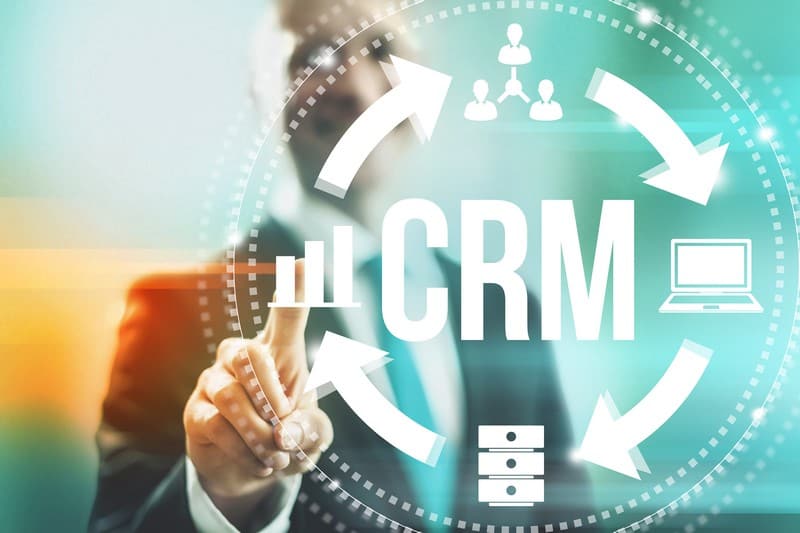 Why You Should Explore Customer Relationship Management for Small Business
Your customers enjoy personalized experiences. Personalizing marketing, shopping and service streamlines their interactions with your company and caters to the increasing desire for speed and convenience. But the only effective way to create these experiences is to have a single unified solution for collecting, managing and leveraging customer data.
This is one of the biggest benefits of CRM for small business. With the right CRM solution, you can bring together customer data from your website, social media channels and email marketing campaigns and analyze it using reporting and metrics tools. Data updates automatically as customers interact through various touchpoints, so every department from sales to customer services has access to the same information. Real-time automated updates reduce errors, making for a unified and satisfactory customer experience.
CRM also provides powerful tools for qualifying and nurturing leads. After all, leads are only valuable if you pursue them, and in today's marketing landscape, that means building relationships. Follow-ups, promotional campaigns, product suggestions and other marketing options can run in the background once the system is set up, allowing you to concentrate on running your business while the software does the heavy lifting. Putting all these tools to work has the potential to increase sales by as much as 29 percent!
What CRM Features Should You Look For?
When you consider these benefits, it's easy to see the importance of customer relationship management for your business. Here's what you need to keep an eye out for as you shop around and compare features between platforms:
Contact management – You should be able to store, search and update all customer information in one place. Tags or categories make it easier to find specific customer segments and build personalized campaigns.
Cross-device and cross-platform functionality –If you and your employees will be accessing the CRM software from devices with different operating systems, it has to perform well on every platform to prevent delays and bottlenecks.
Robust integrations – Linking your CRM to your accounting software, email solution and social media accounts creates the unified environment you need for easy management of every aspect of the customer journey. Monitor social interactions and analyze email statistics for better marketing, and improve sales performance with revenue tracking and automated invoice generation.
Lead qualification – Minimize time wasted on dead ends by determining beforehand if leads are worth pursuing.
Sales projections – To get the most out of specific opportunities, look for a platform providing projections for every stage of the sales funnel. Use these projections to make better marketing decisions and increase conversions.
Mobile app – Because the best opportunities may not happen while you're at the office, mobile CRM capabilities are a must-have. Make sure an app is available for your device so that you can take action at a moment's notice.
Best CRM Software for Small Business in 2019
There are plenty of CRM solutions out there, and trying to narrow down the choices can be overwhelming. Reviews break down features, benefits and pricing models to give you a good idea of where to begin your search.
According to PCMag, FinancesOnline and Fit Small Business, these are the top choices for small business CRM:
HubSpot CRM – A 100 percent free platform and recommended Google partner, HubSpot's CRM solution is best if your small business budget is tight and the limitations of the software won't hold you back. You're allowed to add up to 1 million records and as many users as you like, but to realize the full potential of some of the other features, you'll have to pay for additional HubSpot services.
Zoho CRM – Zoho is recommended for businesses in need of robust social media management tools. For a fairly affordable monthly fee, you get clear tracking, options for customization and reliable importing tools for transferring data.
Freshsales – Part of the Freshdesk suite of offerings, Freshsales is praised for its user-friendly interface and easy navigation. The flexible tiered pricing structure makes the platform scalable, which is likely to come in handy if its lead tracking and sales tools pay off.
Finance Your CRM Software Investment
Adding CRM to your business software solutions can be a low-cost or even a no-cost way to boost performance, but once your customer base starts to grow and sales increase, you might find yourself in need of a more robust plan, better technology or additional software to handle other business functions.
A financing option like a merchant cash advance or business line of credit can fund purchases without seriously impacting your cash flow. You'll find these loans and additional offerings at National Business Capital. Grow with National, and learn more about how business financing may help jump start your CRM strategy.  To apply call (877) 482-3008 for a free consultation, or fill out a 1-minute application to get the funds you need in as little as 24 hours.