The use of drones in construction is on the rise, due new software made specifically to help construction companies and contractors complete projects faster, and with greater accuracy. Contractors and construction companies who use drones are saving an enormous amount of time and money, and completing more projects faster as a result.
But is the use of drones in construction really worth the purchase? Read on to find out.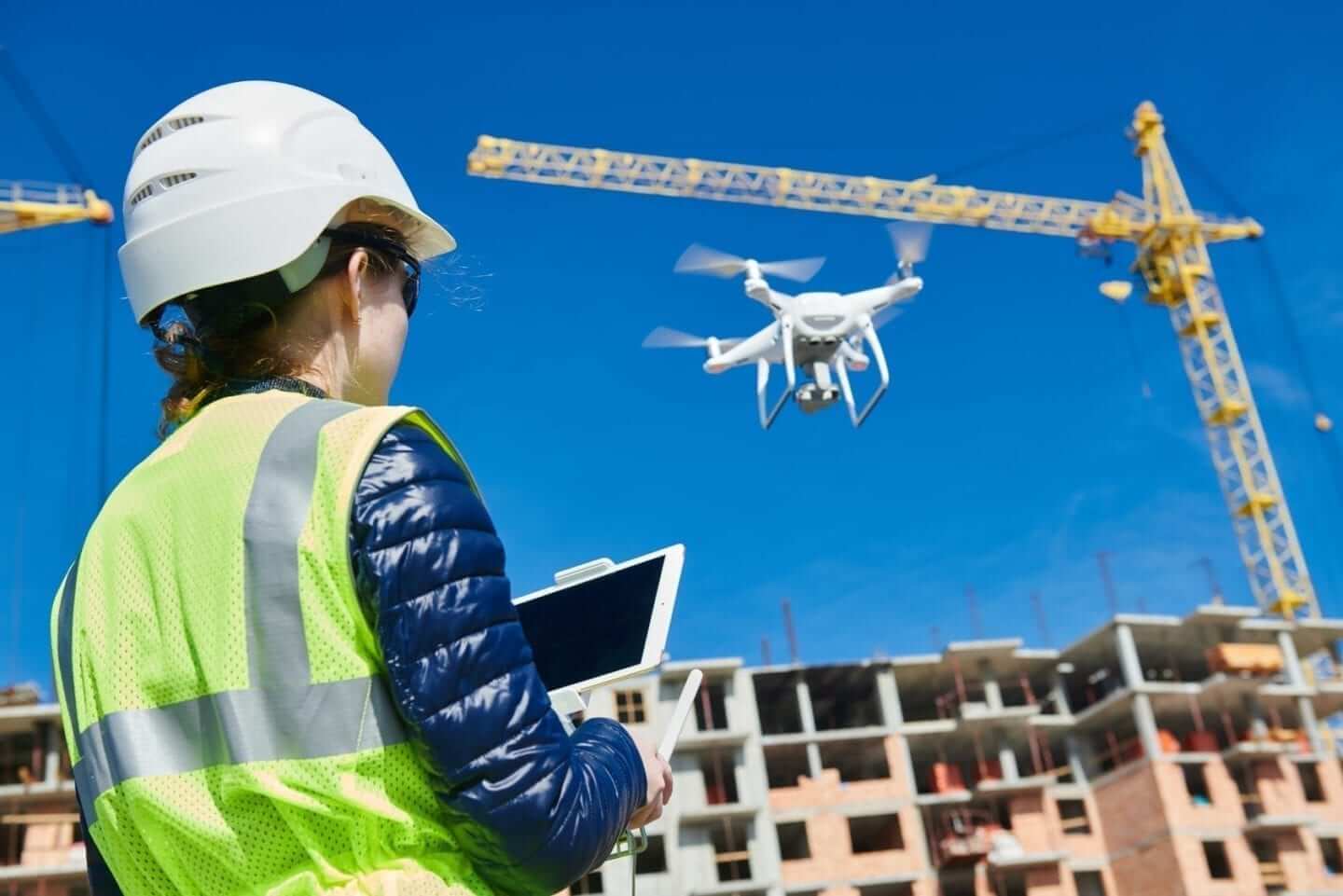 Using Drones for Land Surveillance
This is one of the most popular uses for drones in construction, and for good reason. Using drones for surveying land is helping construction companies and contractors in many exciting ways, including:
Eliminating the expensive labor and equipment costs of traditional land surveillance.

Reducing the amount of human error involved in land surveillance with more accurate data.
Incredibly fast scanning speeds expedites the otherwise long land surveillance process.

Providing immediate and extremely useful mapping data that would otherwise take lengthy periods of time and expensive labor costs to produce.
Customer Assurance, and Exciting Promotion
With the ability to provide aerial pictures and videos, as well as create 3D renderings of future construction projects, contractors and construction companies are using drones in construction to excite and give insight to their customers that would be otherwise impossible.
Additionally, the chance to market a construction company as one that utilizes drones in construction is great for business.
Customers will always choose businesses that promise the use of new technology, and contractors and construction businesses are no different. Promote your construction company with drone technology to attract more customers, and take on more projects.
Monitor Multiple Projects at Once
Contractors and construction business owners can't be everywhere at once. But drones can! Drones made for construction use are helping contractors and construction companies track the progress of every project they take on at once.
Instead of relying on subordinates for updates, and traveling from sight to site, drones in construction provide clear, live video feeds for contractors to view anytime, and anyplace.
Using these drones in construction is an extremely helpful tool ensuring projects are running smoothly, and efficiently. And, more importantly, monitor workers to make sure they're doing their job—without them knowing!
Easy, Fast Inspection
Inspections are frustrating and time consuming. Drones are often used by construction companies and contractors to avoid postponing project completion, with immediate and accurate inspection data. With software that allows inspection of project sites down to the smallest detail, drones make annoying project inspections a breeze.
Improved Worker Safety, and Site Security
Are your workers wearing proper safety equipment? Is something wrong with the way they're working, and posing a potential threat?
With construction insurance costs at an all time high, ensuring taking careful precautions isn't only important for the health of your workers, but the health of your wallet as well. Provide greater safety for your workers with drone video, and save yourself money and worry in the process.
Worried about vandalism, theft, and general security of your job sites once your workers are off the clock? Eliminate the need for costly, grainy security cameras, and keep careful watch on your projects with 24-hour drone surveillance.
What Kinds of Drones are Used in Construction, and What Do They Cost?
Every contractor and construction company knows that when it comes to completing projects, every dollar counts.
So, how much do construction drones cost, and what kinds are out there? Here are a few examples, categorized by pricing:
$200-$500: With user-friendly controls and HD video capture, these lower-end drones can be somewhat helpful in construction project enhancement.
500 – $1,500: A longer battery life, increased sensor range, and the ability to create 3D renderings of construction projects make drones at this pricing more ideal than their lower-end counterparts for construction use.
$1,500 – $2,500: With greater cost, comes greater power. Greater durability, more flexible camera controls, and higher resolution puts these higher-level drones ahead of the competition.
2,500 – $6,000+: These are the drones you're looking for. With higher-end pricing comes higher-end benefits including revolutionary 4k resolution, nearly endless battery life, software that lets you compare topographical data and 3D renderings, as well as tools that project quick estimates of material movement calculations and payments.
Sound Price-y? Not So.
Yes – the more you pay, the more you'll get out of your construction drone, with more features included in higher-end models.
However – although they may sound expensive, new business equipment laws and financing programs in place make it easier and faster to get construction drones for your business.
And with Trump's new Tax Cuts and Jobs Act, you may be able to completely write off the cost of your drone for construction within a single year.
Together with National's alternative equipment financing options that offer low rates, and the ability to hold the equipment itself as collateral, now has never been a better time to get a brand new drone for your construction business.
Are Drones Worth the Investment?
The short answer—yes! If used to their full potential, purchasing a single or multiple drones can save construction businesses astronomical amounts of money otherwise spent on:
Land Surveyor Costs
Security Systems
Topographical Planning
And save you thousands of hours a year by:
Limiting Delays Due to Inspection
Monitoring Projects Remotely
Rendering 3D Videos and Images for Project Demonstrations Within Hours
…and much more. With all the time and money saved by done technology, construction business owners and contractors often get a full ROI in as little as a few months to a single year.
How to Get a Construction Drone: 3 Steps
Come up with a solid business financing plan to ensure you save the most amount of money possible. Do you want to pay out of pocket, or pay off your construction drone with an

equipment loan

over time?

Purchase the right drone for your business. Make a list containing every feature that you're looking for to help you in your projects to make sure you're taking full advantage of the power drones in construction have to offer.
Search for the right source of funding. Or, have a company like National do it for you, and save countless amounts of time spent shopping around for the equipment loan with terms that perfectly match the needs of your business.
Take the Next Step
Contact National's expert business financing advisors today at (877) 482-3008, available 24/7, and ask them how they can help you get drones for construction with limited paperwork, and absolutely no hassle.
Or, fill out NBC's 1-minute, 1-page application to approved for your equipment loan in as little as 24 hours.