If you're facing cash flow issues in your construction company, you're not alone. A 2018 survey showed 84% of construction firms struggle with cash flow, and 19% cite it as a "constant" concern.
But did you know adopting eco-friendly business practices in your construction company can help fix some of your budget issues?
Upgrading to eco-friendly equipment reduces the amount of energy and fuel you use, which means you net more from each project – and that's not the only change you can make to improve your bottom line.
Check out the latest trends and updates in the construction industry to discover how your business can join the movement toward a greener (and more profitable) world.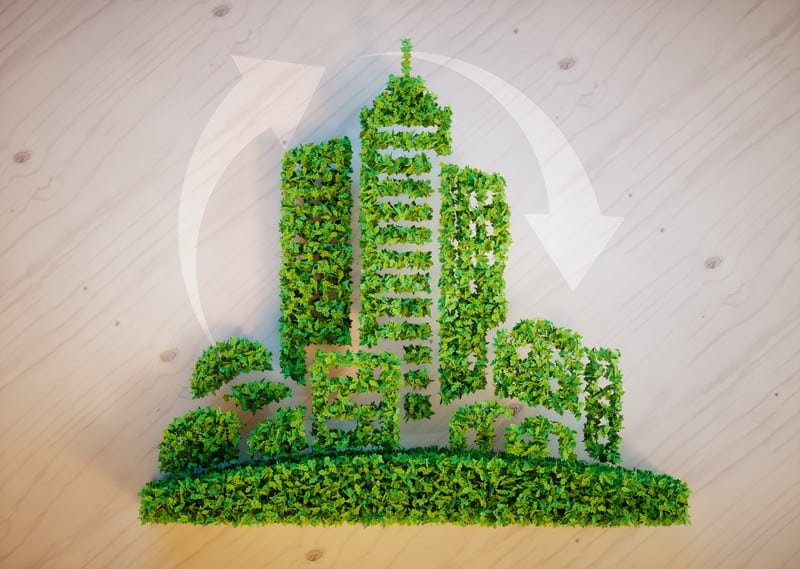 Trends in Eco-Friendly Construction Equipment
Manufacturers of heavy construction equipment are taking cues from the automobile industry and the changing emissions standards to develop hybrid electric and fully electric models.
It's now possible to purchase equipment with electric drives, in which the engine drives a generator to turn mechanical power into electricity. Some companies, such as Bobcat, Volvo CE and Caterpillar, are developing and releasing electric equipment powered by lithium-ion batteries. This equipment is capable of operating all day on a single charge.
An obvious perk of these models for eco-friendly builders is the reduction in or complete elimination of emissions. This creates cleaner, healthier construction sites and is better for the environment overall.
The use of electric drives also improves torque in all construction situations and facilitates faster responses from the equipment. Fuel consumption is reduced, and engines last longer. Plus, vehicles with hybrid or electric power run more quietly, reducing the noise pollution associated with construction jobs.
Technological advances provide additional improvements in efficiency. By utilizing internet of things (IoT) devices like smart sensors in the field, you can monitor the site environment and project progress in real time.
This information is invaluable when making decisions about equipment use and resource allocation. Less waste creates more eco-friendly construction sites, and consistent monitoring has the added benefit of improving employee safety.
Some vehicles also come equipped with internal monitoring technology to determine when to supply engine power and when tire pressure needs adjusting. Operating at optimal power and with proper tire pressure has an impact on fuel consumption, as well as the lifespan of both a vehicle's tires and its mechanical components.
More Eco-Friendly Construction Techniques to Improve Your Business
Switching to hybrid or fully electric equipment is just one way to make your construction projects greener. If you want to focus even more on creating an eco-friendly business, consider these options:
Salvage or recycle usable materials from structures slated for demolition instead of dumping them in a landfill
Seek out recycled, recyclable and biodegradable materials whenever you can
Purchase materials from local sources to reduce transportation resources
Choose non-toxic materials for features such as insulation to cut down on environmental impact
Reduce onsite water consumption, and re-use water as often as possible
Every change you implement helps minimize your impact on the environment, and you don't have to make the shift all at once to start seeing positive changes in cash flow.
Top Benefits of Being Eco-Friendly in Construction
When you focus on making sustainability and reduced resource use part of your business model, you not only save money but also improve your reputation with clients.
Sustainable construction practices position your business as both socially and environmentally conscious. More and more, these are qualities that companies are seeking when choosing vendors, partners, and construction companies.
Lowering your environmental footprint positions your construction business to accept jobs from clients desiring to create greener buildings through the use of eco-friendly materials and practices.
Making the switch to greener equipment also has plenty of benefits for the practical, day-to-day running of your business. According to SCORE, "strategically [investing] in energy efficiency" can lower business costs by 10% to 30% per year.
This is a significant savings in an industry like construction, where companies tread a thin line between profiting and running in the red. Energy-efficient equipment uses less fuel and isn't as likely to break down, both of which cut down on how much money you put into running and maintaining your vehicles.
Fewer breakdowns combined with the improved power of modern construction equipment also means fewer delays. Projects get completed faster, which makes clients happy and allows you to take on more jobs. If you choose fully electric vehicles, there's no need to refuel during the day, which also reduces the time needed to finish your work.
Improvements in equipment function allow vehicles to remain in operable condition longer, so you can power through these extra projects without worrying about the added expense of replacing equipment. You're also likely to be ahead of the game when it comes to complying with emissions standards. If the rules are updated to be stricter in the future, you won't have to make upgrades.
Equipment Financing Puts You on Track for Eco-Friendly Building
Upgrading your construction equipment lets you reap the benefits of cleaner, greener practices on every project, but it can also seriously compromise cash flow. Equipment financing spreads the cost of upgrading across several months or years so that you can begin implementing eco-friendly construction techniques right away.
You can purchase the best makes and models to meet your sustainability goals and get the added perk of taking the Section 179 tax deduction for the purchase.
National Business Capital offers two ways to get the cash you need for eco-friendly equipment upgrades. Standard equipment financing provides funding in two to five days and requires no minimum FICO score for businesses making $120,000 or more in annual sales. You may also qualify regardless of sales if your FICO is 650 or more.
Need equipment faster? Try the new eQuickment financing option. Construction businesses with a FICO score of 600 or more can qualify through a digital application for purchases under $75,000, and be approved for 100% of the purchase price in one hour or less. Speak with a finance advisor today to start taking steps toward providing the green options your clients want.