2/3 of consumers say they can't replicate the flavors of their favorite restaurant foods at home. That means they're going out at least once a week to seek out unique dining experiences. But with over 1 million restaurants in the U.S. clamoring for attention, it takes a little creativity in marketing and design to make sure they choose your establishment to satisfy their hunger.
If you want to become the hottest eatery in town, start paying attention to restaurant industry trends.
Knowing why 90% of consumers consider restaurant visits enjoyable can guide your design choices across the board. Read on to learn design tips that will improve your menu updates and marketing strategies for 2020.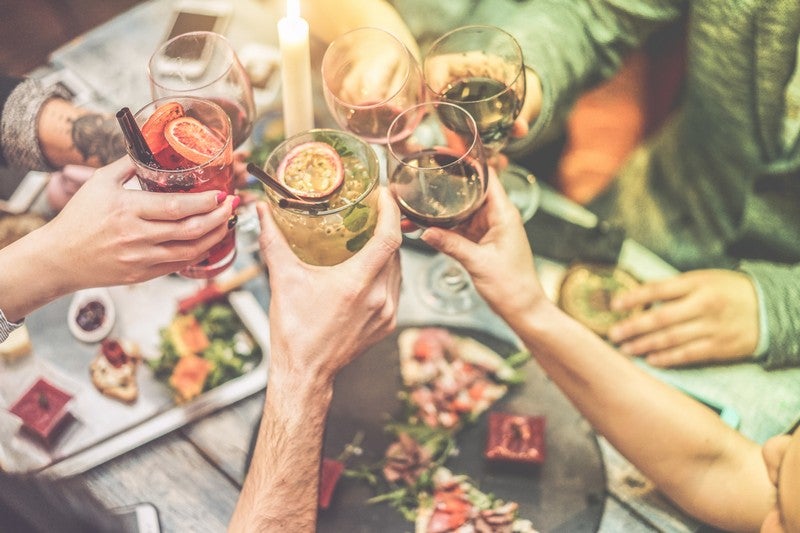 5 Top Restaurant Trends of 2019: The Hottest Ideas to Attract Hungry Customers
It's no secret that restaurants are marketing toward younger generations. These trends came out on top across the restaurant industry in 2019 as the most successful ways to drive consumer demand.
Get familiar with what's hot, and don't forget to ask for feedback about which trends to continue!
1. CBD-Infused Food and Drinks
The popularity of cannabidiol (CBD) exploded after its production was legalized by the Farm Bill of 2018. Since then, CBD-infused products have been popping up everywhere, including  restaurant menus. From salads to sweet treats, consumers can get a CBD fix in both prepared dishes and packaged goods.
This hot restaurant food trend of 2019 comes with a significant caveat: Adding CBD to food items is still technically illegal at the federal level. If you're going to get hempy with your menu, check local and state laws regarding the sale of CBD in foods. Also, be sure to find a reputable CBD producer with products containing less than 0.3% THC.
Above all, avoid making health or function claims about CBD-infused dishes, and be ready to pull the items in the event new laws or regulations are passed.
2. Healthier Options, Functional Ingredients
"Plant-based" was a big buzzword for restaurants in 2019, and the trend isn't slowing down. Consumers are also looking for functional foods—like probiotic-rich ferments—in restaurant dishes.
More and more eateries are introducing meat and dairy alternatives, experimenting with new "exotic" dishes or crafting entire vegan menus to appeal to a more discerning audience.
The trend toward more plants and less processed foods may only be the beginning of a long-term trend. With the economy bustling, the workforce is busy, but more attentive to their health than ever. Plant-based foods also allows customers to eat healthier, without giving up indulgences like restaurant meals.
The 45% of diners who eat out more than once a week are looking for better options than greasy fast food fare. You can catch their attention by lightening up your menu with a few plant-based dishes and adding variety with functional ingredients.
The best part: because the ingredients are more expensive, you can also charge a higher price!
3. Focus on Sustainability
As consumers become more conscientious, they're also becoming more careful about the number of disposables they use.
Some states have banned the use of Styrofoam containers and plastic straws in eateries and cafeterias. Many restaurants are voluntarily getting ahead of the curve by making the switch to more sustainable options across the board.
This includes a new trend:  "zero-waste" cooking. To prevent wasting any perishable inventory, restaurants are now redesigning menus, and finding ways to reuse, recycle or compost the rest.
There are a few ways you can jumpstart your own sustainability movement:
Locate budget-friendly sources of recycled and recyclable takeout containers, cups and cutlery.
Consider selling reusable straws or sets of "to-go" silverware to takeout customers.
Track how much food you use and throw away, and look for places where the kitchen can be updated to reduce waste.
Be sure to announce your changes to your audience in your marketing! Discerning diners of all ages—particularly in younger generations—will be delighted to see you're adopting one of the top restaurant design trends of 2019.
4. Going High-Tech
Improving the technology used in your business is one of the smartest restaurant marketing ideas you can implement.
Why? Customers are looking for frictionless dining experiences and expect everything from ordering to payment to be easy. 68% agree the restaurant experience is better when servers use handheld tablets, and 65% will make use of self-order kiosks when available.
Restaurant management systems provide better ordering and payment tools to create the experience your customers want. Many top models also include inventory tracking and management to improve efficiency and reduce waste behind the scenes.
Look for a combination of hardware and software offering the convenience of self-service orders, mobile payments and pay-at-table terminals.
5. Online Ordering Frenzy
The growing popularity of online ordering could make digital channels the source of 30% of all U.S. restaurant sales by 2025. 3 in 5 consumers use some kind of delivery or takeout service at least once a week.
It's such a common choice that some restaurants have begun operating on delivery-only models. These "ghost kitchens" have no spaces for dining in and no storefronts for pickup; food is typically delivered using online services like DoorDash and Grubhub.
But you don't have to gut your restaurant and start a stealth operation to snag a chunk of the delivery market.
Simply adding an online ordering option can go a long way toward boosting takeout sales. Offering mobile ordering can encourage 45% of your customers to use online services more often. It's even more attractive if you work in a loyalty program or subscription option for regulars.
Invest in New Restaurant Trends with a Business Loan
Do you have the budget to update your business with options diners are demanding? You can't implement something you don't have the money for, but not keeping up with the latest restaurant trends could mean missing out on opportunities to draw new customers and strengthen brand loyalty.
A small business loan or line of credit provides funding for trendy changes and improvements. Get in touch with a business financing advisor at National Business Capital to learn more about how you can qualify for restaurant financing and get the cash you need to bring your establishment into the new decade with style!