Food trucks can be a highly profitable business with relatively fewer startup and operational costs than traditional brick-and-mortar restaurants. Nevertheless, you will have to foot your fair share of expenses. You'll have to invest in initial supplies, equipment, and staff.
Food truck financing gives you the capital you need to launch your food truck business. Financing also provides a cushion to help you tackle any potential issues you may run into along the way.
Here's everything you'll need to know about food truck financing and related business loans.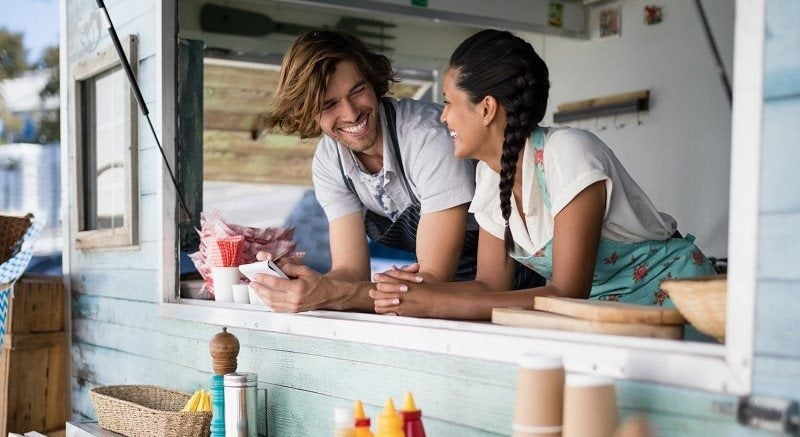 What Are the Advantages of Financing a Food Truck?
Operating a successful food truck business costs money. After you've gotten your venture off the ground, chances are you have a few ideas that will help drive further revenue, make operating more efficient, and grow your brand.
Leveraging your cash flow can only take your business so far. Sometimes, you need to use someone else's money to invest in your food truck's growth. Here are a few of the most notable advantages of financing food truck operations:
Streamlined cash flow
Increased purchasing power
A buffer zone to cover costs while you fine-tune processes for greater efficiency
Ability to grow on your schedule
Tax benefits (in some situations)
Whether you're investing in marketing or complementing your first food truck with a second one, financing provides the resources you need to keep your foot on the gas pedal. Although your parents likely said that "debt is bad," remember that it can be a powerful tool for growing and scaling a business.
What Can I Use Food Truck Financing for?
With any business, having access to additional financing gives you the resources you need to meet expenses and invest in growth. Food trucking financing works the same way. Whether you're looking to expand, upgrade equipment, or improve your cash flow – you can use food truck financing to reach your goals.
– Begin a Food Truck Business
Food trucks are an ideal entry point for entrepreneurs looking to enter the food service industry but don't exactly want to put up the enormous start-up expenses associated with opening a restaurant.
While food trucks have significantly lower start-up costs than traditional eateries, there are still a number of expenses you'll need to meet to get your business off the ground.
Estimates suggest that it can cost anywhere from $50,000 to $250,000 to begin a food truck business. Financing the food truck itself, along with necessary kitchen equipment, will take up the largest percentage of costs.
But you'll also have to pay for licenses, ingredients, food, décor, employees, advertising, and more.
Most food truck entrepreneurs don't have the funds required to start a food truck business readily available. You may have to put up some of your own savings or help from family members, but a business loan can also go a long way in making sure you have what you need to launch your business.
– Buy, Repair, or Upgrade Equipment
When you're just starting out and launching your food truck business for the first time, you're going to need to invest in equipment. This includes the food truck vehicle itself as well as stoves and ovens inside your truck.
If you've already been in business for some time, it's possible that wear and tear have gotten the best of your existing equipment. If this is the case, food truck financing enables you to repair or upgrade equipment – so you can focus on providing the best service to your customers.
– Invest in Marketing Initiatives
Marketing initiatives allow you to expand your reach and attract new customers. Use the funds from food trucking financing to hire a social media marketing manager, invest in marketing materials, upgrade your branding, launch online ads, and more.
– Expand Your Fleet
As your food truck business grows, you may decide to take on new locations or expand your fleet. You may even decide to explore new areas, such as private events or even festivals. With food truck financing at your disposal, you'll have the resources needed to make your future plans a reality.
How Much Do You Need to Invest in a Food Truck?
Starting a food truck business will typically require an investment of anywhere from $50,000 to $250,000. One study suggests that an investment of about $100,000 can result in an average food truck business revenue between $250,000 to $500,000.
At a glance, you should expect to have to foot the following costs to get your food truck business started:
The food truck itself, along with necessary kitchen equipment: $70,000 to $175,000
Food truck decor: $1,000 to $10,000
Permits and insurance: $2,000 to $4,000 annually
Initial food and ingredients: $1,000 to $4,000
Point of sale (POS) system software and hardware: $1,000 to $3,000
Utensils, plates, and other inventory: $500 to $1000
Legal or consulting fees: $1,000 to $5,000
This may seem like a large amount of money, but keep in mind that the startup costs of opening a restaurant are significantly higher.
The exact amount you'll need to invest in a food truck can vary depending on the type of vehicle you're purchasing as well as the location of your new business.
Starting a food truck in the middle of a busy city is oftentimes much more expensive. On the other hand, you may find a discount if you're operating in a slightly less crowded, but still active area.
How Profitable Is a Food Truck Business?
Food truck businesses can earn between $5,000 to $16,000 a month. Popular food trucks in major cities may even bring in up to $50,000 per month. One study found that the average food truck revenue ranges from $250,000 to $500,000 annually.
These are approximate gross figures and don't take into account the numerous expenses associated with running a food truck business.
Alongside startup costs, you'll need to pay operating expenses and manage your debt payments. These costs can take up a significant chunk of your business's revenue, so it's important to budget accordingly. You'll need to account for:
Employee wages
Inventory and food ingredients
Equipment maintenance
Supplies like utensils, plates, and other inventory
Advertising
Ongoing permits and licenses
Taking into account the various costs associated with running a food truck business and the numerous factors that can come into play – over half of surveyed entrepreneurs from one study reported a full-time income of more than $150,000 after 2 years in business.
What Credit Score Is Needed to Buy a Food Truck?
In order to finance a food truck, you'll need a credit score of at least 680 or higher. Buying a food truck typically entails taking out an equipment loan. Equipment loans provide the funds necessary to buy or rent your truck as well as the other supplies you'll need to get your business going.
Equipment financing helps you cover up to the total value of the food truck you're looking to purchase. You'll typically need to provide a down payment, while the food truck itself will act as collateral.
Fortunately, you can find some exceptions to credit score requirements with equipment loans and food truck financing. For example, if your collateral is very valuable, if your down payment covers a significant portion of the loan, or if your cash flow is strong – lenders may be willing to offer you a solution based on your criteria.
Generally speaking, online lenders and fintech lenders will have more flexibility when it comes to credit score requirements. Banks are the most strict, and you'll face lower approval rates if your credit score is lower than 680.
Can I Use Personal Assets as Collateral for Food Truck Financing?
Yes! If you don't have business assets to pledge as collateral for a business loan, you can leverage your personal assets. However, be aware that this avenue is very risky.
For example, let's say you use your primary residence as collateral for your food truck loan. If you default on the financing, the lender can seize your primary residence to recoup their lost cost, leaving you without a home.
Offering collateral is a risk, but it might be a necessary one if your business opportunity is worth it. Weigh out the pros and cons in your specific situation, and remember that you only lose the asset if you default on the loan.
How Can I Get Food Truck Financing With Bad Credit?
Although significantly more challenging, there are options for obtaining food truck financing with bad credit. Your chances for approval largely depend on other areas of your finances, the type of lending product you select, and the kind of lender you choose to work with.
As mentioned, banks are known for having the strictest requirements and will be less likely to approve your application if your credit score isn't at least 680. Online lenders and fintech companies tend to offer more solutions for food truck financing with bad credit.
The type of lending product you select will also have an enormous weight on your approval chances. Some food truck financing solutions emphasize your credit score over other criteria and vice versa.
In many cases, strong cash flow, collateral, and a sizable down payment have been able to compensate for bad credit.
What Documents Do I Need to Apply for Food Truck Financing?
Every lender is different. Each one will ask for different documentation than the other, but here are a few of the most commonly requested documents:
At least one full year of business bank statements
Two – most recent – business tax returns
Balance sheets
Cash flow statement
Profit and loss statement
Business debt schedule, if applicable
Details of accounts receivable and accounts payable
Description of and proof of ownership for collateral
Proof of business insurance
Licenses, permits, articles of incorporation, and other legal documents
Business certificate
Detailed personal financial information
Complete business plan, including a detailed description of your business, products or services, structure, management, and marketing plan, as well as financial projections
At National Business Capital, we only need a completed application and 6 months of business bank statements to start the process. If we need more documentation, we'll ask you for it after our initial phone call!
What Are the Best Food Truck Loans?
The best food truck loans you'll be able to access will depend on your credit score, finances, and many other factors. It can be difficult to review all the different offers you can qualify for, especially if you're jumping from lender to lender. It's much easier and simplified to work with a business financing marketplace – since these platforms compile multiple offers into a single interface.
Ideally, you'll want to find a solution with low interest rates, high funding amounts, and longer repayment terms. Of course, there can be some variations depending on the reasons you need funding.
For example, you may prefer a short-term loan over a long-term loan if you're looking to cover operational expenses for only a limited period of time.
If you're unsure about which food truck loan is best for your business, you may benefit from consulting with an expert business advisor.
National's team works with business owners and entrepreneurs to walk you through each stage of financing and help you make the right decision based on your unique needs.
How Do I Buy a Food Truck With No Money?
It won't be easy, but there are some ways to buy a food truck with no money. You'll need to get creative and explore alternative options. It helps to develop a food truck business plan to understand exactly how much you'll need to launch your new business.
Take a look at some possible solutions to buying a food truck with no money.
– Borrow From Family and Friends
You may need to consider borrowing from friends or family to jumpstart your food truck business. If you do decide to go this route, make sure to identify repayment terms beforehand.
Consider whether the funds will be a loan and how much interest you'll need to pay back. Perhaps your friend expects a percentage of equity in your new business. Whichever it is, make sure to get everything in writing.
– Credit Cards
Credit cards are fairly easy to access and can provide you with fast funding to use for your business. You may even be able to obtain a 0% APR promotional period or unlock other benefits.
However, you'll need to have good credit in order to obtain a credit card. Even then, you'll be faced with high-interest rate debt and relatively lower funding amounts compared to business loans.
– Rent a Food Truck
You may be able to rent a food truck and other equipment without having to buy it outright.
This is typically a cheaper option in the short term, and you won't need to provide a down payment like you would with a traditional equipment loan. Instead, companies will look into your credit score to determine how trustworthy you'll be when it comes to managing your payments.
Types of Loans to Finance a Food Truck
There are a variety of financing options to choose from as you grow and scale your food truck. Here are a few of the most popular options in 2023.
Type of Financing
Description
Equipment Financing
When most food truck business owners are first starting out, equipment financing is their go-to. Equipment loans provide the funds necessary to buy or rent your truck as well as other necessary supplies you need to get your business going.

Equipment financing can help you cover up to the total value of the machinery you're looking to purchase. You'll typically need to provide a small down payment, while the equipment itself will act as collateral for the loan.

Working Capital Loans
Working capital loans are ideal for businesses in need of a short-term, temporary cash-flow boost. You can use the funds to cover operating expenses during slow seasons, purchase inventory, and finance other expenses.

Many food truck business owners will also use a working capital loan to stock up on food and supplies ahead of a busy season.

Working capital loans have short-repayment terms, making them best for short-term needs. Most working capital loans are typically repaid within 18 months or less.

Revenue-Based Financing
It's easy to think that revenue-based financing is only for retail businesses or wholesale suppliers, but this type of financing is popular among all types of businesses – including food trucks.

Revenue-based financing leverages your business's profitability in exchange for short term funds. It's essentially an advance on your future sales. In other words, you'll receive a cash injection now, which you'll repay as a percentage of your future revenue.

This type of financing is fast to fund and best for short term needs. Your credit score also plays less of a role in determining your eligibility, too.

Business Term Loans
Business term loans are what come to mind when most entrepreneurs envision a business loan. Term loans provide you with a lump-sum payment which you'll repay with fixed, regular payments over a set period of time.

Term loans can help you cover a number of business expenses, such as hiring workers, purchasing materials, refinancing previous debt, and more. They're especially ideal if you're looking for a regular payment schedule.

You can review different personalized financing solutions and the best food truck loans for your business through online marketplaces like National Business Capital.
Where to Find Food Truck Financing
You can find a food truck loan at traditional lenders like banks or online lenders. Banks tend to offer lower interest rates, but they also have slower application processes and rigid requirements. In fact, many businesses have a difficult qualifying for financing at banks – especially if they're less than 2 years old or have an imperfect credit history.
Online lenders tend to be more lenient and flexible. Plus, online lenders typically offer a wider range of funding options. And, if you're worried about shelling out more at an online lender, it helps to compare interest rates and different offers.
National is a leading online business financing marketplace that automatically connects you with over 75 different lenders with a single application. The application process is fast and straightforward. You could even receive the funds to launch or boost your food truck business in mere hours.
Browse personalized business financing offers now by completing our digital application!
Related Food Truck Financing Articles: