Whether you need additional space, a new location, or simply want to stop paying rent and start paying toward an asset, commercial real estate loans can help you acquire a new building without paying upfront.
Even as you grow your business, it's not uncommon to need additional capital to cover the costs. Rather than waiting to have more working capital on hand, commercial loans for construction and real estate purchases can make your expansion plans a reality sooner rather than later.
However, finding the right one can be a challenge. Here's what you need to know in order to get a commercial real estate loan in 2022.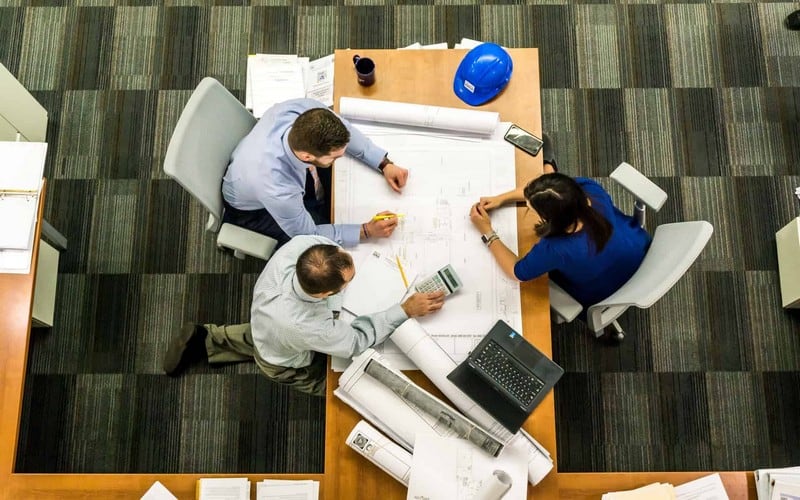 1. What is a commercial real estate loan? 
A commercial building loan is a mortgage or loan to buy an existing building, add onto a property you already own, or build something entirely new. The property itself acts as collateral, making it a secured real estate loan.
Unlike a regular mortgage, which is given to an individual, commercial loans are given to business entities. They're also only for property intended to be used to generate business income.
Commercial building loans are commonly used to purchase or construct a number of work-related buildings, like:
Office spaces
Retail locations
Hotels
Restaurants
Multi-family real estate
Industrial buildings
And "special purpose" buildings
As your business manages working capital for various expenses like rent and growth, commercial building loans may be the only realistic method of purchasing a building.
For this reason, it is very important to have a good understanding of what they are, because this will help you take the right steps in order to get a commercial real estate loan.
2. How can I get a commercial real estate loan?
To get a commercial real estate loan, the first step that you will need to take is to find the right lender for your business. Next, you will have to prepare the necessary details and documentation for the application, which may vary depending on the lender that you have chosen.
Getting a commercial building loan can be a little more involved than other small business loans, but that doesn't mean it should be a headache.  Let's take a look at the steps:
2.1. Set clear goals
The first step to take in order to get a commercial real estate loan is to find the lender that fits your goals and needs the best. It's extremely important that you take enough time to perform the necessary due diligence because some requirements or rates may not be favorable for your particular business.
However, before you start your research on lenders, it's important that you have clear goals in mind. You can set them by asking yourself some of the following questions:
How much money do I need for my commercial real estate loan?
What do I need the money for?
How long will it take me to pay the loan back?
What is the current financial shape of my business?
How much collateral do I have to put up for the loan (if any)?
Am I looking for a short-term or a long-term commercial real estate loan?
Once you've answered these questions, you will have a more clear idea on what exactly you are looking for with this loan. This information will be very helpful when you start comparing different lenders so you can select the one that fits your needs the best.
2.2. Compare lenders
The next step to get a commercial real estate loan is to do your research on lenders. Take a careful look at the types of loans they offer, the rates they have, and the particular requirements for the application process.
With so many factors to consider, conducting this research can be a challenging task. Fortunately, there is an easy way to compare dozens of lenders in the matter of minutes.
With National Business Capital, you can easily connect to our marketplace and compare 75+ lenders to get the best rates, terms and amounts for your goals.
2.3. Start the application process
Once you find a lender, they'll walk you through their application process. During this time, you'll need to provide any financials, paperwork and details about the property that the lender requests.
The lender will use this information to determine whether you qualify before presenting a loan offer. The process can be lengthy and requires detailed documentation to prove your real estate purchase or construction project is a worthy investment.
Applying through a direct lender or bank could add time to this process. A direct, non-bank lender may reject you, forcing you to apply through another. Banks, on the other hand, can take weeks or months to thoroughly review your application.
Marketplaces save you time and frustration by allowing you to access multiple lenders through one simple application.
To get a commercial real estate loan, one of the main requirements is that your small business occupies at least 51% of the building.
If you're not occupying the majority of the building, the property is considered a rental. This means that you'd have to apply for an investment property loan.
3. Where can I get a commercial real estate loan?
There are several ways to get a commercial real estate loan: through banks, online lenders, hard money lenders, commercial mortgage lenders, commercial construction lenders, or SBA loans.
Different lenders come with different requirements and rates. Before applying, you'll want to weigh the pros and cons of each lender to see which works best for you.
3.1. Banks
National banks as well as regional banks offer commercial building loans. Most regional banks will cap loans at $1 million, so if you're looking to secure a larger amount of funds, you should consider national institutions.
Banks can offer long-term financing options and good interest rates on loans. However, they maintain rigid qualification requirements and it can be difficult to secure financing if you don't have good credit. The financing process is also notoriously slow.
3.2. Online Lenders
Online lenders, or fintech lenders, are another solid option for obtaining this type of loans. These commercial real estate lenders typically have a faster and less rigid underwriting process than banks.
It's also easier to qualify commercial building loans from an online lender over a bank, especially if you've had challenges with your credit score.
National is an online marketplace that compares different lenders to help you find the best match for your business needs.
3.3. Hard Money Lenders
These short-term loans are often used to secure a property not yet eligible for long-term financing. Funding may be used to secure a good deal on a commercial location or make property improvements prior to applying for a mortgage.
3.4. Commercial Mortgage Lender
A traditional mortgage structure is appropriate for purchasing a property ready for occupancy or remortgaging an existing location.
3.5. Commercial Construction Lender
Another way to get a commercial real estate loan is through a commercial construction lender.
Money from this type of loan can be put toward the cost of equipment and materials for expansion or new construction. It's usually delivered on a "draw schedule," where the lender provides funding in smaller chunks as the project progresses.
3.6. SBA 7(a) Loan
Available for purchasing land and buildings, making renovations or starting new construction, these loans provide generous funding with terms up to 25 years.
3.7. SBA 504 Loan
A 504 loan is granted specifically for the purchase of owner-occupied real estate and tends to be broken into two parts, with one portion of the funding coming from a bank and another from a development company.
Expect to make a down payment on any loan used to directly fund a property purchase or construction project. These payments are based on the loan-to-value (LTV) ratio of a property or the loan-to-cost (LTC) ratio on a construction project.
For example, if you get a commercial mortgage at a 70 percent LTV, you'll have to put down 30 percent of the purchase price of the property. There are also likely to be additional expenses, such as processing and documentation fees, which factor into the final cost of the loan.
4. How Repaying Commercial Building Loans Works
Commercial loan terms may run anywhere from 5 to 25 years and are structured in different ways, depending on your usage. Some are fully amortized, while others have shorter term lengths with extended amortization periods and require a balloon payment at the end.
Most commercial building loans are not designed to be paid off early, at least not without incurring some sort of fee. After all, this is how lenders generate revenue by lending. You could be charged a prepayment penalty or interest guarantee.
Some commercial building loans incorporate a lockout clause, which won't allow you to pay off your loan early at all.
Before you get a commercial real estate loan, be sure to verify the details of your commercial building loan, ask your lender how it works, and read the fine print of your agreement. If your lender can't provide a clear answer, then you may have better luck searching elsewhere.
You'll also want to know how much any prepayment fees will cost you.
5. What are the main commercial property loan requirements? 
The process of qualifying for commercial building financing can hinge on specific details, including what type of property you'll be using the loan for. Depending on whether you're buying a piece of real estate or need funds for construction, you'll be asked to provide various documents if you want to get a commercial real estate loan.
5.1. Real Estate
Typical requirements for real estate loans include:
Enough net operating income to support loan payments
Good credit score or FICO Small Business Scoring Service (SBSS) credit score
Limited liability or corporation structure
Good personal credit score with a reliable financial history
Details of property type and value, including an appraisal
Financial records, such as tax returns, reports, business records, cash flow projections and a business plan
5.2. Construction
Commercial construction loans also require a significant amount of paperwork. In addition to personal and business financial information, you may need to provide:
Contractor estimates
Project plans
Performance projections for the building, known as "proforma"
Banks also like to know a project is continuing as planned and will likely require you to provide updates as construction progresses. Building is a high-risk investment, and traditional lenders are far more wary of providing funding for projects that may not pay off according to projections.
Certain factors can hold you back from qualifying regardless of the type of commercial loan. If you have any tax liens, recent bankruptcies, or if you've fallen behind on other payments, you might have a hard time securing financing.
Because they're connected with numerous lenders, marketplaces have the best ability to find financing in these situations.
If this is the case, lenders might charge you a higher interest rate or request additional collateral.
6. Can I get a commercial real estate loan without collateral?
Almost always, the property itself acts as collateral for a commercial building loan. You may also be asked to provide a commercial guarantee, which holds you personally responsible for payment if your business defaults. However, there are some instances where lenders may accept other assets as collateral. 
For example, if your credit score or business financials aren't in solid shape, you may be asked to provide additional collateral. If this is the case, you should be able to use any of the following assets.
6.1. Inventory
Product-based businesses and retail shops have been able to use their current inventory as collateral for a commercial real estate loan.
6.2. Accounts Receivable
It's not uncommon for manufacturing firms or construction companies to have to wait a prolonged period of time to receive their paychecks from clients. If your business has any outstanding inventories, you may be able to use them as additional collateral for your loan.
Other common types of collateral include heavy equipment, blanket liens, cash, and investments.
Need Help Getting Your Next Business Building Loan?
Qualifying for a commercial mortgage or construction might not always be easy, and sometimes credit history can stand in the way of securing funding from traditional sources. But don't let that hold you back from taking the next steps in growing your business!
If you've located just the right property for purchase or are itching to get started on a construction project but aren't having luck with the bank, National Business Capital can help.
Don't miss out on the perfect expansion opportunity. Discuss your needs with a funding specialist at National—we're here to help you find the best option.
Apply now to get started!