New trends in construction technology are changing the way contractors approach building projects. According to industry predictions, the majority of building and construction processes will rely on automation by 2050 thanks to emerging innovations.
This isn't science fiction. It's the reality of where construction tech is headed, and it could have a big impact on how you plan, coordinate and build for your clients. Here's how these new tools can streamline your business, lower costs and create a safer environment for workers on the job.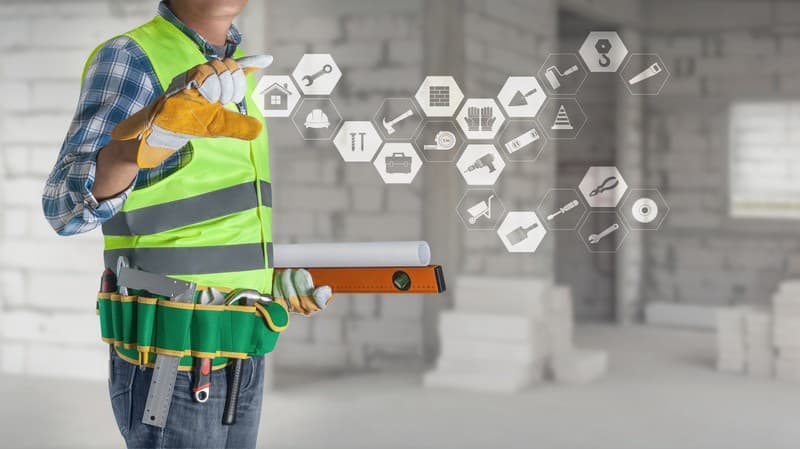 Virtual and Augmented Reality (On and Off Construction Sites)
What if you could look at a building site or finished project and plan for potential setbacks before beginning construction? You can with one of the most "sci-fi" of all emerging technologies in construction.
Virtual reality makes it possible to perform site walk-throughs with your team to evaluate areas for potential hazards. It can also take clients through a virtual model of a building to help them visualize how it will look once complete. Then, you can use these insights to better implement safety measures or tweak building plans.
Augmented reality (AR) may be even more useful, especially during construction. Instead of creating a completely virtual environment, AR overlays virtual elements on top of existing spaces or structures. Using AR, your team members can see how frameworks and components fit together in advance, which improves accuracy and efficiency. Complex building projects become easier with visual step-by-step instructions designed to help workers anticipate problems and troubleshoot onsite.
Drones to Map and Build
Drones have a certain futuristic appeal, but they're also incredibly practical when it comes to construction. These remotely operated machines can scope out construction sites, collecting a significant amount of data at a fraction of the cost of using a human team.
To get the most from this new construction technology in 2019, you need to think big.
Sure, drones can take great aerial photos of where you're going to build your next project, but they can also do detailed surveillance to create highly accurate maps. The data drones gather prepares you to meet onsite challenges that would otherwise take you by surprise and slow down the construction process.
As work progresses, you can perform fly-overs with drones to get up-to-the-minute progress reports. No more driving from site to site to see how workers are doing or dealing with calls from frustrated clients who want to know why you haven't updated them. If something isn't going according to plan, drone surveillance provides the information you need to make informed decisions about where to send more workers, or changing your overall approach.
Real-Time Collaboration in the Cloud
Cloud-based software is making its way into the construction industry and changing the way clients, project managers and employees communicate.
This digital construction technology allows all parties to share information in real time, an important feature when multiple teams are working together on a project, or you're trying to oversee several sites at once. The data updates automatically any time changes are made, and all information shared in the cloud is accessible from any type of device.
This means you can update construction plans from the office, and every employee onsite will know immediately without you making any calls or driving out to the site yourself.
Cloud collaboration goes hand-in-hand with building information mapping (BIM). Although BIM isn't a new concept in construction, technology is making it easier to perform and implement. Each letter of the acronym represents a component of the process, and all are critical to creating successful finished projects. Building design combines with all the information necessary to complete the project, and this data is then used to create an initial model.
BIM is a quick, efficient approach to design and analysis that results in actionable models and systems. Parties can collaborate via the cloud during and after the BIM process to execute plans onsite. Project managers get real-time insights into progress and can communicate easily with employees to facilitate effective implementation.
3D Printing for Buildings and Parts
Imagine finishing your construction plans and simply printing out everything you need instead of waiting for an order of parts and materials to arrive. It's possible with innovations in 3D printing technology.
Buildings can now be designed and printed with all the necessary openings for wiring and plumbing, a process that allows some 3D-printed homes to be constructed in as little as 24 hours.
Although it's probably not feasible to adopt this technology on a wide scale yet, especially for smaller construction businesses, you can still benefit from the lower costs 3D printing offers. When you need a specific part or a custom piece, you can create it on the spot using 3D printing with no delays or holdups. Projects progress faster, making for happier clients and a more lucrative business.
Wearable Tech
Connectivity between project managers and team members is especially important in construction environments, where communication is essential to safety and accuracy. Wearable technology, such as sensors with internal gyroscopes, make all workers easily visible and trackable, which allows for both monitoring work and responding quickly to emergencies. If workers slip or fall, help can be sent immediately upon receiving an alert from the sensor.
Other sensors are able to:
Track biometrics and signal workers when they may be nearing exhaustion
Sound alarms when workers get too close to ledges, moving machines or other hazards
Collect important data to help project managers analyze potential problems at work sites
But wearables don't stop with connected devices. Exoskeletons are being developed to help reduce the physical load involved in construction work. By providing supplemental strength, these futuristic devices may be able to prevent many of the common overuse injuries workers experience on the job.
Finance Your Investment in Digital Construction Technology
Adopting these construction tech trends can catapult your business into the future by giving you an impressive array of tools to improve how you approach projects at every stage. It's an investment with the potential to pay for itself in cost savings realized during planning and building and a reduction in worker injury claims. But to get the benefits, you have to be able to afford the best tech for your business.
Equipment financing can provide access to the latest tech without straining your business budget. When you finance, the cost of expensive new tech is spread out in payments across months or years, making it possible to upgrade your construction tools and implement better processes right away. The option to finance a new model at the end of the terms means systems stay current and you stay ahead of the competition. See how National Business Capital can help you access the latest tech to create the construction team of the future.