Have you ever wished there was a way to manage everything about your Google My Business profile from one place, whether or not you're near a computer? Say hello to the new Google My Business (GMB) mobile app! If you're looking to increase local traffic and don't yet have this feature-rich tool, you could be missing the connections and insights you need to drive business growth.
The updated GMB app give you the power to make your company stand out with an optimized profile, use updated messaging features to improve customer service and view real-time analytics data to enhance your approach to local marketing.
Getting Started with the Google My Business Mobile App
Google My Business offers a simple way for business owners and employees to spread the word about sales, updates, and other happenings to customers searching for details online. The Google My Business profile often shows up for searches related to the name of your company. Any further details you provide via the Google My Business app only increase the chances of drawing in foot traffic!
Getting access to these features simply requires a Google My Business app download. If you haven't already done so, claim your GMB account. Then, head to the iTunes or Google Play store to download the app once Google has verified your business.
The GMB app received a refresh in early 2019 to update existing options and add a number of new features. Upon opening the app and signing into your account, you'll be greeted by the home screen, where you'll find:
Your business name and address
Number of profile views
Number of times your business has been searched
Total customer actions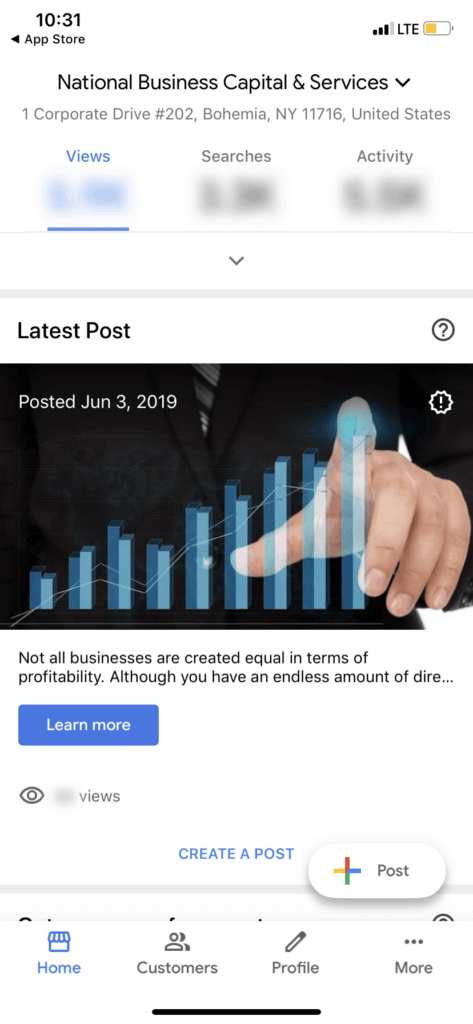 This quick overview shows you right away the level of engagement and interaction your profile is getting, and that's only the beginning. Continue to scroll down, and you'll have the option to link your YouTube account to the app to track the performance of any video content you're creating. Last on the home screen is a space for Google PPC ad campaigns. Current ads will show up here, and you can create more or start your first campaign if you're not already doing PPC marketing.
As part of the app update, Google has made it much easier to interact with your target audience and provide direct answers to questions. Over half of consumers prefer social messaging to phone or email support, so this feature could quickly become an integral part of your company's customer service strategy. You can tap the "customers" option next to the home button at the bottom of the screen to:
See a list of people following your business on Google Maps
Monitor and respond to reviews
Check for and answer inquiries
Create an automated welcome message for when you're not available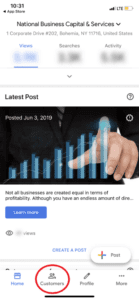 Push notifications alert you to new messages and reviews, allowing you to respond quickly when customers need assistance.
Local Marketing Ideas for Small Businesses Using the Google My Business App
Did you know 64 percent of consumers use Google My Business to find information about local companies? Sixty percent of all search activity is conducted using a mobile device, in which local results tend to be prioritized. Local search in general helps 97 percent of people discover more about businesses, and 12 percent of users search locally on a daily basis.
With all this in mind, it makes sense to focus on customers in and around your community when using the GMB app to optimize your listing. Thanks to the latest update, you can now view your full business profile right in the app and change any section with just a few taps.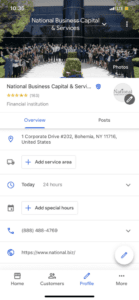 Make sure your address, phone number, website link and hours are accurate, and add a service area if your business makes deliveries. To generate up to 35 percent more clicks through to your website, upload photos of your products, your team members, the exterior and interior of your location and anything else customers might find interesting.
Google Posts give you another way to attract the attention of local customers. Launched in 2017, Posts are now easier than ever to make using a new button in the GMB app. Posts can be up to 1,500 characters long and appear for one week, making them perfect for announcing special events, holiday discounts and product launches. Include a photo or video for better engagement, or add a CTA button to encourage customers to give you a call, make a purchase or schedule an appointment.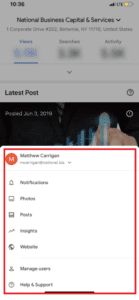 Want to see how effective your updated profile is? Look under "More" in the app to check out the analytics. Everything is updated in real time, so you can monitor:
Searches
Views
Website click-throughs
Calls
Requests for directions
Photo views and performance
Location of customers who find you in search or on Google Maps
How and what customers are searching to find you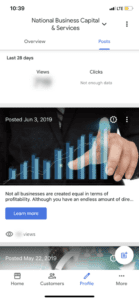 These insights provide up-to-the-minute information on the success of your local marketing strategy, and you can use the GMB app to make changes any time in response to customer behaviors.
Local Marketing Services Can Make Your Business Stand Out
When you consider that 46 percent of all Google searches seek local information, it's hard to believe more businesses aren't doing all they can to optimize their GMB profiles for local results. Using location-based keywords and targeting the right audiences increases your visibility and goes a long way toward maximizing your ROI.
With someone like the advisors at National Business Capital and Services to help you set up and maintain a comprehensive digital marketing strategy, you waste less time on ineffective campaigns and have the potential to get much better results. Combined with continual monitoring of and strategic updates to your GMB profile, digital marketing services from National can allow you to reach more nearby customers while providing detailed analytics to track the success of your campaigns.