If you're in the market for a heavy equipment loan, then you're in the right place. National Business Capital, the leading SMB FinTech marketplace, can connect you with the RIGHT lender for your specific circumstances, allowing you to maximize the benefits of your financing with ease.
Many businesses leverage equipment to complete or assist with their occupational tasks. Before long, the business comes to depend on its equipment, and any issues or downtime can potentially cause a significant slowdown in your operations. For some industries, like construction, not having the necessary equipment to perform a job can prevent you from completing current contracts and taking on new ones, bringing your growth and development to a screeching halt. 
You'll need to get back on track quickly if you want to start earning revenue again, but what if you don't have the resources available to repair or replace your equipment? With heavy equipment loans, you can secure funding to help you purchase the equipment you need. 
However, there are a few things to consider before starting the process, especially if you're unfamiliar with business financing. Here are some of the most common FAQs to consider before searching for a heavy equipment loan: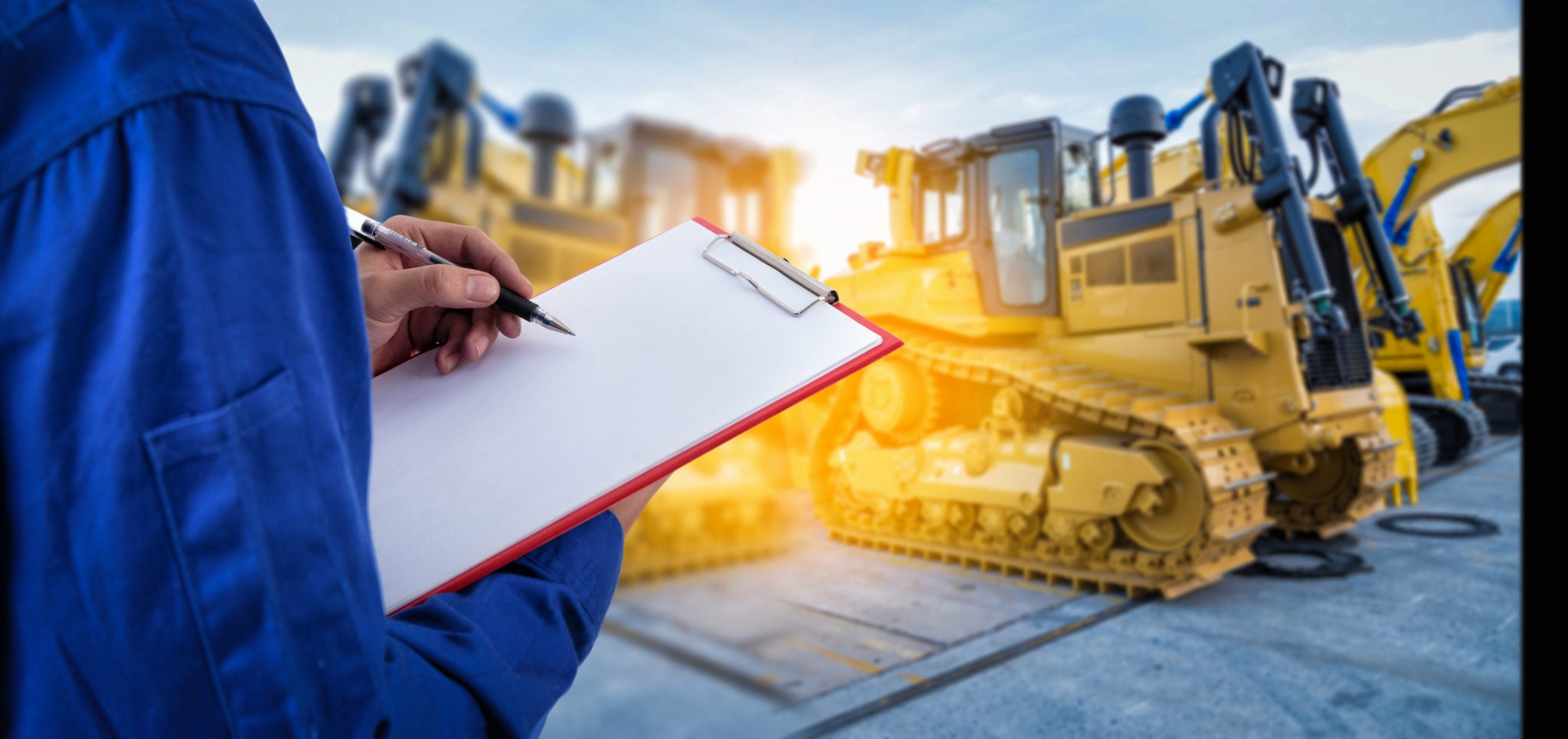 1. How Do I Know if I Need a Heavy Equipment Loan?
If you need to purchase new equipment or repair existing equipment and don't have the resources to do so, you might want to consider securing a heavy equipment loan for your business. These financing products are designed specifically for the challenge you're facing, and you can potentially get your business back on track in less time than you would have spent cutting areas of your balance sheet to afford the purchase. It's a more financially viable option, too, because you can only lower your overhead so many times before you jeopardize the integrity of your operation. 
2. What's the Difference Between Equipment Financing and Heavy Equipment Loans?
Equipment financing and heavy equipment loans overlap in some regard, but the two are different at their core. With equipment financing, you can fund the purchase of almost any piece of equipment, including:
Vehicles

Furniture

Office equipment

Industrial kitchen items

Construction equipment

Much more 
You can also finance heavy equipment, like loaders, cranes, and drills, with equipment financing, making it perfect for any entrepreneur seeking to break down a sizeable purchase into more manageable monthly payments.
Alternatively, heavy equipment loans are designed specifically for financing construction equipment. That means you won't be able to purchase minor equipment or instruments with this type of financing, but you can use it to purchase bulldozers, cranes, forklifts, loafers, cement mixers, and other large, heavy machinery. While construction companies are more likely to leverage this type of financing, any business that needs equipment of this caliber can secure one to fund the purchase of new assets. 
Deciding between one or the other will depend on your specific circumstances and needs. Equipment financing is easier to secure than heavy equipment loans, but you may have to return the equipment at the end of your term or pay more in interest. Heavy equipment loans, on the other hand, almost always leave you with the asset you set out to purchase after the terms have expired. Additionally, both of these options may allow you to collateralize the equipment you're purchasing to secure the financing itself, which can lower your payments on either side and make it easier to reach an approval.
3. What Do I Need to Qualify for a Heavy Equipment Loan?
Heavy equipment is often costly, and you'll need to secure significant capital to afford the purchase of these assets. Because of this, the qualifications are strict, as the lender you're dealing with will need assurance that you're capable of paying back the financing within the term.
Typically, you'll need to show strong annual revenue ($120,000+), a 700+ credit score, and an extended time in business to reach an approval. But, again, this depends on the equipment you're looking to purchase and the lender you've chosen. 
Equipment financing typically carries less restrictive eligibility criteria than heavy equipment loans. If you're finding it challenging to reach an approval on a heavy equipment loan, consider securing equipment financing instead to ensure you can start using the equipment in your business as soon as possible.
You may need to offer collateral as a method of securing your financing. Collateral isn't always ideal, but if it brings you closer to the amount you need or the terms that fit your circumstances, it's worthwhile to consider. Some lenders allow you to use the asset you're seeking to purchase as collateral for the loan, while others will require another form of collateral, including other equipment, real estate, vehicles, or other valuable assets. 

4. How Do Heavy Equipment Loans Work?
Heavy equipment loans work much like other types of financing. Once you've determined the equipment you need for your business, you'll start to gather your business documents in preparation for speaking with lenders. You'll supply this documentation through your application, then wait for an approval, which can take anywhere from a day to months, depending on the type of lender you're dealing with. If you're approved, you'll secure the equipment you need and begin the repayment process.
Your repayment schedule will depend on the terms you've agreed to. If you're on top of your schedule, you'll repay the borrowed amount within the pay period and emerge on the other side without any debt attached to your name. However, if you miss payments or default entirely, you could run the risk of damaging your credit score or losing the asset you've offered as collateral. Not only does this create a financially constricting scenario for your business, but it also makes it difficult for your to secure additional financing in the future, which limits the resources your business can take advantage of. 
There's one other alternative to heavy equipment loans outside of equipment financing—equipment leasing. This approach works much like leasing a car, with you providing monthly payments in exchange for using the asset throughout the term. At the end of the lease, you return the equipment to the organization you secured it from, which makes sense for businesses that don't need to own their equipment outright. 
If you're still confused about the finer details of heavy equipment loans, you can reach out to the experts at National Business Capital for answers to your questions. They're knowledgeable in all areas of business financing, passionate about helping business owners achieve their goals, and are always willing to go the extra mile, especially it comes to growth and development. 
5. Can I Get Heavy Equipment Financing From a Bank?
You can secure heavy equipment financing from a variety of sources, including banks, credit unions, alternative lenders, and SBA-sponsored lenders. Each of these organizations carry different eligibility requirements and restrictions. SBA lenders, banks, and credit unions tend to have the most restrictive eligibility requirements, whereas alternative lenders allow more flexibility in their application process. However, alternative lenders will impose higher interest rates because of their less restrictive eligibility criteria.
If you're having trouble reaching an approval with your bank, just remember that they aren't your only option. You can secure favorable terms that allow you to grow without restriction by speaking with other lenders and exploring their programs. But, as you know, this will take time, and you might not be able to wait to secure the funds you need to grow. If you're looking to streamline your search for heavy equipment loans, team up with National and have our team do the heavy lifting for you.
6. Can I Get an Equipment Loan With Bad Credit?
Yes! You can get an equipment loan without stellar credit, but you may have to offer collateral or pay a higher interest rate to reach an approval. If you aren't in dire need of funding, you may want to consider proactively strengthening your credit score before you start applying to lenders. Even a few points could be the difference between hundreds of dollars worth of interest, and by taking some proactive steps, you can secure more favorable terms that allow you to reach your full potential with ease. 

7. What Is the Application Process for Financing Heavy Equipment?
Every lender has a different application process. Some lenders updated their applications to serve the client best, while others still use the same process they used 30 years ago. Generally, alternative lenders will have much easier and faster application processes compared to banks and credit unions.
The application process you'll go through will depend on the lender you're dealing with, but here are the most common steps you'll have to take:
Gather your business documents

Research lenders and determine which one fits your needs

Submit a formal application

Wait for an approval

If approved, you can either accept the offered terms or decline them
Once you've reached an approval with the right lender, you'll receive your funds and begin to apply them to your business. If you're finding that the process is taking longer than you expected, contact National to speed up your search for competitive financing.
8. Do I Have to Put Up Collateral?
Businesses that can display strong revenue, solid credit scores, and lengthy times in business may not have to offer collateral, but for others, it's a more likely requirement. Collateral is simply a method of security for the lender, as they're able to seize the collateralized asset if you default on your payments. The hefty price tag associated with this caliber of equipment means that you'll need to secure a significant amount of capital to afford the purchase, which makes the transaction riskier for the lender you're dealing with. 
Some lenders will require a down payment on your heavy equipment loan rather than collateral. For example, if you're looking to purchase a $100,000 forklift, your lender may require a $10,000 down payment to incentivize your complete and timely repayment. 
9. What Are the Interest Rates for a Heavy Equipment Loan?
Your specific interest rate will depend on the amount you're seeking to borrow, the financial information of your business, and the lender you've chosen, with the average rate ranging from 8% to 30%. A down payment or collateral offering can reduce your interest rate further, and you can also manipulate this value by extending or decreasing your repayment terms. 
Don't get too hung up on the interest rate; Instead, focus on what your business could look like after you've used your financing to grow. The amount you pay in interest becomes negligible if you can use the borrowed funds to reach your full potential.
10. What Are the Term Lengths for Financing Heavy Equipment
Much like the interest rate, the terms of your financing will depend on many different factors, but it ultimately comes down to the life expectancy of the equipment you've purchased with the financing. For example, if the loader you purchased is guaranteed to operate for 20,000 hours without needing repairs and you use it 40 hours a week, the lender may offer you a term of 10 years to repay the financing. 
Some lenders offer early repayment discounts and other benefits for paying off the loan early, but again, this depends on who you're dealing with. If early repayment discounts are important to you, make sure to prioritize lenders that offer this during your search.
Streamline Your Search for Competitive Heavy Equipment Loans With National Business Capital
Searching for lenders, comparing their terms, and waiting for an approval all take time, which is something that business owners don't have an abundance of. If you can't afford to wait for your heavy equipment loan, the expert Business Finance Advisors may have a way for you to secure your funds much quicker.
Our team connects our clients with the RIGHT lender for their specific circumstances through our 75+ lender marketplace. We leverage years of lender relationships and experience to finely tune the process to best fit your needs. After all, there isn't a one-size fits all solution to heavy equipment loans. You might need different terms than another organization, or you may need to borrow more than average to accomplish your goals. We understand that you're unique, so we work diligently and tirelessly to ensure you're able to secure the funds you need to grow your business without restraint. 
With $2 billion recovered since our inception, a client-focused process, and a commitment to "Driving Growth for All," you can trust National's award-winning team to help you secure the funds you need to reach your full potential.
Complete our digital application to get started!
Related articles: