As a construction company or independent contractor, your ability to get the job done comes down to your equipment. Many entrepreneurs in the industry need heavy-duty machinery that can perform large construction tasks, but the downside is that these tools are often very expensive and can be too much for businesses to pay for upfront.
But, it's an investment, nonetheless.
Heavy equipment loans give you access to the machinery you need for your day-to-day operations – without having to foot the costs at once. As you work your way through different offers and lenders, here are the top key steps to getting the best heavy equipment loans.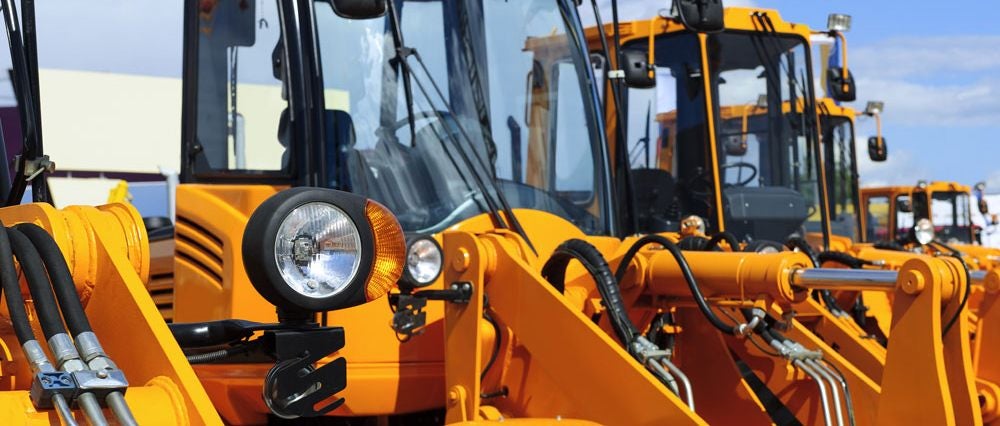 Step 1: Understand the concept of heavy equipment loans
What is heavy equipment financing?
Heavy equipment financing, also called construction equipment financing, refers to a loan used to purchase large construction equipment for your business – typically tractors, steamrollers, engineering tools, forklifts, cranes, bulldozers, and more.
Heavy equipment financing can help you acquire either new or used machinery, which will act as collateral for the loan. Repayment terms can range from 1 to 10 years – or extend up until the equipment's expected lifespan.
With heavy equipment loans, your payments build equity over time. Once you've paid off your loan, you'll own the machinery outright, which will serve as an asset on your company's balance sheet.
Heavy equipment loans are a great way to finance expensive, heavy-duty equipment and break down large purchases into smaller payments. You'll be able to manage the costs, plus interest, over an extended period of time – allowing you to free up cash flow for other business challenges.
This type of loans are popular financing solutions for businesses operating in construction, landscaping, manufacturing, agriculture, excavation industries, and more.
How hard is it to finance heavy equipment?
It is not necessarily hard to finance heavy equipment. In fact, heavy equipment loans are actually easier to acquire when compared to other types of financing, such as traditional term loans. In fact, they're one of the more accessible financing forms for startups.
The reason is that your heavy equipment loan is automatically backed by the very machinery you are financing. In many cases, you won't be required to put down a large down payment or use your personal property as additional collateral.
Heavy equipment financing also tends to be on the faster side, especially if you're working with an online lender. You'll need to have information on the type of equipment you are looking to finance and present it to your lender in advance. Once you gain approval, your loan will process fairly quickly.
You can typically qualify for a heavy equipment loan with a minimum credit score of 650. However, if your credit score is less than this amount, you may still be able to obtain financing if you can show over 6 months in business and $120,000 in annual revenue. In general, you'll find it's easier to get approved for a heavy equipment loan when you work with an online lender over a bank.
Step 2: How do you qualify for heavy equipment loans?
Qualifying for heavy equipment loans isn't difficult, but lenders still need to know that your business is capable of repaying the funds and making payments on a consistent, timely basis. In order to determine this, lenders will look into your credit score, revenue, and time in business.
Keep in mind that the requirements outlined below are considered the minimum. Some banks or traditional lenders may have higher requirements or ask to see additional documentation. In general, you'll find extra leniency working with non-bank lenders.
Credit score
Your credit score should be at least 650 if you're hoping to get approved for a heavy equipment loan. The higher your credit, the higher your approval odds and the greater likelihood that you'll be able to obtain better interest rates.
However, even if your credit score is below 650, it doesn't mean all hope is lost. You may still be able to qualify for heavy equipment financing, but you'll face a greater challenge at a bank.
Online lenders, especially those available through National, may be able to accommodate lower credit scores if you can show at least 6 months of business history and $120,000 in annual revenue.
Revenue
Different lenders tend to have varying requirements on revenue, but in general, you'll want to show that your business is bringing in at least $120,000 on an annual basis. In order to prove this, you'll typically need to provide bank statements, tax returns, invoices, or other types of deposits.
Non-bank lenders may be willing to waive revenue requirements in certain cases – especially if you can show good credit or at least 6 months of business history. Banks are known for having the strictest requirements, so it's likely these lenders will be less willing to accommodate.
Time in business
Your business should be at least 6 months old to qualify for a heavy equipment loan. Unfortunately, this can create a difficult conundrum for newer construction companies, which may be unable to start operations until they can finance specific equipment.
Non-bank lenders can be more willing to accommodate newer companies and startups. This is where you'll find greater flexibility for time in business requirements. Having strong credit or promising projects lined up will also work to your advantage.
What is the interest rate on heavy equipment financing?
Heavy equipment loan rates generally start at 6% but can go up to as much as 30%. The interest rates you receive will depend on the type of lender you work with, the loan product, and your own creditworthiness. On top of interest rates, you may also be required to pay certain fees, such as origination fees.
Heavy equipment loans come in several forms – Small Business Administration (SBA) loans, bank loans, and non-bank (sometimes called fintech or online) loans.
SBA loans tend to have the lowest interest rates. They're offered through an exclusive network of participating lenders which can include both banks and non-bank financing companies.
Banks are known for fairly competitive interest rates on loan products – but tight requirements tend to deter most borrowers. Non-bank lenders oftentimes come in with the highest rates, but flexible requirements make them more accessible – especially for younger businesses.
It's a good idea to shop around and obtain as many different offers from various lenders as you can. This will give you a better understanding of the types of rates you qualify for and enable you to secure the best deal.
What are the term lengths for financing heavy equipment?
Term lengths on heavy equipment loans generally range from 1 to 10 years. There may be some exceptions so long as the loan doesn't exceed the useful life of the equipment.
Many businesses will choose a term option based on the monthly payment they can afford. While this can be a great strategy for your cash flow, keep in mind that loans with longer terms are more expensive overall, even though they come with lower monthly payments.
The opposite is true for shorter-term financing solutions, which can have higher monthly payments, but you'll repay your debt faster and save money overall.
Step 3: Choose the best heavy equipment financing companies
There are a variety of heavy equipment financing companies to choose from. A good place to start is by determining whether you're going to work with a bank or non-bank lender.
Many national banks, such as Wells Fargo, Chase, and Bank of America, offer heavy equipment loans. You can also find this type of financing at smaller regional banks and credit unions. These lenders tend to have the lowest rates, but low approval rates can make qualifying a challenge.
You'll find a greater variety of loan products and more relaxed requirements when working with non-bank lenders. Just keep in mind that these lenders tend to be more expensive. If you're keen on securing the best rates, you may want to shop around and get a couple of options before settling on a choice.
One great way to shop around for the best interest rates and terms is by going through a business financing marketing marketplace, such as National. You'll be able to review several offers at once without having to approach various lenders individually.
How to Apply for Heavy Equipment Loans
National Business Capital establishes long-term financial relationships with every one of our clients. We earn your trust by delivering on our promise to treat you and your business as if it is our own.
Your success is our success. Start a conversation with us today and learn how we will strive to find the right funding your business requires to thrive: (877) 482-3008.
Or, apply now by filling out our 60-second online application, and get the funds you need in as little as 48 hours.
Frequently Asked Questions
How many years can you finance heavy equipment?
You can typically finance heavy equipment for 1 to 10 years. However, you won't be able to get a loan for longer than the equipment's useful lifespan. As a rule, you want your equipment to outlive your loan's term, giving you ample time to use it or sell it for some value.
Loans for newer, expensive equipment come with longer terms. If you're looking to finance used machinery or less expensive items, expect to be looking at shorter terms. The length you'll receive can also vary depending on the lender you're working with.
Can I get heavy equipment loans with no money down?
Yes! It is possible to get equipment financing with no money down. The great thing about heavy equipment loans is that the machinery you are financing will act as collateral to secure the loan. This gives lenders an extra guarantee, as they'll be able to claim your equipment if you can no longer keep up with payments, which means they'll be more likely to accept funding without a down payment or additional collateral.
There are scenarios where you may be asked to provide a down payment in exchange for a heavy equipment loan – and it may make sense to do so. For example, if you have bad credit or if you're a newer startup, lenders may want an additional guarantee.
Other times, making a down payment can work in your favor when it comes to securing better interest rates.
Banks normally always require a down payment in exchange for heavy equipment loans, but you're more likely to find this requirement waived at online lenders.
Can I get equipment financing with bad credit?
Yes! It is possible to get a heavy equipment loan even with bad credit. Although it's best to have a credit score of at least 650 in order to qualify, you'll find there may be some exceptions when you work with online lenders or fintech lenders.
For example, lenders available through National's business financing marketplace offer equipment financing without a credit score requirement if businesses can show at least 6 months of history and $120,000 in annual revenue.
What is the difference between a finance agreement and a loan?
Equipment finance agreements and heavy equipment loans can both help you reach the same goal when it comes to acquiring the machinery you need to run your business. However, they're fundamentally different in how they're structured.
Heavy equipment loans entail using borrowed money to buy equipment. Your debt will appear on your balance sheet, and the interest may be adjusted depending on whether you've obtained a fixed or floating rate loan. In general, the total amount of interest you'll pay is directly related to your loan's principal amount – and you may be able to pay off your loan early depending on the lender's terms.
Equipment finance agreements work differently because they're primarily contractual agreements. Your principal and the interest rates are calculated as fixed contractual payments over the course of the loan's term. You'll be responsible for the entire amount of the contract, which is the sum of the contractual payments.
Heavy equipment loans are offered by both banks and non-bank lenders. Equipment finance agreements are almost always exclusively offered by non-bank lenders or alternative lenders.
What is the difference between heavy equipment loans and equipment financing?
While heavy equipment financing is specific to construction companies and the machinery they need to conduct operations, other industries, such as agriculture, can also benefit from an influx of cash to purchase large equipment. Heavy equipment loans are often used to purchase machinery for large tasks, such as tractors, steamrollers, forklifts, cranes, bulldozers, and so on.
Equipment financing is more general and can pertain to the materials needed for a wider variety of business functions. It can be used to buy computers, medical equipment, transportation vehicles, restaurant gear, or even office supplies.