It's no secret that moving your business in the right direction requires cash—whether you're capitalizing on a new opportunity, or resolving an issue. Getting a small business loan is generally the first step that you should take in order to implement a positive change in your company.
But, banks require you to complete a pile of paperwork in order to get a small business loan. Direct lenders aren't much better, but alternative lenders provide a fast, streamlined process for any business owners to receive substantial financing. So where should you start once you decide to get a small business loan?
And more importantly, how do you proceed after you've identified your options?
We're here to explain everything you should do from the outset, and help you get the most out of your business loan.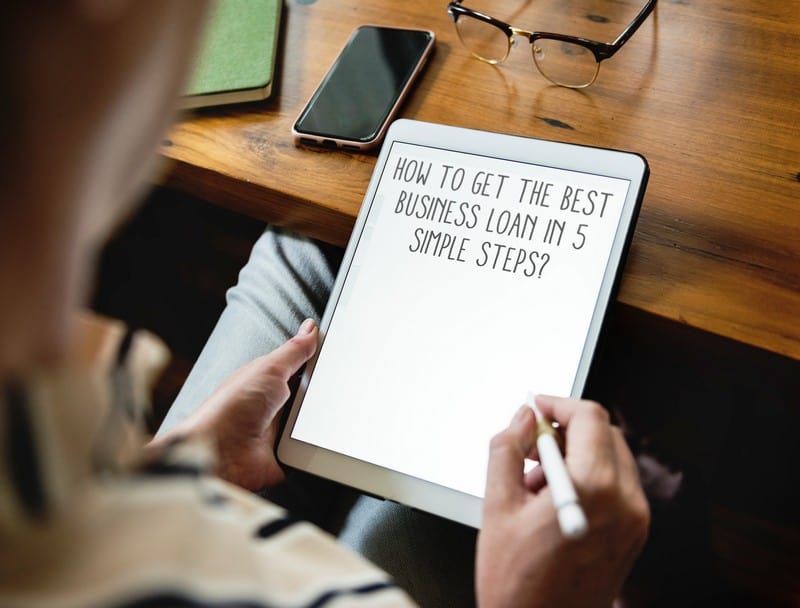 5 Steps to Getting the Best Business Loan
Identify the purpose. What will you use the money for, and how will it help your business grow?
Determine the amount. How much money does your business need to accomplish this goal?
Consider your options. Review your options with a business financing advisor, and select the one that makes the most sense for your business' current financials and goals.
Submit your loan application. Get your documents in order, and send them over to your potential lender.
Complete the process. Finalize the paperwork and start dreaming: you're getting a small business loan!
How do I Get a Business Loan?
1. Identify the Purpose of the Business Loan
As we mentioned before, getting a small business loan generally means you're looking to accomplish one of two things. Either you're planning to use the funds to overcome a challenge, or you're looking to invest in growing your business.
In either scenario, funding can help you jump these hurdles gracefully, and land on your feet.
But when it comes to finding the best business loan, you'll need to think beyond the basics. Instead, consider the specifics: what will you put this money toward in order to make a difference?
For example, if you're looking to refinish your building to make customers feel more welcome, then flesh out the steps involved from start to finish. Or, if your business is short-handed and needs more staff to meet day-to-day demands, then specify that.
Every day, opportunistic business owners like you are getting a small business loan to do things like:
Grow a company
Hire new staff
Update facilities/buildings
Start new businesses
Help with cash flow
Finance emergency expenses
However, the potential for growth is endless. As you continue building your business, you'll always find new challenges to overcome—and the rewards make everything worthwhile.
2. Determine the Amount You Need for a Small Business Loan
You know that you need to get a small business loan to move things forward. But how much do you need in order to get from point A to point B?
Completing this crucial step correctly is imperative when you're applying. Overshooting your loan amount to leave a blanket of safety can limit your chances of being approved, or increase your interest payments. Playing it safe with a low amount may prevent you from fully accomplishing the task at hand, too. According to Value Penguin, the average small business loan through an alternative lender is between 50,000 and 80,000.
Ultimately, it's best to leave yourself some wiggle room and apply for slightly more than you need. But, National's small business loan calculator can help you determine the amount you need. You can even see how the interest payments fluctuate as you increase the amount and payment terms!
Once you have an amount in mind, check your financials to see if it covers the expenses. Be sure to figure in the additional income from new profit centers, product lines or other streams of revenue!
3. Consider Your Loan Options
Even if you know the amount that you need, you still need to decide on a program to get a small business loan. The way that loan products are structured can vary significantly. Depending on your unique business needs, you may select one of several options.
Small business loans: Standard loans provide the capital you need to keep things moving onward and upward. Based on your needs, you can apply for either a short- or long-term loan.
SBA loans: Backed by the government, these larger federal loans are available at lower rates and can be repaid for longer periods of time. However, the credit requirements are slightly higher.
Equipment financing: Available to businesses in any industry, you can purchase new equipment to enhance your business through equipment financing.
Revolving line of credit: The ultimate choice for entrepreneurs that face spontaneous challenges, a line of credit can be drawn from and replenished as you go.
A business financing advisor can help you narrow down these choices when you're getting a small business loan. Depending on your business, one (or more) of these loan programs may work for your industry and your goals.
4. Submit Your Loan Application
You've made it past the initial hurdles, and learned about the process of getting a small business loan, and what you need. The next step in getting your small business loan is submitting your application, which will help you learn what you're eligible for.
Loan requirements can certainly vary based on the amount, but the lender can play a huge role as well.
Where to Get a Business Loan?
Applying for a Bank or Traditional Loan
Banks and direct lenders tend to have more detailed and involved loan applications, occasionally requiring several years worth of bank statements and tax returns.
Applying for an Online Loan
Getting a small business loan is easier through an alternative lender, or other online marketplaces. A lightning-fast application streamlines the otherwise difficult process, with only a few required steps. Once you've entered your information, you'll be asked to forward over a few documents, and that's it. Additionally, many alternative lenders perform a soft credit pull, rather than the hard inquiry that banks use.
5. Complete the Process and Get a Small Business Loan
The wait is over, and you've finally learned what your options are for getting a small business loan. Now, it's time to dot your i's, cross your t's, and act!
The wait can last for weeks or months at banks, but don't let that discourage you. Alternative lenders move quite fast, and can get you the cash you need to grow in as little as 24 hours.
At National, we work with a marketplace of over 75 lenders to make sure that you receive loan terms that are well-suited for your business. We'll communicate with our lenders to learn about the available options, and touch base to help you choose an option that will make a difference.
Get started by filling out an application form today!