Adding your business to Google Maps is undoubtedly one of the most essential, effective and free marketing methods available to small businesses to grab the attention of new and old customers, improving your business presence online, and much, much more.
And with Google's new platform Google My Business – which integrates seamlessly with Google Maps and Google Search – registering your business on Google Maps is easier than ever in 20109.
How to Get Your Business On Google Maps in 2019: A Step-by-Step Guide
Step 1: Create a Google Account (If You Don't Have One Already)
If you don't have a Google Account already, it's time to get one. Having one is absolutely necessary to have your business show up on Google Maps, and receive the full benefits of registering your business through Google, including a free business website (more on that later).
If you do have one already, skip to step 2.
Setting up only takes about 3 minutes. First, go to www.Google.com and click the "Sign In" button in the top right-hand corner of your screen.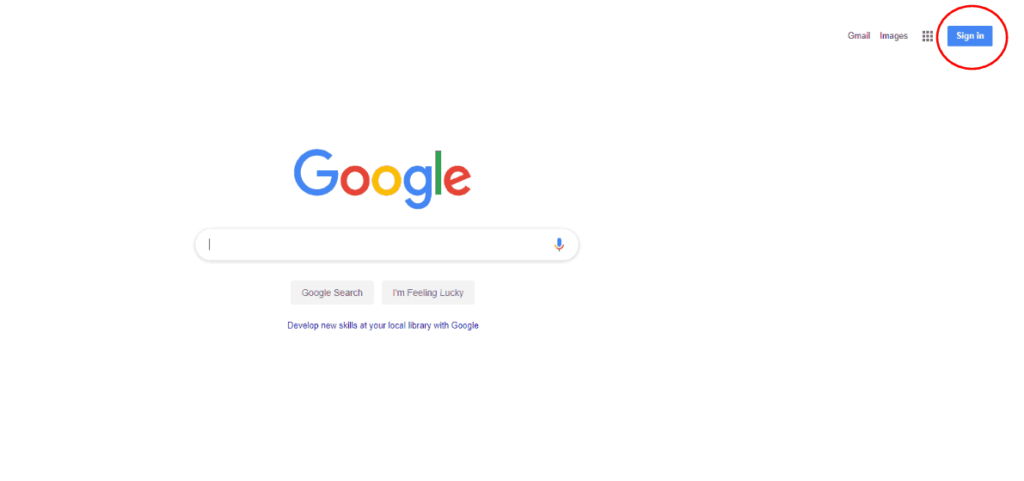 Next, click "Create Account."
Select whether you're creating a personal or business account. Click "to manage my business," and then click "Next."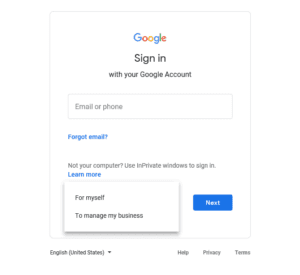 Input your account information. Enter your first and last name, and create an email address and password.
"Use my current email address instead" also gives you the option of choosing to use a current email address you are already using.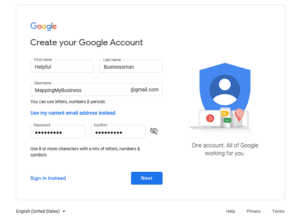 On the next screen, input your "recovery information." These (optional) points of contact, and information regarding your date of birth will be used to reach you in the event that you should forget your username or password to your Google Account.
Google will also contact you via these contacts if an unauthorized user is detected using your account. Entering this information is highly recommended for account recovery and security reasons. These points of contact will never be visible to others.
When you're finished, click "Next."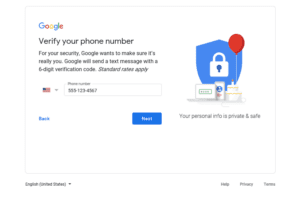 Show Google that "it's really you" that's about to register your business for Google Maps. Enter a number that can receive text messages, and click "Next."
Google will send you a text with your confirmation code. Enter this number on the next screen, and click "verify."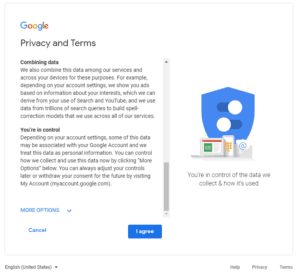 Read through Google's Privacy Terms & Conditions. Scroll to the bottom of the page, and click "I agree" to continue.
Step 2: Register Your Company Through Google My Business
Google My Business is a new all-in-one platform that gives incredible benefits and free marketing opportunities to business owners of all types and sizes, including the ability to finally show up on Google Maps!
To get started, go to www.Google.com/business. This will bring you to the homepage for Google My Business. Click "Manage Now" in the top right corner of your screen, or beneath the paragraph titled "Attract new customers with your free Business Profile."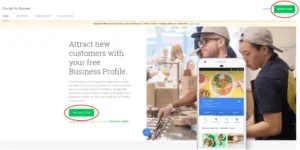 Next, you will start the process of inputting all your business information in order to show up on Google Maps and Google Search.
Start by entering the name of your business, and click "Next."
In the next screen, you will be asked if you would like to enter an address for your business that a customer can physically visit, like a brick-and-mortar store or office.
If you do have a location that you would like customers to visit, and show up on Google Maps and Google Search, click "Yes," and then "Next."
If you don't, scroll down to the section of the blog titled "If You Don't Have a Location Customers Can Visit" for further instructions. Don't worry – you will still show up on Google Maps!
Enter the address of the building your business operates out of, that customers are able to visit. When you're finished, click "Next."
Skip the section below when you've finished putting in your business's physical address.
If You Don't Have a Physical Location Customers Can Visit
If you do not have a business that customers can physically visit (ex: if you have an online store, make sales exclusively via phone or operate your business from home), click "No."
You will be brought to a screen asking for your city or zip code that you are operating out of. This way, your business will show on Google Maps as being located within a relative area, instead of being pinpointed to a specific building address, preventing customers from visiting a specific location.
Customers that search for your type of business, will still see your business's general location and points of contact on Google Maps and Google Search.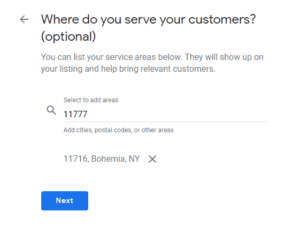 Enter your zip code or city, and click "Next."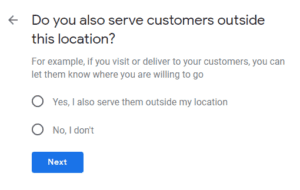 Enter the region your business is located in, and click "Next."
Enter Business Service Locations to Google Maps
Whether you chose "Yes" or "No" to whether or not you have a business that customers can visit, you will be led to the screen below by this point.
If your business offers services to specific zip codes, postal codes or other locations, choosing "Yes" will have the areas outside of your business address that you are willing to service show up for your customers on Google Maps and Google Search.
For example, if you want to show customers where your business is able or willing to deliver packages – and where you're not – this information will be shown to them when you show up on Google.
If you chose "Yes," you will be asked to enter the locations you are willing to serve. In the interest of time, we will choose "No."
Both "Yes" and "No" answers will eventually lead you to the screen below. The information you enter on the next screen is incredibly important. Here, you will begin typing in the best-fitting category your business falls into.
This is crucial information, because when customers enter generic search terms into Google Search or Google Maps in search of a specific business or service, such as "business hotel" or "business hotel near me," your business will show up as an option for them on Search and Maps.
Generally speaking, the more specific you are in your answer to this question, the greater your results and quality of customers will be.
Make sure to pick the best pre-written business category that most accurately defines your business. This will rank you among your competitors in the area that offer the same services.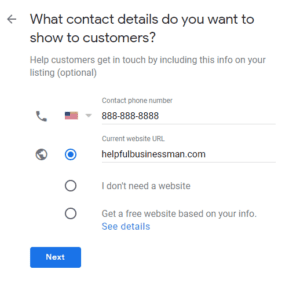 "Next" will bring you to a screen asking for your business phone number and website.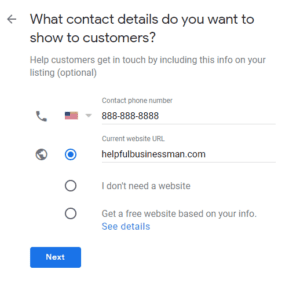 IMPORTANT NOTE: The phone number and website you enter will show up on Google Maps and Google Search when customers search your company. Make sure you take this into account before inputting this contact information!
This is one of the best ways to market your business's website – if you have one – and give your customers a quick way to reach via phone. If your company does not have a website – now is the perfect time to get one!
Google now offers you the chance to receive a free, fully-customizable website for your business. If you would like one, click "Get a free website based on your info." Or, click "I don't need a website" (liar) if you would rather not have one.
Click "Next."
Step 3: Verify Your Business Information
Congratulations! You've finished creating your Google My Business Account, and you're only one step away from getting your company on Google Maps. All that's left to do is verify your account for security purposes, to prove to Google that your business is legitimate.
Doing so will also eventually:
Help you track sales via Google Analytics (if you choose to)
Have company photos show up on Google Maps and Google Search
And start receiving reviews from customers through Google Reviews (EXTREMELY important for brand reputation).
Click "Finish" to get started.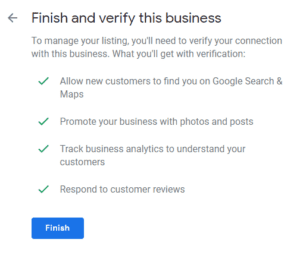 You have two options to verify your company information via Google My Business: one fast, and one slow.

The first, faster option is to receive your call via phone. Your code will be sent via an automated phone call to the business phone number you entered earlier when you were setting up your account.
Once you receive your call, you will be asked to enter it in a text box, and then click "Verify." When Google My Business Account and information is verified via phone, businesses typically show up on Google Maps and Search results in 3 business days, at most.
Your second, slower option is to verify your account and business legitimacy via mail. Choosing this method, Google will mail you a postcard with your verification code to your business address, which can take up to 5 days to arrive.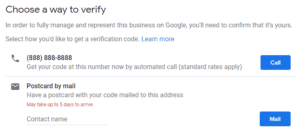 Once you receive your code, enter it in via Google My Business to verify, and allow up to 3 additional days for your business to show up on Google Maps (total time to verify your business via mail: 7 days.
Step 4: Input Additional Business Info via Your Google My Business Dashboard
Now that you're all set up, it's time to decide what information you would like to show when your business pops up on Google Maps and Search.
To do this, explore your Google My Business Dashboard.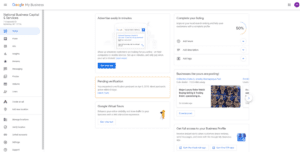 The amount of information visible to your customers depends on how much you want to show them. Click on the "Info" tab in your left-side toolbar to start.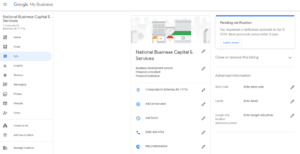 Here, you can input whatever information you would like customers to see when you appear in Google results for Maps and Search, including your hours of operation, store code, reviews, company URL and more.
Enter the information you wish to become visible for your customers, and start enjoying all the new attention your business is about to get!
Step 5: Start Exploring All the New Awesome Features Google Has to Offer!
Congratulations! You finished verifying your business! your business name, address, website, and contact information is about to show up on Google Maps and Search, like this:
Google Maps Results for Business Example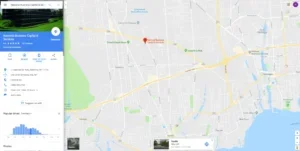 Google Maps even shows recent content from your website, photos of your building and team that you can upload via Google My Business Dashboard, and more if you so choose.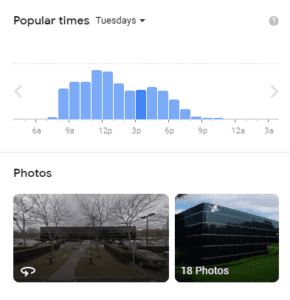 Google Search Results for Business Example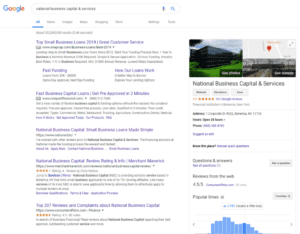 On both Maps and Search, customers can see the most popular times your business operates, your customer Google Reviews, and company message.
If you have a company that produces content including blogs or other important landing pages, promoting this information on your Google Search results is a highly effective and free way to market your content.
Your social media accounts will also show up towards the bottom of your business's Google Search results, if you choose to promote them.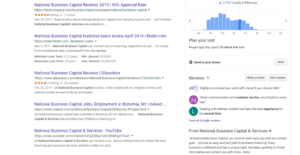 Congrats on Getting Your Business on Google Maps!
By following the steps in this guide, you just made a HUGE step in taking your business to the next level!
National is always looking for new ways to help business owners grow and succeed, no matter the size, and no matter the industry.
If you would like any help at all, either in the form of fast, simple small business loan and credit line options, or with business services that help you boost sales, eliminate risk, cut costs and streamline operations, then give us a call today at (877) 482-3008 to speak with a live representative and receive a free consultation.
Or, fill out a 60-second application online to get the funds you need in as little as 24 hours!