Business lines of credit are essential for entrepreneurs in all sectors of our economy, but they're especially important for those in the construction industry.
Most businesses in this sector perform a majority of their work during the spring and summer months, with the rest of the year acting as their "slow season." Their annual revenue depends on their performance during these months, and any hiccup or unexpected downtime can be significantly costly for their bottom line.
With a business line of credit behind you, you can stop worrying about the nagging expenses that complicate your growth. You'll have capital on an as-needed basis to help you forecast for your future, take advantage of new opportunities, and, most importantly, grow to your full potential.
Don't worry; We've got you covered. Here's everything you need to know about construction lines of credit and how to find the best deal for your specific circumstances in 2022.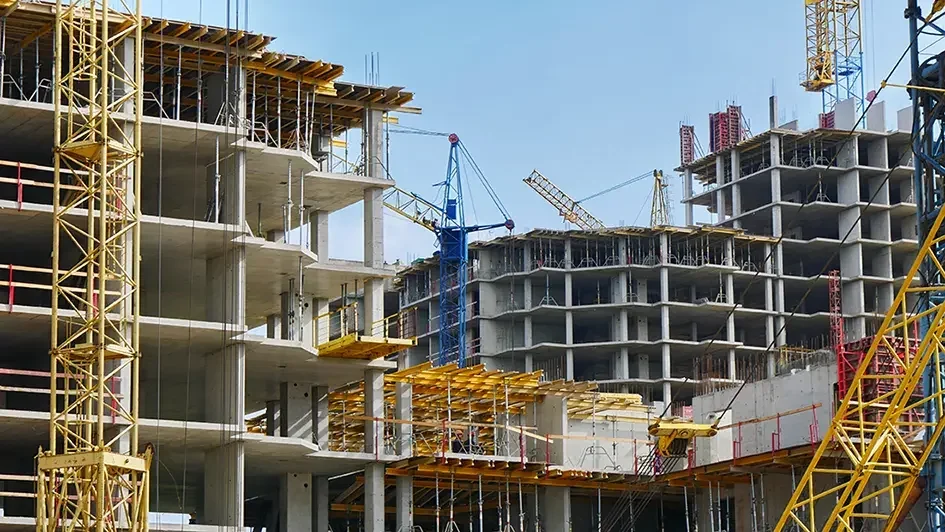 What Is a Construction Line of Credit, and How Does It Work?
A construction line of credit provides borrowers with a set amount of capital to draw from as needed up to a certain limit. Interest applies to only the amount drawn, and borrowers can draw physical cash if needed.
Unlike a traditional loan, where you receive a lump sum payment that you repay over a set period of time, a construction line of credit provides consistent access to capital. Borrowers draw funds when they need them and pay back the borrowed amount on their schedule.
Basically, it provides you with short-term access to capital on an as-needed basis to use for almost any business expense. Business lines of credit are similar to business credit cards, but you can't draw physical cash with a business credit card.
Having both of these resources on hand increases your purchasing power and streamlines your cash flow significantly, so it's a good idea to explore both of these options at some point over your business's lifetime.
Most credit lines are "revolving," too, which means you can draw the same funds again once you pay off your existing balance. This schedule allows you to always have cash on hand at a moment's notice.
Real World Example
Let's say you're approached by an equipment supplier who offers you a significant discount on an asset needed to apply for higher revenue contracts.
If this offer comes during your slow season, you might not have the capital on hand to afford the purchase and manage your expenses until you start working again, which can force you to pass up on the opportunity.
You can only do this so many times until your competitors outpace you, but with a construction line of credit, you can take advantage of the discount AND cover your expenses.
What Are the Benefits of a Construction Line of Credit?
Construction companies can significantly benefit from having a line of credit in their back pocket. Here are a few of the many benefits of a construction line of credit:
Cover expenses during construction delays
On-demand working capital
Manage cash flow during slow seasons
Enhanced forecasting
Ability to take advantage of opportunities
Increased negotiation and purchasing power with suppliers
Easier financial risk management
Hire additional crew members
Purchase necessary equipment
Maintain/repair equipment quickly
Your line of credit can help you with anything that comes with a price tag. Managing cash flow in a construction business isn't easy, especially considering the seasonality of their work, but a line of credit gives you a leg up in almost every regard.
When Should a Business Use a Construction Line of Credit?
The main reason why companies get a construction business line of credit is when they need to gain access to short-term funding and want to have the flexibility to do so as they need. Unlike other financing solutions, construction lines of credit allow borrowers to draw funds as needed and only pay interest on what they take.
Here are a few situations where a business would use this type of financing.
Covering consistent expenses, like payroll and inventory
Cost management, including fuel and other operating costs
Supplementing income to increase purchasing power
Equipment purchases
Purchasing upfront materials for jobs
Breaking down a large purchase over a more manageable schedule.
You can also treat your credit line as an emergency fund. Since you'll only pay interest on the amount drawn, you don't have to worry about keeping it in the background for future needs.
How Can I Use a Construction Line of Credit?
Entrepreneurs will typically use lines of credit to cover expenses while they focus on the bigger picture.
For example, if you're coming off your slow season and don't have much capital on hand, you can leverage your business line of credit to purchase the materials and supplies needed to complete an upcoming contract and get the ball rolling again.
You can use a construction line of credit for almost any business expense, but here are a few of the most common:
Payroll
Inventory
Up-front supplies
Rent
Utilities
Vehicle maintenance/repairs
Marketing initiatives
It's easy to get carried away with the increased purchasing power, but it's important to consider how you'll repay the borrowed amount before you draw funds from your line.
If you overload your construction line of credit, you can find yourself without the resources you need to complete your work and pay your expenses. You'll also have to pay an exorbitant amount of interest, which only makes your repayment that much more complicated.
What Do You Need to Qualify for a Construction Line of Credit?
You can secure a construction line of credit from a variety of lenders, but the qualifications will differ depending on the organization you're dealing with. Some lenders will require higher credit scores than the next, while others will prioritize your annual revenue over your time in business requirements.
Here are National Business Capital's minimum requirements for a construction line of credit:
1+ Year in Business
$500,000+ in Annual Revenue
600+ Credit Score
The qualifications will also depend on the maximum credit limit you're seeking. If you don't need a higher limit, the qualifications won't be too overbearing but expect to provide robust financial information if you want an elevated limit, like $750,000.
How to Apply for a Construction Line of Credit
Here are a few of the steps every entrepreneur should take when applying for a construction line of credit.
Review Your Business Financials – First and foremost, you'll need to evaluate your business's financials and determine a safe level of debt to take on. You should review your cash flow, consider each of your expenses, and forecast for any future challenges that can complicate your ability to repay financing.
Research Lenders – Next, you'll start researching lenders that align with your business goals. Take careful note of the qualifications, offered programs, and reputation of each lender, then create a list of 5-10 top options you can apply with.
Prepare Your Documentation – The next step is to collect the required documents for the application process, including business bank statements, tax returns, proof of ownership, and many others. While the specific documentation differs from lender to lender, you'll need to supply some basic information at the very least.
Complete Applications – Finally, you'll fill out applications with the lenders of your choice and wait for decisions. Generally, banks and credit unions take the longest to respond, while non-bank lenders can return a decision within a few hours.
This process is time-consuming. If you don't have the time to fully complete the steps above, consider working with a marketplace, like National Business Capital, to apply once and receive multiple offers.
Alternatives to Getting a Construction Line of Credit
Construction lines of credit are a great way to grow your business, but they aren't the only financing option available. Here are a few alternatives to construction lines of credit that can help you reach your full potential.
Type of Financing
Description
Construction Term Loans
Term loans are provided in a one-time, lump sum payment that you'll repay over the course of your term.

Construction term loans are often used to support large contracts or the purchase of expensive equipment. You could secure the financing before the contract starts, then use the profits to pay off what you owe, or you could secure a term loan halfway through your contract to help meet deadlines—the choice is yours to make.

Construction Equipment Financing
Construction equipment financing can help break down the sizeable purchase into more manageable monthly payments.

Lenders allow you to use the asset you're seeking to purchase as collateral for the financing, eliminating the need for further collateral.

Construction Revenue-Based Financing
Revenue-based financing leverages your business' profitability for short-term funding.

Instead of credit score and time in business requirements, lenders look for revenue generation to determine eligibility.

Although it's a short-term solution, it's a great way for construction companies to quickly gain access to capital for upfront materials, payroll, equipment, and other expenses.

Construction Accounts Receivable Financing
Late invoices can prevent you from starting new jobs, but construction accounts receivable financing allows you to turn your late payments into liquidity.

You can either leverage your receivables as collateral or "sell" them to a lender in exchange for capital. In either case, borrowers receive up to 98% of the value, with the remaining percentage going to the lender as a fee for their service.
Streamline Your Search for a Construction Line of Credit With National Business Capital
Entrepreneurs like yourself don't have a lot of time on their hands. Between managing the day-to-day of your operations and keeping the ship on track, you might not have a chance to sit and compare the options available to you.
That's not to mention the time and effort associated with filling out applications and submitting them to multiple lenders, too, which is yet another lengthy component of the already long process. There has to be a better way to secure the funds you need to grow, right?
There is. National Business Capital, the leading SMB FinTech marketplace, can help you streamline your search for a construction line of credit or other financing options. Rather than applying to lenders one by one and waiting for their individual decisions, you can fill out one application with us and apply with 75+ lenders simultaneously.
Then, our expert Business Finance Advisors reach out and learn everything they can about you, your business, and your circumstances to ensure we can connect you with the RIGHT lender for your specific needs.
We've secured $2 billion on behalf of our clients through 25,000+ transactions, making us uniquely capable of helping you reach your full potential. We've worked with almost every industry—you can trust that we "get" your specific needs. Don't believe us? Check out some of our 2,000+ 5-star reviews on Trustpilot.
We're here to help you grow. Complete our digital application today to start the process.
FAQs
Why Would a Construction Company Need a Line of Credit?
Lines of credit provide ongoing access to capital for almost any business purpose. You can draw funds up to your credit limit, and only the amount you've drawn is subject to interest. Construction companies will use lines of credit to bridge payment gaps between contracts and to cover payroll, inventory, rent, and maintenance costs. 
With a line of credit behind you, you can stop worrying about your expenses and focus on the bigger picture.
What's the Difference Between a Construction Loan and a Line of Credit?
Construction loans are often provided in lump sum payments, whereas a line of credit provides consistent access to capital throughout your term.
If you secure a construction loan and end up needing more money, you'll have to secure additional financing to cover that gap. Lines of credit, on the other hand, allow you to draw funds whenever you need, as long as you don't exceed the maximum limit on your line.
How Do You Get a Construction Loan?
You can secure a construction loan, or construction line of credit, through banks, credit unions, online lenders, and marketplaces.
Banks and credit unions often have strict eligibility requirements and low interest rates, while online lenders are the opposite. Marketplaces combine the best of both worlds by providing access to traditional and online lenders, allowing you to receive multiple offers with a single application.
How Is a Construction Line of Credit Different From a Traditional Loan?
Traditional loans provide lump sums of capital, whereas a line of credit offers access to a set amount of capital that borrowers can draw from as needed. While both provide entrepreneurs with funding, business lines of credit are much more flexible in application.
Business lines of credit are great when you don't know how much a project will cost or need consistent access to capital. However, if you need a higher funding amount and know how much your opportunity will cost, traditional loans are usually a better option.
How Long Does the Application Process for a Construction Line of Credit Usually Take?
Banks and credit unions respond to applications within 30 to 90 days. Non-bank lenders, on the other hand, can return a decision in a few hours.
If you need fast funding, non-bank lenders are generally the best route. They can move you from application to funding in as little as 24 hours in some cases, while banks and credit unions can drag their feet, taking months to return an approval or denial.