It's no secret restaurants face a ton of expenses, with one of the biggest upfront costs being the equipment and machinery needed to run the business. The good news is that there are many funding options available outside of bank loans, especially for restaurant entrepreneurs with low credit scores.
With restaurant equipment financing, you'll be able to secure the funding you need to purchase the necessary tools that jumpstart and optimize your operations. Here's your guide on everything you'll need to know to get restaurant equipment financing – even with low credit.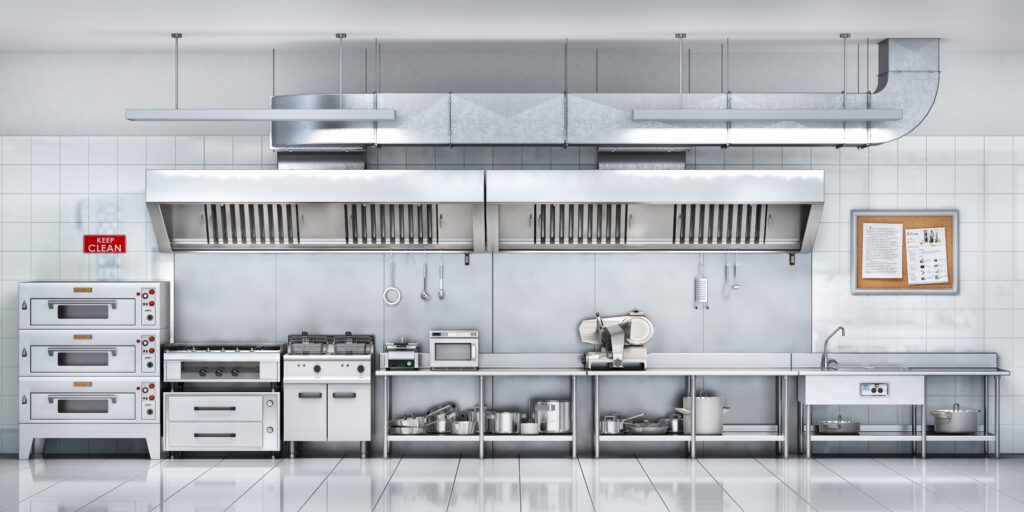 What Is Restaurant Equipment Financing?
Restaurant equipment financing is a form of funding that allows small businesses and entrepreneurs to purchase equipment, machinery, and supplies to help them run their businesses smoothly. 
If you're in need of a new refrigerator, food processor, or pretty much any type of equipment related to your restaurant business, you may be able to use equipment financing to break down these larger investments into more manageable payments – often spanning several years. 
Equipment financing is an excellent option for both restaurant startups and seasoned businesses looking to upgrade. Equipment loans can be fairly accessible, with lengthy terms, minimal credit score requirements, and few, if any, additional collateral requirements.
How Restaurant Equipment Financing Works
Instead of paying the expensive upfront costs of machinery for your eatery, equipment financing allows you to purchase the equipment and pay back a loan over time. In this way, you're able to put the equipment to work, make payments, and generate revenue all at once.
Restaurant equipment financing can help you meet almost all of your equipment needs, with loans typically covering anywhere from 80% to almost 100% of the machinery for your business. 
As soon as you've secured financing, you can purchase and start using your materials right away. Equipment financing loans are generally broken down into several fixed payments spanning a set of time, ensuring you'll be able to forecast your future cash flow effectively.
The best part for long-run restaurant entrepreneurs? Once you have repaid your loan, you'll fully own the equipment outright, meaning you can sell it in the future or put it towards another upgrade when the time comes. 
As a small business faced with low credit or a few high-value assets on hand, equipment financing is a flexible type of funding that's also highly accessible. It's one of the reasons why these loans are widely popular for young restaurant businesses and startups.
Can You Get Restaurant Equipment Financing With Bad Credit?
Yes! It's possible to get restaurant equipment financing even with bad credit. While banks often have strict requirements, you may be able to find flexible funding solutions at online lenders. 
Banks will typically ask for strong credit scores, a minimum of 2 years of business history, strong revenue, etc. Online lenders, on the other hand, can be much more lenient when it comes to equipment financing. Newer businesses and those with lower credit scores will find it much easier to secure restaurant equipment financing with an online lender over a bank.
How to Get a Restaurant Equipment Loan With Bad Credit
If your credit is not in the best shape, your approval odds at a traditional institution, such as a bank, could be less than promising. One solution is to work with an online lender instead. Online lenders offer simplified application processes, faster funding times, and, more importantly – accessible loans.
The process is not as strict or rigorous as applying for a bank loan, but there are still qualifications you'll need to meet.
Looking to get started with restaurant equipment financing? National Business Capital makes it easy to compare multiple loan offers from different lenders in one place. Here are the basic requirements.
No Minimum Credit Score
Having a good credit score is always beneficial for securing lower interest rates and the best financing terms, but it is not always necessary for restaurant equipment financing. For example, National Business Capital lets you effectively waive the credit score requirement if your business is at least 6 months old and you generate at least $120,000 in annual revenue. And, if you're a new business, you can also find solutions to qualify for funding with flexible credit score requirements.
Minimum 6 Months of Business History
Even though most lenders will want to see at least one year of business history, National maintains solutions for businesses as young as 6 months. Meaning start-ups and entrepreneurs can get a leg up when it comes to launching their businesses.
$120,000 in Annual Sales
Annual sales are another way lenders will determine if you qualify for equipment financing. For established restaurant owners, you can secure a restaurant equipment loan with only $120,000 in gross annual sales – or $10,000 in monthly gross sales. 
Even if you are a restaurant start-up and don't have the sales figures just yet, there are still ways to work around this requirement. For instance, you may be able to waive many of the requirements if your FICO score is 650 or higher.
Benefits of Restaurant Equipment Financing
Restaurant equipment financing offers a way for business owners to purchase machinery they'd otherwise struggle to obtain. Take a look at some of the ways funding can be critical to your long-term business goals.
Start Using the Equipment Immediately
By securing equipment financing, you can start using the equipment and machinery right away while spreading out your loan payments over several years. This helps you avoid potential setbacks associated with opening or managing your eatery since you won't need to have all the cash on hand to complete your kitchen or jumpstart operations. 
No Collateral Requirements
With equipment financing, you don't need additional collateral because the equipment itself acts as collateral for the business loan. In this way, you can minimize some of the financial risks associated with growing or launching your eatery. 
Cost-Effective
One of the many reasons equipment financing is a great option is that you'll save money over the long run as you build equity in the equipment. When the time comes to sell, you can trade in your equipment for a new supply and retain some of the money you've put in. Many restaurant owners have been able to save with equipment financing rather than leasing in the long run.
Accessibility 
Restaurant equipment loans are more accessible than other types of financing because the equipment that you're purchasing acts as collateral for the loan. This makes it easier for small and new restaurant business owners to qualify for funding. Plus, working with online lenders is another great way to bypass certain credit score requirements. 
A Time-Saving Option
When you work with an online lender, equipment financing is generally a faster funding route than qualifying and getting approval for bank loans. In some cases, businesses have been able to receive their funds mere hours after submitting an application through an online lender.
Types of Restaurant Equipment Loans
It's important to know what your options are with the different types of equipment loans available. Take a look at some of the most common restaurant equipment loans.
SBA loans
Small Business Administration (SBA) loans are government-backed financing options with special benefits just for small businesses. The loan is issued by a network of participating lenders but backed by the federal government to protect against the risk of default. 
With SBA loans, lenders have a stronger cushion of security, which is especially important for allowing businesses to access lower interest rates. 
With low-interest rates and plenty of term options, SBA loans can be used to cover just about any type of business expense up to $5 million. This includes start-up costs, working capital needs, real estate purchases, as well as equipment purchases. 
Keep in mind that SBA loans have their own set of requirements in addition to the ones imposed by your lender. You can learn more about the SBA requirements in the application process.
SBA 7(a) loans
One of the most popular SBA loans available are SBA 7(a) loans. These are high funding options with loans available up to $5 million that can be used for a variety of business and equipment purchases. There is even the option for businesses to use 7(a) loans to refinance other outstanding equipment loans. They also have a long-term repayment period of anywhere from 10 to 25 years.
SBA 504 loans
504 loans are another popular long-term, fixed-rate SBA loan with funding available up to $5 million. This type of loan supports economic and job growth and can be used to purchase major assets, including restaurant equipment.
Term Loans
If you can think of a typical loan arrangement, then you probably already have an idea of how term loans work. These loans are structured where you receive a one-time lump sum of capital upfront from the lender. You then repay the loan over regular installments for a predetermined period of time, ranging from immediate to long-term loans (usually considered over 5 years).
Term loans are a great option for funding a major project or a long-term business plan. For equipment financing, you will need to know the exact amount of how much your new equipment will cost. Then, lenders will be able to approve the machinery and ensure it guarantees the loan. As common with most loans, the lender can recuperate the equipment if you are unable to keep up with your payments. 
Business Line of Credit
A business line of credit is comparable to a credit card but offers increased funding limits. Interest rates are usually more affordable, and you are only charged interest on the purchases you make. 
It's a flexible funding solution where you can use the credit to make purchases for any business expenses that you see fit. This is especially useful for short-term financing needs and unexpected costs. And with a revolving credit line, once you pay off your balance, you can continue to access the capital up until your limit.
Explore Restaurant Equipment Financing Options Through National
There are many options for restauranteurs to manage the upfront costs needed to run their business. Restaurant equipment financing through online lenders can be a great way to get faster and more flexible approvals for loans. 
Get started by filling out the free application at National Business Capital and find out what options are available to you today.