You probably already know most of the amazing benefits SBA loans for veterans have to offer—the prime lending rate of 3.75%+, the huge range of funding totals from $50k-$5 million, the lengthy terms of 10-25 years, the guarantee from the federal government—the list goes on.
What you probably don't know is what it takes to qualify for veteran SBA funding.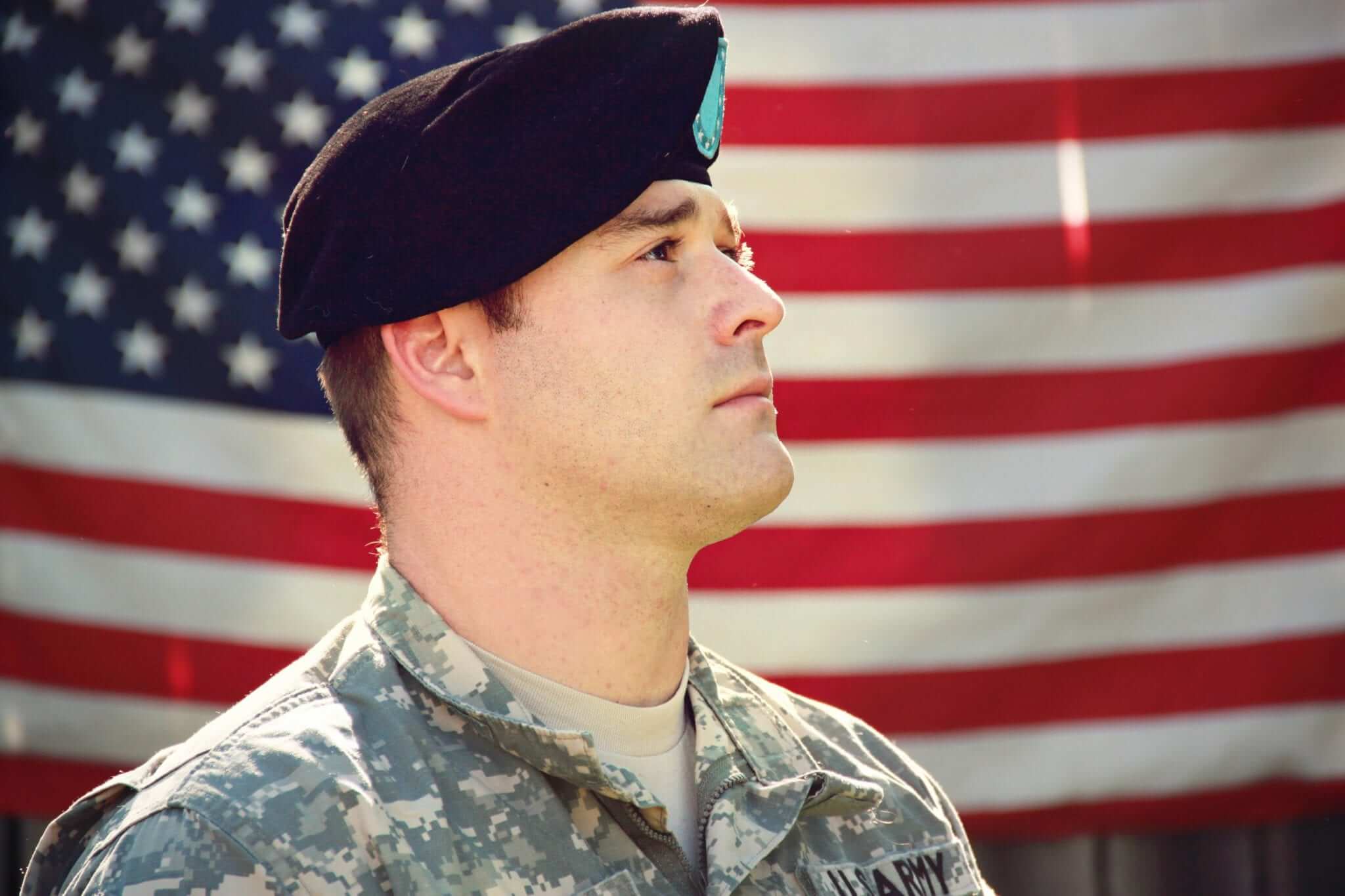 Making SBA Financing Easier for Veterans
As a veteran, you've earned the right to be frank about what you need. You also earned the right to know the truth behind empty SBA promises.
As a company that helps veterans get SBA qualified every day, we know what you need—and more importantly, don't need—to do to get approved as quickly, easily and efficiently as possible.
We'll also go through crucial steps every veteran should take to avoid the common pitfalls most business owners encounter when applying for SBA loans in order to save yourself time, cash, and frustration.
Why? Because it's about time someone fought for you!
Veteran SBA Loan Requirements by Lender Type
Before we begin, it's important to note that approval requirements vary depending on which type of lender you apply for a veteran SBA loan through. Take a look at the chart for the fast facts, and we'll discuss the details after.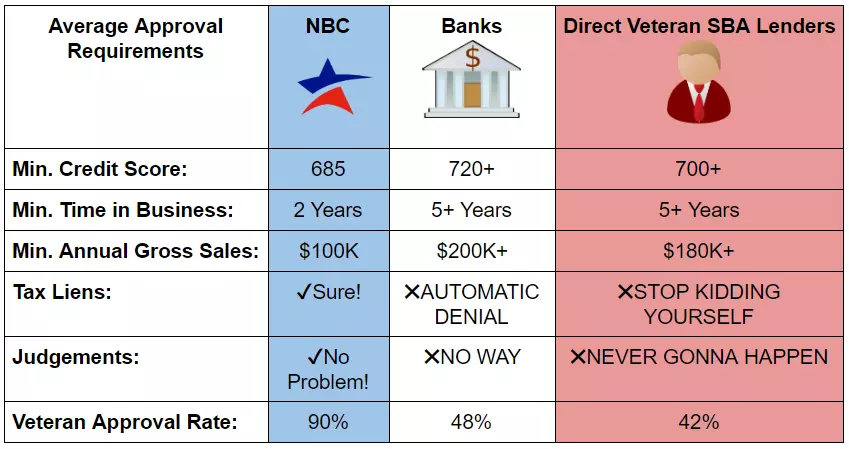 Yes—SBA approval for veterans really does vary that much depending on the provider you choose.
Why? The Small Business Administration (SBA)—the creators of the SBA loan—does not set qualification standards for sba loans for veterans themselves.
Instead, they leave it up to banks and other lenders to set their own standards, making for a wide range of approval processes for veterans seeking SBA funding. 
If searching for the right SBA loans for veterans is starting to seem overwhelming, don't worry—we got you covered.
5 Steps to Make Veteran SBA Approval Easier On Yourself
Despite the many amazing benefits SBA loans can bring to veteran-owned businesses, they also come with quite a few drawbacks that most lenders won't tell you about, until you're already in the middle of a sticky SBA situation. 
Fortunately, they're very easily avoidable. Here's 5 steps you can take to make veteran SBA approval easier on yourself:
Be Frank About When You Need Funding:

Speed is one of

the

defining differences between veteran SBA lenders. It's also one of the most important factors that veterans should be looking for in the way lenders process SBA loans. Faster processing means less time waiting, and more time acting on pressing business opportunities and challenges. Here's how long it takes to get SBA loans for veterans from different types of lenders:

Banks: 6-8 Months
Direct Veteran SBA Lenders: 4-6 Months
NBC: 45 Days, with the option to get an additional immediate capital injection in 24-48 hours. Veterans typically choose to get the additional immediate funds, as it serves as a great way to bridge the (shortened) funding gap while waiting for SBA funds. It also gives you a chance to act

immediately

on any pressing need.

Once veterans receive funds from their expedited SBA loan, you can then pay off your initial 24-hour small business loan, lowering your cost of capital.
Refuse Approval Processes That Solely Depend On FICO:

There's no sugarcoating it—credit score plays a vital role in the approval process for SBA funding. Not just for veterans, but for

any

business owner. However, the degree to which qualifying is dependent on a veteran's FICO varies depending on the lender. Banks, for example, almost always only approve veteran clients based on their credit score. Then there are those like NBC that are prepared to fight for our nation's finest to get approved with every tool and resource they need—no matter the odds.

When a veteran proves to not be SBA qualified at NBC, National pulls out all the stops to get them qualified as soon as possible. They believe that veteran-owned businesses are not defined by the size of their credit score, but the size of their ambition, integrity, and potential. Even veterans that do not initially have the

685 FICO

required can boost their credit in no time through these business credit repair and boosting services: Credit Building Services from NBS
Find a Lender That Doesn't Count Tax Liens and Judgements as Immediate Disqualifiers:

They're borderline impossible to come by, but they exist. As you saw before, tax liens and judgements count as an automatic disqualifier for veterans for the

vast

majority of SBA lenders. Despite what they'll have you believe, there's a simple step you can take to get around that.

Remember that option NBC offers with their SBA loans for an immediate capital injection? Use it to pay off any tax liens, and eliminate judgements. And there you go! Why don't other SBA lenders offer this option? We don't have an answer to that. What we do know is that something as simple as a tax lien or missed payment should

never

stand in the way between veterans and the SBA loans they need—it's too simple of a problem to fix!

Limit the Amount of Paperwork You Do Yourself:

No one likes paperwork. It's by far the worst, most stressful part of every SBA process. Most SBA lenders simply through a bunch of documents at veterans, ask them to organize it all themselves, and leave you in the dark on how to do it. This isn't only irresponsible on the bank's part, it's also disrespectful.

It also puts clients at risk of mishaps, clerical errors, and mistakes that can lead to delays in funding that can stretch anywhere from weeks to months.

You can avoid this, as well as countless time, energy and frustration by choosing a business financing company with veteran SBA specialists that prepare all necessary documents

for

you. With years of veteran SBA funding under their belts, they know what paperwork you do and don't need to do yourself to get approved for an SBA loan, saving you anywhere from days to weeks of hair-pulling, and reducing personal and business risk dramatically.

If you didn't already guess—yes, we offer these services to all those seeking SBA loans for veterans. Through our uniquely specialized program, you also gain 24/7 access to a Business Financing Advisor to help them through the process from start to finish to ensure a smooth and steady funding experience.

Know ALL Your Options:

This one is extremely simple, but incredibly important. Most SBA lenders are great at misleading business owners into believing that it's their way or the highway. This is one of the biggest, boldest lies that has led too many veteran business owners away from seeking SBA funds.

This is where we step in. NBC has connections to over 75 of the nation's leading veteran SBA lenders. Simply tell us exactly the SBA terms you're looking for, and we'll get to work finding the perfect specialized lender together. By now, it's probably clear to you that no single SBA lender is the same, be it a bank, direct or otherwise. With access to our connections, veterans receive more SBA options than they would anywhere else.
With NBC's SBA Loans for Veterans, 
No Veteran Gets Left Behind!
National Business Capital is proud of their reputation as the nation's leading veteran SBA financing company.
Give us a call at (877) 482-3008 to ask about how we help secure SBA loans for veterans with greater honesty, transparency, speed and convenience than anyone else.
Or, you can take advantage of NBC's 90% approval rate today by filling out our 1-minute online application, and a Business Financing Advisor will call you in minutes to discuss your options moving forward. Thank you for your service, and all that you've done for our country!