Wondering how to start a trucking company with no money? Your best bet would be to secure a commercial truck loan. Commercial truck loans enable you to afford the vehicles you need to jump start your business – and more.
Here's an overview of how commercial truck loans work as well as ways to find affordable business financing solutions.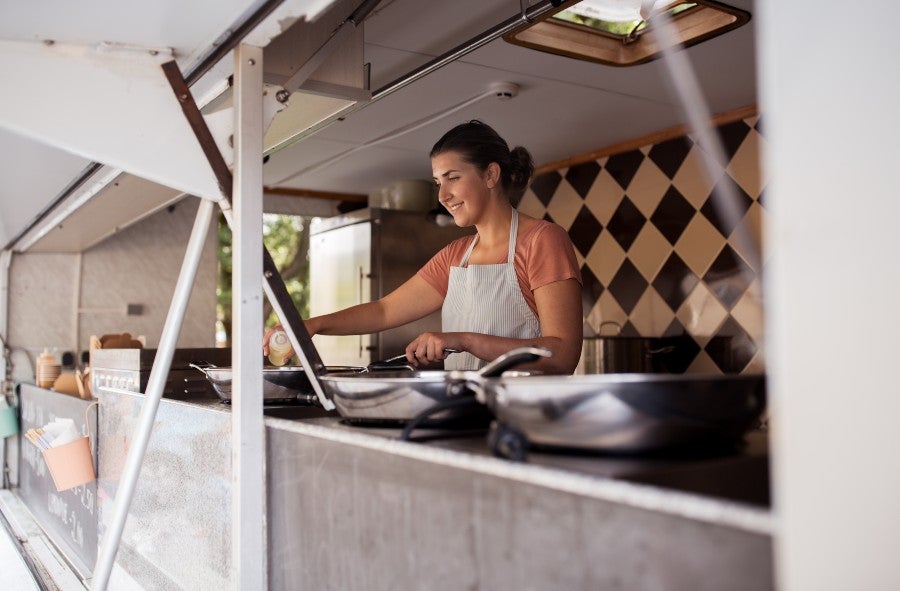 1. Can you start a trucking company with no money?
Yes, you can start a trucking company with no money by seeking financing, such as commercial truck loans. After all, you can't make deliveries or transport goods if you don't have a fleet readily available. Funding solutions can help fill the gap when you can't come up with the capital on your own.  
Commercial truck loans enable you to purchase a truck or buy a used vehicle. The great thing about commercial truck loans is that they function as equipment loans. Equipment loans use the underlying truck you are financing as collateral for the loan.
Your loan will be secured by the vehicle, which can help make interest rates more affordable – especially if you have good credit.
You'll also need to pay for business registrations, licenses, employees, and even marketing materials. Business financing can help cover these costs as well.
2. How much does it cost to start a trucking company with no money?
The initial cost for starting a trucking company can be anywhere between $10,000 to over $20,000 – but this doesn't include the cost of the commercial trucks themselves. Trucks can cost anywhere from $40,000 on the low end to over $200,000 on the higher end.
Trucking companies require more of a significant upfront investment compared to other types of business. By far the biggest expenses, in the beginning, will be purchasing the trucks.
On top of this, you'll also need to manage ongoing operational costs that can greatly eat into your bottom line. For these reasons, the trucking industry on a whole tends to have smaller profit margins.
According to data from New York University's Stern School of Business, the trucking industry in January 2022 saw net margins of 1.85%. Despite relatively modest profit margins, trucking companies can command a significant amount of revenue.
The trucking company Cargo Transport Alliance, has publicly shared that the average gross revenue for most of their trucks is between $4,000 to over $10,000 per truck.
To understand how much it costs to start a trucking company with no money, it helps to take into account these estimated expenses.
2.1. Commercial truck
Trucking vehicles can cost anywhere from $100,000 to over $200,000. Used trucks can go for less, anywhere between $40,000 to $200,000. The good news is that you don't have to foot the majority of this cost yourself.
Commercial truck loans can help you break down this investment into more manageable payments over time.
2.2. Licenses and permits
The licenses and permits you'll need to obtain in order to start your trucking business can quickly turn into several of thousands in expenses. You'll need to pay for these upfront, as well as on an ongoing annual basis. Some of these documents include:
Business Registration
Federal DOT and Motor Carrier Authority Numbers
Unified Carrier Registration (UCR)
International Registration Plan (IRP) Tag
International Fuel Tax Agreement (IFTA) Decal
BOC-3 Form
Standard Carrier Alpha Code (SCAC)
2.3. Insurance and taxes
You'll need to obtain insurance in order to protect your vehicle fleet as well as the financial interests of your lender. Insurance for commercial trucks can cost between $9,000 to $12,000 annually per truck.
But the actual amount you'll end up paying will depend on the state you live in as well as the type of truck you've purchased.
You'll also need to pay government taxes at both federal and state levels. The Heavy Vehicle Use tax can cost up to $600 per truck annually. It's also likely you'll need to pay additional state taxes, which can be on average $500 annually.
2.4. Operating expenses
Once you've purchased your fleet and paid for all the required licenses, permits, insurance, taxes, and other fees, you'll still need to meet operating expenses. This includes,
Fuel
Highway tolls
Additional transportation equipment, such as freezers or specialized storage units
Ongoing vehicle repairs and maintenance
Employee wages and benefits
Marketing
3. How to start a trucking company with no money
If you're going to start a trucking company with no money, you'll need to work with a lender willing to finance your vehicle fleet plus your initial start-up costs. You may want to look into various options for business loans, such as commercial truck loans and equipment loans.
Applying with a lender is a process in and of itself. It helps to take the time to prepare some documentation beforehand and go over what to expect.
Here's a breakdown of some simple steps that you can take to start a trucking company with no money.
3.1. Register your trucking company and obtain required permits
You can't go to a lender for business financing if you haven't established your company yet. Registering your trucking company is the first step. Next, you'll need to collect the legal documents and permits required to do business.
Once you have these technicalities sorted, you'll be in a stronger position to apply for commercial truck loans.
3.2. Create a business plan
Business plans are critical for conveying your business loans and helping lenders understand your approach. But they're also important for helping you visualize your path towards accomplishing your business goals.
Make sure to include the following information in your business plan.
Executive summary: A brief summary of your business and its objectives. Make sure to specify the timeframe for your goals. Most business plans tend to look at least 2 to 3 years into the future.
Company overview: An introduction to your business, including your target clients, the services you intend to provide, your overarching objectives, and more.
Market analysis: Discuss key elements of the trucking industry, as well as an overview of potential top competitors. Be specific in identifying how your business will fit into the larger market and outpace the competition.
Business goals and strategy: Outline the specific steps your business will take in the coming months and years to reach your goals. How many vehicles do you plan to hire at first? Will this number change over time? What about employees?
Costs: As much as it's important to highlight the exact measures you'll take to reach your goals, you also need to identify how much each stage of development will cost. Include estimates for purchasing commercial trucks, hiring employees, license and permit costs, taxes, operating expenses, and more.
3.3. Choose the right truck for your business
The next step to start a trucking company with no money is to choose the right truck for your business.
With commercial truck financing, you're free to decide on the type of vehicle you want to purchase. Take the time to look through different options. Once you've selected your truck, make sure to share the vehicle model and other information with your lender.
Keep in mind that some lenders may impose requirements on age or mileage – especially if you're buying a used vehicle. Lenders may also review the condition of the truck and the vendor before approving your funds.
3.3. Find a lender
When it comes to commercial truck loans, you can choose to work with either online lenders or banks. Banks are well-known for having some of the most competitive market rates. However, they also maintain strict requirements and tend to be hesitant of financing newer businesses and early stage start-ups.
Ideally, they'll want to see at least 2 years of strong revenue before approving a business loan. However, you may still be able to obtain a commercial truck loan from a bank if you have strong credit and a significant down payment.
Online lenders are much more flexible than banks when it comes to financing your business. They're more willing to work with younger companies and startups.
They're also more lenient on credit score requirements. Plus, online lenders offer a significantly faster and more straightforward application process than banks. In some cases, businesses can secure finances within 24 hours.
Many online lenders offer commercial truck loans and equipment loans. They also offer other financing solutions, like lines of credit, invoice financing, and more.
4. Should you finance or lease a commercial truck?
Most businesses prefer to finance a commercial truck rather than lease it. Financing allows you to build equity in an asset – your truck. Most trucks have longevity and can be used for years to come even after you repay your loan.
And while you will have to pay for repairs, you'll also be able to sell your truck when the time comes to upgrade. In short, commercial truck financing can be a smarter financial move in the long-run.
Nevertheless, there are still scenarios where commercial truck leasing may make more sense. For starters, commercial truck leasing is more flexible. There's no long-term commitment and you're typically able to upgrade to newer models every 2 to 3 years.
Plus, commercial truck leasing has significantly lower upfront costs than commercial truck loans. You won't have to make a down payment, you won't need to cover repairs, and your cash won't be tied up in an asset for a number of years.
Commercial truck leasing also tends to come with lower monthly payments. It's ideal if you're a startup, struggling with cash flow, or just want smaller payments. So, if you are looking to start a trucking company with no money, this should be something that you will need to consider.
5. How to apply for a commercial truck loan
If you are looking to start a trucking company with no money, you can apply for a commercial truck loan. The process of applying for a commercial truck loan can be broken down into a few simple steps. If you work with a bank, you'll likely face additional requirements and hurdles.
Online lenders and fintech marketplaces, like National Business Capital, are significantly faster and more efficient at getting you the funds you need.
The bonus with working with a fintech marketplace like National, is that you'll have the opportunity to review different offers for financing within the same platform.
There's no need to fill out multiple applications or contact different lenders. National gives you an automatic overview of your options in the marketplace.
Generally speaking, here's how you can expect the process for applying for a commercial truck loan to look like.
5.1. Gather paperwork and apply
Once you've selected the commercial truck you're hoping to finance, it's time to prepare your paperwork and documents for the application process.
At a minimum, you should have information on the vehicle's model and make, the dealership you plan on working with, and your business plan.
If you own an existing trucking company, you'll need to include financial documents such as your tax returns, bank statements, and more. It's also helpful to polish off your business plan at this point.
5.2. Collect your down payment
Although the vehicle itself will serve as collateral for the loan, your lender may also ask you to provide a down payment.
This is typically a set percentage of the vehicle's sales price. If you're working with a bank, a 20% down payment is typically the norm.
However, there may be some exceptions to this rule. Some lenders may be willing to offer you commercial truck loans without a down payment – but you'll typically need to have good credit for this arrangement.
In any case, it helps to have an idea of how much of a down payment you can afford, since this will affect the type of vehicle you can purchase and your loan amount.
5.3. Work with your lender to submit an application
Each lender has their own requirements when it comes to the documents they want to see and your own qualifications. Make sure to discuss the specific documents you'll need to provide with your lender so you can prepare accordingly beforehand.
Ensuring you have all the correct forms will help you avoid mistakes and make the application process run smoother.
National boasts a straightforward, online application portal that takes about 60 seconds to complete. You can upload your business information directly onto the online platform for added simplification.
Once submitted, a business financing advisor will reach out to you personally to discuss your personalized funding options.
6. Compare loans
Your lender may offer you more than one option for financing your commercial truck. There are also various different types of business loans to choose from. Plus, you may be able to select from different funding amounts or repayment terms.
It's also helpful to keep in mind that you're not tied down to working with a specific lender. In fact, you may want to take some time to explore your options. Make sure to use National as a resource and for browsing multiple financing offers at once.
Top 4 Transportation Business Financing Options for Truckers