Behind every successful business is a top-notch business consulting firm. Large corporations typically spend anywhere from hundreds of thousands to millions of dollars on business consultants every year to help their company with taxes, finance, creative marketing strategies, streamlining operations, and virtually any other business need.
But what about small businesses that could use an extra hand with business improvements, but can't spend the insane amounts of capital it takes to hire help from McKinsey, Booz Allen or KPMG?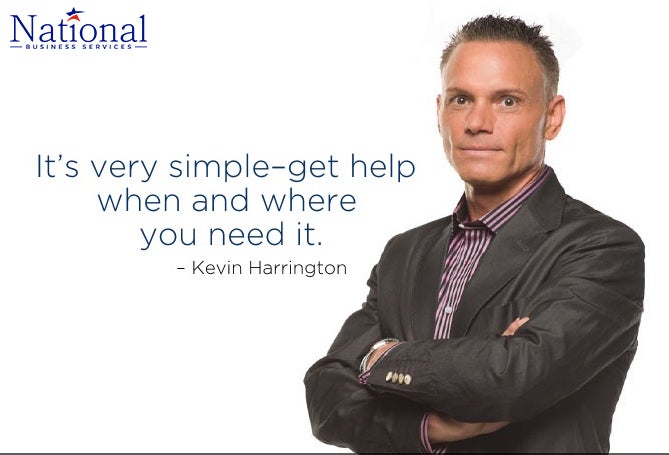 Introducing National Business Capital: The #1 Small Business Consulting Firm
Just because you own a small business doesn't mean you don't deserve the same kinds of extraordinary services that large corporations receive help from every day. 
That's why National Business Capital–along with Kevin Harrington from ABC's Shark Tank–was created.
NBS is the first small business consulting firm to offer the same premium services used by multi billion dollar businesses to main street companies–all at an affordable price, regardless of size, credit score, and financial history!
All the Business Services You Need in One Place
Here is just a taste of what NBS is capable of:
Business Growth Consulting:

Get unique business insight with customized programs and plans tailored to help your business grow from NBS' team of experts, as well as personalized consulting time with

Kevin Harrington.
Credit Card Processing:

Improve customer experience and lower operating costs with state-of-the-art POS machines, and the ability to create customized gift cards for your customers.
Financial:

Always have the capital you need to grasp every opportunity, and take on every business challenge. Utilize NBS' financial plans and products to place your business in a great financial position, including services that offer help with payroll, bookkeeping, personal and business credit repair, and more!
Business Insurance:

Protect your company with a small business insurance policy

that covers revenue loss, property damage,

general liability, and more.
Web & Technology:

Create a company website, or optimize your existing domain for SEO to increase your organic traffic exponentially!
Legal:

Contact the team at NBS today for incorporation and business startup services, as well as legal service plans that ensures your company is prepared for any circumstance.
Marketing:

Expand the size and scope of your company's customer base with print and online marketing strategies including search engine optimization (SEO), pay-per-click (PPC) advertising, and direct mail marketing.
Human Resources Management:

NBS offers a streamlined human resources management platform for small businesses from virtually all industries.

Operations and Infrastructure:

Save thousands every year on utilities with services that help with electricity and natural gas payments, and boost the efficiency and safety of your business with the latest telecommunications and security technology.
Click here for a full list of NBS' services that you won't find through any other small business consulting firm.
Do You Really Need a Small Business Consulting Firm?
If you think you could benefit from the same kind of help that business consultants give big corporations that helps them grasp every opportunity for growth, and overcome any business challenge, then the answer is obviously YES!
However, if you're having doubts or second thoughts, here's a few ways a small business consulting firm could help you in ways you might not be aware of:
An Outside, Objective Opinion:

This is one of the most common reasons that large corporations hire business consultants for help with any and all business needs. It can be difficult to detach yourself emotionally from your company in order to make rational business decisions.

In these times, objective advice and insight from an outside source may be just what you need to address any number of situations.
Save On Labor Costs:

One of the most common reactions to the suggestion of hiring outside help is to ask: "Why pay for outside help, when I can hire someone else to do the same job in-house?"

The answer, of course, is that most business improvement needs can be completed with short-term help. Does it make more sense to hire temporary help for a temporary problem or opportunity, or commit yourself to paying for a new hire's salary long term?
Dynamic & Specialized Expertise:

The business consultants at NBS offer specialized and industry-specific expertise for any and all business needs.

Whether your company could benefit from help with marketing, or boosting the efficiency of your business model, there's a small business consultant that specializes in helping your company grow and develop. With years of experience in helping companies from all kinds of industries come up with creative solutions and methods of improvement, the small business consultants at NBS have learned what works, and what doesn't.


What's more, small business consulting firms offer not only expertise in specialized areas of business improvement, but can provide insight as to how they've seen your ideas work across a variety of different industries, and offer tools and advice in turn to help tailor and refine your ideas in order to optimize your chance for growth and improvement.
Contact The #1 Small Business Consulting Firm
NBS is celebrating over a year as an industry leader in small business consulting. Fill out their 1-minute online application to gain access to all of their services, or call (631) 850-4400 to speak with an expert business advisor, and ask them how they can help you improve your business with unmatched speed, convenience, and respect. Or, visit NationalBusinessServices.com to learn how you can start working smarter, and living more!