If you haven't started a referral program for small businesses, what are you waiting for? 60% of marketers say referral programs are an effective way to generate a high volume of leads. 78% of B2B marketers describe referral lead quality as "good" or "excellent."
Well-planned referral programs for small businesses leverage all parts of the business ecosystem. The goal is to steer existing customers in your direction, laying the groundwork for mutually beneficial relationships.
These referral programs for small businesses take your brand beyond the confines of your own marketing channels, putting it in front of people you don't have easy access to.
The best part? Referral marketing is cost effective, scalable and adaptable. You can even get started right away! Check out this quick guide for creating a successful referral program.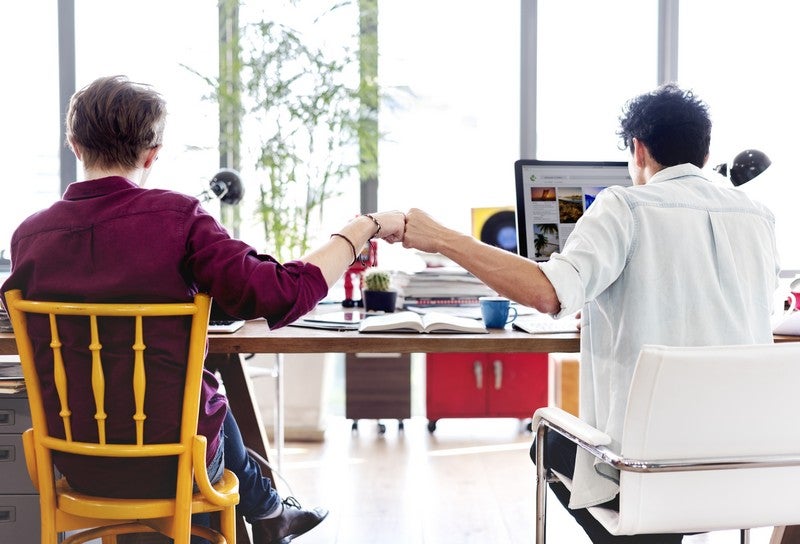 What Are the Benefits of Referral Marketing?
Word of mouth marketing has always been a powerful tool. A referral program for your small business simply gives this age-old tactic structure to deliver the best possible results. Take a look at these statistics:
Clearly, referrals have the potential for significant ROI.
It's cheaper than other customer acquisition strategies, and your referral partners do most of the legwork to drive traffic in your direction. The result: a bigger loyal customer base built from qualified leads who trust and promote your brand.
What Are the Best Small Business Referral Program Incentives?
83% of customers are willing to make referrals after a positive experience with a business, but only 29% percent actually follow through. To make sure more of your happy customers become dedicated referral partners, you need to reward your target audience.
Cash is by far the most popular incentive – 66% of Americans prefer it. Other popular rewards include:
Free products or services
Discounts on future purchases or services
Feature or service upgrades
Gift cards
Access to premium features ("VIP" status)
You can choose to reward referral partners for each transaction, or offer tiered rewards based on the number of referrals generated or the actions referred customers take.
Whatever incentive structure you use, make sure you don't kill your ROI by offering something too expensive. The reward's value needs to be far enough below the lifetime value of referred customers to boost your bottom line.
How to Start a Successful Referral Program for Small Businesses
Lucrative referral programs for small businesses start with strategic planning. You need to decide what you want to get out of the program.
More subscribers for your email list? A particular number of referrals? A specific volume of sales? To know whether or not your program is working, you need to quantify what you're aiming for and when you want to reach each milestone.
Use this guide to get started with referral marketing and track progress toward your goals.
Pick a Software Platform
Referral platforms like Ambassador, InviteBox and Advocately simplify referral program management by providing tools to:
Monitor the most successful referral tactics and platforms
Identify your top referral sources
Automate responses and incentives
Track ongoing performance
But they're not only intended for you to use.Your referral partners can also see how well their outreach is working by tracking who follows through after being referred, and which channels generate the best responses.
Recruit Referral Partners
Referrals can come from any number of sources, including:
Employees
Suppliers
Customers
Business partners
Friends and family
Social media influencers
Bloggers
You also need to be an advocate for your own program, and networking is the best way to do it.
Connect with people and share the value of your brand in person at events and online through platforms like LinkedIn. Build relationships with people whose products and services either tie into what you do, or directly complement what you have to offer.
The most promising connections are those who are familiar with your target audience and understand the best types of leads to send your way.
Talk Up the Perks
Make your referral program for small businesses part of your overall marketing strategy.
Create a landing page for it, mention it in printed marketing materials, place signup CTAs on your website and promote it on social media. A catchy headline can go a long way in telling participants what they'll get in return for referrals.
Be sure to include a quick outline of the referral process to show how easy it is to earn rewards.
Simplify Participation
Remove all barriers to signing up and participating as a referral partner.
Create a signup form with as few fields as possible, then place it in prominent spots on your website, like the checkout page.
After participants sign up, give them multiple options for sharing links and codes on their websites, in emails and on social media. One-click sharing can be particularly effective if the majority of your audience is mobile.
Recruit and Educate Your Team
When the marketing materials and sales pitches for your program are complete, provide copies to every employee who comes in contact with prospective referral partners.
Explain how the referral program for small business owners works and how to incorporate it into sales conversations. To improve performance, consider incentivizing employees for referral program signups.
Give your team regular updates on the program's progress, and get feedback on how to make it more effective. Your employees are well-positioned to gauge customer and client reactions, and can offer insightful suggestions on how to boost engagement and responses.
Follow Up with Program Participants
Show new referral partners your appreciation with a "thank you" email after they sign up – but don't stop there. Use your referral program software to send automated notification messages every time a referral code or link generates a successful response. This fosters a sense of connection and keeps participants informed about their reward status.
Don't forget to nurture new referrals, too. Send welcome messages with introductory offers to encourage them to make purchases, including information about how to earn incentives by signing up to be referral partners themselves.
Track Your Success
After all this, how do you know you're actually getting any benefit from referral marketing? Pay attention to analytics. Your referral platform should show:
The number of new customers your referral partners generate
How much money you're making from each referral
The most lucrative channels for referral generation
Referred customers' purchasing behaviors
Your most successful referral tactics
Adjust your strategy based on these metrics until the numbers start lining up with your goals for the program.
Experience the Rewards: Join National's Partner Program!
While you're waiting for referrals to roll in, why not earn some commissions of your own?
National's Partner Program is the premier industry referral program for small business financing and services. Partnering with National makes it possible to offer your customers quick and easy funding solutions, even when banks decline applications due to credit barriers.
National's partners get commissions for referring clients for business services, too!
As a member of the Partner Program, you can submit referrals and track activity through National's partner portal. With our fast & easy process, your clients can receive funding in as little as 24 hours. You'll receive referral commissions within 24 hours of a loan being funded or service being purchased, too!
Learn more about how to sign up and get the most out of a partnership with National today.