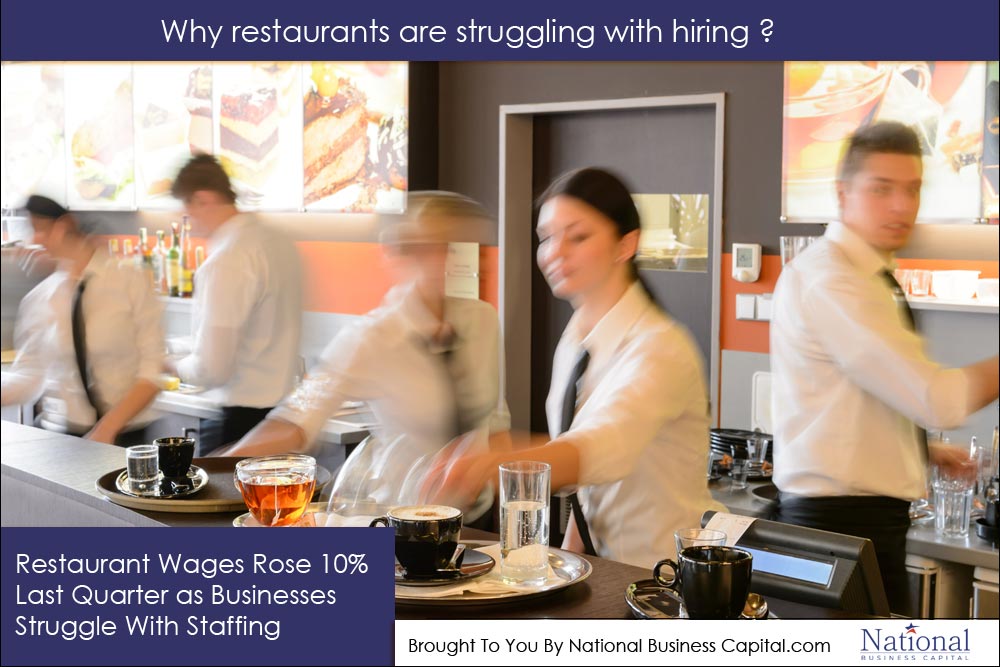 During the second quarter of 2021, wages for hourly restaurant workers rose 10% from where they were just a year earlier. These latest findings from Black Box Intelligence and Snagajob illustrate the staffing challenges many restaurants are going through.
Companies across all industries have struggled with hiring, but the restaurant industry has been hit especially hard. Small restaurants and national chains alike have struggled to find and retain qualified employees.
In July, the Bureau of Labor Statistics reported there were 10.1 million available job openings. And the restaurant industry accounts for a large number of these vacancies. Overall, the unemployment rate for eating and drinking establishments was up by 8.4%. 
The turnover rate for the restaurant industry has always been high, but these new numbers are surpassing pre-pandemic levels. Full-service restaurants are currently operating with 6.2 fewer employees in the back of the house and 2.8 fewer employees in the front of the house.
Why restaurants are struggling with hiring
The Black Box report identified four primary reasons for the staffing shortage. And for most job seekers, the biggest sticking point is the starting hourly wage.
For many employees, jobs that pay primarily in customer tips have lost their appeal, and most would prefer a set livable wage. And increasingly, workers are also concerned about the benefits and paid time off policies they'll receive.
In addition, many workers are leaving the restaurant industry due to child care concerns. 35% of hourly workers are parents who rely on affordable childcare to come to work. Unfortunately, child care has been in short supply since the start of the pandemic.
These concerns have led some workers to seek out better opportunities elsewhere. There are a lot of jobs that provide better pay and more flexibility than restaurant work. For instance, warehouse and logistics jobs are up 278% from pre-pandemic levels.
And finally, many workers are leaving out of concern for their mental and physical well-being. Restaurant work is mentally taxing, and the nature of the work makes it easy to get sick. Many states do have mask mandates, but customers cannot wear masks while eating in the restaurant.
How to stand out to hourly employees
Restaurants have had to deal with a number of challenges since the start of the pandemic. And recently, restaurant owners have been hit with a higher turnover rate, but there are ways to turn this around.
To start with, many restaurant owners are offering increased wages and benefits to attract new employees. During Q2, the hourly wage increased by 10%, the largest quarterly jump seen in years.
Employers can also focus on the culture at their restaurant and create an environment that employees want to be a part of. And if it's financially feasible, offering a hiring incentive is a great way to attract new hourly workers.
For instance, employers could offer a one-time cash bonus or a retention bonus for staying at the company for a certain period of time. And with interest rates at an all-time low, companies may qualify for a credit line to cover these hiring costs.
Additional Articles
·  The Small Business Tax Rates in 2021, Explained
·  4 Business Loans For Retailers (And How to Get One)
·  6 Factors That Keep You From Getting a Small Business Loan
·  How to get a Small Business Loan in 5 Steps
·  7 Minority Grants for Small Businesses
·  What Will it Take for Small Business Owners to Recover From The Labor Shortage?
·  Understanding the Business Loan Credit Assessment Process
·  Qualifying For An SBA Loan: What Small Businesses Need To Know
·  How Do Commercial Loans Work?
·  Where Can I Get a 5 Million Business Loan?
·  Can I Get a PPP Loan and A Small Business Loan?
·  Fast Business Loans The Complete Guide