When you start a small business from nothing, you can't expect it to develop into the company of your dreams right away. To effectively grow your small business, you need to hit various milestones along the way. Reaching these milestones will help you expand, but it won't be cheap—small business financing can play a pivotal role in driving growth.
Here's what you need to know about utilizing financing as a small business growth tool to reach the next level and boost revenue.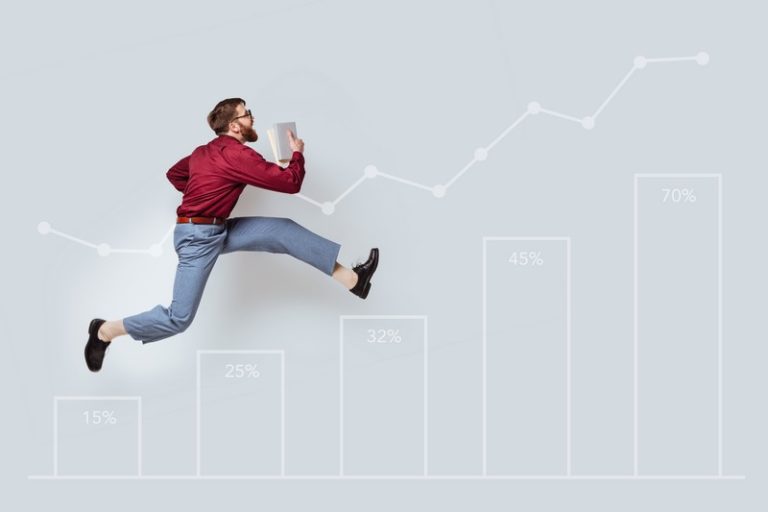 Your Small Business is Growing But Needs Financing (or Cash) to Reach the Next Level
Minor steps can only take your small business so far when it comes to growth—eventually, the next milestone will require funding.
The only ways that you can finance growth in your business are by reinvesting profits, raising equity, and leveraging small business financing.
Reinvesting your profits may seem like the cheapest option, but it's not always the most practical.
In the very early stages, you may find yourself keeping more money in your business than you'd like. This isn't uncommon—many small business owners opt not to take a salary, putting their revenue toward employees' wages or operating costs instead. As your business continues growing, you can start to pay yourself—but it will be difficult if you're determined to grow through reinvesting profits alone.
If you choose to grow your business with only cash on hand, it can take forever to achieve your goals.
Raising equity gives you the resources to achieve your goals at a much faster rate but with a different caveat. When you sell equity, you lose full ownership, profits, and depending on the stake you sell, control. To reap the full benefits of small business growth, you need financing.
Regardless of your business's industry or age, small business financing can help you reach the next level. Personal loans and credit cards generally don't provide enough cash on hand. Online lenders offer a variety of funding options.
7 Ways You Can Use Small Business Financing for Growth
1. Expanding Your Business or Opening a New Location
Eventually, your business will reach a point where the next natural step is expansion. Depending on your business and industry, that could mean:
Expanding your current location with additional space
Opening a new location to generate higher revenue
Adding related products or services to your list of offerings
Whichever way you go, it won't be cheap, and working capital may not cover all the costs for the long term.
Using financing to grow your small business gives you the cash you need to lay out. While the expenses can be steep, especially in the beginning, the potential ROI could be substantial.
If you have an opportunity to double or triple your total revenue, then using financing to get there is a no-brainer.
2. Build Your Customer Base Through Marketing
No matter how robust your business growth strategy is, you'll always need more customers. Customer referrals can help you out when you get started, but marketing allows you to bring on the customers you need to reach that next milestone.
42% of small businesses fail due to a lack of market demand, so proactively building out a marketing strategy helps you keep cash flow smooth.
While you can get started marketing your business on a low budget, you'll eventually have to scale. Hiring a marketing strategist, team or agency costs money. To see the results you're looking for, you'll need cash to hire employees, and cover other expenses, like:
Building a website that acts as the best possible selling tool for your business
Establishing an online presence through creating content that boosts your website's SEO value and helps customers find you on Google
Run advertisements for targeted keywords
Re-engage old customers through targeted email marketing
Utilizing small business financing to cover various (but important) marketing costs can help your business grow.
3. Extra Cash on Hand for Sudden Expenses
No matter how thoroughly you plan, there's always a chance for sudden expenses. Instead of hitting a roadblock and stopping dead in your tracks, financing gives your small business growth strategy flexibility.
With extra cash on hand, you can cover sudden expenses, instead of reconsidering or abandoning your strategy.
4. Seasonal Slumps and Opportunities
If your small business experiences a rush during one period of the year, and a slowdown during another, then you're not alone. But, you also don't have to simply accept this as a reality. Small business financing can aid your growth by allowing you to keep the momentum going during off-periods, while fully capitalizing on opportunities.
As cash flow decreases during a seasonal slump, you can use extra cash to continue improving your business. When business is about to pick up, financing can help you put the right gears in place to stock up on inventory, hire more employees, and more.
5. Buy New Equipment to Replace Old Machinery and Improve Your Processes
Footing the bill for new equipment isn't always possible when you're covering other expenses in your small business, and renting it just doesn't make financial sense. Using financing to buy new equipment—which you'll then own forever—helps you get a competitive edge.
Outdated equipment can slow your business down, or limit the quality of the products/services you provide. Buying new equipment streamlines things, and may help your business reach the next level.
In other cases, new equipment can also help your small business pivot into a related industry and provide customers with additional value.
Rather than purchasing equipment outright or renting, equipment financing helps you achieve your small business growth goals with a more manageable payment structure. You can qualify for many equipment financing programs within hours, and also take advantage of helpful tax incentives.
6. Buy Inventory in Bulk to Get Better Terms From Suppliers/Vendors
Whether you're approaching a busy season or simply want to scale, buying in bulk allows you to purchase more inventory at a cheaper rate. Financing can give you the extra cash you need to buy more inventory and ultimately, yield a higher profit.
Without enough inventory on hand, your small business could be missing opportunities to maximize profits.
Buying in bulk helps your business in other ways, too. Beyond tapping into discounts, you may also have more time to pay, expedited shipping, enjoy priority access to limited items, and other value adds.
7. Hire All-Star Employees to Help Achieve Your Business Goals
Even the best business growth strategies can fall flat without the team you need to execute them. Hiring employees to take your business to the next level can, however, become expensive.
The hiring process alone can be expensive, between the time you spend finding, vetting, and interviewing candidates. Beyond that, you'll have to foot the bill for salary, insurance, equipment, and more.
Employers are always vying for top candidates, so if you don't want to lose employees to competitors, then it may also make sense to invest in a good culture that encourages employees to stay. From team outings and catered lunches to professional development opportunities, fighting to keep employees on board can help your bottom line.
Having extra cash on hand gives you the wiggle room you need when it comes to hiring employees and paying for other expenses.
Types of Financing Options That Help Your Business Grow
Here are a few options you can use to grow and scale without jeopardizing your cash flow.
Type of Financing
Description
Term Loans
Term loans are provided in a one-time lump sum payment. Borrowers make consistent payments toward their balance throughout their repayment period.

Best for: Projects where you know the exact cost.

Business Lines of Credit
Lines of credit offer access to capital on an as-needed basis. Borrowers can draw funds from their total credit line whenever necessary and only pay interest on the amount drawn.

Best for: Ongoing capital needs, projects where you don't know the exact cost.

Revenue-Based Financing
Previously called a business advance or a merchant cash advance, revenue-based financing exchanges a small percentage of your future sales for short-term funding. Although the qualifications are different, the structure is similar to term loans.

Best for: Short-term capital needs, businesses that can't meet traditional loan requirements.

SBA Loans
Small Business Administration (SBA) loans are some of the most coveted financing programs available to entrepreneurs. They feature low interest rates, favorable terms, and a variety of formats to choose from. Still, the qualifications are rigid.

Best for: Qualified borrowers who want to secure the lowest interest rate

Invoice Financing
Invoice financing has two options: Factoring and collateral loans. Factoring essentially "sells" your unpaid invoices to a lender in exchange for funding, while collateral loans leverage the value of the invoices to secure traditional loans.

Best for: Businesses with outstanding invoices/aging A/Rs
How to Apply for Small Business Financing?
National Business Capital makes it easy for business owners to find and compare the loan options they qualify for. Take a look at the steps below.
Minimum Lending Criteria – First, you must check if you meet our minimum criteria (1+ year in business, $500,000+ in annual revenue)
Application – Once you know that you qualify, you complete our digital application and securely upload the relevant documentation.
Consultation – Our team will reach out to you and learn more about your circumstances, ensuring we're able to find the right offers for your business.
Lender Review – We only submit your application to the lenders most likely to return a competitive offer.
Options Review – Your Business Finance Advisor will reach out once your offers are ready. They'll review each one in detail, help you forecast, and guide you through the process of selecting the best offer
Get Your Funds – After selecting the best offer, your funds will be deposited into your business bank account shortly after.
With $2+ billion secured and 3,000+ 5-star reviews of our team, it's safe to say that National Business Capital's approach to business financing has been game-changing for business owners nationwide.
Get the Best Rates on Financing to Grow Your Small Business
It's easy to get caught up in the day-to-day of your business, but important to remember that real growth takes resources.
At National Business Capital, you can qualify for the best interest rates, terms, and funding amounts on financing for small business growth through our exclusive lender relationships. Because we have programs for business owners with good credit and challenged credit, you can always find the best options.
When you apply, you'll be connected with a Business Financing Advisor who understands your business and is eager to learn more about your needs. After completing a 60-second application, you'll have the opportunity to complete the process by submitting bank information through our bank-grade portal. You can receive financing in just a few hours!
Get started taking your business to the next level by applying now!