New York City is a vibrant, bustling location with a constant stream of visitors and plenty of foot traffic. Known as both a business and cultural hub, it's a prime spot to establish your small business. You can both recruit top talent and establish a deep connection with consumers.
But it's not cheap.
Cost is a major hurdle for entrepreneurs seeking to tap into all the city has to offer. Not knowing how to get a small business loan in New York can make it difficult (or impossible) to access enough funding you need to get established, and keep cash flow consistent.
With the right funding and support, your business can not only survive, but thrive in the city's competitive landscape.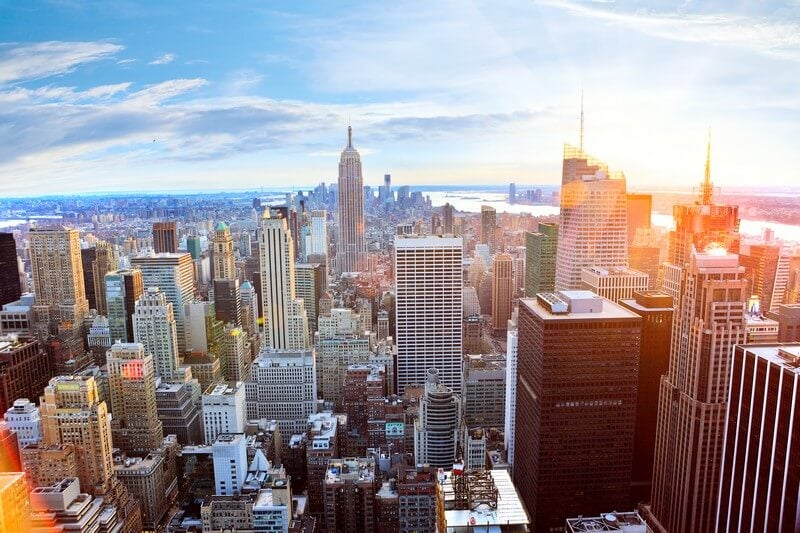 Costs and Challenges of Doing Business in NYC
Due to the nature of the location, it's more expensive to start and run a New York City business than to open up shop elsewhere.
Real estate prices provide a prime example. As of the third quarter of 2019, business owners were paying an average of $85.16 per square foot. That's more than every other major city, except San Francisco.
For a 10-employee business renting 200 square feet of space per person, that's $170,320 per year just in rent. Larger businesses and those seeking "trophy space" in the city's best buildings spend significantly more.
To operate successfully in this saturated market, your advertising must be distinctive, and your branding highly visible. However, small companies lack the budgets of well-known brands dominating the cityscape. Local noise codes may limit the methods that can be used to attract customers' attention.
Payroll and taxes add up fast, too. By 2020, all NYC businesses will be required to offer a minimum wage of $15 per hour. The city's high tax rates and paid sick leave regulations increase the financial burden, too.
Business owners must consider the high cost of living in the city. After paying employees, rent and taxes, you need to have enough left over to afford your own living space and daily necessities. Apartment rentals average over $3,500 per month, and prices continue trending upward. Groceries may cost as much as $150 more per month than the U.S. national average, and transportation costs adds up, as well.
Choosing the Right New York State Loans for Small Business
Because expenses are significant and income can fluctuate, it's not unusual to need a loan to support your business. Common options from small business lenders in NYC include:
Term loan – A lump sum, primarily used as a source of working capital, paid back with interest over a period of a few months or years
Line of credit – Revolving funding you can draw on at any time to handle expenses, make purchases or grow your business
Commercial mortgage – Funding to purchase or remortgage a business property
Equipment financing – Cash to purchase the equipment you need while spreading payments out over the terms of the loan
Accounts receivable financing – A lender purchases your receivables, gives you a percentage up front and delivers the rest, minus fees, once customers pay
Loan offers differ between lenders, as do qualification requirements. Finding the right fit starts with knowing your needs and getting in touch with organizations focused on helping small business owners succeed in New York City.
Where to Get New York State Business Loans
If you're not in immediate need of funding and have the time to wait, it might make sense to start your search with local banks and institutions. However, keep in mind that most banks will take at least a month to deliver the funds after everything is said and done. In the modern small business world, this timeline simply isn't feasible.
Depending on your needs, an SBA loan may be a better fit than a regular term loan. Guaranteed by the Small Business Administration, these financing programs make funding more accessible to business owners by reducing risk for lenders. Upfront costs tend to be lower, and qualifying businesses enjoy competitive rates from SBA partner lenders.
Community Group Lending Options
Small Business Investment Companies (SBICs) work with the SBA to provide additional small business funding options. Backed by SBA-guaranteed funds, SBICs may extend loans to or make investments in businesses meeting the SBA's qualifications.
There are also groups dedicated to community development, growth and financial assistance. Known as Community Development Financial Institutions (CDFI), these groups connect businesses with funding in an effort to improve and support local areas.
New York City Small Business Services (NYCSBS) shares a similar goal of helping business owners find and apply for loans to support startup and growth. If you're looking for a Long Island small business loan, you may be able to get assistance from groups like the Long Island Small Business Assistance Corp. (LISBAC), a micro-lender catering to small businesses and companies owned by women and minorities.
Businesses with up to 100 employees may benefit from the New York City Capital Access Loan Guaranty Program (Cap Access) from the New York City Economic Development Corporation (NYCEDC). The program provides up to a 40 percent guarantee on several types of financing. Funding is available from approved local lenders. Business owners who qualify get the added benefit of advisory services for guidance in selecting the right loans, as well as referrals to helpful business counseling and training.
Other Ways to Get the Funding You Need
Grant funding may be another option for your business. Competition can be stiff, and you can't get quite as much as you would with a business loan. But, you wouldn't have to pay this money back. If you have time to search and apply, you could access a debt-free source of capital. Resources can be found on the New York State Library website and at USA.gov.
If financial circumstances restrict your access to funding or you're operating under time constraints, applying to a traditional lending institution may be impractical.
Fortunately, you're no longer limited to the business lenders in your immediate vicinity. Through fintech, you can access numerous viable financing options from the comfort of your desk, or even your phone.
Online fintech lenders can connect your business with funding in a few days, or even overnight, depending on the type of loan for which you apply. Many have options for startups and business owners with low credit scores, making it possible to fund your New York City business without a bank.
By simply filling out an online application and sending over a few documents, you can access financing to grow your business quickly and conveniently.
Qualify for Fintech Small Business Loans in New York
Establishing and running a business in New York City may be challenging. But as an entrepreneur, you have a wealth of resources at your fingertips. The city doesn't leave small business owners to fend for themselves in the crowded, competitive commercial market. Funding is readily available from a variety of local sources, including National Business Capital & Services.
Businesses working with National gain access to financing options from a diverse marketplace of over 75 lenders, including funding providers in New York. With executive and corporate offices right on Long Island, National is well-positioned to help area entrepreneurs find the best loans. Explore your options for fast, convenient funding, and apply today to get started.