Wondering which small business trends in 2021 will be the most impactful?
2020 was a difficult year for many small businesses. Between a global pandemic, economic recession, and social upheavals, many small businesses were forced to pivot and adapt in order to survive.
Despite the many shakeups and challenges, some common trends have emerged. As economic activity is positioned to recover throughout 2021, small businesses need to be prepared if they're going to capitalize on new opportunities to secure their position for long term success.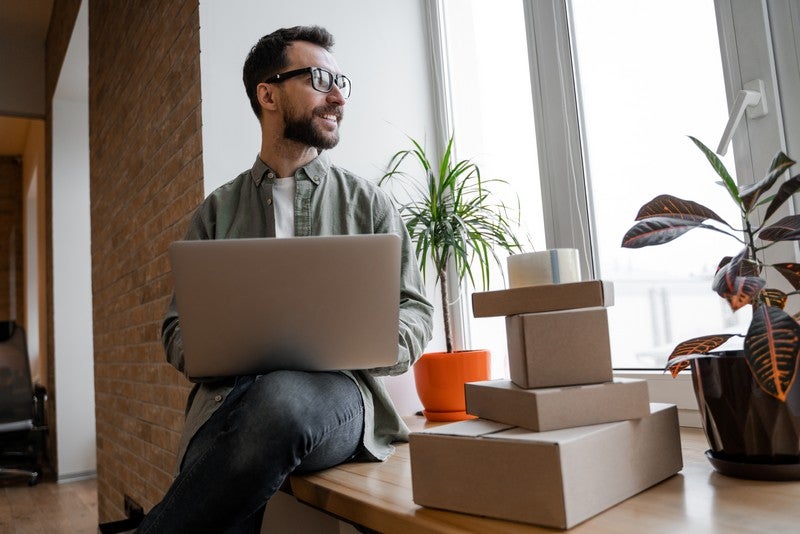 Small Business Trends You Can Follow in 2021
By staying on top of the most important small business trends in 2021, your business will be able to attract new audiences, enhance productivity, and ultimately boost revenue.
Remote Work 
Companies have been implementing work from home policies for years. While remote work is nothing new, the global pandemic of 2020 has pushed it into the mainstream as one of the most prominent small business trends for 2021.
In 2020, a report by Stanford University found that an estimated 42% of the American workforce consisted of full-time remote workers. Going forward, many business experts expect this trend to become even more prevalent. By 2025, an estimated 70% of the workforce will be working from home at least 5 days a month.
Technologies like Zoom and Google Chat have made it possible for employees to work remotely. In many cases, remote employees maintained the same levels of productivity, or greater, than when they were at the office. In fact, one study found that 94% percent of 800 employers surveyed believed productivity was the same or higher when staff was working remotely.
Remote work also brings a host of other benefits, including greater employee satisfaction, more flexibility, and fewer costs resulting from downsizing office space.
Small businesses can use the money they save to focus on growth, like investing in digital marketing or pursuing other goals.
Generation Z Becomes the Target Customer
While many companies are still focused on attracting millennials, one of the biggest small business trends in 2021 will be targeting Generation Z.
Estimates suggest that in 2020, Gen Z—or individuals born between 1997 and 2012—made up 40% of all consumers in the United States.
Gen Z is characterized by having little to no memory of a world before the internet. They are also in line to be the most ethnically diverse and educated generation as of yet.
As consumers, Gen Z expects convenience and seeks individual expression through the brands they choose. They also view consumption as an ethical matter—and tend to align with brands that share their values.
Businesses that want to capitalize on long term growth should focus on targeting Gen Z consumers. Investing in digital marketing, defining company values, and focusing on building relationships can position your business to capture this growing market.
Digital Marketing & Search Engine Optimization 
How is your small business getting leads or new customers? To prevent falling behind the competition, marketing experts agree that small businesses need to capitalize on digital marketing campaigns sooner rather than later. This includes social media, and search engine optimization channels (SEO), along with a host of other channels.
Digital marketing is a wide umbrella that takes into account any internet-based marketing strategy – including social media, SEO, mobile marketing, content marketing, and more – to allow businesses to promote brand awareness and sell products and services.
49% of internet users say they use Google to discover or find a new item or product. Incorporating SEO allows you to capture this market to drive traffic to your website, reach a wider audience, and make more sales. Incorporating local SEO is particularly critical for small businesses that can only serve customers in a specific area.
Social media and mobile marketing are especially positioned for robust growth as consumers continue to use mobile devices to search for products and services. Ensure your website is mobile-friendly, that your social media pages are up-to-date, and try incorporating Google ads.
Flexible, No-Contact Payment Methods Become a Crucial Small Business Trend
The way consumers pay for products and services is changing. No matter, what type of industry you're in, chances are, your customers would appreciate more flexibility when it comes to the checkout process.
Nearly 2.7 trillion transactions, worth US $48 trillion, are expected to shift from cash to other payments types within the next decade. This includes credit cards, debit cards, contactless payment technologies, and mobile payments such as Apple Pay, Samsung Pay, and Google Pay.
E-wallets that store customer information, such as Amazon Pay and Paypal, are also expected to make a big impact in 2021 and beyond—especially for eCommerce merchants.
If you haven't already, consider incorporating an online payment portal and accepting more types of payment methods. If you frequently conduct business on-the-go, wireless payment processing equipment can be especially helpful.
Increased Emphasis on Company Culture
Ensuring your company is well-positioned for success means looking beyond your revenue goals. To achieve these goals, it's critical that your employees are engaged and motivated to contribute.
Company culture refers to your business' internal values and the way your employees interact with each other and management teams. Company culture develops over time through the common traits shared among the people you hire.
Going forward, businesses that emphasize a positive company culture will be able to attract and retain better quality talent. In turn, they'll accomplish more than companies that don't.
One way you can work towards improving your company culture is by focusing on employee experiences. You can provide more benefits, opportunities for advancement, a work from home policy, or even skill training.
Encouraging open communication, non-judgement, and inclusivity can also help put employees at ease. This helps everyone feel heard, while promoting happiness and productivity.
Automation & Technology Stand Out As Small Business Trends
Many large-scale enterprises are incorporating the latest technology trends and automation features to enhance their front and back offices. Small business owners should also take note.
No matter the size of your business, automation tools can help you streamline operations, save time, cut costs, and boost productivity. That's why automation and technology are expected to be one of the most important small business trends in 2021.
Customer relationship management (CRMs) and other software systems allow you to accomplish a number of things, like:
Optimize customer data
Manage inventory
Improve scheduling
Automate tasks
Offer customer support
Enhance marketing efforts
And more.
Many businesses are especially capitalizing on customer service automation tools, such as chatbots. Chatbots are an affordable way to enhance customer service and the user experience. By incorporating a chatbot onto your website, people will be able to ask questions and even receive personalized recommendations.
Used strategically, chatbots can turn a site visitor into a customer without any involvement from your team.
eCommerce Industry Booms as Retail Suffers
Amid the coronavirus pandemic and state-wide lockdown orders, brick and mortar stores faced numerous challenges throughout 2020. As a result, many retail stores pivoted towards eCommerce where they found enormous potential.
According to Digital Commerce 360, online consumer spending grew 44% year-over-year in 2020, reaching a total of $861 billion in online sales.
Many online shoppers in 2020 were first-time digital buyers, which suggests a shift in consumer behavior towards eCommerce. Even as COVID-19 subsides, this trend is likely to remain.
eCommerce can be a great way for retail businesses to explore new revenue channels and sell directly to consumers. There are also plenty of opportunities for businesses in other industries to expand into online sales.
If you haven't already, consider ways to incorporate online sales into your business plan. You could start by accepting payments for existing products and services through an online portal on your site.
Social Responsibility, Brand Values & Transparency
One of the biggest small business trends in 2021 is the emphasis on social responsibility, brand values, and transparency. According to the Harvard business review, 65% of consumers want to shop from purpose-driven brands.
Different businesses will have various values, but many are increasingly incorporating some form of social justice, environmental, or philanthropic focus. Consumers are also growing more concerned with privacy issues and protecting their personal information.
You should always consider your consumer base as you build out your company values and social responsibility objectives. In the meantime, these strategies can be a good place to start.
Make your values and mission clear
Make your privacy policy clear to customers
Find charity organizations to support
Hold fundraisers
Encourage volunteering
Hire minority groups
Reduce wasteful packaging
Incorporate biodegradable packaging
Work with fair-trade organizations
Source locally
How to Capitalize on Small Business Trends in 2021
How can your small business gain an edge? By adapting to changing consumer trends, you'll ensure your business stays ahead of the competition when it matters most.
Even though some businesses are still on hold due to the pandemic, it's important not to fall asleep at the wheel. The smartest business owners are taking this time to re-evaluate and push forward, rather than fall behind.
Whether you plan to introduce a social responsibility initiative, target Gen Z consumers, invest in digital marketing, or incorporate more automation tools—you're going to need some extra cash on hand.
National Business Capital helps businesses obtain the financing solutions they need to boost sales and reach the next level.
Whether it's a business line of credit or small business loan, our expert Business Financing Advisors can help you get funds that catapult your business towards long term gains.
Applying takes less than a minute—get started now!