Student debt stands at about $1.7 trillion and affects nearly 45 million Americans. It's greater than accumulated car loans and credit card debt and it's expected to increase at an annual growth rate of 7%, reaching up to $3 trillion or more by the end of the next decade.
Worst of all, student debt is impeding young people's abilities to buy a home, have a family, start a business, and save for retirement. It's also igniting a mental health crisis – as much as 67% of people with student loans suffer from mental and physical symptoms caused by the stress of this type of debt.
Student debt is one of the most pressing modern-day crises with no clear solution in sight. Some advocate for widespread student loan forgiveness, citing increased economic growth, reduction of the racial wealth gap, and more, as reasons to implement this type of policy.
In early 2021, President Joe Biden asked the U.S. Department of Justice to review his legal authority to cancel student debt. He's shown support for canceling $10,000 of student debt immediately, with possible talks of canceling up to $50,000 at a later point.
Here's what advocates say are the top 5 possible benefits to canceling student loans.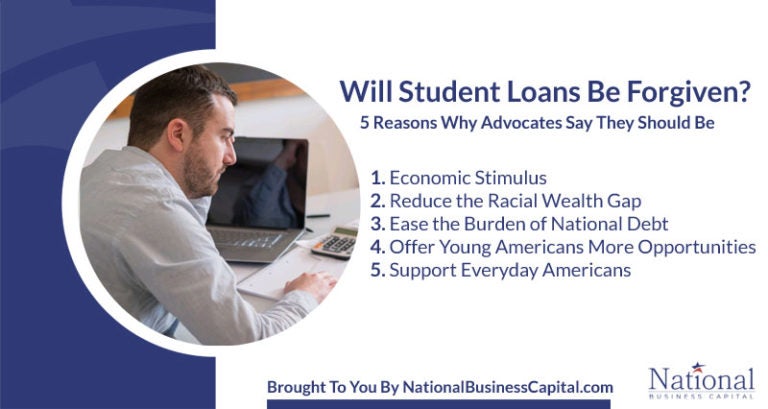 Economic Stimulus
Many Democrats, such as Sen. Elizabeth Warren (D-MA), claim that canceling student loans will stimulate the economy. The idea is that by eliminating student loan payments, money will be freed up for Americans to spend elsewhere in the economy – on things like buying a home, investing in the market, starting a business, and consuming more goods and services. Long-term benefits could include reduced unemployment and greater aggregate demand.
Reduce the Racial Wealth Gap
Sen. Elizabeth Warren (D-MA) and Senate Majority Leader Chuck Schumer (D-NY) both agree that widespread student loan cancellation would reduce the racial wealth gap.
Historically marginalized groups, including African Americans and Hispanic Americans, are disproportionately affected by the student debt crisis. The average African-American typically owes more than 100% of their original student loan 12 years after college. They also experience higher default rates than other ethnic groups.
According to one study, canceling student loans would substantially improve the financial security of minority groups and boost relative wealth gains.
Ease the Burden of National Debt
15.3 million Americans owe less than $10,000 of student loans. If President Biden successfully cancels $10,000 worth of student loans, about 15.3 million Americans would become free from student debt almost overnight.
Millions of other borrowers would see their student loan balances reduced. Student loan cancelation would have a positive effect on the mental health and livelihood of millions of Americans and their families.
Offer Young Americans More Opportunities
Canceling student debt would empower young Americans to start their lives on a more positive note. It would free up their finances to save for a home, invest for retirement, and ultimately take greater risks – without having to worry about paying back student loans.
Many young adults are unable to explore potentially fulfilling careers, start a business, or move to different geographic locations because of constraints imposed by expensive monthly student loan payments. Canceling student loans would also have a positive impact on marriage rates and family formation.
Support Everyday Americans
There's an increasing political and societal resentment towards billionaires and major corporations receiving government bailouts in times of crisis and significant tax breaks while average Americans struggle with basic necessities – like affordable housing, access to healthcare, student debt, and more.
Widespread student loan cancellation would help regular Americans, which many argue, is long overdue – especially considering the type of financial relief afforded to the country's elite. It would improve the well-being, mental health, and finances of millions of everyday people.
Will Your Student Loans Get Cancelled?
President Biden and many Democrats are seriously considering the possibility of canceling some student loan debt. The figure in question is $10,000 worth of student loan debt, but many are urging the president to cancel up to $50,000. One thing is certain, the chances of student loan borrowers seeing their balances reduced or eliminated have never been greater.
However, that doesn't mean that student loan borrowers should rejoice just yet. The biggest roadblock at the moment seems to surround uncertainty over Biden's authority to cancel student debt without Congress's authorization. And even if an executive order is signed, it's likely to be met by court challenges, which could create delays.
Not to mention, the government can only eliminate federal student loans. This means if you're paying private student loans, it's unlikely you'll receive a balance reduction or elimination.
Should You Still Make Student Loan Payments?
Yes. Until legislation is signed into law, borrowers shouldn't rely on the possibility of student loan forgiveness.
Economic aid as a result of the Covid-19 pandemic has allowed most federal student loan borrowers to forgo payments without accruing interest until January 2022. After this time, monthly payments are expected to resume.
While it's wise to take advantage of the government's pause on student loan payments, you should still prepare your finances to meet your student loan obligations in the new year. If you need assistance, make sure to look into student debt refinancing, loan consolidation, public-service loan forgiveness, and income-driven repayment plans.
Other strategies including budgeting, paying off debt with the highest interest rates first, and taking on side hustles can also help.
At National, we recognize the burden student loans place on many Americans, entrepreneurs, and business owners. We're committed to supporting small business owners with educational resources and financing solutions. Even if you're struggling with student debt, we can help you access the financing you need to grow your business.
Learn more about our customizable and flexible small business financing solutions here.
Resources:
The White House – President Joe Biden Administration
Senate Majority Leader – Chuck Schumer – New York
National Association of African Americans
Hispanic American Organization