It happened to Toys R Us. It happened to Blockbuster, RadioShack and Sports Authority. Now, the looming threat of retail store closures appears to have become a reality for several more popular retailers.
According to Coresight Research, retailers across the board have announced 7,062 store closures this year. Projections show that this number could climb above 12,000 by the end of 2019— a 32% increase above the previous record of 8,139 in 2017. With China trade tensions escalating, the road ahead will continue to be perilous for retailers.
Ironically, these foreboding figures came only days before Amazon Prime Day, which in 2018, generated $4.19 billion in sales to become the eCommerce giant's most profitable sales event.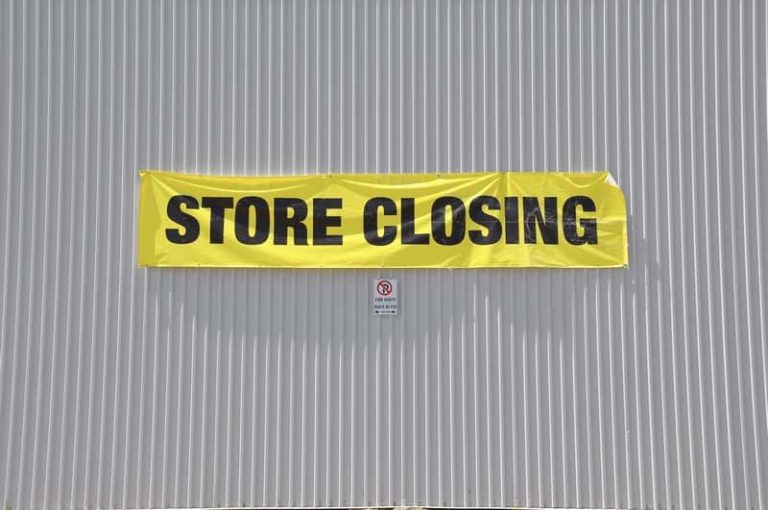 2018 Marked a Turning Point in Closures for Many Popular Retail Brands
In 2018, we learned that even profitable retailers were subject to significant closures, without complete shut-downs.
Lowe's made the decision to close over 50 stores across the United States and Canada last year. While the home improvement store continues to wage war on Home Depot, its longtime rival, it's doing so with fewer stores. Despite what some might call setbacks, Lowe's experienced a 5.54% increase in revenue from 2017 to 2018.
This strategy— doubling down on highly profitable stores, while closing less profitable locations— is one that many retail brands are turning to in 2019.
Retail Store Closures in 2019
Fred's Closing 129 Stores in the Southeast
Fred's, a popular discount retailer in the Southeast, is planning to close a number of stores in 2019. These closures include both general retail stores, as well as some of the retail-pharmacy hybrid stores the chain is known for.
Fred's previously announced plans to close 263 retail stores this year. Recently, Fred's updated that number to include another 129 stores, placing the grand total at 392 retail closures.
After all is said and done, Fred's will have 80 retail stores and 166 pharmacies remaining. The reduced footprint will surround the primary distribution center in Georgia.
Closing these stores will allow the retailer to both repay previously accumulated debts, and focus on diversifying the product selection.
Charming Charlie Stores Closing (For Good)
Fred's is taking these challenges in stride by restructuring to generate profits where possible. However, Charming Charlie has adopted a much less optimistic outlook on the situation.
The popular accessories chain, which has 261 stores in 38 states, recently filed for Chapter 11 bankruptcy. But this isn't the first instance of bankruptcy filing from Charming Charlie. In 2018, they filed for the same bankruptcy, and closed 100 stores. Unfortunately, even this was not enough to save them from the "unsustainable operating expenses".
By the end of August, Charming Charlie plans to have closed all 261 of its remaining stores, 75 of which are located in Texas, Florida and California.
Bed Bath & Beyond Stores Closing, and Others Opening
A former home goods giant, Bed Bath & Beyond is now succumbing to many of the same problems that other retailers are facing. Over the course of the next year, Bed Bath & Beyond plans to close at least 40 locations across the nation. By facing these problems proactively, Bed Bath & Beyond hopes to salvage its business, and hit the ground running once again.
If the company is unable to "negotiate more favorable lease terms", then this number of closures could very well grow. However, there's an interesting silver lining. Despite closing 40 retail stores, Bed Bath & Beyond is also planning to open 15 new stores.
Rather than paying high rents for prime real estate, Bed Bath & Beyond may pursue cheaper locations for a more cost-effective approach.
The new stores won't follow the same model that led to widespread closures, either. Instead of the standard layout consumers are accustomed to, Bed Bath & Beyond is planning to open new "next-generation lab stores". With these new layouts, the retailer is planning to better display certain product lines.
Across all of its stores, Bed Bath & Beyond is attempting to reduce clutter, responding to customer and professional criticism.
J.C. Penney Store Closures, with Future Closures a Possibility
Similarly, J.C. Penney is working hard and fast to avoid suffering the same consequences that competing stores like Sears faced. By closing 18 department stores, along with nine home and furniture stores, J.C. Penney leadership is planning to avoid an eventual bankruptcy scenario with a total of 27 retail store closures.
Like many others in the same boat, J.C. Penney has failed to adapt to the changing retail landscape, having experienced a 5.5% decline in sales in the beginning of 2019. They recently eliminated appliances from their product offerings in order to prioritize other items, like clothes and home goods. Nonetheless, J.C. Penney is still quite far behind its competitors, like Macy's.
While these are all of the closures currently on the docket, experts anticipate even more, and management hasn't ruled it out. In fact, Treasurer Trent Kruse noted that closures may continue in the coming months or 2020.
The Retail Apocalypse: Why Are So Many Stores Closing?
Times have changed, and a clean store with competitive prices will no longer cut it. Now, retailers must work to adapt to the modern age.
Instead of doubling down on the traditional retail experience, stores that remain alive also prioritize a smooth eCommerce experience. By focusing on fast order fulfillment, brick-and -mortar stores can prioritize these profitable revenue streams, without discounting traditional sales entirely.
Standing at the top of the rubble in the so-called retail apocalypse is none other than Amazon.
Amazon's Clean, User-Friendly eCommerce Experience Is Here to Stay
There's a reason that people are opting for the impersonal website shopping experience that Amazon offers over the time-tested shopping experience most people are accustomed to.
To start: the checkout procedure is fast, easy, and convenient. After finding the right product, consumers can simply add it to their cart, and hit checkout. It's that simple.
Shoppers also appreciate the larger product selection, which is often larger than it would be in a normal store. While scrolling through this selection, Amazon also makes evaluating products based on reviews simple.
Most consumers are happy to pay Prime membership rates in order to get free shipping on products— within a few days— another reason most customers select Amazon over competitors.
Overall, the purchasing process is streamlined like never before. Customers can purchase items from any device, at any time, and expect the products on their stoop in 48 hours.
Many of Amazon's moves to the top have been indirect— through offering a quality experience. But, the eCommerce giant is also fighting on the front lines to take out retail competitors— especially with its acquisition of Whole Foods in 2017. This strategic move allowed Amazon to gain better insight into how an in-store environment influences customer decisions, and made shipping fresh food right to customers' homes easier than ever.
With the recent acquisition of PillPack, Amazon may also be encroaching on the pharmacy industry too. Assuming everything continues to go Amazon's way, this might mean customers can fulfill prescriptions directly via Amazon, eliminating pharmacies directly.
Amazon Prime Day Gives Customers Every Reason to Avoid Retail Stores
In a way, Amazon Prime Day is an annual celebration of eCommerce's victory over the brick-and-mortar model. Offering countless sales on merchandise from electronics to kitchen hardware to clothing, Amazon Prime Day gives customers every reason to spend their money in one place.
This year, experts anticipate that Prime Day could generate $5.8 billion in revenue. 62% of this number, or approximately $3.6 billion, is projected to come from the U.S. Many of these deals are limited to Prime members, but with Amazon's empire expanding, that's not much of a limitation. In fact, over half of all U.S. households have access to Amazon Prime— meaning they can all participate in Prime Day sales.
But that's not all— Prime Day's wide-reaching marketing campaign is a silver bullet for those who have yet to take the plunge in purchasing Prime membership. Cowen & Co. estimated that 10% of households without Amazon Prime would sign up on Prime Day, in order to access limited-time deals.
Doubling Down on eCommerce: Accessibility, Experience, and Quality
If you're not Amazon, you're not alone. eCommerce stores, especially those that exist in a niche where customers are unwilling to purchase generic products, have an opportunity to reign supreme.
To stand a chance against Amazon and the other eCommerce stores out there, yours must compete by:
Offering a clean user experience. With Amazon, users can add a product to the cart and checkout in just a few clicks.
Selling quality products. Give customers a reason to go with your eCommerce store over Amazon or another competitor, and a reason to come back.
Handling a large volume of site visitors. Make sure your website is utilizing the right hosting services— you don't want to promote your store through marketing, only to crash under heavy traffic!
Marketing effectively. This means a multi-channel approach, including social media, PPC ads, an organic SEO campaign, and more.
It's possible to move beyond the point where you're merely staying afloat, but gaining the momentum to reach that level takes funding.
At National Business Capital, we specialize in providing all small businesses with the financing they need to accelerate growth and reach the next level. With a business line of credit, your eCommerce store can access all of the resources you need in order to grow.
Learn about your financing options today by speaking with a Business Financing Advisor or filling out a 60-second application!