Augmented reality, in-home services and delivery, and QR codes were some of the biggest trends that took the retail industry by storm in 2018. In 2019, new economic trends, cutting-edge technology, innovative operational strategies and more are taking the retail world by storm.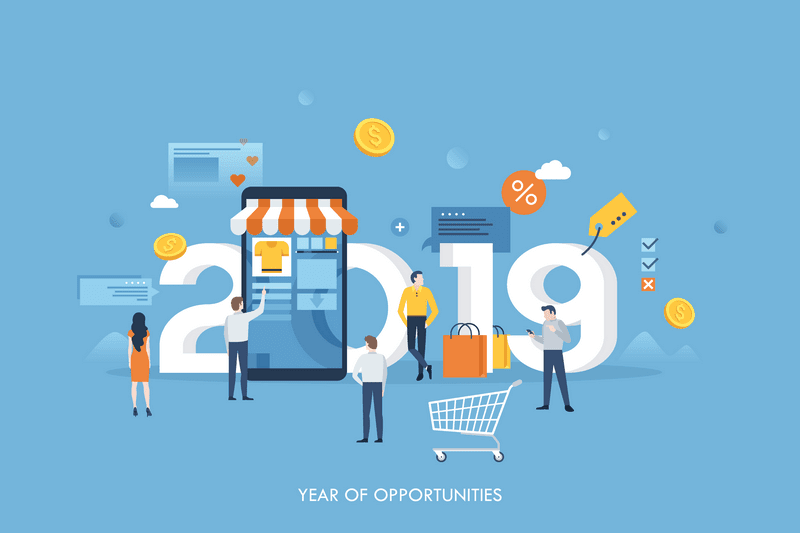 Top 10 Retail Industry Trends In 2019
Naturally Sourced & Sustainable Retail Products: Last year, an IPCC special report announced the impact of global warming on climate change and how it affects businesses. A green initiative calls for a global response of sustainable developments, especially within the retail industry. This can be achieved by reducing the production of less environmentally harmful products in exchange for more naturally sourced and biodegradable alternatives (ex. bamboo toothbrushes instead of plastic toothbrushes).
Eco-Friendly Business Models: Reduce, reuse, recycle – and resell! In addition to sustainable products, retail companies will now be expected to incorporate more eco-friendly practices into existing business models. Outdoor apparel giant North Face recently launched a Renewed product line, which features refurbished products in an effort to eliminate waste from damaged inventory.
Product Personalization via Recommendations & Artificial Intelligence (AI): 63% of consumers are more interested in personalized products in 2019 compared to 57% of interest two years ago. There are many different ways to get personal with your customers. In-app product recommendations, personalized service ideas from experts, technologies, and even recipe suggestions are some of the many personalization tactics trending in retail right now. AI services and devices are also expected to be used within retail stores this year in order to provide customers with a more seamless and personalized experience.
In-Store Rewards Apps: It's no surprise that people love a great deal or freebie. Build a rewards mobile app that guests can use while browsing your brick-and-mortar store to provide an incentive to continue shopping with your company. Target and Walmart are just two of the many global retailers who offer mobile app coupons and deals to attract customers through the doors and increase in-store sales.
Member Loyalty Programs: Provide exclusive benefits to regular customers by offering enrollment into a free company loyalty program, and watch your customer retention skyrocket. Although this business model has been around for years, as seen in Victoria's Secret Angels rewards program, it is expected to become more widespread in retail shops of all sizes across the country. Enrolled members will be encouraged to return to your shop in order to unlock exclusive member rewards, and gain access to promotions and other in-store specials that non-members cannot access.
Pop-Up Shops: Although Amazon and related e-commerce giants have been rumored to decrease the need for physical stores in the future, pop-up shops for smaller brands are on the rise. Small businesses that sell clothes, gadgets, jewelry, and accessories are launching mobile pop-up shops in big cities like New York, Los Angeles, and Miami, and in international territories like Tokyo's shopping district.
In-Car Smart Speakers: Convenience is key for consumers, which is a main reason why voice commands have become so popular over the last few years. Whereas smart speakers like Alexa and Cortana have already made a home in 24% of houses in the US, consumers will soon be able to place orders and shop while driving, thanks to in-car smart tech.
Optimizing & Organizing Quality Data In CRMs: Data still reigns supreme in 2019, but the importance of organizing quality data has the potential to either make or break your business moving forward. If you're already utilizing a customer relationship management (CRM) system, review your current strategy to optimize the way you're organizing your customer, operations, and financial information. This will enable your team to understand who your target audience is, better engage with customers, and ultimately maximize your earning potential.
Free & Same-Day Shipping Services:Although 15% of consumers want items delivered within 24 hours of placing an order, only 1% of e-commerce businesses actually offer same- or next-day shipping. Stay ahead of the competition by catering to this consumer demand by offering free shipping and same-day shipping options at order checkout.
Providing An Excellent Customer Experience: Last but certainly not least on this list is customer experience. Providing a stellar customer experience both in-store and online will always prove to be the most important factor and trend for business success. In 2019, customers expect a quick, easy, and personal experience when shopping with any company. Make sure your employees and in-house business model offer customers the best possible experience to ensure their return to your store in the future.
Ready To Start Growing Faster In 2019?
Now that you know what the top 2019 retail industry trends are, it's time to start implementing them into your business plan so you can stay ahead of your competitors, and start boosting your profits in 2019!
Stay ahead of your competitors and expand your business this year! Call (877) 482-3008 or fill out a 1-minute online application (which will never affect your credit) to get in touch with a growth advisor in as little as 24 hours.