National Business Capital was recently awarded the #1 Top Workplace on Long Island by Newsday, the leading Long Island newspaper, for the second consecutive year! In addition to receiving this distinction for the second time, Newsday also recognized National with the "New Ideas" award for encouraging, accepting and implementing new ideas from employees at all levels!
Since we started helping business owners find financing 13 years ago, we've always made company culture and employee satisfaction a top priority. We're thrilled to receive this recognition as we continue to create a great place to work with everything employees need to be successful!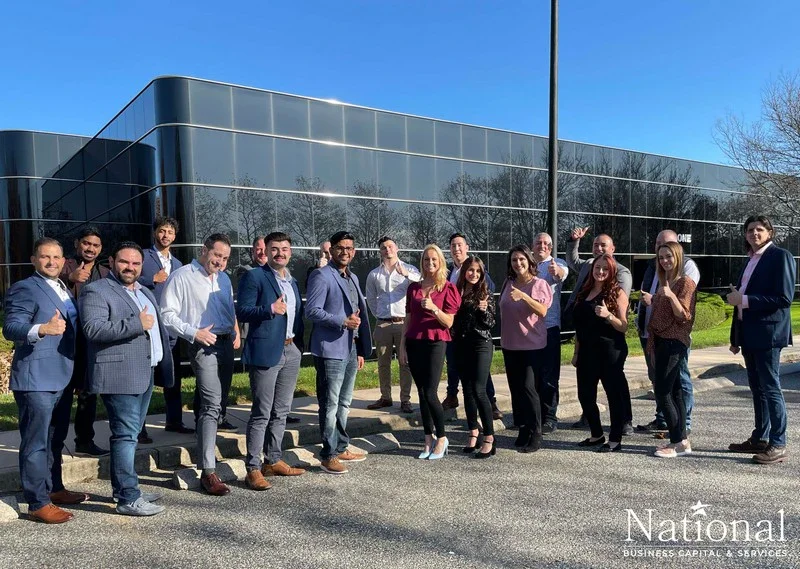 Top Places to Work in 2020
Like many other companies and industries, 2020 has been a wild year for us. Despite the obstacles and changes, we're thrilled to be back to what we do best: helping the small businesses that have come to define our communities get cash to get back to business, and grow!
Newsday, Long Island's top newspaper, has become a go-to resource for trends in local communities and businesses. Each year, they release a new report with the top-rated workplaces. This year, like last year, National was named the #1 top place to work for small businesses out of 82 companies that were considered!
The results were based entirely on employee surveys facilitated by Energage, an external company. In total, 11,242 companies responded to the survey, which included questions about:
Alignment: the direction of the company
Coaching: the ability to grow
Connection: employees feel appreciated and are working toward a common goal
Engagement: the employee experience
Leadership: strong leaders paving the way
Performance: executing and staying open-minded while also innovating
Other basics: pay, work-life balance, benefits, and flexibility options
We're honored to have employees that feel confident, secure, productive and enabled in our workplace, and are always looking for new ways to take the employee engagement to the next level!
Keeping Company Culture a Top Priority—Even During a Lockdown
Throughout the pandemic, our positive company culture has anchored our team to what matters most: helping small business owners, and supporting each other along the way.
During the lockdown, our employees looked to our strong company culture as a pillar of support. Now that we've returned and are back in full swing, our company culture has allowed everyone to hit the ground running, without skipping a beat.
As an extremely motivated and driven group, our culture helps us remain committed to helping small business owners put the pieces in place as they grow—regardless of what's going on in the world.
Because National operates as a team and a family, a great company culture isn't something we can simply turn off at night. During the pandemic, we found new ways to connect and strengthen these bonds, even while social distancing.
Instead of team dinners, we held routine virtual breakout and team building sessions. Instead of company lunches, we had a virtual guided cooking lesson, during which a chef showed us how to cook a gourmet chicken dish from scratch!
Cultivating a Positive Work Environment
While we're back in the office and thriving in our home environment, it's not exactly business as usual. We're now spaced out, masked up, and abiding by other social distancing and safety guidelines.
But we're not letting new precautions take the fun out of our work environment. Instead, we're celebrating in new, creative ways. It may not be the same, but team-building activities can still enhance our work environment and help us form stronger bonds.
To shout out team members for a job well done, we're still giving WOW cards to each other, to cash in for prizes at the end of the month.
Rather than our traditional close quarters "huddle", we're doing team huddles from the comfort of our socially distant desks. We still have the opportunity to shout out team achievements from the previous month, outline goals for the coming months, and rally behind our common goal: helping small business owners get back to business.
Traditional team lunches may be out of the question, but we're still enjoying great food.
Throughout this period, our culture has brought us even closer together, but we couldn't' have built an amazing company culture alone. Delivering Happiness, a "coach-sulting" company that helps companies build out supportive cultures that inspire positive collaboration, productivity and results, helped us lay the foundations.
By living and breathing these values, our team has taken things to the next level! People who work at National genuinely care about listening and taking actions to bring things to the next level.
Creating a Work-Life Balance With Positive Values and All-Star Benefits
Building an amazing company culture doesn't only mean having fun inside the office—it means laying the groundwork for employees to enjoy their time outside of work, too.
As one of the top places to work on Long Island, National offers a variety of competitive perks and benefits that allow for a great work life balance, including:
Leading medical and dental benefits packages
Generous PTO allowances
Leading 401K retirement program
Employees also have the option to work from home when they need to.
Additionally, we offer employees the opportunity to give back to the community through organized service events. Every Thanksgiving, we deliver groceries to underprivileged families. We've also organized, funded and facilitated a fun day of activities for foster children.
And of course, we donate 10 meals to Feeding America for every deal we fund.
An Open Door for New Ideas
We prioritize human intelligence over artificial intelligence. While our technology does a lot of the legwork for us, at the end of the day, it's the brilliant minds here that make it happen for small business owners.
In addition to winning the #1 Top Place to Work on Long Island, we were also given the "New Ideas" award for always keeping an open door for new ideas, from employees at all levels.
Our company wasn't the result of one great idea. We built our marketplace by implementing great ideas (and a few not-so-great ones) over time.
Some of the best ideas come from employees with a fresh perspective. As part of building an open and supportive work environment, we encourage people to come forward with new ideas, whether they've been with the company for five weeks, months, or years.
Above all, innovation is what allows us to meet the changing needs of small business owners as time goes by. As we move forward, we'll continue to Innovate the Way Entrepreneurs Grow®!
Get Financing or Partner With the Top LI Workplace
If you or a small business owner you know is looking for business financing, why go anywhere but the top place to work on Long Island?
At National, we have an industry-leading Partner Program that allows any small business owners in your network to access programs from over 75 leading small business lenders. Your clients will receive funding through a fast, simple and easy process, and you'll earn a commission for any funded deals.
Through our fintech marketplace, you can access financing options for your own business to take things to the next level. Get access to competitive rates, terms and amounts, and receive funding in as little as a few hours.
Ready to get started? Apply to become a partner or to get financing!
Interested in joining the #1 team on Long Island? Shoot us an email at Careers@National.biz with your resume, phone number and a brief message and we'll reach out if there's an opening you may be a good fit for!