Did you know 60% of employees value recognition over money? It's something to keep in mind as you look for unique holiday gifts for your employees.
Whether you're grabbing a specific gift, or buying a generic one for a gift swap, it's important not to overthink it. The best employee gifts of 2019 aren't expensive or elaborate. In fact, many can be found for under $25!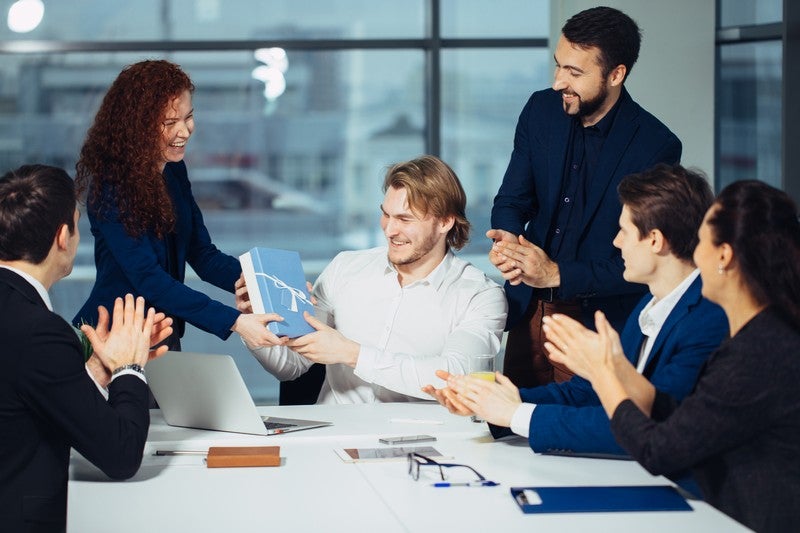 Choosing Corporate Gifts Employees Will Love
Well, what kind of gifts do employees really want?
To help your office have a happy holidays, keep your purchases in the moderate range. You can avoid the common mistake of favoritism in employee gift-giving by focusing on practical, functional gifts.
The thought behind the holiday gifts for your employee is more important than the expense. Instead of over-spending, aim for a personal touch with items that complement employees' lifestyles and personalities.
How can you make sure you get the right gift for everyone? Pay attention. Take note of employees' talents, and listen to their interests. When you really know your team, it shouldn't be difficult to find the best idea for each person.
The 15 Best Inexpensive Christmas Gifts for Employees in 2019
Here are a few gift ideas to get you started with your corporate holiday shopping. In some cases, a hand-written note can add a nice personal touch.
2020 Planners
Holiday gifts for employees don't always have to appeal entirely to their personal lives. Today's planners are fun, engaging and packed with accessories like decorative stickers and plastic sleeves for saving important papers. They make great gifts for artistic employees, or anyone working to achieve specific goals in the coming year.
Hatch Idea Notebooks
Who on your staff is always coming up with the best ideas? Level up their planning processes with a notebook designed for "hatching" ideas. Inside are pages for three key steps: conceive, incubate and hatch. Conceive covers the brainstorming phase, incubate helps with prioritizing, and hatch acts as the springboard for final execution.
Stylish Pen Sets
Traditional but highly practical, pen sets can be engraved with company logos or mottos and gifted to staff members who appreciate having something better than standard plastic writing implements. A quality pen set can last forever and the attractive gift box makes for a stunning presentation.
Pop Sockets
Your millennial employees will appreciate this essential cell phone accessory. Pop sockets not only provide extra support for daily device use, but also double as phone stands when devices used in portrait mode. Available in bulk with company branding and numerous color choices, pop sockets are inexpensive and easy to personalize.
Mobile Power Banks
Nothing causes more panic than a low cell phone battery with no outlets in sight. Mobile power banks are one of the most practical holiday gifts, and eliminate this concern for employees who rely on their devices for both work and personal activities. It's also perfect for people who spend long days off the grid enjoying the outdoors, but don't want to be without a camera for capturing nature's beauty.
Laptop or Mobile Device Cases
If your employees travel a lot for work (or fun), they'll appreciate having a safe way to transport their devices. Look for well-padded totes, messenger bags and backpacks to fit each person's style, in sizes appropriate for use as carry-on luggage.
Insulated Travel Mugs
For long trips or daily commutes, you can't go wrong with a solid travel mug. It's a gift your employees can use at home, at the office and on the go. Add company branding for a little extra marketing mojo, or have each one printed with an inspirational quote. And remember, nobody likes lukewarm coffee, so make sure the mugs keep everything piping hot for a long time!
Reusable Shopping Bags
Eco-friendly waterproof totes hold anything from the week's groceries to road trip supplies for children. Buy in bulk with the company's message printed on the side, and pack each one with other holiday goodies to make special gift bags.
Cozy Blankets
As "warm" as the holiday season is said to be, the weather tells a different story. Give employees a little protection against dreary days and chilly evenings with comfortable fleece blankets. Cozy blankets are one of the best holiday gifts for employees for one simple reason. Unlike other home goods like candles and mugs, blanket are something your team members are actually going to use and appreciate (instead of re-gifting).
Coffee Gift Cards
Unless you have a high-end espresso machine in the office, chances are your team shops local for their daily caffeine fix. Support local business and give your employees a thrill by purchasing holiday gift cards. Since most local coffee shops also serve tea, everyone should be able to find a beverage they enjoy.
Wellness Gift Cards
A healthy team is a happy and productive team. Give the gift of self-care and stress relief with $25 for each employee to spend at a local spa, fitness center or massage therapist. Focusing on wellness demonstrates an understanding of the connection between well-being and job satisfaction.
Food
Who doesn't like food? Holiday food gifts are always popular and can be presented in many different forms:
Themed gift baskets for gourmands
Restaurant gift cards for those who enjoy evenings out
"Food-of-the-month" subscriptions for the adventurous
Grocery store gift cards for practical, everyday needs
Since food and eating are highly personal, make sure you know exactly what your employees like before settling on this option.
Streaming Service Subscriptions
Let your employees choose their own entertainment with gift cards for a few free months of popular music, movie or audiobook streaming services. They'll appreciate the freedom to listen to the musicians they like while they work, and wind down with their favorite entertainment at the end of the day.
Subscription Boxes
There's a subscription box for pretty much everything these days. Many services sell gift cards or digital gift certificates to get new subscribers started. Whether your employees are into beauty, crafts, food, fashion, faith or geekery, you can hook them up with boxes full of unique products catered to their tastes.
Charitable Donations
The current trend away from acquiring "stuff" and toward humanitarianism is causing some companies to rethink holiday gifts. Giving to a well-known local, national or international charity reflects core values employees appreciate. To stay on your team's good side, try giving them the option between a gift and a donation in their name. Look for organizations in line with your company's values, and donate an amount equal to your usual budget for employee gifts.
Need Cash to Cover Your Gift Purchases?
Cash flow should never should never bar you from demonstrating your appreciation to your team. These inexpensive holiday ideas for employees are all great ways to invest in morale without breaking the bank, but if you still need a little help handling the cost, consider a business line of credit.
With a revolving credit line from National Business Capital and Services, you can qualify for up to $5 million in available credit to use for any type of business expense, including Christmas presents! When the holidays are over, your credit line remains open as a buffer for times when cash flow is unpredictable. Get in touch with National to put a little extra jolly in your company's holiday this year.