Business Line of Credit
A line of credit for businesses offers access to capital on an as-needed basis, where you only pay interest on what you draw.
Qualifications for a Business Line of Credit
$500,000+ in Annual Revenue
What Is a Business Line of Credit?
Essential Requirements for Obtaining a Business Line of Credit
How Does a Business Line of Credit Work?
How Does a Revolving Line of Credit Work?
Small Business Credit Line Benefits
Lines of Credit Vs. Small Business Loans
Secured Vs. Unsecured Business Line of Credit
Business Credit Cards Vs. Business Line of Credit
How Can You Use Business Line of Credit Funds?
How Could You Benefit from a Business Line of Credit?
Understanding Interest Rates and Payments for a Business Line of Credit
Applying for a Business Line of Credit
Unlock the Lowest Rates, Longest Terms, and Highest Amounts
Line Amount
$25,000 to $5 Million
Revolving
Draw funds on an as-needed basis
Time to Fund
24 to 48 Hours
Frequently Asked Questions
How Is Interest Calculated on a Business Line of Credit?
You only pay on the amount you draw – not your total credit line. That means that – if you draw $50,000 from your $100,000 credit line – you're only paying interest on the $50,000.
This structure allows you to keep your line of credit on the sideline for when you need it without worrying about unnecessary interest.
Can a Business Line of Credit Improve My Business Credit Scores?
If your lender reports to a business credit bureau, then timely and consistent payments will work toward strengthening your credit score. Otherwise, your timely repayment will build "credibility" and "creditworthiness" with your lender, which can help you secure better terms in the future.
What Is the Average Interest Rate for a Business Line of Credit?
Interest rates range from 5% to 60%, depending on your business credit score, annual revenue, your time in business, and your willingness/ability to offer collateral.
Collateral, which can be equipment, real estate, or strong receivables, serves as an extra layer of protection against defaults for the lender. By offering an asset to secure your financing, you reduce the level of risk for the lender and, in turn, decrease the interest rate you'll receive.
Can I Get a Business Line of Credit With Bad Credit?
Yes, you can secure a business line of credit with a lower FICO score, but you should also be realistic about the terms you qualify for.
Lower FICO scores are seen as "risky" by lenders, so they'll offer higher interest rates and lower credit limits as a result. You may have to offer collateral, too, as a method of securing the financing.
If your credit score is less than favorable, it's worthwhile to consider proactively strengthening it before applying for financing. Not everyone has enough time to do this, of course, but even minor increases can yield big savings when it comes to interest rates.
Unsecured vs. Secured Lines of Credit: What's the Difference?
Unsecured lines of credit require no collateral backing, whereas a secured line of credit comes with a collateral requirement. If you default on secured financing, the lender can seize the collateralized assets to recoup their lost cost.
Although unsecured credit lines don't need collateral, some lenders require a personal guarantee or lien to approve your application. These give your lender the right to target your personal assets if you're unable to repay your loan.
It's important to understand whether your contract requires collateral, a personal guarantee, or a lien before you finalize it. Never be afraid to ask your lender questions or walk away if a contract doesn't make sense.
How to Get a Business Line of Credit?
If you're looking to get a business line of credit, you'll need to approach the situation strategically. Here are some steps to take.
Evaluate Your Funding Need: First and foremost, you'll need to understand why you need business funding and how fast you need it to meet your goals. You should also review your business finances and determine a safe level of debt to take on.
Review Lender Requirements: From one to another, each lender has different requirements, preferred industries, and nuances that affect your benefits. Understand the qualifications of multiple lenders, so you can apply with more than one and give yourself options to choose from.
Proactively Gather Documentation: Coming prepared with all the information your lender needs is one of the best ways to speed up the funding process. If you're unsure of what documents you need to bring, don't be afraid to reach out directly to the lender and ask.
Apply and Compare Your Options: Once you have a list of a few top lenders where you either meet or exceed the minimum qualifications, you'll apply with each and compare your approvals. Having options at this stage gives you negotiating power, which can serve to improve your offered terms.
At National Business Capital, you can simplify the process above and gain a financing partner simultaneously. With one easy application, you unlock all the most competitive offers you qualify for within our diverse lender platform. Your personal Business Finance Advisor helps you select the best one with your best interest placed at the forefront.
Is a Bank Line of Credit Better Than a Credit Card?
Although your specific interest rate depends on a variety of factors, business lines of credit generally carry lesser interest rates than business credit cards. They also feature higher credit limits, which allows borrowers an entirely different level of flexibility and financial power.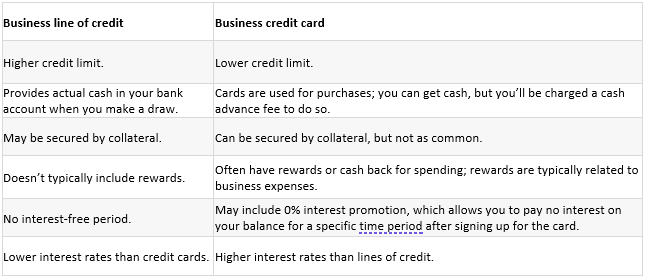 Is a Line of Credit Better Than a Business Loan?
It all depends on your business and goals. For some, the flexibility of a line of credit makes it a better option than a business loan, while others prefer the lump sum format of standard term loans.
There are many businesses that need a specific format of credit. For example, a business seeking to begin a major renovation of multiple storefronts would benefit more from a longer-term, more substantial lump-sum product. If they had leveraged a business line of credit, they'd likely have their entire line drawn, which would significantly raise what they're paying in interest.
If you're unsure of which financing option is right for your unique circumstances, our Business Finance Advisors can help. Complete our digital application today to start the process with our team.
What Are the Business Line of Credit Benefits?
Here are a few of the many benefits of a business line of credit.
Flexible access to capital
Streamlined cash flow
Interest applies only to the amount drawn
Can build business credit/creditworthiness
Easy to use
Ability to use the financing as an emergency fund
The flexibility of business lines of credit is the most prominent benefit. Unlike other financing options, you're able to draw funds whenever necessary and enjoy an extended repayment schedule.
Secure the Best Business Line of Credit in 2023
Bank
Direct Lenders

3 Months Bank Statements
No Tax Returns Required

Bank

2-3 Years Tax Return
2-3 Years Financials

Direct Lenders

3-6 Months Bank Statements
1 Year Tax Return
1 Year Financials

One Page – One Minute
DocuSign

Bank

Direct Lenders

Bank

Direct Lenders

Bank

Direct Lenders

Bank

Direct Lenders

Bank

Direct Lenders

Bank

Direct Lenders

Bank

Direct Lenders

Bank

Direct Lenders

Bank

Direct Lenders
Accelerate Your Success
Seize the opportunity to grow your business and gain access to the capital you need.