Between expensive equipment and operational expenses, running a successful dental practice requires significant investments in both time and money. Not only will you have to get your practice off the ground and profitable, but you'll also have to manage your cash flow effectively throughout your business's lifetime to ensure you're able to grow toward your full potential.
Cash flow is key to your practice's longevity. If you want to go the distance, you'll need to operate at your highest capacity and take advantage of any growth opportunities that come your way. But, as we know, these opportunities tend to present themselves when we least expect them—what happens if you can't afford a chance to grow?
Small business loans can provide an influx of capital when you need it most. Whether you need to update old equipment, build out your team with new employees, or start a marketing campaign to attract new clients, the funds from a small business loan or another type of financing can help you accomplish your goals without jeopardizing your cash flow.
Financing your dental practice is only beneficial if you've secured terms that fit your business and its future. Continue reading to learn more about how small business loans can help dentists grow their practices and, more importantly, how to maximize the benefits of your financing.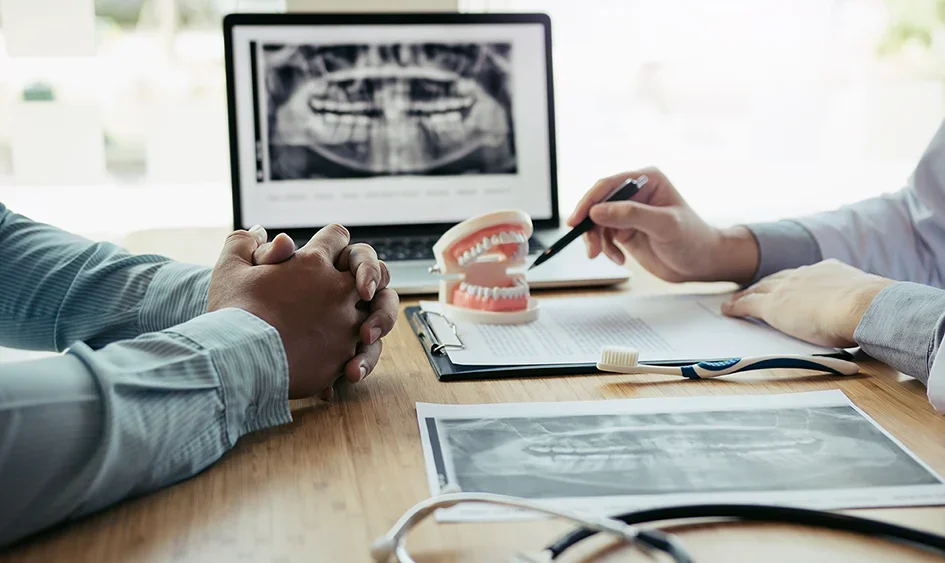 How Do Small Business Loans Work, and What Are the Benefits for Dentists?
Small business loans come in many shapes and sizes, but every type of loan provides an influx of capital for your business in some way. There are more structured types of financing, like term loans, and more flexible financing options, like business lines of credit. Some types of small business loans are designed for specific circumstances, like equipment financing for asset purchases, while others have less restrictive terms of use, like revenue-based financing.
You can secure a small business loan from a bank, credit union, online lender, or through an alternative financing source, like angel investors. Each avenue carries different terms, contingencies, and eligibility requirements, but all of them are useful for specific circumstances.
Dentists can benefit from small business loans much like any other business. They can cover operational expenses, purchase equipment, pay employees, and stockpile supplies with the funds, but the benefits don't end there.
As you know, dentists aren't always paid by their clients immediately. Late and unpaid invoices can clog your accounts receivable and leave you without the cash flow to operate your practice at its highest capacity. If the situation persists, you can find yourself without the ability to grow or, worse, serve your clients at the pace they're accustomed to.
Small business loans are a way around these issues. Dentists can quickly secure cash for opportunities and challenges and use the funds to create a financially stronger organization.
What Are the Requirements for a Small Business Loan?
Small business loan qualifications depend on the type of loan you're seeking, the amount you want to borrow, the financial strength of your business, and the lender you're working with.
Most lenders require at least $120,000 in annual revenue, a 580+ credit score, and more than 1 year in business. Bank lenders may enforce more restrictive requirements, especially during uncertain economic times, whereas non-bank lenders generally carry less intensive criteria.
For example, some non-bank lenders don't uphold a minimum credit score requirement for any of their programs. But, of course, there's always a tradeoff. Lower credit score requirements often lead to higher interest rates or diminished funding amounts, so make sure to speak with multiple lenders during your selection process to ensure you don't miss out on a better deal.
How Do You Apply for a Small Business Loan as a Dentist?
You can secure a small business loan from banks or credit unions, alternative lenders, and marketplaces. Each organization has a different application process, so let's break down the basics.
Bank Small Business Loans
Banks are often the first stop for entrepreneurs seeking small business loans. First, you'll speak with your bank and request a small business loan application. You'll fill out what's required, then collect the required documentation, including business bank statements, credit reports, profit and loss statements, and other documents outlined on your application.
Next, you'll file your application and wait for a decision, which can take anywhere from 60 to 90 days. Once you receive your approval or denial, you can start to make decisions about whether the offered amount and terms fit your business and goals.
Alternative Lender Small Business Loans
Alternative lenders, otherwise known as online and non-bank lenders, are essentially the opposite of bank lenders. These organizations operate almost exclusively through the internet and can provide a more streamlined process for their clients with a reliance on technology.
Most people find online lenders through a search engine. Once you've found one or more that can help you accomplish your goals, you'll start to fill out applications much like you would when working with a bank. You'll have to provide documentation at this stage, too, so make sure to have it prepared so you won't waste time with any back-and-forth.
Now comes the underwriting process. You'll have to wait for decisions on each of your applications and choose a lender based on the terms, funding amounts, and interest rates you're provided. This process can happen within a day or two for lower funding amounts, but if you're seeking something more substantial, like $1 million, the process can take 1 to 5 weeks from application to funding.
Marketplace Small Business Loans
Marketplaces combine bank lenders and alternative lenders into one centralized platform, allowing entrepreneurs to apply once and receive multiple offers. These organizations offer the utmost efficiency in the business financing process, and some of these organizations provide advising services to help you determine which offer is the best fit for your business.
Applying with a marketplace is most similar to applying with non-bank lenders. You'll find them online, fill out their application, and upload the relevant business documents. Once you do, their team will work on your application, find lenders that match your goals, and come back to you with offers that fit your business.
The main benefit of marketplaces is the time you save. You won't have to "shop around" for lenders and complete multiple applications; The marketplace will do that for you. However, most of these organizations collect a fee for their service, which can deter some entrepreneurs. But, if you don't want to wait weeks or months to secure the funds you need to grow, the fee becomes negligible in the long run.
Tips for Growing Your Practice With Small Business Loans
Every dentist has a different way of running their business, but there are a few general tips that you should follow as you leverage small business loans to grow your practice. Here are a few dos and donts for entrepreneurs looking to take their practice to the next level.
DO acquire new equipment.
Expensive equipment purchases can drain your cash flow and make it difficult to operate your business at its highest capacity. With a small business loan or equipment financing, you can spread out this payment over a longer schedule and ease the pressure on your cash flow. Plus, financing equipment can qualify you for tax advantages, like section 179, which can help you save money during tax season.
DO invest in marketing and advertising.
Chiseling out a spot in your budget for marketing or advertising isn't always possible, but there comes a point when you'll need to put your name out there to attract new clients. Small business loans give you the purchasing power to do marketing the right way, allowing you to fully invest in your ideas and win business back from the competition.
You can team up with a marketing agency or do the advertising in-house—the choice is yours!
DO keep a detailed record of how you use your funds.
It's easy to get carried away with your loan funds, but it's most important to apply them to your business in a strategic, calculated manner. As you invest in your business, write down your purchases and keep a record of your remaining funds. This way, you'll know exactly how much you've spent and have left at all times, which makes managing your total balance a whole lot easier.
DONT agree to terms that don't fit your business.
There's always a better deal out there. If you're offered terms that don't fit your business or your goals, you shouldn't feel pressured to accept that offer, even if you've had difficulty reaching approvals with other lenders. After all, the only thing worse than no capital is restrictive capital.
However, you shouldn't expect to secure more money than your business can handle. For example, if your business only generates $100,000 in annual revenue, you shouldn't expect a lender to offer you $1 million+—you simply don't qualify for that much.
DONT "throw money" at problems.
Identifying the root cause of a problem is the best way to ensure it doesn't come back. For example, if your business has a significant monthly inventory expense, it's better to increase your purchasing power and lock in a better relationship than to secure capital and use it strictly for that monthly expense. It might be more expensive in the short term, but the long-term savings can be game-changing, so make sure to approach your financing with an open mind.
DONT limit yourself to one specific lender.
Bank lending is a great option, but so are non-bank lenders. Each will see your business from a different perspective and offer different terms based on the same information. You could be denied by a bank and secure favorable terms with a non-bank lender just because of their different qualifications.
You aren't bound by any specific type of lender, so explore each of the different types to see what your business qualifies for.
Streamline Your Search for Small Business Loans With National Business Capital
National Business Capital is a time-saving machine for business owners. With one application, you receive multiple competitive offers, and our expert Business Finance Advisors assist you in selecting the one that best fits your circumstances. Our team learns everything we can about you, your business, and your opportunity to ensure we're able to secure terms that align with your goals and allow you to grow without restraint.
We've secured over $2 billion through 25,000 transactions and have an outstanding reputation among our clients. We have experience with the nuances of almost every industry, so you can trust that we "get" your unique needs.
You don't have to put off your growth. See success on your schedule with frictionless access to essential capital.
Complete our digital application to get started!
FAQs
How Do I Market My Dental Business?
Marketing is all about putting yourself in the shoes of a potential client and identifying ways to get that consumer's attention before your competition does.
Analyze competitors
Be realistic about your budget
Perform SEO research
Develop a search-friendly website
Ask current patients how they found your business
Advertise in local and national publications
Publish press releases of noteworthy accomplishments
Put yourself in the shoes of your patients—where are they finding new businesses?
What Is the Most Important Asset In a Dental Clinic?
That's easy—your equipment and your team.
The people you hire make your practice what it is, but a good dental practice has the equipment to support its workload. You won't be able to make money without equipment, nor will you be able to attract and retain customers with the wrong people on your team. It's a careful balance, but it's one that you'll have to focus on if you want to grow.
Can Dentists Secure SBA Loans?
Yes! To qualify for an SBA loan, you must operate for profit, be engaged in, or propose to do business in, the United States, have reasonable owner equity to invest, and you've used alternative financial resources, including personal assets, before seeking financial assistance.