What are some of the most important things that you need to know before applying for medical practice loans in 2022? Continue reading to learn more!
Considering opening your own medical practice? There are a number of reasons why many healthcare professionals make this decision. It can allow you to gain greater autonomy, more work-life balance, and can even significantly increase your earning potential.
Still, opening your own medical practice is a lot of work – especially in the beginning. You're essentially launching a business, so it's only fitting to have to start thinking like a business person.
Whether you're just starting your medical practice or you're looking to expand, medical practice loans can be a critical lifeline for healthcare professionals in this space.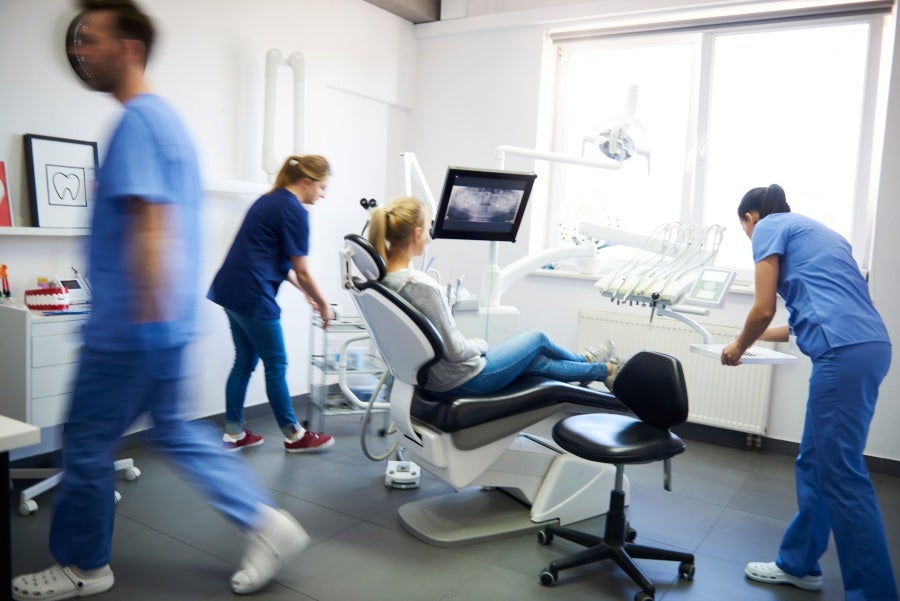 How can Medical Practice Loans help your healthcare business?
Applying for medical practice loans can help your healthcare business in a variety of ways, such as providing greater work autonomy, better work-life balance, and improved financial health, among others.
Opening your own medical practice can be an exciting time. You're bound to unlock a whole new array of benefits you didn't have while working at a hospital or another clinic.
For starters, you'll enjoy greater autonomy over your work. You can decide on the type of care you want to provide without having to deal with the bureaucracies from the hospital administration. You'll also have control over who you hire and the professionals you'll be working with.
Another bonus is the potential for increased work-life balance. Owning your practice allows you to decide how many hours to work and how long your vacations will be. Work-life balance has become so important to today's medical professionals that many would happily take a pay cut in exchange for a more flexible paycheck.
The good news is that opening your own medical practice may allow you to have the best of both worlds. You'll have the opportunity to enjoy an increased work-life balance and gain the potential to earn even more money. For many healthcare professions, this can be a win-win.
Potential risks
That said, there are also a number of risks that come with opening a medical practice for the first time. By far, the biggest roadblock can be startup expenses.
It can cost anywhere from $100,000 to $1 million to initially open your own medical practice. These funds will go towards office space, medical equipment, staffing, and more. Even once you get your business going, you'll still have to foot operating expenses, which can sometimes be even more pricey than the startup costs.
Most medical professionals won't have access to this type of capital right off the bat. Especially when it can take years just to pay off your student loans. That's where medical practice loans can help.
What Is a Medical Practice Loan?
A medical practice loan is a type of loan designed to provide healthcare professionals with the funding they need to start, operate, or grow a medical service business. The total amount that companies can borrow for medical practice loans may vary per lender, usually starting from $25,000 and reaching up to $5,000,000.
Many lenders are willing to offer medical practice loans to doctors, dentists, physicians, and more. Lenders see this funding type as a good investment because of the high-income potential and ability of these businesses to generate returns.
This can work in your favor. In fact, medical practice loans are sometimes easier to acquire than other types of business loans, especially those pertaining to riskier industries.
Medical practice loans can be used to launch or grow a medical practice. They can also help finance the acquisition or purchase of an existing practice.
These loans can help cover initial startup expenses, but can also be used to cover operating costs even when your business has become successful. Healthcare professionals will use medical practice loans to cover staff salaries, cash flow fluctuations, medical equipment, office renovations, software programs, and more.
Most options for medical practice startup funding today are geared towards medical professionals that are already licensed. However, in some cases, you may be able to secure a medical practice loan while you're still in residency.
How Can You Use a Medical Practice Loan?
You can use a medical practice loan for a variety of purposes, such as covering the initial costs for your new business, purchasing equipment, acquiring an existing business or promoting your medical practice.
Medical practice loans can be used in a variety of ways to help you start and grow your business. Oftentimes, medical professionals will put funds from a medical practice loan towards one or more of the following purposes.
1. Startup Costs
Just like any business, you'll have to put in the capital to get it off the ground. When you first start, your major expenses will include your office space, medical equipment, supplies, office furniture, staff, advertising costs, and more.
2. Acquire Existing Medical Practice
If you're not up for the heavy lifting that comes with launching a medical practice for the first time, you can always acquire an existing business. Some retired professionals may be willing to sell their practice in exchange for a payout. It can be expensive, but a medical practice loan can make the cost more manageable.
3. Advertising to New Customers
Even after you've opened the doors on your new medical practice, you can't expect patients to simply stroll in. You'll have to put in the work – and funds – to communicate your services with your local community. You may want to consider investing in social media campaigns, hosting events, Google Ads, search engine optimization (SEO), and more.
4. Equipment Purchases
Medical equipment is one of the biggest expenses associated with owning a practice. Even more basic items like office supplies and exam tables can quickly add up. And if you're purchasing a larger item, such as an x-ray machine, retinal scanner, or even an ambulatory vehicle – you'll likely need help footing the bill.
5. Salary and Benefits
You won't be able to keep up with all the tasks of running a medical practice yourself. You'll likely need to hire other medical professionals, office employees, or even a secretary to assist you. A medical practice loan can help you cover the basic costs associated with hiring and paying your employees.
6. Business Debt Refinancing 
If you've taken out debt in the past to launch your medical practice or cover its operating costs, you may be able to refinance and secure a lower interest rate or more manageable payment. Refinancing business debt can sometimes help you save money, and maybe even pay off of debt faster.
7. Office Upgrades and Renovations
Whether your medical practice is new or you've been in business for some time, it's possible you may want to make changes to the physical layout or design. Medical practice loans give you the flexibility to add extra exam rooms or upgrade certain spaces.
How Do Medical Practice Loans Work?
Medical practice loans work similarly to other types of business loans. However, an extra layer of verification may be required in some cases. For instance, your lender may ask to review your medical license and the type of medical business you operate. This is in addition to your business licenses and personal information. 
You'll start by pinpointing a lender. You can also opt for a business financing platform like National – which allows you to connect with multiple lenders at once and compare different offers.
Make sure to go over the exact requirements you'll need to provide with your lender. From there, you'll gather your personal and financial information. If you're already operating a business, you'll need to provide specific information and financials pertaining to your existing medical practice.
If you plan on buying another business, you'll need information about that practice. Once you meet your lender's requirements, you should be able to be approved for funding.
The amount of time it will take to process your application and receive your funds will largely depend on the type of lender you're working with. Banks are known for having stricter requirements and slower processing times. Online lenders, on the other hand, can be more lenient and faster at depositing funds.
Who Can Apply for Medical Practice Loans?
Fortunately, medical practice loans can be used for a large variety of healthcare and wellness business. For the most part, lenders may not be too strict when it comes to the nature of your services. 
Types of businesses that have been approved for medical practice loans include:
Physicians
Plastic surgeons
Psychologists and psychiatric professionals
Chiropractors
Eye doctors
Nurse practitioners
Pediatricians
Dermatologists
Wellness professionals, such as chiropractors, reiki professionals, etc.
Are There Restrictions on Medical Practice Loans?
Some lenders impose restrictions on how the funds for a business loan can be used. However, medical loans are quite flexible, and you may not need prior approval before spending. 
Once your medical practice loan is approved, you'll be able to use the one to fund a wide variety of business expenses. However, like traditional business loans, your lender may impose restrictions if you try to use the funds for personal expenses.
Business Loans for Healthcare Professionals
Medical practice loans are offered by banks, online lenders, and other types of institutions providing business financing solutions. In some cases, you may even be able to secure funding from a private investor.
Whoever you decide to work with, make sure they're an accredited institution and have a solid reputation. If you're unsure of a lender, check through online reviews or reach out to previous clients for feedback.
Take a look at the most common options for medical practice lenders.
1. Small Business Administration (SBA)
The SBA offers a number of different financing products through participating lenders. Participating lenders can be found online or through local banks and organizations. SBA loans feature low-interest rates, high funding amounts, long terms, and can be used for a large range of business expenses.
The downside to SBA loans is that they can be fairly difficult to qualify for. You'll need good credit, at least 2 years of business history, and be able to meet the SBA's size standards.
SBA loans for medical-service businesses include:
SBA 7(a) loans: One of the SBA's most popular loan programs, 7(a) loans offer up to $5 million in funding with repayment terms as high as 25 years. You can use 7(a) loans to hire staff, purchase medical equipment, launch advertising campaigns, or renovate your office space.
SBA 504 loans: Another long-term, fixed rate financing option of up to $5 million from the SBA. This type of loan is generally used to purchase major fixed assets, like real estate, medical equipment, computer software systems, and more.
2. Banks and Credit Unions 
Banks and credit unions can offer lower interest rates and favorable terms. You can find a variety of loan products at these types of institutions, like term loans, business lines of credit, equipment financing, and more.
Despite the benefits, these institutions have strict lending requirements, which may exclude some businesses from funding, especially if you're just starting your medical practice. In order to qualify at a bank or credit union, you'll need good credit, a minimum 2 years of business history, strong revenue, and maybe even collateral.
Banks and credit unions also have longer application processes, and they may not be ideal if you need funding fast.
3. Online Lenders
Small business funding approval rates are significantly higher at online lenders than compared to banks and credit unions. Online lenders are more lenient when it comes to requirements, and also more likely to fund early-stage companies – like when you're just starting your medical practice.
They also have a wide range of lending products, such as term loans, lines of credit, invoice financing solutions, and more. Plus, online lenders are known for having incredibly fast processing times. In many cases, funds deposit in 24 hours or less.
The downside is that online lenders can sometimes be more expensive. Especially if you have poor credit, your interest rates may be higher than those on bank loans.
What are the most common medical practice loan types?
The most common types of medical practice loans include term loans, which provide a sum of capital to be repaid over regular installments with interest, and business lines of credit, which provide a credit limit that can enable the funds again as they are getting paid down.
Take a look at how these funding options compare so you can select the best fit.
Term Loans
Term loans are what come to mind when most people picture a business loan. This funding type provides a lump sum of capital which you'll repay over regular installments. They can be short-term, ranging less than a year. They can also be long-term – as long as 25 years.
Funding amounts and interest rates can vary depending on your financial criteria and your medical practice's information (if you have one already). Term loans are ideal when you know the exact cost of a particular project or asset you're looking for finance.
They can be used for operating expenses, buying equipment, purchases real estate, renovations, hiring staff, acquiring another business, refinancing, and more.
Business Lines of Credit
Business lines of credit are frequently compared to credit cards. That's because they work similarly, except that lines of credit feature higher funding amounts and lower interest rates.
One of the many benefits to this type of financing is how flexible they can be. You'll be granted a set credit limit, which you'll be able to borrow from as you need. There's no reason to use the funds before you're ready, and you'll only have to pay interest on what you borrow. As you pay down your balance, funds will become available again.
Business lines of credit are ideal when you don't know the exact costs of a certain project or renovation. They can also be used to fund almost any type of business expenses, such as operating costs, supply purchases, advertising, renovations, employee salaries, and more.
What are the requirements for healthcare small business loans?
While requirements for healthcare small business loans and other types of financing may vary, most medical practice lenders will ask for your business financials, credit score, availability of collateral, as well as personal financial history in order to evaluate your situation.
As mentioned, online lenders are known for being more lenient and willing to approve newer medical practice. Banks can be more rigid – oftentimes willing to work with only established businesses. They're also more likely to require collateral.
Nevertheless, there are a few common similarities. At a glance, you should still expect to provide the following:
Business financials (if you already have one), including balance sheets, bank statements, tax returns, profit and loss statements, debt to equity ratio, expense ratio, cash flow history and projections, and debt schedule
Credit scores
Availability of collateral
Legal documents, including business licenses, medical licenses, and registrations
Personal financial history, including bankruptcy or liens
SBA Requirements For a Medical Practice Loan
If you're hoping to secure SBA funding you'll have to meet aside requirements in addition to the ones outlined above. These include:
For-profit business
Located and operated within the United States
Business owners must have invested equity
Demonstrable need for financing
Zero outstanding debt to the U.S. government
Business owners can't be on parole
Compare Different Offers For Medical Practice Loans
Whether you're beginning your medical practice for the first time, acquiring another practice, or you need help funding your business – medical practice loans can offer much needed capital to help you reach your goals.
That said, it never hurts to have more than one option for financing. If you're looking to compare numerous medical practice loan offers – or any business loan for that matter – you don't have to apply with multiple lenders.
National is a top online small business financing marketplace that generates personalized lending offers based on your specific criteria and needs. You can browse various funding products, rates, and terms you qualify for before selecting the best fit.  Learn what business financing solutions you could apply for here.