This post is a revised version of an article about rehiring laid off employees originally published on Forbes by National's CEO, Joe Camberato. To view the original article, click here.
Wondering when you should start rehiring laid off employees? Vaccines are becoming more available every day and local governments are slowly starting to lift lockdown orders and other restrictions.
Now, businesses that have been forced to lay off employees are thinking about reopening. You might find yourself trying to navigate the complex territory of how to rehire employees. Here are some important factors to consider before you start rehiring laid off employees.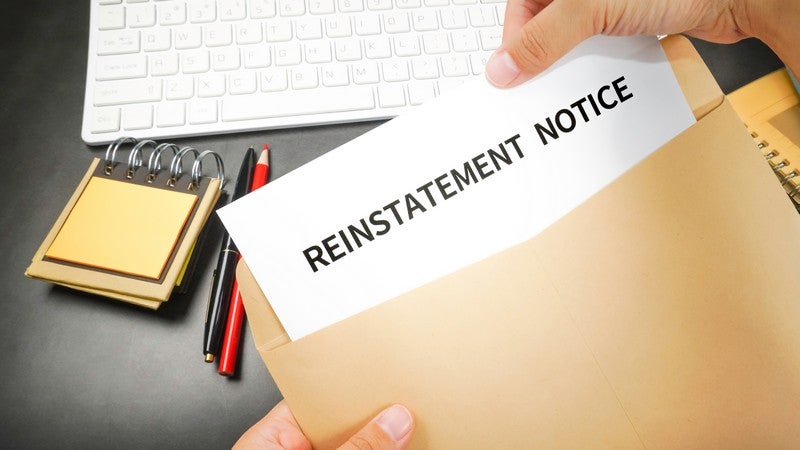 Can You Rehire a Laid-off Employee?
Yes! Unless the employee has found work elsewhere or your relationship ended on less than favorable terms, you can absolutely rehire a laid off employee. There are no laws that prevent this.
In fact, rehiring laid off employees has its benefits for your business. You'll exert less time and money on training, and they'll fit right back into your company's culture. Reintroducing previously laid off employees could also help boost workplace morale.
Nonetheless, you don't want to jump into the rehiring process too soon. Take this time to reassess your business goals, how your industry has changed, and how your human resources department can support your long term growth.
Rehiring Laid Off Employees: What You Need to Know
As you start to get back to business, use this opportunity to determine which laid off workers aren't just available, but also eligible for rehire. Here's what you need to know about rehiring laid off employees.
1. Look to Your Cash Flow to Determine Rehiring Pace
Before you get the ball rolling, you need to have a good understanding of your business' finances. If you analyze your cash flow and find that you're still experiencing challenges, rehiring every laid off employee may not be an option.
But remember, you don't have to do everything at once. Instead, only rehire employees that are essential and bring in the most value. You can always ramp up your staff when your cash flow improves.
If you do decide to move forward with rehiring, make sure to consider your other expenses, such as rent, utilities, equipment costs, and more. Keep in mind that the cost of hiring extends beyond wages and also incorporates insurance, equipment and more.
How long after a layoff can a company rehire? Remember, there's no set time frame for when you need to take action. As your business progresses and you have more working capital, you can continue to rehire employees who are a good fit.
2. Start by Rehiring Employees That Drive Revenue
Throughout the pandemic, many entrepreneurs took a step back from day-to-day operations and evaluated which employees, departments, or job functions are indispensable. You should continue with this mindset even as you get back to business.
You may find that certain job positions you thought were critical can easily be replaced by automation tools or even freelancers.
As you look to rehire, your main focus should be on driving revenue. Start by rehiring laid off employees who have previously played a key role in generating revenue.
Additionally, consider who can bring value in multiple ways. Anyone who can work in multiple job functions could help you accomplish more with less.
3. Communicate Your Plan to Employees
Talented, motivated, and well-trained employees are hard to come by. If you don't make the effort to inform them of your plans and let them know how valuable they are to your company, they may feel inclined to seek work elsewhere. That means you'll have to spend time and money to train new workers.
While you should never guarantee an employee's right to return to work, you do want to  communicate to employees you intend to bring back that they'll have a spot on your team once business allows.
Be explicit, open, and clear about what employees should expect about getting rehired after being laid off. Let them know if you plan to have a job for them in the coming weeks or months. Inform them of your plans and the timeline for any changes.
Often, employees will understand that your plan is fluid due to the pandemic's unpredictable nature. Keep them in the loop nonetheless.  Most importantly, be empathetic to all furloughed employees and show understanding if they feel the need to seek employment elsewhere.
4. Set Expectations and Goals Based on New Industry Trends
Keep in mind that your pre-Covid-19 target expectations for success may no longer be realistically attainable. Be mindful of using key performance indicators (KPIs), normally a helpful tool for measuring your employees' success, when evaluating an rehired employee's job performance. This measurement may no longer be as accurate or as indicative of how you're rebuilding.
Instead of setting unrealistic targets, reconsider your expectations based on available resources and industry trends. When you hit a milestone, increase your goals and work toward the next milestone.
5. Use a Business Line of Credit to Accelerate Your Hiring Process
Rehiring laid off employees is a natural step as your business grows. Depending on how long it takes to get back to business, your cash flow may not cover your rehiring needs.
A business line of credit gives you access to additional cash to use for payroll and other expenses as your business scales back up. Unlike a loan, a line of credit allows you to draw cash as you need it and only pay interest on what you've borrowed.
As your business goes through the transitional period of rehiring laid off employees, the ability to cover sudden, unexpected expenses could make the difference between staying afloat and reaching the next milestone.
Banks typically offer the best interest rates, but tend to only favor businesses with strong financials. Fintech lenders, on the other hand, can be more accepting of credit challenges or other issues. They can even provide financing in a few hours.
Fund Your Business' Next Milestone
Getting back to business and pursuing new opportunities isn't a one-step process. As you fit the puzzle pieces back together, know that the final product may look different from how your business did in the months before the pandemic.
Instead of trying to mold your business back to its original form, consider the changes that have occurred. Rather than achieving a fixed goal, prioritize progress. Be sure that you're always inching closer toward building a business that's profitable and efficient in your industry's new landscape.
As you make these changes, a business line of credit can give you the flexibility you need for rehiring laid off employees and achieving your next milestone.
Ready to learn your options? Applying takes less than a minute. Get started here!