It's true that nothing good lasts forever, and this is especially true in regards to the wildly fluctuating state of the economy.
While 2018 proved to be a great year for businesses nationwide, predictions from leading economists warn that this period of tremendous growth is not likely to last in 2019.
So, why is an economic slowdown expected, and what are business owners doing to prepare for it?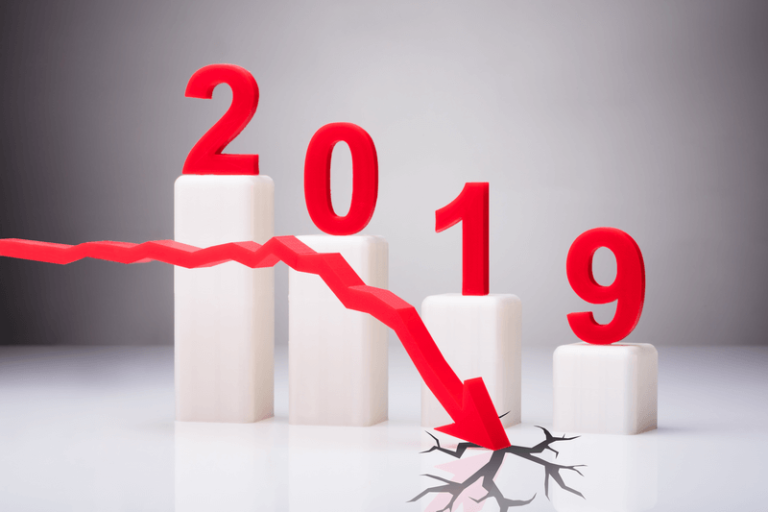 4 Major Reasons an Economic
Slowdown is Expected in 2019
Past tax cuts are losing their edge. Deregulation and major tax cuts from Trump's administration helped grow the economy in many significant ways last year. However, the economy has since caught up to these policies, and the huge benefits they once brought are quickly starting to fade.
Trade wars and tariffs are causing more harm than good. While the initial tariffs in place against foreign metals including steel and aluminum has proved somewhat helpful to the US steel industry, increasing numbers of tariffs on imports from both the US and competing nations are slowing international trade down considerably, and negatively affecting more US industries than anticipated, including domestic agriculture.
Increasing rate hikes from the Federal Reserve. The Fed has been especially trigger-happy lately regarding raising rates across the board. In the past year, rates have climbed more frequently than anticipated – at least 5 times in 2019 alone. Leading economists – including those from the Federal Reserve itself – predict rates to increase more than 4 times in 2019 as well.
The longest shutdown in American history. The recent government shutdown has broken the record originally set by the Clinton administration for the longest government closure in US history. This has been incredibly detrimental to international trade, as well as businesses that rely on government agencies including the SBA to remain without the funds they need until the government reopens. However, new alternative methods of financing are being discovered that are proving a highly-effective solution to this issue.
Businesses Seek Revolving Business
Credit Lines Ahead of Economic Downturn
Revolving business lines of credit are commonly known as one of the best financing options for business owners who need capital to prepare for the unexpected.
They're also one of the most flexible financing options still available to business owners during the SBA shutdown.
With the government in shutdown for the foreseeable future, the SBA closing its doors, and an economic downturn expected in 2019, more business owners are seeking revolving credit lines than ever. 
And with the rate hikes expected in 2019, business owners are applying for revolving credit lines sooner rather than later in order to secure the lowest rates possible.
Whatever the case may be, revolving business lines of credit are proving to be exceptionally useful in preparing businesses for any unpredictable scenario, due to:
Immediately-accessible funding that keeps cash flow strong and consistent, and prepares businesses to take on any opportunity, and crush every business challenge.
Flexible withdrawals. You can draw whatever amount of funds you need at a time from your credit line at a time. Withdraw all of it at once, or take out chunks from your credit line as-needed. This makes for a powerful tool in keeping cash-flow strong when business starts to slow, and the perfect solution for times when you need SBA funding to take advantage of an opportunity, but can't wait until it reopens.
Flexible rates and repayment. With revolving credit, business owners are only obligated to pay for the amount they withdraw from their credit line, instead of the entire amount, as would be the case with a business loan.
No real-estate collateral needed. During slowdowns in the economy, keeping control over your business and personal assets is a must. Fortunately, no real estate collateral is needed to be leveraged in exchange for a revolving line of credit.
Let's Back Up a Minute…
What is a True Revolving Business Line of Credit?
Although similar to a traditional business line of credit, there's a few key differences that make it more desirable for most business owners.
The "revolving" part of the name comes from the nature of how the line of credit works.
Different from a small business loan, you don't have to use the entire amount you borrow. The amount you take out can be immediately replaced, and taken out again.
The cyclical pattern of drawing, replacing, and repeating is what makes true revolving credit lines so convenient!
What Can You Use it For?
Use a true revolving line of credit to be prepared for any unexpected challenge or opportunity that comes your way.
There are no industry restrictions, and absolutely no restrictions on what you can use your funds for. 
Whether you need to purchase materials, fix a broken piece of equipment, or take advantage of a surprise opportunity, true revolving business lines of credit are the ideal choice for anyone preparing for the unexpected!
The flexibility of a true revolving BLOC is also extremely effective when preparing for a potential downturn in business.
Other Benefits of a True Revolving Business Credit Line
Other benefits that set make revolving business LOC's a step up from most other business financing options include:
Immediate Access to Cash, Whenever You Need It: No matter where you are, or what you need it for, your funds from a TRBLOC will be immediately accessible.
Lower Rates: Unlike small business loans and normal business lines of credit, you only have to pay for what you need with a true revolving business LOC.
Larger Offers: With amounts offered ranging anywhere from $10K-$5Mil, true revolving lines of credit are specialized to prepare business owners for the unexpected.
Lower Cost of Capital: What if you don't need the full amount your credit line offers? The solution is simple – you don't have to pay for what you don't take out. This gives you the ability to control how and when you use your funds. Choose a revolving BLOC to ensure you get the lowest cost of capital available.
Builds Credit Score: Every time you use and replace funds from a true revolving line of credit, you boost your overall FICO! Two birds with one stone!
NO Real Estate Collateral Needed: This is a HUGE bonus that isn't talked about enough – especially by lenders who falsely claim they also offer "TRUE" revolving lines of credit. All of our revolving BLOC's do not require any real estate collateral leveraging at all, whereas most other lenders can only offer "secured" BLOC's that do.
Do You Qualify for a Revolving Business Line of Credit? 
Chances are you do. Here's what you DO need:
Annual Gross Sales Minimum of $100K
6+ Months in Business
NO Minimum Time in Business
NO Real Estate Collateral
NO Extensive financial history
With services that boost credit, get rid of tax liens and judgements, and even erase past bankruptcies, National ensures true revolving lines of credit are available to ANY business owner.
We've been flooded with requests for true revolving business lines of credit, and the turnout has been phenomenal. Over 90% of all those that apply obtain financing within 24 hours!
How Does a True Revolving BLOC Work?
Remember: Draw, Replace, Repeat!
Let's say you're the owner of a construction business, and you're preparing for a busy season. You need fast access to capital to prepare for potential downturns, and to take advantage of any opportunity that comes along.
You're given a credit line with a set amount—anywhere from $10K to $5Mil.
Let's say you recieve a business credit line of $500K.
An extra job pops up that you're not prepared for… just as your bulldozer breaks down.
To take on both challenges, you draw $100K to get the materials and equipment you need to take on the additional job, and $50K to fix the bulldozer.
Both challenges are immediately squashed, and you're left with $350K in your credit line.
You're presented with an opportunity to expand your business, but you need $400K to do so.
You replace $150K of the money you earned from your extra project back into your credit line, leaving you with $500K.
You use $400K to expand your business, leaving you with $100K to use or add to however often you like!
Starting to see the cyclical nature of true revolving business credit lines?
Don't Be Fooled by Shady Lenders
Not every business LOC is created equal. Most lenders will claim their lines of credit are "revolving" when they aren't.
If you're offered a line of credit that doesn't give you the freedom to put capital drawn back into your credit line, making it available to draw from again, then don't be fooled—this is NOT a true revolving line of credit!
National is an industry leader in getting customers what they truly need, exactly when they need it.
If a true revolving business line of credit sounds like the perfect funding option for your business, follow the instructions below to get one in as little as 24-48 hours, and feel confident in avoiding all empty promises and misdirection from incompetent business financing companies.
Get Your TRUE Revolving Business LOC – While You Still Can!
Simply call us at (877) 482-3008 or apply online by filling out our 1-minute application, and we'll work together to get you funded in as little as 24 hours!