This post was last updated on Monday, November 4th to include information about the best construction financing options for the winter!
Whether you like to admit it or not, the weather can have a significant effect on your bottom line in the construction industry. Construction business loans can play an important role in helping your business survive any hardship.
The weather and the season can affect your timeline, materials, your structure's durability, and more.
Summer is, without a doubt, the best time to build. During the best stretches, you'll move from one high-ticket job to the next. But what happens when summer's gone, and winter starts creeping in?
You could close down shop for the slow season. But if you do, your competitors will have an edge once the summer rolls around. The best way to weather the snowstorm and move full-steam ahead once summer jobs continue is by obtaining a construction business loan.
Well, how exactly can a small business construction loan help you stay afloat?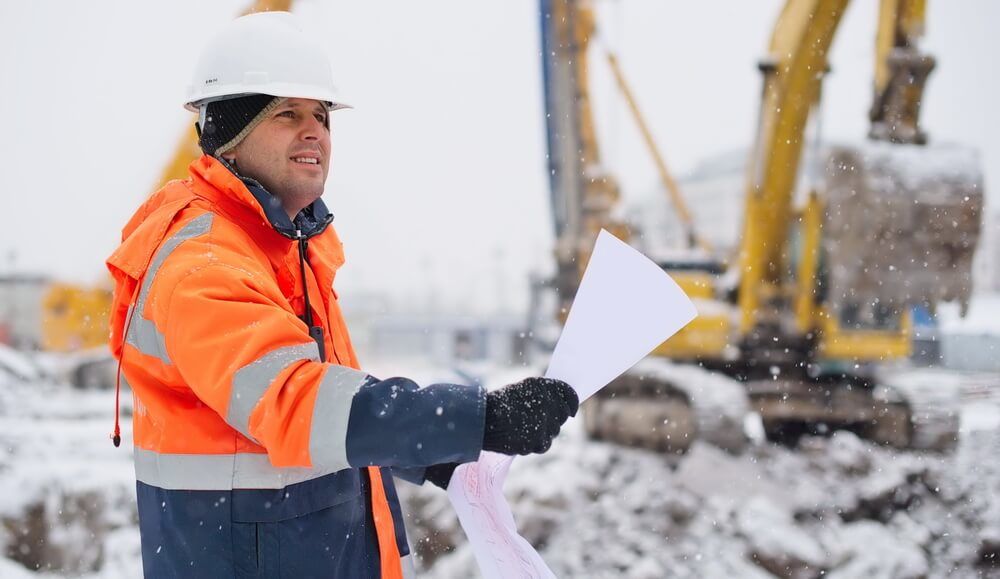 The Pitfalls of Winter For the Construction Industry
There are numerous reasons that building during the winter simply isn't a realistic option, and contractors seek construction business loans.
Moisture: Due to rainy and snowy conditions, moisture can accumulate, causing materials like iron and steel to rust. Wood, paint, glue, and other materials can also be affected by moisture.
Freezing temperatures: When temperatures drop below freezing, collected moisture can create ice, which can either crack or wrinkle when expanding.
Weather: Building risks aside, putting workers out in low temperatures and hazardous weather can be more dangerous than anything. New construction technology like exoskeletons might help, but it won't solve the problem altogether. Hail can also shatter glass and damage other materials, causing massive re-work.
Nonetheless, there are times (and places) when building during the winter is possible. And, unless you have a lucrative side-hustle, you'll probably have to keep building to meet your bottom line.
Well, What Exactly Are Your Off-Season Construction Expenses?
Before applying for a construction business loan or considering rates, it's important to take stock of all of your expenses.
Winter (and parts of fall/spring) might be the slow season. But, that doesn't mean you're out of work altogether.
If you play your cards strategically, you'll still have construction jobs to keep you and your team busy—which can be a lifesaver, in the grand scheme of things.
Nonetheless, you might still run into cash flow issues from having more expenses than revenue.
Your expenses might include:
The cost of materials, which you'll need to front
Insurance payments, to keep your company and workers protected in the event of an emergency or accident
Payroll, which helps you keep your talented employees (instead of starting from scratch once spring rolls around)
Equipment, which is a necessity for you to accomplish what you need to
Office rent costs, for your back-office support staff to continue applying for new contracts
To get the best idea of how large a construction business loan you should apply for, you'll need to start by crunching these numbers. These expenses can vary depending on the types of contracts you normally pursue. Chances are, each of them will play a role in determining your expenses.
Above all, financing is crucial for helping you to get jobs in the first place. If you don't have an active loan or line of credit, then you might not be able to place bids. And if you can't place bids, then you might not have any work—at all.
So, how can you go about finding a construction business loan quickly, and at the best rates?
You can start by determining the expenses based on your needs. A business construction loan calculator can help you find the cost, without skipping a beat.
Can I Get a Construction Business Loan from a Bank?
It's true that, in many cases, you need an active loan or line of credit to be considered for a new contract bid.
Banks tend to be the first place that contractors go for construction business loan. Barring a miracle, though, they won't be the last.
Banks can take between weeks and months to process your construction business loan application. By the time they review it, it's possible the contract will already be taken.
And when the banks do eventually look at your contractor business loan application, you might be rejected anyway.
Banks have sky-high standards when it comes to approving business loans for contractors, as well as any other industry. To qualify, you'll need near-perfect credit, high annual sales, and a well-established business. Your chances are even lower if you have any existing debt, or tax liens.
Fortunately, there is a better way to build!
Small Business Construction Loans & Financing: What Are Your Options?
Finding business loans for contractors isn't a one size fits all solution. Depending on your financial history, as well as the goals of your company, you might find success with one of the products below:
Construction Small Business Loans: Straightforward Rates, Terms, & Amounts
When you know you need a specific amount to fulfill your goals, a construction business loan is the best way to go.
With a loan from an alternative lender (rather than a bank), there are no restrictions about what you can use funding for.
From covering payroll, to purchasing materials, and more, a small business loan might be the most direct way to get the financing you need.
Revolving Line of Credit: Best for Sudden, Wide-Ranging Expenses
While it's not technically a small business construction loan, a revolving line of credit might be exactly what you need. This program allows you to withdraw funds as you need them, rather than take the full amount outright.
A construction line of credit can help you front expenses as they come up, without stressing about them. As you repay the line of credit, you can draw from it again.
This is often the best option for covering a wide range of anticipated expenses, especially when your expenses are unpredictable.
eQuickment: Best for Financing Construction Equipment Leasing
Whether you need winter-proof equipment to finish a job now, or complete an upcoming job once fall rolls around, equipment financing is the way to go.
This financing program allows you to get the best rates and terms. The equipment itself acts as collateral, meaning you won't have to put up a house or other assets to qualify for secured rates.
Equipment financing is available through most lenders, but National is the only one to offer the unique eQuickment Financing Product. You can finance 100% of the equipment cost, including deposits and taxes, and be approved for the application in under an hour.
For purchases $75K & under, there are no minimum sales or time in business requirements, either.
Business Construction Loan Rates
It goes without saying that construction loan rates can have a huge impact on your overall cost. As we mentioned, they normally start at around 6-8%, or slightly above the prime rate.
But based on your financials, the history of your business, and a few other factors, your rate could be different.
These are some of the factors that determine your construction loan rates:
Your annual revenue
Your credit score
How long you've been in business
Your projected revenue
Previous payment history
The loan's term
The amount requested
Not all lenders take the same factors into account, so this could change on a case-by-case basis.
Top 5 Ways Contractors Keep Busy During the Winter
If you decide to branch out this winter, there are a few ways to keep cash moving in your construction company.
1. Do the Winter Work Your Customers Hate
You'd be surprised how much your customers will be willing to pay just so they won't have to lift a shovel, or string lights on their homes in the freezing cold.
Keeping busy during the winter is all about using the tools and experience you and your crew have to solve the changing seasonal needs of your customers.
No one wants to shovel their driveways, clear their streets of snow, etc. As the owner of a construction company, chances are you have the machinery to take care of it for your customers, quickly and easily.
Think outside of your job description. Does your company have what it takes to offer exterior holiday lighting and decorating services?
Contractors that take advantage of such universally-hated holiday chores are able to quickly and easily come up with the cash flow they'd otherwise be missing in hibernation.
Some even go so far as to take commissions on everything from repairing snow blowers and snow mobiles, to cutting down christmas trees, and delivering them to customers' houses – all for higher prices than you'd expect.
2. Offer "Pre-Winter" and "Emergency Winter Services"
Home and business owners of all kinds dread the winter months. Your customers will want to know that their electricity won't go out in a blizzard, and that their heater will be able to keep their home warm throughout the season.
Here, you have two chances to make two entirely new channels of revenue from these needs.
First, you should start preparing your business to offer "Pre-Winter Services." Check your customers' homes to ensure their homes have the quality utilities and structural integrity to last the winter. Check their plumbing, boilers, heaters, the foundation of their homes, etc. Your customers will appreciate your care for their well-being, and you'll appreciate all the extra cash in your pocket.
Second, offer these same services during the winter months themselves. Call them "Emergency Winter Services."
Be the hero to your customers, and offer your services to people that find themselves without heat, frozen pipes, and damaged homes due to weather during the winter, and watch your brand become a trusted and respected name among a growing customer base in no time.
3. Indoors Construction and Remodeling Services
The winter is one of the best times for remodeling the interiors of homes.
In fact, there's a growing demand among home and business owners for remodeling services during the holiday season. Being trapped inside for so long, it's become a fun event for clients to look forward to.
So, give your customers what they want! The most successful contractors offer services exclusive to winter months including:
Carpet cleaning
Flooring
Interior painting
Remodeling
Plumbing
Heating
Lighting
Electrical
And anything else you can imagine. Consider the experience level that each member of your crew has with services that take place indoors, and take advantage of all the different ways you can help new and existing customers this season.
4. "Holiday Discounts" for Small Projects
Winter is the season to offer as many "discounts" and "holiday bargains" as you can. People go nuts for them – especially if there's a level of urgency, or fear of missing out on "winter-only pricing."
Home and business owners know that it's sometimes the smallest projects that add the most value to a home. For these fast and simple jobs – ie. replacing a door, putting up molding, spackling, etc. – holiday discounts are great at convincing customers that they should take advantage of projects like these that they would be putting off indefinitely otherwise.
So step your advertising game up, and come up with a not-too-cheap holiday discount for small jobs like these, and give your customers another reason to be excited for the holidays.
5. Leverage Customer and Business Connections
That is, relationships with both your existing customers, and your connections to other businesses within your circle.
Let's face it- your existing customers will always be your best, most reliable source of income. They're the ones that have come to trust you over the years, and the ones who will call you back when they need work done. Ask yourself, are you taking full advantage of these relationships?
Over the next couple months, take in every detail you can about your existing customers' homes and businesses. Passively suggest that they should consider getting things checked out to make sure everything will go smoothly during the winter.
Are you aware of that draft? That could get nasty really soon.
Does your heater always make that sound? You're playing a dangerous game by relying on that to last you this winter.
Check in on all your existing customers around the holidays to wish them well, and see how your recent work is holding up, see if they're still satisfied, and make sure everything's looking okay for the winter.
As for your business connections, make sure you're taking full advantage of every relationship you have.
Is there a business owner you're connected to that can't help their customers in a way that you can? Consider offering the chance to collect commission for referring their customers to you! And on the flip side, talk to your business connections to see if there's a way you can earn commissions by referring your customers to them!
Weather the Storm by Applying Now
The Business Financing Advisors at National are here to help! Once you apply, one of the knowledgeable members of our team will get started by searching for the best option in our 75+ lender network right away. Then, we'll touch base to discuss your best options!
Once you make a choice, you can have the funds deposited in your account in 24-48 hours!
Get started by applying now!