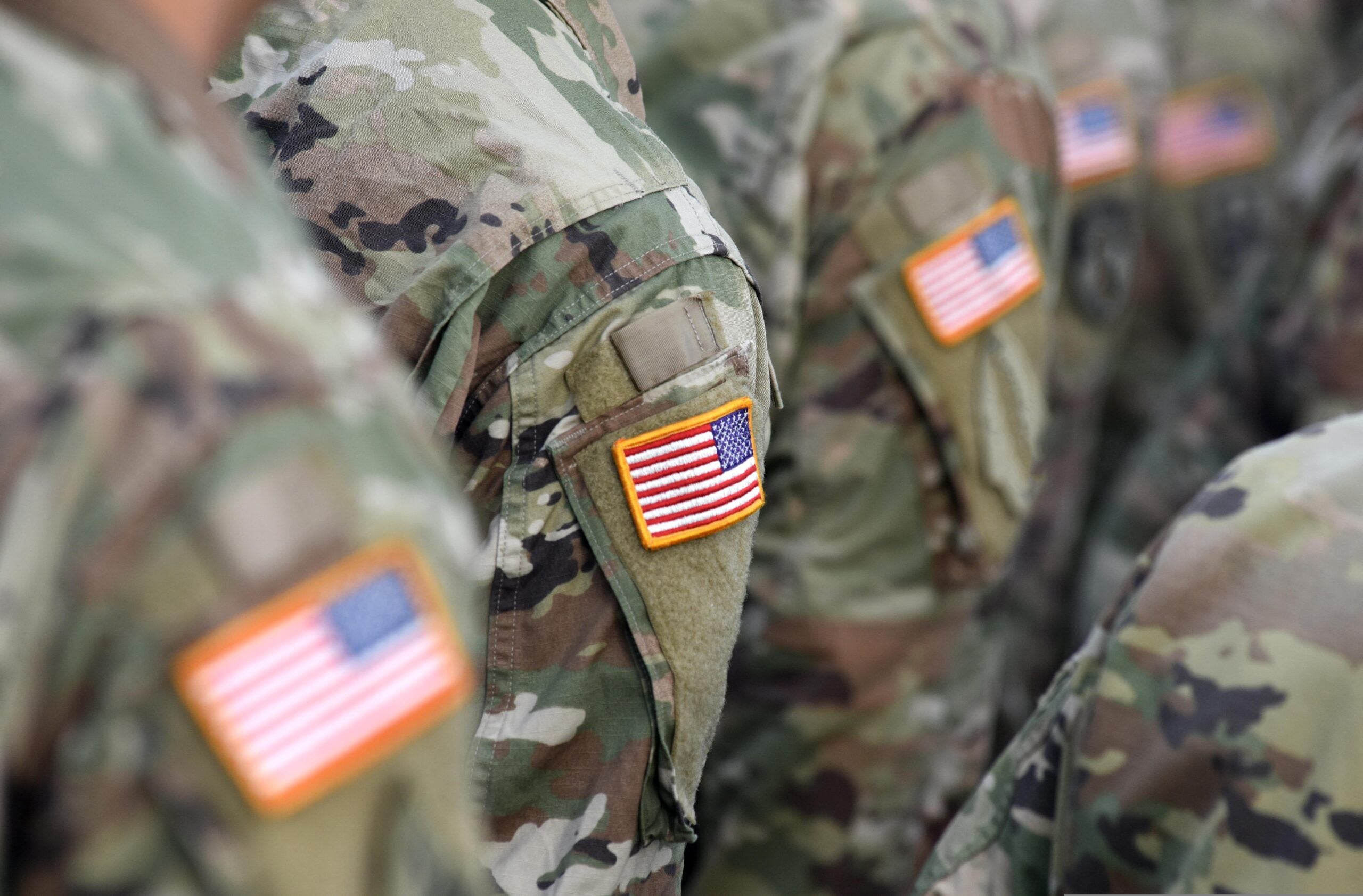 Veteran Small Business Loans
We Believe in Giving Back
When veterans of the armed forces transition back into civilian lives, many opt to become entrepreneurs. Increasing numbers of veterans are choosing to run their own small businesses rather than work for someone else. They bring to their endeavors the leadership, team support, and solid work ethics they learned while in the military. In developing business savvy, they usually turn to their banks for financial support. What they often encounter is a roadblock. Banks don't offer funding often, especially to veterans with bad credit.
For those who have served our country, it is sometimes difficult to start or return to their small business. Traditional lenders often require spotless credit, and this is not always the case for any small business owner. Chances are, you didn't spend your service proactively building your credit score to secure a business loan after the fact, which limits what many veteran entrepreneurs can accomplish after they enter the civilian world.
National Business Capital believes in giving back to our country's veterans by making funding their small businesses the easiest and fastest process possible, with the utmost respect and compassion. Veterans deserve only the best when seeking to grow and improve their businesses, and we aim to help.
What Are Business Loans for Veterans?
Veteran business loans are financing products that Veterans can secure to grow their businesses or manage cash flow. There are specific products offered by the Small Business Administration, as well as numerous alternative options to leverage.
SBA options include SBA 7(a) loans, SBA express loans, and military reservist economic injury disaster loans (MREIDL). Outside of these options, veterans can leverage traditional financing products, like term loans, business lines of credit, equipment financing, revenue-based financing, and more.
This type of financing generally carries lower eligibility requirements to ensure veterans can achieve their entrepreneurial dreams after returning home.
How Do Small Business Loans for Veterans Work?
Small business loans work the same for veterans as they do for any other entrepreneur, just with slightly different eligibility requirements. You find a lender, apply, review your offer, and finalize the contract, if it fits your growth plan.
Borrowers start by speaking with a lender offering the product they're seeking. They'll fill out a formal application, review the offer, then – if it makes sense – finalize the contract and wait for the disbursement of funds, which should happen relatively fast.
Once secured, borrowers invest their funds into their businesses. If the specific product they're using required a business plan of how they intend to use the funds, the borrower must stick to that schedule, or they may run into an issue with their lender at some point during the repayment.
Speaking of repayment, borrowers will need to make consistent payments toward their borrowed amount on the schedule agreed upon in their contract. The repayment can be daily, weekly, bi-weekly, or monthly, depending on the product they're using and the lender they're working with. Each payment option is vastly different from the others, so it's important to consider each one carefully before finalizing your contract.
At the end of your repayment, borrowers will have repaid the entire borrowed amount in full and have no debt attached to their name. If someone misses payments or defaults entirely, they can find themselves dealing with numerous financial consequences, including damaged credit, loss of collateralized assets, and many more.
What Are the Benefits of Being a Veteran-Owned Business?
Being a veteran-owned business allows you to capitalize on tax advantages, grants, unique government-contracting opportunities, and a number of other resources. Aside from veteran small business loans, it's also worthwhile to explore the following.
Veteran Grants
Grants can be a great way to support and grow your business. The best part – you'll never have to worry about having to pay back the funds. Some veteran small business grants include
The StreetShares Foundation – This non-profit offers grants and funding opportunities for veterans and qualifying spouses looking to start or grow their businesses.
The Global Good Fund – Offers funding resources for veterans as well as business development and networking resources.
Hivers and Strivers – An angel investment group delivering startup funding to veteran-owned small businesses. The group typically invests between $250,000 and $1 million in a single funding round.
Veteran Franchising Opportunities
Veterans and their spouses can access special franchise opportunities through VetFran – an online search portal. By showing proof of your qualifying veteran status, you may be able to obtain a significant discount on buying a franchise.
Veteran Federal Contracting Opportunities
The Office of Small and Disadvantaged Business Utilization helps veteran-owned businesses access set-aside federal contracting opportunities. The organization also offers resources for managing and financing your business.
Veteran Business Development Resources
Veteran entrepreneurs can access a number of business development resources and networking opportunities. You can use the following tools to start and grow your business at any stage:
Boots to Business – Offered by the SBA, this program delivers entrepreneurial and business training courses as well as other resources.
The Office of Veterans Business Development (OVBD) – This SBA branch is entirely dedicated to promoting veteran-specific business development programs. You'll find information on programs like the Service-Disabled Veteran Entrepreneurship Training Program (SDVETP), Women Veteran Entrepreneurship Training Program (WVETP), and more.
Does the VA Give Out Small Business Loans?
No, the VA does not provide veteran small business loans. The name can be misleading, but VA small business loans aren't actually issued by the Veterans Association (VA) – they are part of a program under the Small Business Administration (SBA). You'll need to work with the SBA's network of participating lenders if you're looking to get a VA small business loan.
The SBA guarantees to repay a certain percentage of the loan to the lender in case of a default. In this way, lenders receive extra protection, which helps lower interest rates and increases funding amounts for veteran-owned small businesses.
The SBA has an entire branch dedicated to helping veteran-owned businesses when it comes to funding opportunities, networking, business development, and federal contracting opportunities.
Military spouses may also be able to access resources like financing, counseling, training, and contracting opportunities through the SBA's Office of Veterans Business Development (OVBD).
Who Can Qualify for Veteran Small Business Loans?
Veterans! You'll have to be an armed-service veteran to qualify for veteran-specific financing programs.
Veterans can qualify for traditional financing products and veteran small business loans, but non-veteran entrepreneurs can only qualify for traditional products, even if they meet the minimum qualifications. This way, veteran-specific financing is reserved only for that group, which reduces competition and makes it easier for them to qualify.
What Types of Loans Are Available for Veterans?
There are several different types of small business veteran loans. Take a look at the most common.
Type of Financing
Description
SBA Express Loan
SBA Express loans feature faster funding times than other government loans. Qualifying businesses can borrow up to $500,000 as a term loan or line of credit. Although these loans have lower funding amounts, you'll receive a decision on whether you're approved or not within 36 days.

SBA Express Loans are extremely popular with veterans. In fact, 73% of all SBA loans issued to veterans are $350,000 and below. Although this program isn't exclusive to veterans, veterans can access special benefits if they qualify for funding.

The SBA is willing to waive guarantee fees entirely for businesses owned and controlled (at least 51%) by a veteran, active service member, or qualifying spouse.

Guarantee fees are charged by the SBA to borrowers to cover the administrative costs of processing the loan. Borrowers would typically have to pay up to 90 days after the loan's approval and can use the proceeds from their SBA loan.

Military Reservist Economic Injury Disaster Loan
The Military Reservist Economic Injury Disaster Loan (MREIDL) program is designed for businesses with an essential employee who is called to active duty. This type of veteran small business loan helps cover working capital needs and other costs that arise in this scenario.

These loans have funding amounts of up to $2 million and low-interest rates. You may need to provide collateral to back up the loan if you are looking to borrow over $50,000.

While the MREIDL program can be a great resource for managing ongoing operating costs, proceeds can't be used to cover lost profits or expand the business in any way.

Term Loans
Term loans are among the most basic types of business financing. Borrowers receive a lump sum of capital to manage and repay over a set schedule.

Veterans can leverage term loans for a variety of business purposes, including asset purchases, operating costs, materials/inventory, equipment, marketing, and many more.

Repayment can be tailored to your specific needs. If you have a longer-term investment, you can pursue long-term options, and vice versa.

Business Lines of Credit
Business lines of credit are the most flexible financing option. Unlike term loans, which provide capital in a lump sum, business lines of credit allow borrowers to draw funds from their total credit line as needed.

You'll only pay interest on the amount you draw. If you've secured a revolving term, you can draw the same funds again after you've repaid them, similar to a credit card.

Although they come with higher start-up costs and interest rates, business lines of credit are a powerful resource for growing businesses.

Equipment Financing
Equipment financing allows borrowers to purchase expensive equipment and manage the cost over a prolonged schedule, preserving cash flow. It's a relatively easy option to qualify for, too, which allows a wide range of borrowers to grow their businesses through the right equipment purchases.

Unlike a lease, you maintain ownership of the equipment after you've paid in full. You may also qualify for tax deductions, like section 179, through equipment financing.

Revenue-Based Financing
Revenue-based financing uses your business's profitability to determine your eligibility, which is a great option for borrowers with lower credit scores.

This type of financing carries fast funding times. If you're seeking an amount below $250,000, you can have your funds within 24 hours. Amounts above this will take a bit more time, but expect this process to move faster than other financing solutions, especially SBA loans.

However, this is generally a short-term solution, with repayment terms that rarely extend past 18 months.
What Are the VA Business Loan Requirements?
Requirements for veteran small business loans can vary depending on where you're seeking funding. At a minimum, your business must be at least 51% owned and operated by a veteran, active duty service member, or qualifying spouse.
If you're working with an online lender or FinTech marketplace, such as National, you can qualify for a veteran small business loan with only:
6 months of business history
685 credit score
$10,000 in monthly gross sales
---
However, remember that SBA programs maintain stricter VA business loan requirements. Your business will need to show the following:
2 years of business history – VA business loans, specifically those offered through an SBA program, require small businesses to have at least 2 years of history. In general, younger businesses are seen as significantly riskier than older, more established enterprises.
$100k in annual revenue – VA business loans, specifically those offered through an SBA program, require small businesses to have at least 2 years of history. In general, younger businesses are seen as significantly riskier than older, more established enterprises.
Credit score of 685 or higher – The SBA only works with businesses that are trustworthy and have a solid track record of making payments consistently and on time. Keep in mind that the higher your credit score, the greater your approval odds and the more you'll save on interest rates.
Other VA Business Loan Requirements
Alongside the VA business loan requirements listed above, the SBA will also need to make sure:
Your business is for-profit and not a pyramid scheme, gambling business, or lending business
Your firm meets the SBA's size standards for small businesses
Your business is located and operates within the United States
You and other partners have reasonable invested equity
Neither you nor your partners are delinquent on any debt obligations to the U.S. government, including student loans
All owners with 20% or greater ownership meet the SBA's character requirements – individuals with certain types of criminal histories are prohibited
Your business can demonstrate projected positive cash flow for two years
Your business has a demonstrable need for funding
If you're unsure whether you qualify for a veteran small business loan, make sure to contact the professionals at National Business Capital. We'll work with you to assess your qualifications, provide insights on the best funding solutions available to you, and answer any questions you may have.
How to Apply for Small Business Loans for Veterans in 2023
Step 1: Choose a lender
You can find SBA-backed, veteran small business loans at traditional banks and online lenders, but you can also browse other types of veteran small business loans from different lenders.
Keep in mind that traditional banks tend to have the strictest requirements and lowest approval rates. You'll find better approval odds at online lenders. If you're unsure which lender to work with, consider using a business financing marketplace like National.
You'll be able to browse personalized offers from many different lenders all at once. Simply review, and select the best interest rates and terms you qualify for!
Step 2: Collect your documents
Veteran small business loans come with many benefits and are highly sought after. It's important that you prove your business is at least 51% owned and operated by a veteran, active service member, or qualifying spouse.
You'll need to show honorable discharge papers, identification cards, or other types of military records. Spouses will need to provide evidence of current marriage to a veteran. Widows of veterans who died during active duty or from related injuries must provide documentation from the Department of Defense or the Department of Veterans Affairs. You can request military records through the VA.
On top of proving your qualifying status, you'll also need to provide:
Business tax returns
Business licenses and registrations
Bank statements
Step 3: Apply!
Once you've gathered and submitted all your documents, your next step will be waiting for a decision. The length of the underwriting process can vary depending on the type of lender you work with – banks tend to take the most time. Online lenders can get you a decision in a few days – or even hours.
Start your application with National to review your offers for small business loans for veterans in 2022, as well as other funding solutions. Whether you're looking for veterans small business loans, traditional financing products, or small business loans for veterans with disabilities, trust our award-winning team to match you with the most competitive offers you qualify for within our 75+ lender marketplace.
If we don't have something that can help, we'll point you in the right direction. Complete our digital application today to get started!
Frequently Asked Questions
What Is the Maximum Amount of a VA Small Business Loan?
The maximum amount on a veteran small business loan is generally $5 million. However, the majority of veteran small business loans issued are for $350,000 or less.
Higher funding amounts can be difficult to obtain. They come with tighter requirements, and you'll need to show a high credit score, strong revenue, enough time in business, and most likely collateral as well.
Different VA small business loan products can also have different funding amounts. For example, SBA express loans are only issued up to $500,000.
Where to Find Business Loans for Veterans With Bad Credit
The timeline for receiving funds from both traditional lenders and the SBA is quite lengthy. It usually takes several months from when the application is submitted to when funds are received. To stay solvent and to grow, small businesses must move at a much faster pace and therefore require a far shorter loan process.
So where can these entrepreneurs go to obtain financing for veterans with bad credit? Many turn to National Business Capital – a leading alternative funding source. Our team has assisted thousands of clients and located tens of millions of dollars to fund their enterprises.
Unlike banks whose loan decisions are based on tight guidelines, National Business Capital uses realistic underwriting criteria. We look at the big picture when reviewing our applications. This means that a low FICO or even an open tax lien are not immediate loan disqualifications.
How Hard Is It for a Veteran to Get a Small Business Loan?
It's not necessarily hard for a veteran to get a small business loan, but you'll still need to meet a number of requirements. You'll find a credit score of at least 685 is required for small business administration (SBA) loans and traditional financing options.
Startup business loans for veterans can be a bit more tricky to qualify for, but you'll find better approval rates at online lenders or alternative lenders. These lenders are often more lenient about requirements, making it easier to get financing.
There are three main options when it comes to getting veteran small business loans:
Also known as VA business loans, these loans are specifically designed for veterans and qualifying spouses. VA business loans come with lower fees, lower interest rates, and better terms than traditional loans made to non-veterans.
Despite being highly sought-after, these loans require at least 2 years of business history and a minimum credit score of 685.
Online lenders or FinTech platforms
Online lenders offer a wide range of financing products that are also highly accessible. You'll find greater leniency on criteria like minimum time in business and credit score requirements.
For example, you can access veteran small business loans with only 6 months of business history. With favorable approval rates, online lenders may be your best bet when it comes to startup business loans for veterans.
Traditional banks offer favorable interest rates and terms, and some may or may not even deliver additional benefits for veterans. While traditional bank loans are typically the first option to come to mind when entrepreneurs seek financing, they tend to be difficult to qualify for, as banks are notorious for low approval rates.
Hear From Our Clients & Partners
Ready to See Your Options?
Go from application to approval in hours, not months, with a streamlined process that merges high-tech with human-touch for high-efficiency financing.