Last week, shares of Affirm shot up by more than 40% after the company announced its partnership with Amazon.com. The e-commerce giant will be offering a buy now, pay later (BNPL) option on purchases over $50.
Instead of paying the entire sum upfront, customers can split the purchase into small monthly installments. Amazon's partnership with Affirm is another sign that consumers are embracing BNPL platforms. In particular, younger consumers are using these alternative forms of credit.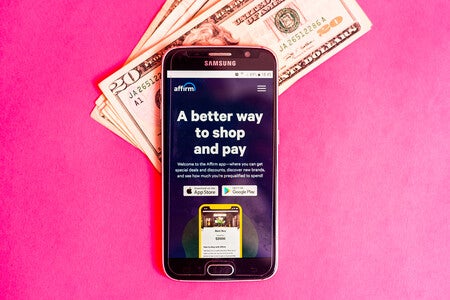 The history of buy now, pay later
Installment loans are nothing new, but in the past, they were typically reserved for high-ticket items. But companies like Affirm noticed there was an opportunity to offer this service on lower-ticket items.
For instance, you could finance a Dyson vacuum, Adidas shoes, or a Kate Spade purse through sites like Affirm. Most sites let you pay in installments over a six-week period, and you'll set up automatic payments through your debit card or bank account.
As you begin building a positive payment history, Affirm gives you access to a higher spending limit. And most platforms don't charge any interest to the consumer since they make most of their money on retailer fees.
For millennials and Gen Z consumers in particular, BNPL is preferable to charging items on a high-interest credit card. However, you may get hit with interest or late fees if you miss a payment.
The growth of BNPL platforms
Affirm is one of the most well-known BNPL services. In addition to partnering with Amazon, the company works with over 12,000 merchants like Walmart, Nike, and Target.
Affirm isn't the only BLPL option available. Just last month, Square announced it had acquired Affirm's rival Afterpay for $29 billion. And PayPal, Klarna, Mastercard, and American Express all offer similar lending products.
But the deal with Amazon gives Affirm a unique advantage over its competitors. This year, Amazon is expected to account for over 50% of all U.S.-based e-commerce transactions.
And by partnering with Amazon, Affirm will have access to the company's 200 million Prime members. Initially, the option will be available to certain Amazon customers in the U.S.
According to the company, a wider rollout of the program will be available in the coming months. Affirm also has a deal in the works to offer a similar plan to Shopify customers.
How to use BNPL services
BNPL services are a good option for many customers, but there are a few things you want to keep in mind:
Don't miss your payments: Some providers say they don't report missed payments to the credit bureaus. But missing your payments can come with financial consequences like fees and interest. And most of these companies reserve the right to send defaulted accounts to collections.
Know what you're agreeing to: According to the CFPB, BNPL products don't come with the same protections credit cards offer. If you choose to use these services, make sure you read the Terms and Services agreement first.
Watch out for impulse buying: One of the downsides of BNPL is that it sometimes causes customers to spend more money. Focus on only purchasing items you need, and avoid impulse buying.